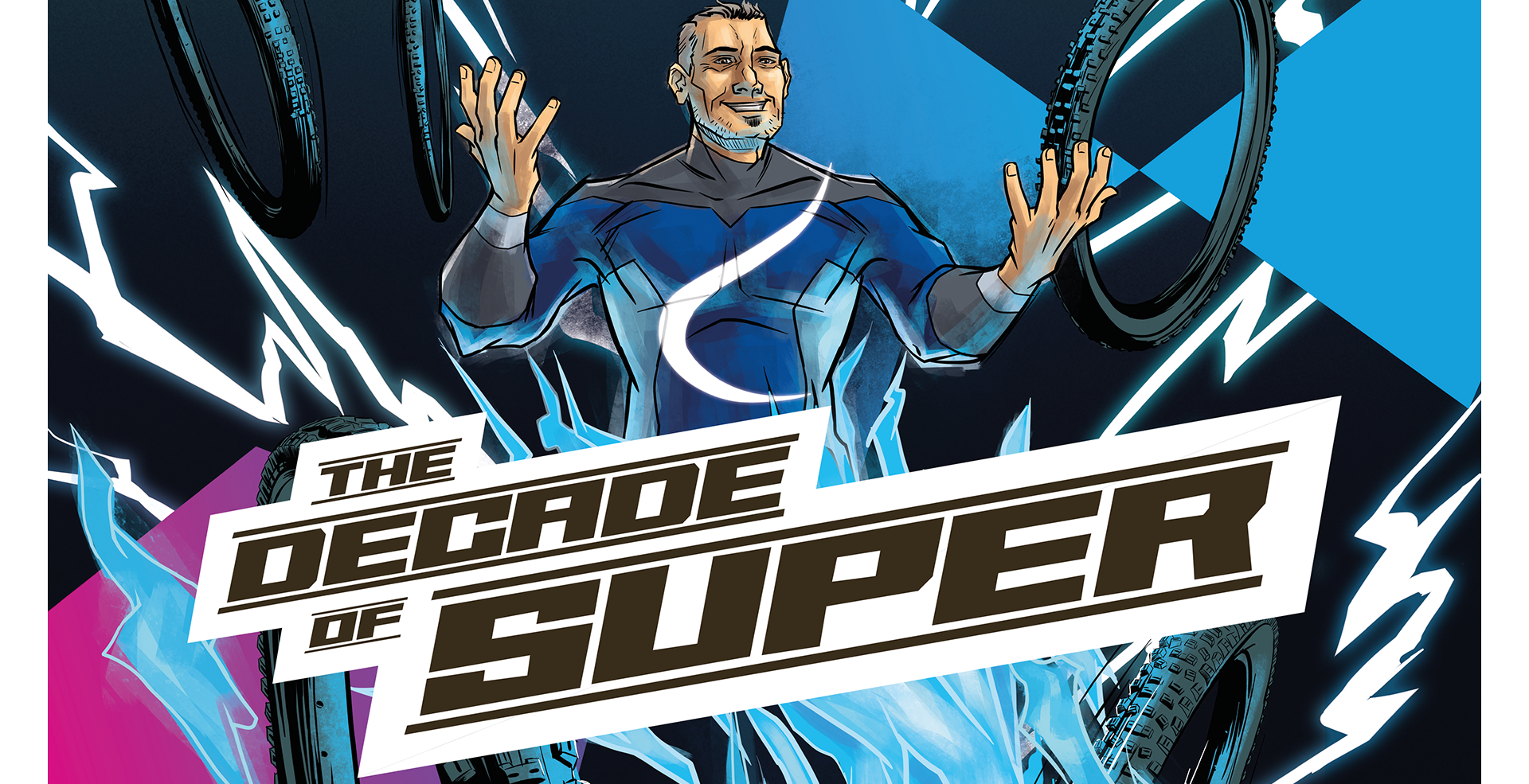 THE DECADE OF SUPER
---
5 NEW CONSTRUSCTIONS FOR MTB TIRES
Five new tire designs that change everything
100% tailored to their respective application. More power. Easy to choose. Exclusively for Schwalbe Evolution line MTB tires. Tubeless Easy and with Addix Compounds. Innovative overall concept developed for the new decade.

THE IDEA
---
PASSION | AMBITION | CONVICTION
Since mountain bikes have been available, the Schwalbe brand has been striving to develop the best tires for this type of bike. This claim continues to drive us to this day.
Season after season, more and more people are fascinated by mountain biking. Every rider lives the adventure of MTB with very individual demands and ambitions. That's why mountain bikes are more specific today than ever before. The spectrum ranges from light cross-country race bike to modern trail bike to downhill race rig. With or without a motor.
At Schwalbe, we are convinced that if you want to produce the best MTB tires today, you must consistently put the different application wishes and riding styles of the rider at the center of product development. In this way, groundbreaking tire constructions are created that not only meet the most diverse requirements – but also exceed them in all respects. Mile by Mile. In any terrain.
In the beginning, we asked ourselves what is crucial for the perfect character of a tire, in addition to profile and compound. The answer is obvious: the construction, i.e. the skeleton of the tire.
CARL FRIEDRICH KÄMPER
PRODUCT MANAGEMENT
The Next Level of Innovation
Schwalbe has completely rethought all the designs of the Schwalbe Evolution (EVO) tires. Names and system structure now follow a clear and easy-to-understand logic. In addition, the technical details have been consistently pushed in development with regard to the requirements of a new decade.
Fast, easy, self-explanatory: Welcome to the new Super Designs
The new names make the system of the new carcass constructions extremely easy to understand. Whether you are a professional, a bicycle dealer or a beginner rider, the new structure makes it easy and self-explanatory to find the optimal tire.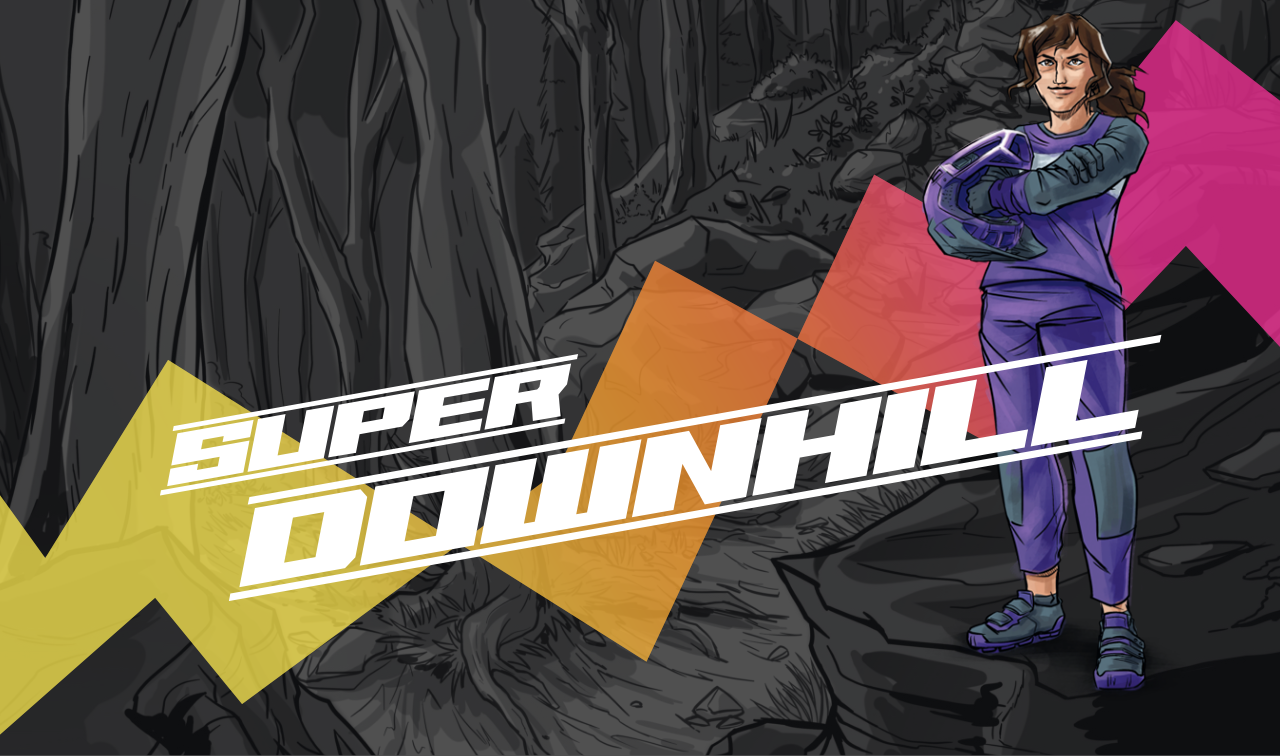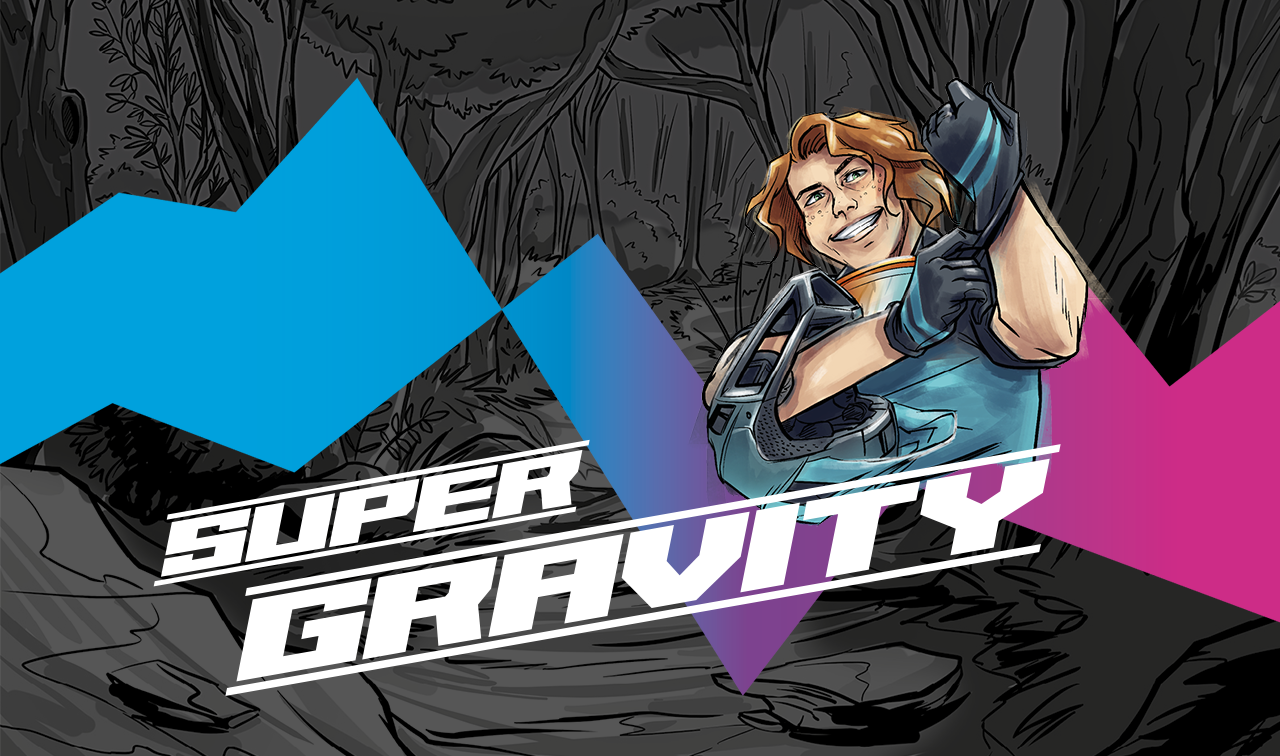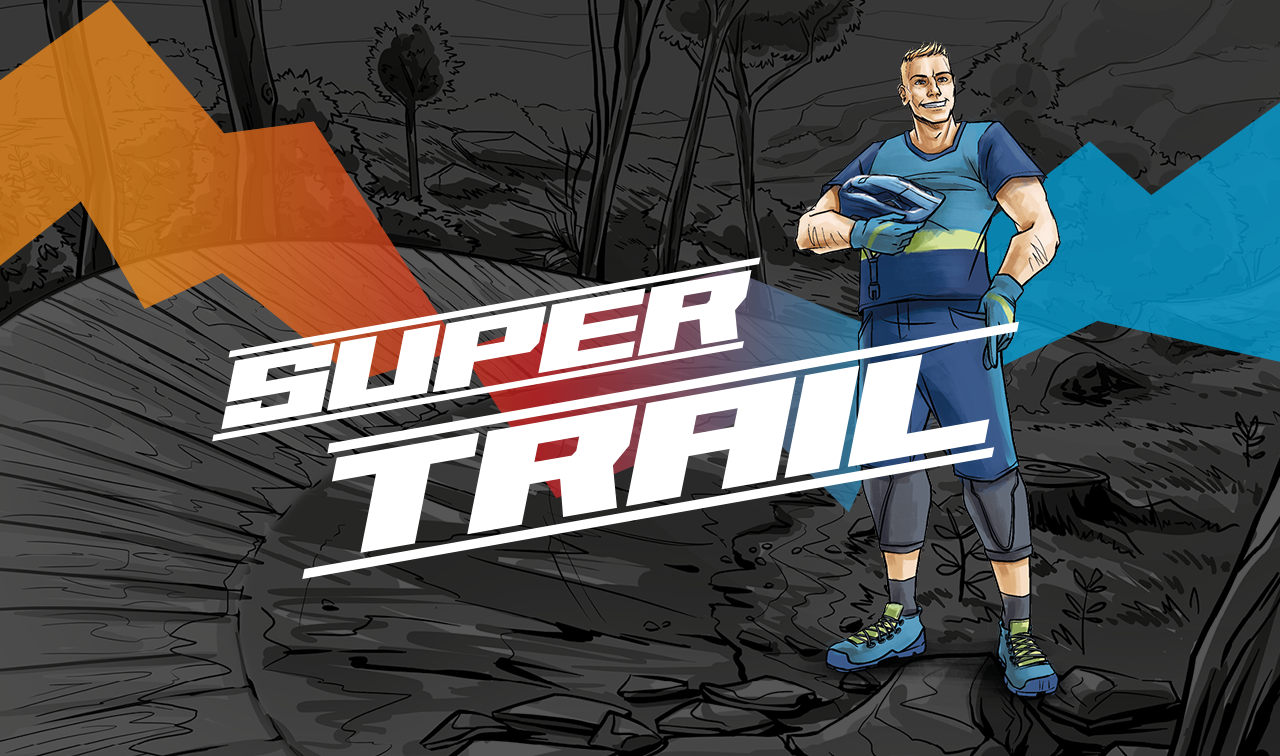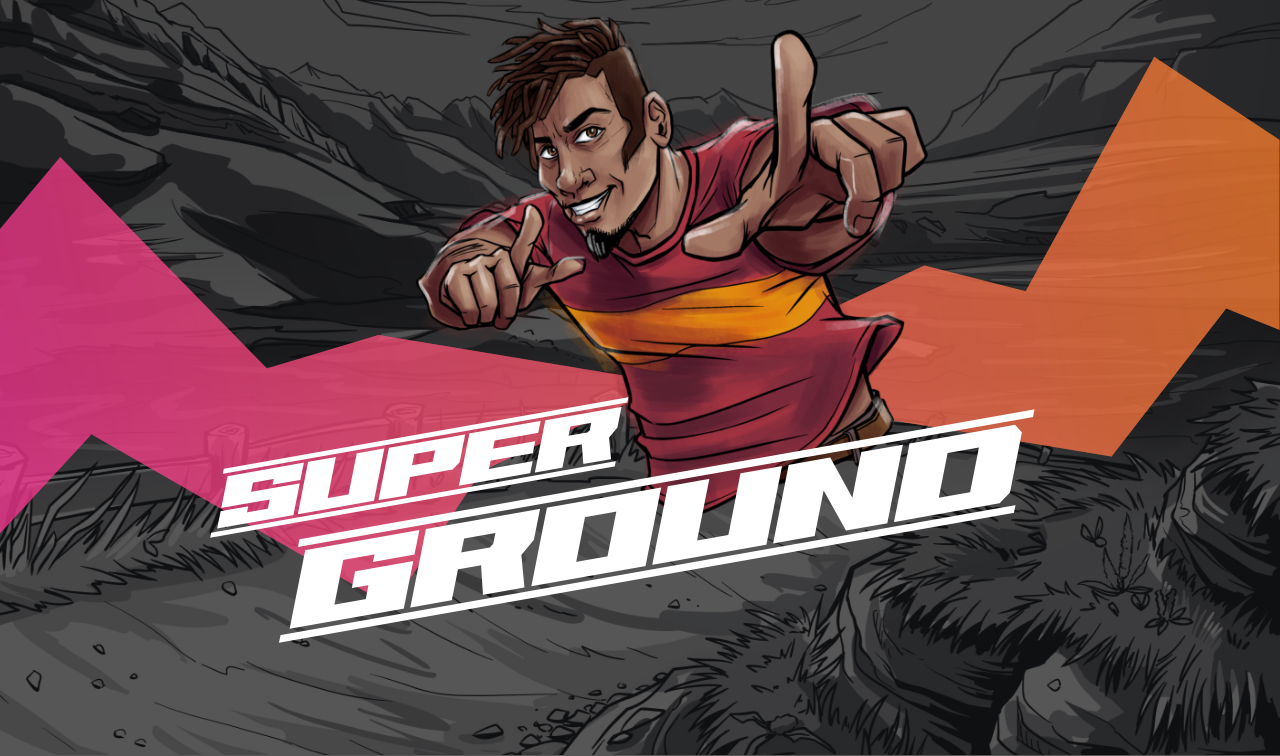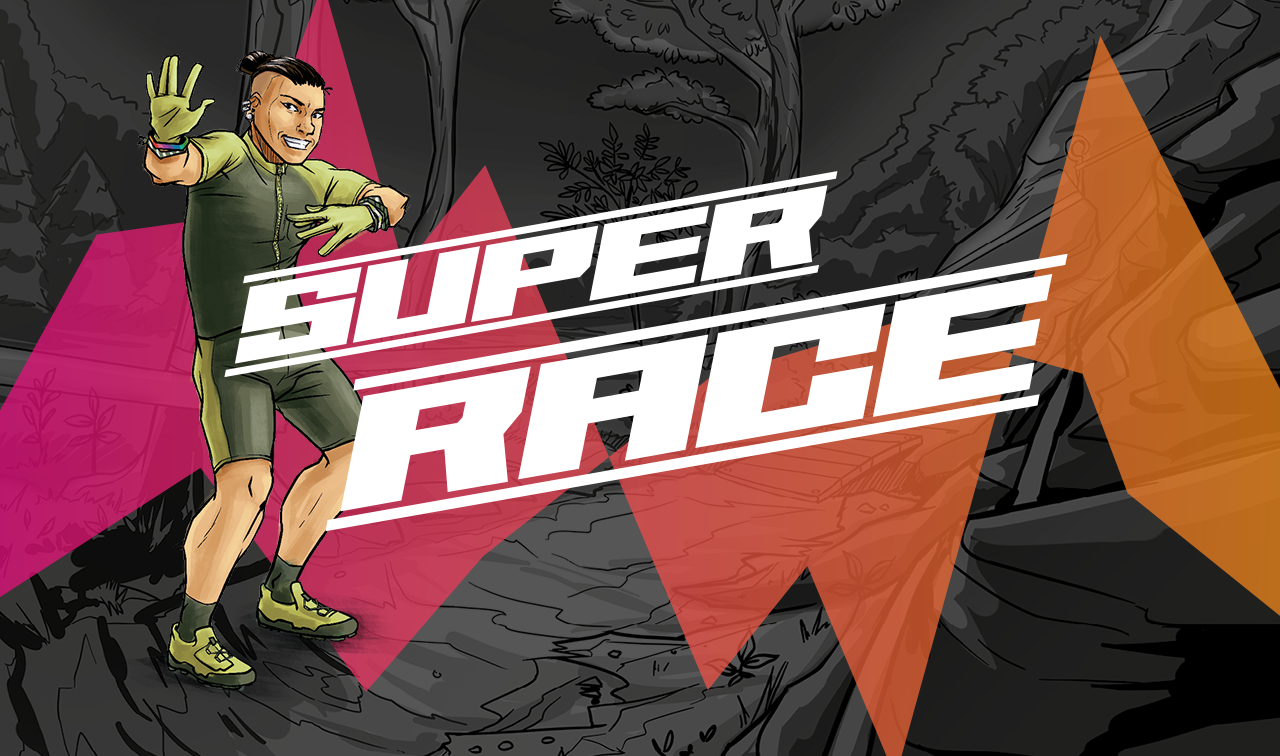 Super Downhill
For the bravest and most aggressive. For those for whom no jump is too big, no descent too steep and no obstacle too large. Made for the Downhill World Cup. Super Downhill stands for uncompromising stability and performance like no other construction.
The most robust and stable (super) construction is double-layered. Six carcass layers protect the tread even at very low air pressures. The side walls are reliably protected against cut and pinch damage by a combination of four carcass layers and a stable fabric layer. A special APEX layer protects against cuts and increases the lateral stiffness of the tire. Due to the very stable folding core, the tires are also Tubeless easy.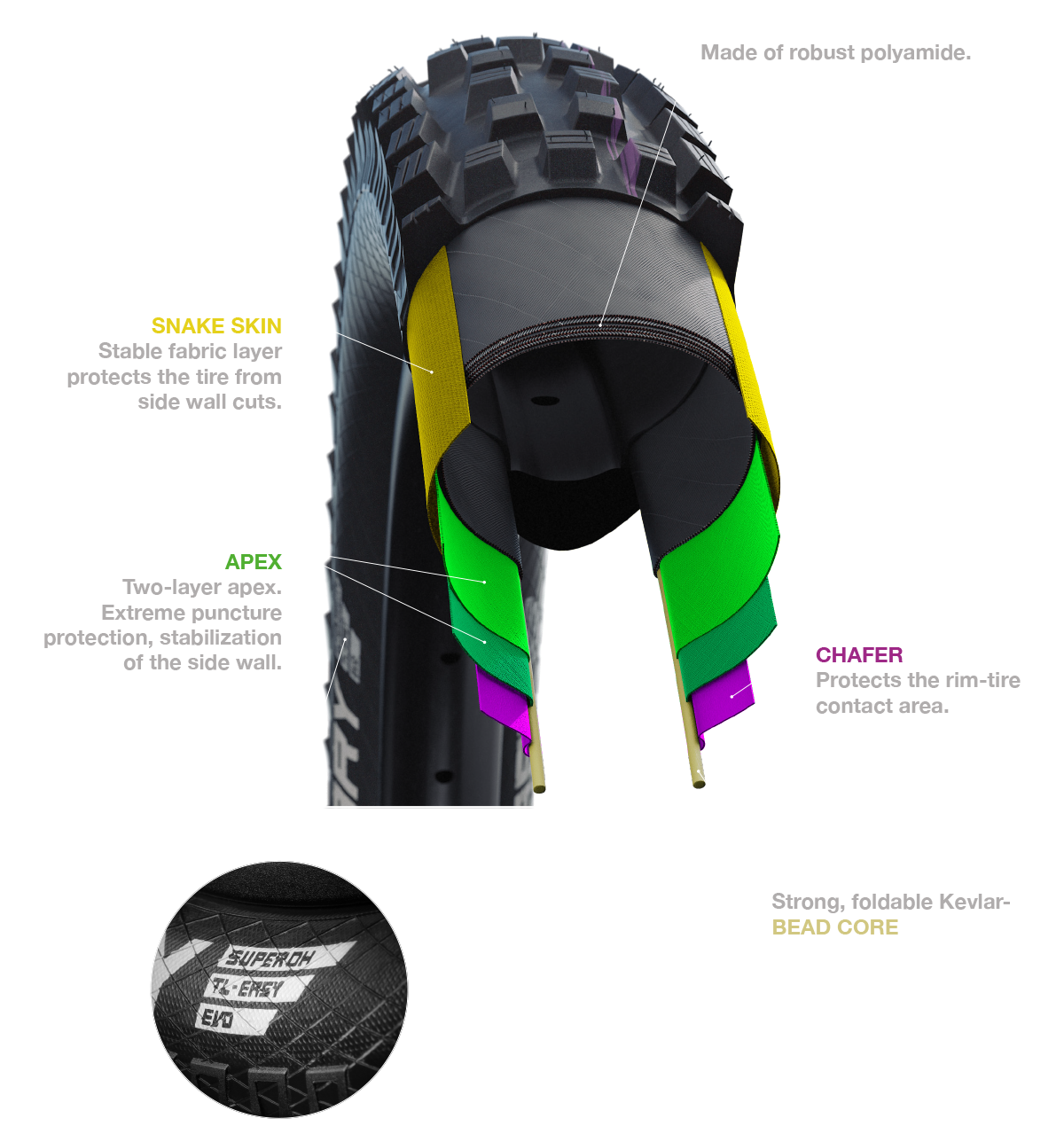 Super Gravity
Go where others dare not to venture . Where the rider and the trail demand everything from the material. Where the bikes have a lot of travel. Right there is the zone for tires with Super Gravity construction.
The tread and strong shoulders are protected in this extremely stable construction by four carcass layers in combination with a stable fabric layer (bead to bead). A special APEX layer protects against punctures and increases the lateral stiffness of the tire. Thanks to the turn-up construction, the tire remains unusually flexible for a particularly smooth ride. Tubeless easy.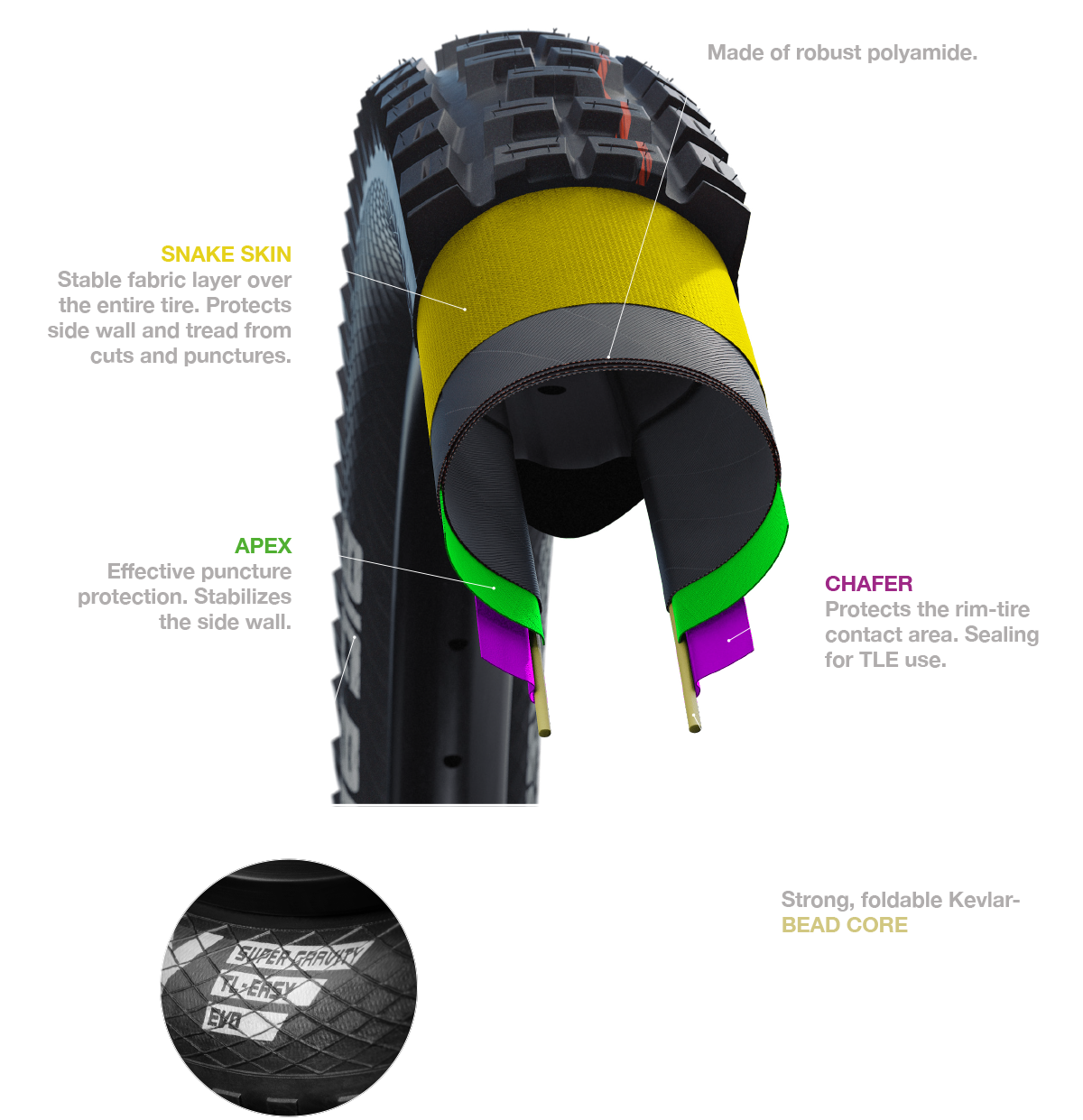 Super Trail
As versatile as a multi-tool: a stable construction, with a range of applications from intense all-mountain and trail rides to enduro use. Ideal for riders riding a medium-travel bike.
The construction is designed to combine moderate weight and reduced rolling resistance with high cornering traction and puncture protection. A stable carcass with two layers on the side wall and three layers under the tread. Fabric layer over the entire tire together with APEX for additional protection. Tubeless easy.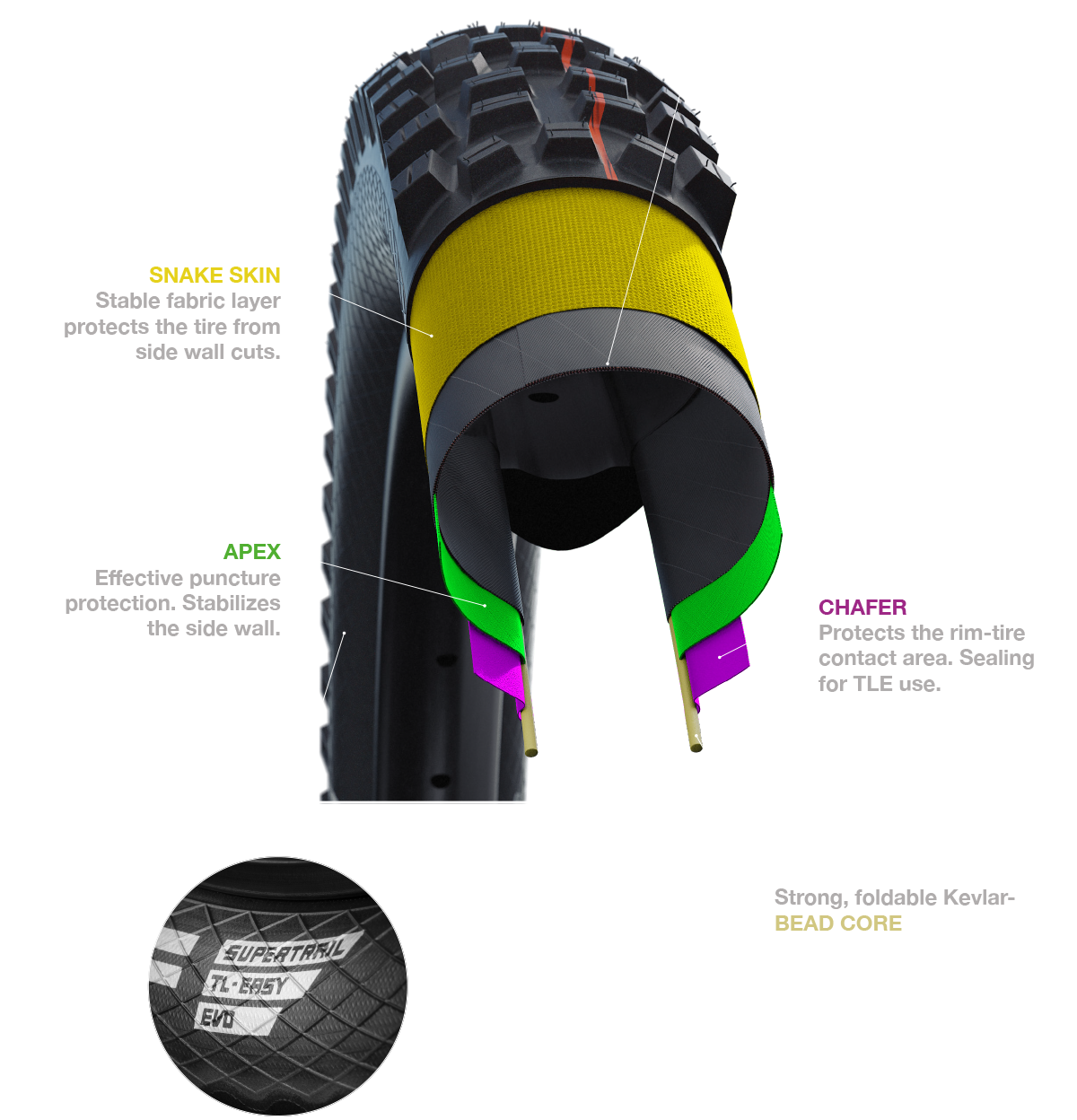 Super Ground
Combines light weight and stability. Feels comfortable in any terrain. Balanced ratio of puncture protection and smooth rolling. For flowing trails, long rides and any terrain.
The modern, sophisticated construction guarantees riders an optimal combination of protection, light weight and rolling characteristics. The protective fabric insert, which runs from bead to bead, and three layers of carcass under the entire tread ensure a balance between safety and weight. Tubeless easy.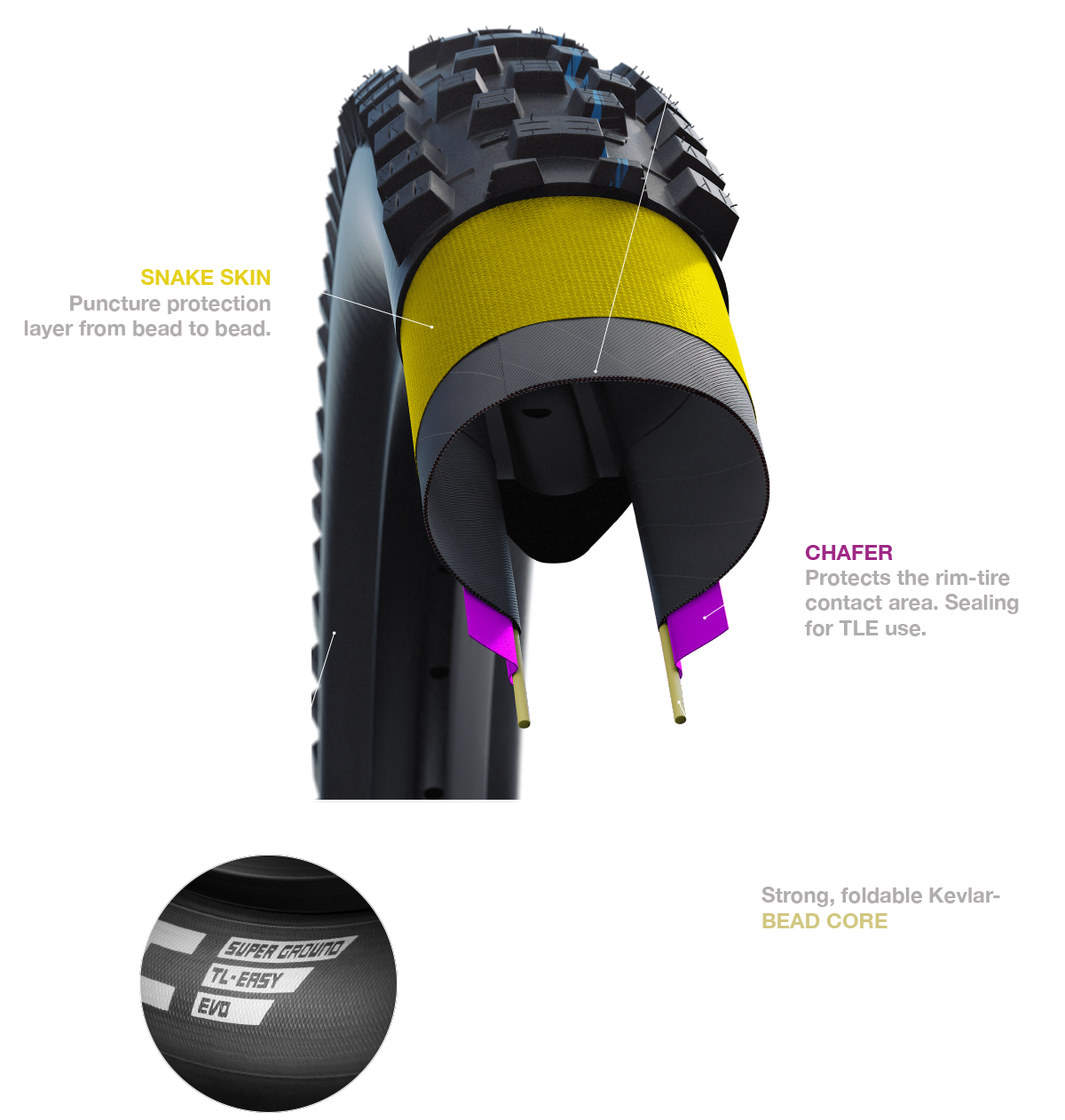 Super Race
In no other discipline is the focus on rolling resistance and weight as critical as it is in cross-country and marathon competition. With the new Super Race construction, we are also setting new standards in suppleness - no other carcass glides so silky smooth over the ground, and thus providing traction, like Super Race does.
The patented turn-up construction is characterized by an exceptionally light and supple material mix. The tread is protected by a light protective insert and two carcass layers. The side walls are protected from cuts and snakebites by three carcass layers. Tubeless Easy.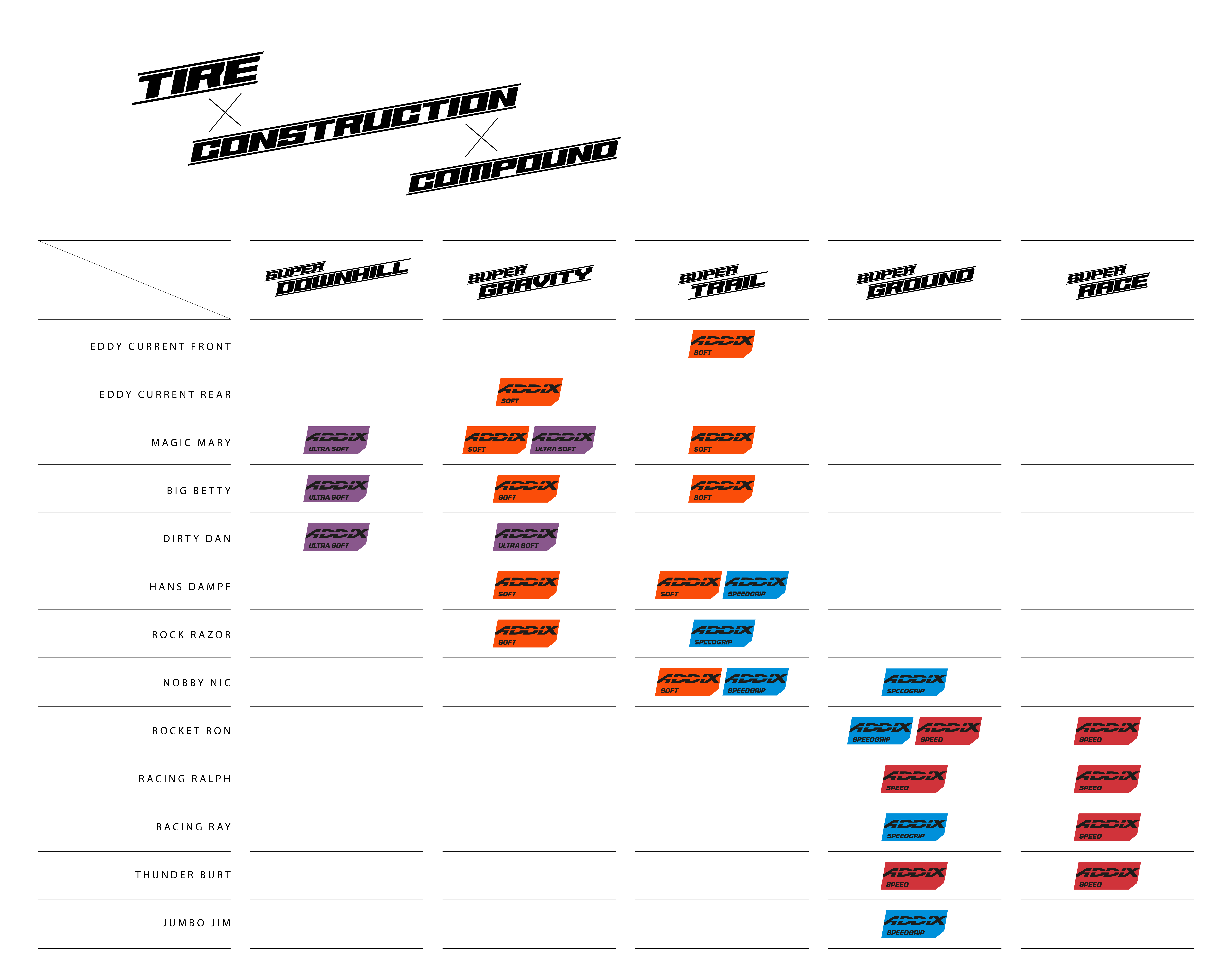 ADDIX
---
THE COMPOUND FOR ALL LEGENDARY MTB TIRES
ADDIX makes our legendary Evolution mountain bike tires better. We respond to all requirements with four mixtures – SPEED, SPEEDGRIP, SOFT, ULTRA SOFT.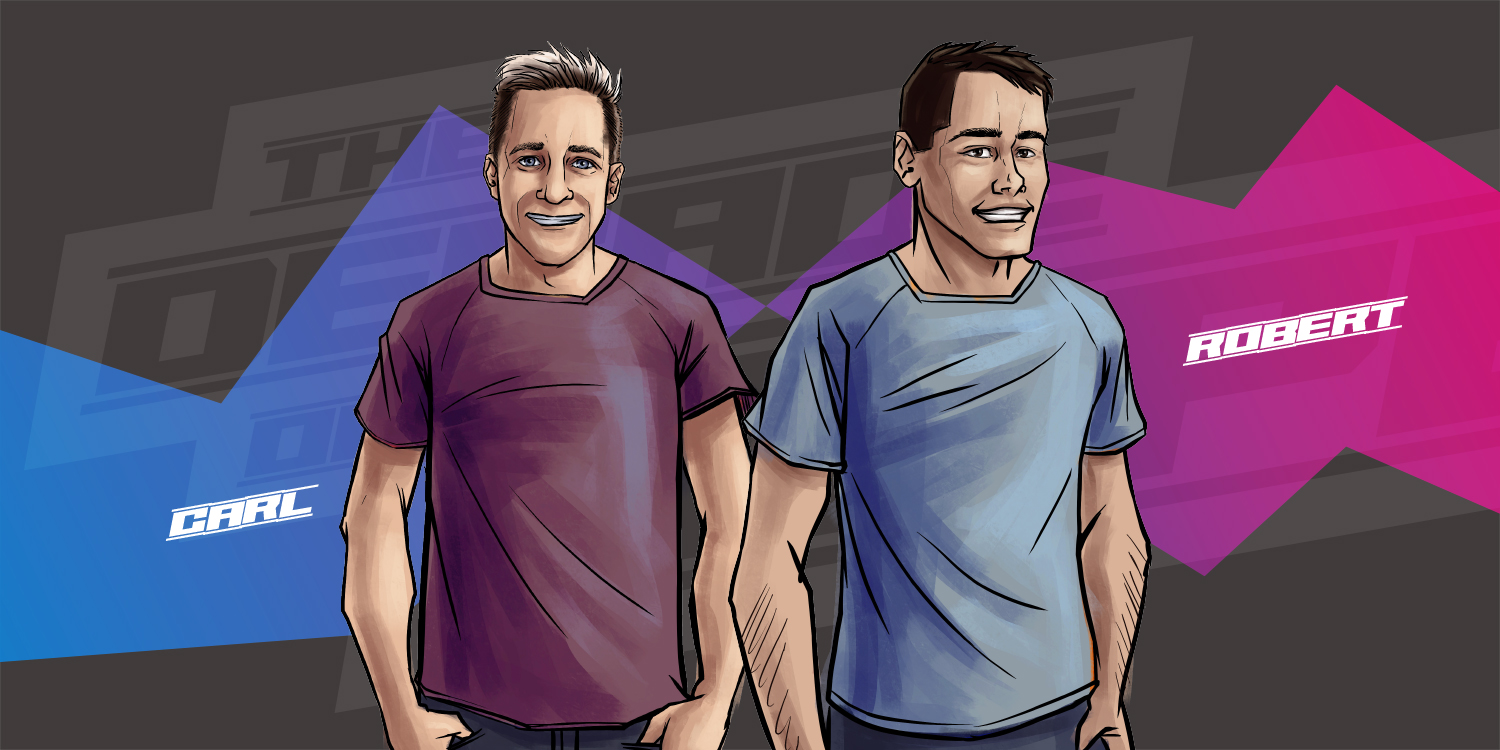 We have provided more clarity and, at the same time, every tire construction is improved down to the last detail.
CARL FRIEDRICH KÄMPER UND ROBERT MENNEN
Question
Carl and Robert, you are product developers for MTB tires at Schwalbe. First of all, why is the carcass so important for the performance of an MTB tire?
Carl
Simply put, the carcass determines the riding characteristics of your tire just like the profile or rubber compound. It is comparable to the skeleton of a human or animal : you can't see the construction – but it supports and holds everything together.
Question
So, does the carcass have an essential effect on ride characteristics?
Robert
The carcass defines the performance, puncture protection and also the weight of the tire. That is why it is extremely important for you as an MTB rider to choose the well-matched carcass for the respective conditions – but first you have to find the ideal construction. We all know that finding the optimal tire set-up can be very complex.
Question
And the new carcass names now help to simplify the selection process?
Robert
Exactly. We, at Schwalbe, are known to be very innovative. This is also understood in the MTB community and is rewarded with a lot of trust. In conversations with bikers and the cycling industry, however, we have often heard that many would be grateful if they did not have to compare technical intricacies such as EPI values, carcass fabric types and much more. By the way, this applies not only to MTB beginners, but also to shops who wanted a simple and self-explanatory system. In this way, the ideal set-up can now be determined much faster and more effectively.
Question
Your new system is, of course, a real step forward. For example, when I'm mostly on trails, I don't have to look for long, but I know immediately that Schwalbe tires with Super Trail construction are the perfect solution.
Carl
Our goal was to make the names of all construction types as self-explanatory as possible. In this way, even absolute beginners can now find their carcass quickly and easily. Whether downhill, trail or race is their focus. It should never be forgotten that MTB riders prefer to spend their time on the bike rather than reading and comparing tables.
Question
But you have also thoroughly revised the constructions themselves?
Carl
Our goal was to make all constructions fit for the future of mountain biking. The development and differentiation of the MTB world is still very dynamic. We have therefore analyzed each design based on their respective application scenarios and used countless development hours and tests to optimize it down to the smallest detail. Basically it is like this: The best profile and the optimal rubber compound are of little use to you if the carcass is not perfect. The interplay of profile, rubber compound and above all the construction makes a tire.
Question
One more question: Schwalbe introduces the new constructions under the motto 'The Decade of Super'. Why?
Robert
With this message we show that Schwalbe, despite all the attention to detail, always has the big picture in mind. We want to inspire the MTB community and set standards at the same time. Not just for next season, but for much longer periods. A classic like Nobby Nic is an excellent example of this.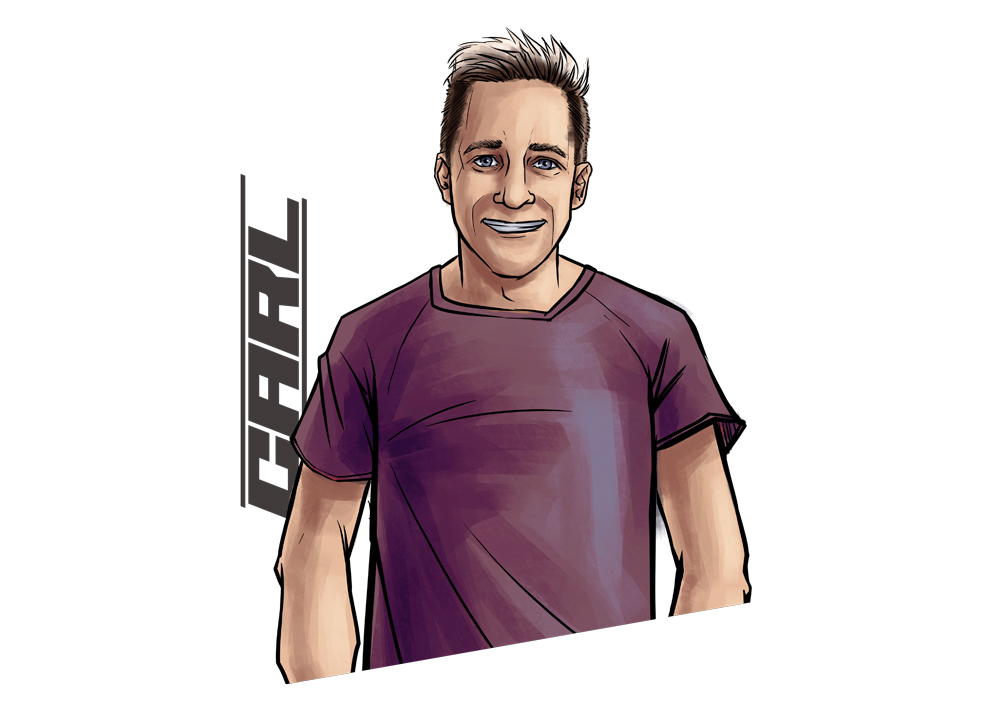 Carl Friedrich Kämper
Schwalbe MTB Tire Product Manager
Downhiller and convinced E-mountain biker
Set-Up
Downhill
Magic Mary 29", 2,40 Super Downhill, ADDIX Ultra Soft
Big Betty (new) 29", 2,40 Super Downhill, ADDIX Soft
E-MTB
Magic Mary 29", 2,40 Super Trail, ADDIX Soft
Big Betty (neu) 29", 2,40 Super Trail, ADDIX Soft
Robert Mennen
Schwalbe MTB Tire Product Manager
Cross Country Racer and enthusiastic all-rounder
Set-Up
XCO/XCM
Racing Ray 29" 2,35 Super Race, ADDIX Speed
Racing Ralph 29" 2,35 Super Race, ADDIX Speed
Trail
Nobby Nic (neu) 29", 2,35 Super Trail, ADDIX Soft
Nobby Nic (neu) 29", 2,35 Super Trail, ADDIX Speedgrip