SUSTAINABILITY IS A TOP PRIORITY AT SCHWALBE
We act responsibly when dealing with customers, co-workers, society, and the environment. Our products drive change towards sustainable mobility solutions, and thus, reduce environmental impacts due to traffic.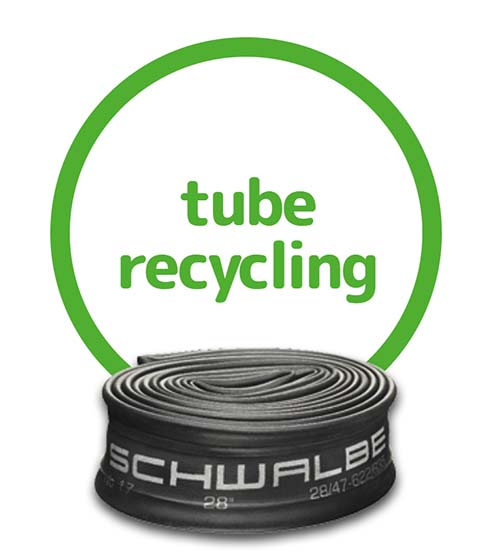 TUBE RECYCLING
Each Schwalbe tube is 100% recyclable.
In Germany, Great Britain, Belgium and the Netherlands, Schwalbe supports the return process of old bicycle tubes with a collection procedure. Bicycle dealers can participate easily and free of charge.
MORE INFORMATION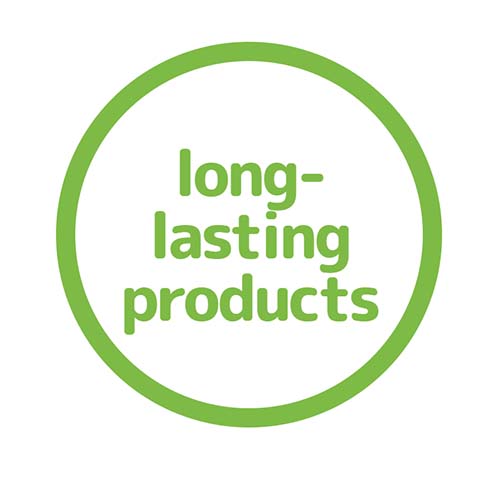 LONG-LASTING PRODUCTS
We produce high-quality, durable products with long service lives. Our approach is a sustainable product design from cradle to cradle. We have not yet reached our goal, but we are on track.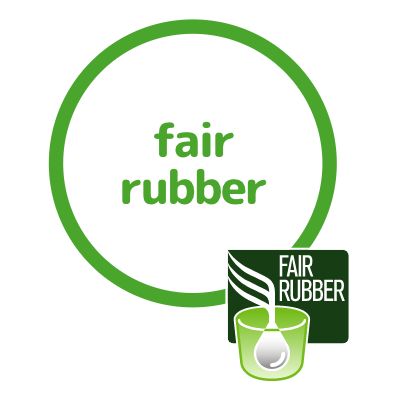 FAIR RUBBER
Schwalbe is the first tire manufacturer to offer products with fair trade rubber. Schwalbe pays a Fair Rubber premium on every kilo of rubber. This is used exclusively to improve the living conditions of small farmers and their families.
Fair Rubber is used for
More information at fairrubber.org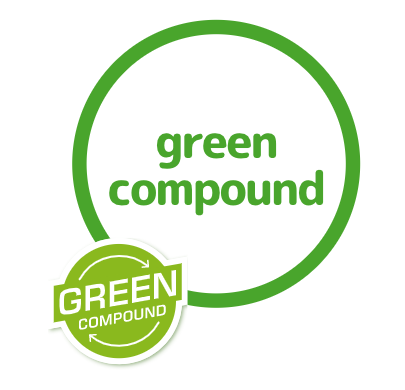 GREEN COMPOUND
Tread rubber with polymers exclusively sourced from renewable and recycled raw materials.
For the first time, a technology specifically designed by Schwalbe allows bicycle tires to be manufactured with tread rubber of polymers sourced exclusively from renewable and recycled raw materials in outstanding standard quality (grip/durability). This saves large amounts of energy and resources during tire production.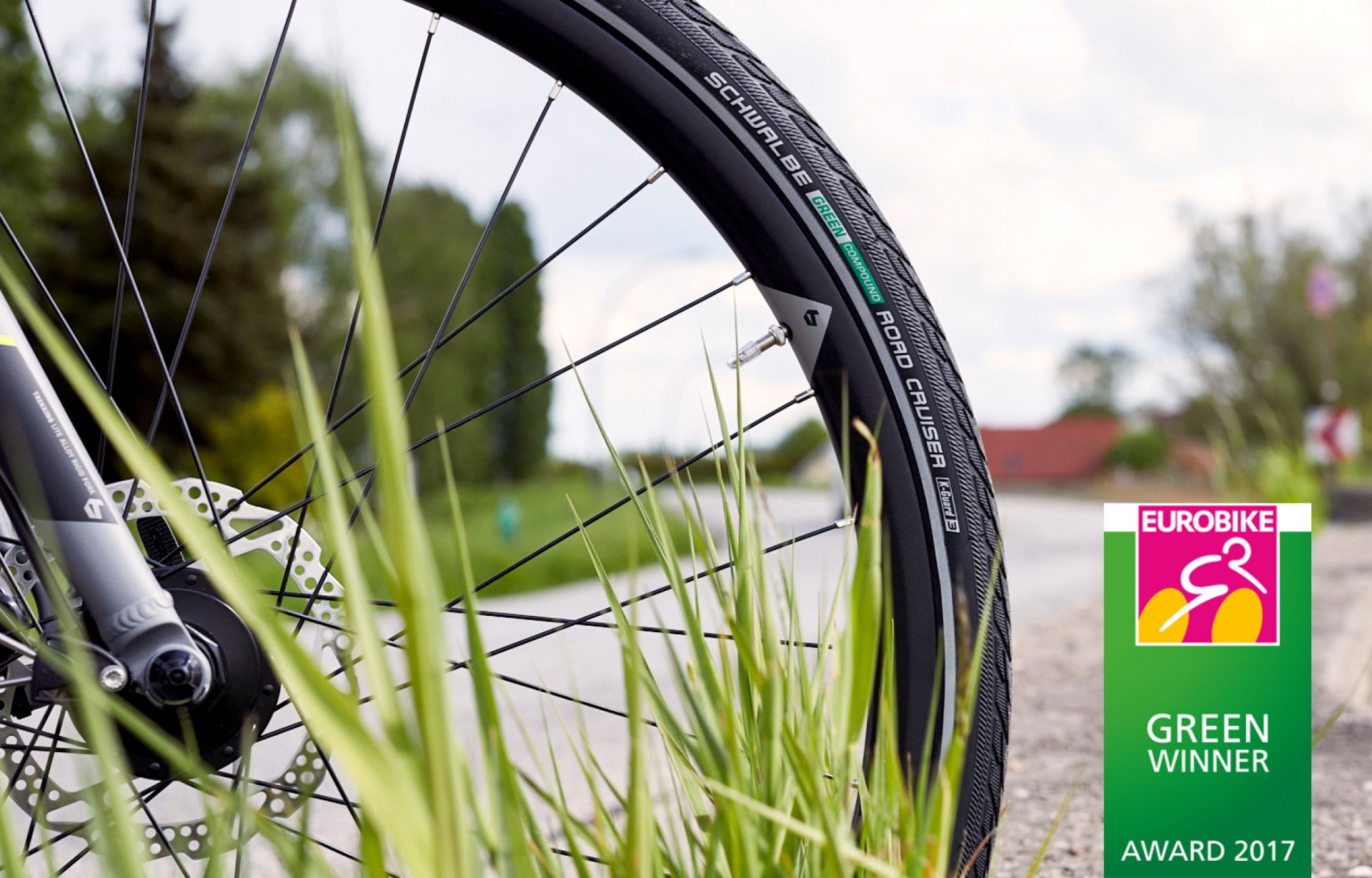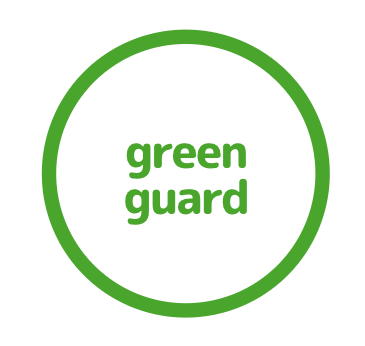 GREEN GUARD
GreenGuard is a 3 mm thick, green puncture protection belt made of natural rubber. Highly elastic and a third is made from recycled material.
Used also in Germany's best-selling bicycle tire:
SCHWALBE MARATHON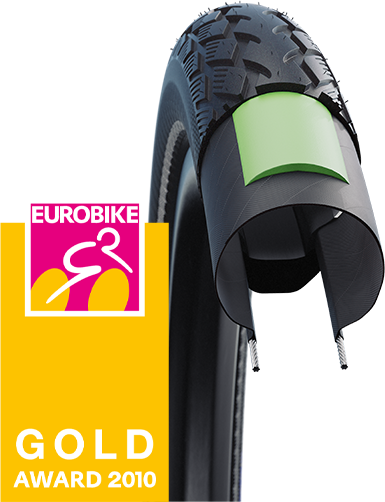 TIPS FOR USE
We advise our customers not to change tires prematurely. In addition, we recommend to check tires regularly for correct inflation, in order to increase their time of use.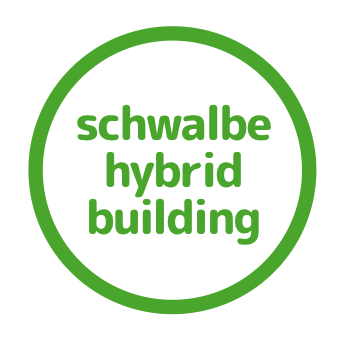 SCHWALBE HYBRID BUILDING
The Hybrid Building will unite all the various building modules into one entity and also optically reflect our company values:
technical dynamics, human creativity, and responsible use of resources. As far as possible, the sustainable design was inspired by the cradle-to-cradle principle.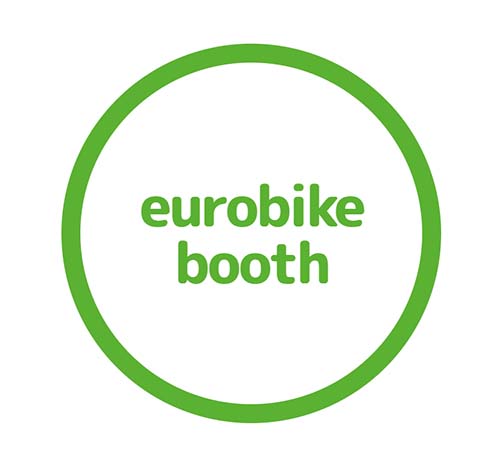 EUROBIKE BOOTH
Our Eurobike booth is made of recyclable, environmentally certified materials. For example, the rubber fig wood is PEFC-certified

CRADLE-TO-CRADLE-PRINCIPLE
Since 2013, Schwalbe has been working successfully with the world-renowned environmental consulting institute EPEA. According to the "Cradle to Cradle" principle, all materials can be completely reused. For example, the Schwalbe catalogue is Cradle to Cradle certified.
MORE INFORMATION EPEA.COM