RESPONSIBILITY
FOR THE NEXT GENERATIONS
With our first CSR report we are not only setting goals, but we are also officially establishing our social and environmental responsibility throughout the company. It not only provides information for our employees and the industry as a whole, but also serves as an inspiration to further develop their responsibility – for the people and for our planet.
The CSR Report is based on the Sustainability Reporting Standards of the Global Reporting Initiative (GRI Standards). These internationally recognized guidelines enable standardization and comparability of all sustainability topics between different companies, even outside the bicycle industry.

THE FOUR PILLARS OF THE SCHWALBE RESPONSIBILITY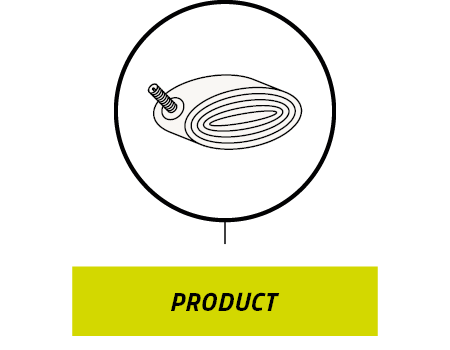 ---
CLOSED CIRCULAR ECONOMY
– Tire recycling
– Tube recycling
---
50 YEARS OF QUALITY
– Long-lasting quality products
– Marathon quality: From Kathmandu to Bergneustadt on one Marathon tire (world traveler Wolfgang Reiche)
---
MATERIAL OPTIMIZATION
– Material Screening in accordance with C2C (ingredients, renewable ingredients, detoxing)
---
PRODUCT INNOVATION
– Aerothan (TPU-material, sustainable high-end product)
– Green Guard (first puncture protection, made of one third recycled material)
– Green Compound (rubber compound exclusively made of renewable materials)
---
WASTE MINIMIZATION
– Resource-efficient packaging
– 100 % recyclable packaging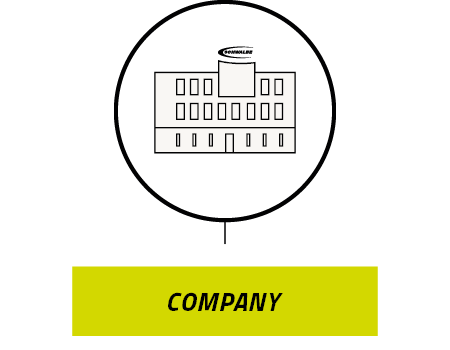 ---
EMPLOYEES
– Comprehensive support & assistance
– Long-term employment (further education, cycle to work incentive, etc.)
---
NEW HEADQUARTERS

– 70 % of materials used are circular
---
ENERGY CONCEPT

– Electricity from 100 % renewable energy sources (HQ – 311 t CO2 savings/year)
---
MOBILITY CONCEPT

– Sustainable mobility (cycle friendly employer, switch to e-mobility)
---
SUSTAINABLE PROCUREMENT
– Highest standards for purchasing (e.g. office supplies)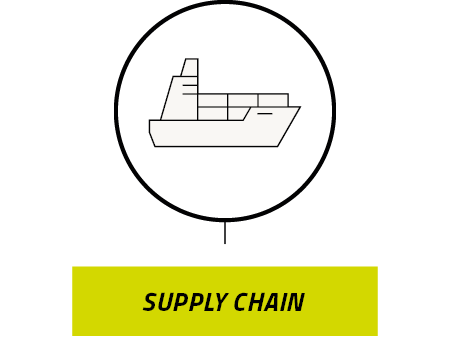 ---
IMPROVE LIVING STANDARDS
– Fair trade natural rubber (Fair Rubber e.V.)
– Higher wages and better work conditions
---
GLOBAL ENERGY CONCEPT
– Use of organic waste instead of coal
---
SUSTAINABLE LOGISTICS

– Selection of providers based on sustainability criteria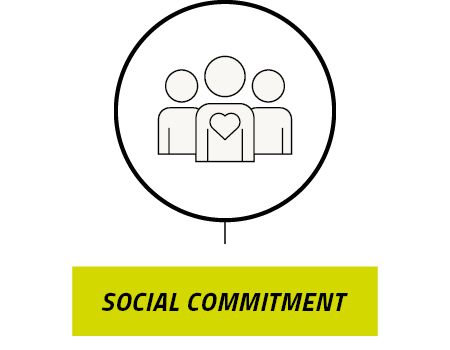 ---
SOCIAL OUTREACH
– Promotion of the wheelchair division (extensive portfolio for everyday activities and sports)
– Sponsoring of parasports
---
CHARITY PROJECTS

– Chancenwerk
– World Bicycle Relief
– Children for a better world
---
PROMOTION OF SPORTS
– Sponsoring athletes
– Regional support (VfL Gummersbach, TTC Bergneustadt)
---
BIODIVERSITY PROTECTION
– Borneo Orang-Utan Survival
Foundation
– Greening of headquarters for greater biodiversity
– Rooftop garden (herbs and vegetables for the canteen)
FUTURE UNDERTAKINGS – OUR CSR MARATHON
As one of the first companies in the bicycle industry, we have set ambitious CSR goals in our four pillars of responsibility.

---
2023

Presentation of first product with 100% RCB (Recovered Carbon Black)
---
2025
Life Cycle Assessment (LCA) for all core products


CONEBI/CIE Sustainable packaging commitment working with supply chain partners to ensure that all packaging in the supply chain is reusable, recyclable, or compostable
---
2026
14 million recycled tires
13 million recycled inner tubes
---
2023

Sustainable mobility for HQ complete, holistic onboarding program
---
2025
Energy transition: 100% use of renewable energies in Germany
---
2030
Internal climate goal: reduce scope 1 & 2 emissions by 55%; expand the inclusion of scope 3 emissions

---
2023

Audits of the JV factories in IN and VN
---
2024
Application of code of conduct for the entire group of suppliers / sub-suppliers and accessories suppliers
---
2025
Additional external auditing of the code of conduct
---
2027
Energy transition: expansion of renewable energies at the production sites

---
2023

Begin of support for social projects in the production countries and for people in the resource extraction process
---
2030
25% share of cycling mobility in commuting
CSR: Corporate Social Responsibility means responsible business management, which integrates ecological and social aspects.
Our inspiration is the CRADLE TO CRADLE design. This is all about thinking in cycles. Products and processes are conceptualized in such a way that all materials can be recycled after their use. This is already taken into account during the design and manufacturing process.
TIRE RECYCLING TURNING USED INTO NEW
Schwalbe is the first manufacturer in the world to recycle bicycle tires, this saves 80% of emissions.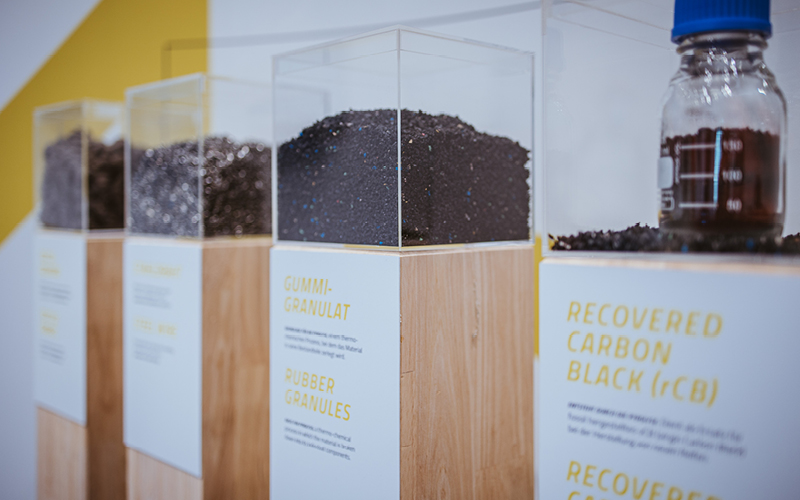 SUPPLY CHAIN RESPONSIBILITY
Compliance with ecological and social standards within the supply chain is an essential issue for us. We, like all companies, are called upon to analyze our supply chain.
Cooperation with Fair Rubber e.V.
In cooperation with Fair Rubber e. V. we are committed to the fair trade of natural rubber, and thus actively support the improvement of the living and working conditions of rubber tappers.
THE NEW COMPANY HEADQUARTERS IN REICHSHOF
Open, spacious, green, and stimulating – this is the new heart of our Headquarters in Reichshof. Built according to the C2C principle, we have used 70 percent materials that can be recycled at the end of their utilisation. Furthermore, another 28 percent can be downcycled.

The new building reflects our future-oriented commitment to people and society down to the last detail.
ENERGY AND EMISSIONS – GREENHOUSE GAS BALANCE
No more burnt tires. Through this mission we aim to actively contribute toward the reduction of the CO2 footprint for bicycle mobility. In doing so, we conserve valuable resources.
Emissions reduction target: 55% by 2030
Our current emissions reduction target is minus 55 percent by 2030 compared to the base year 2018. To achieve this, we aim to significantly reduce greenhouse gas emissions that occur at our own sites, through business trips by employees, or through the manufacture of our products. In addition, we shall reserve the right to compensate for emissions that we cannot avoid.