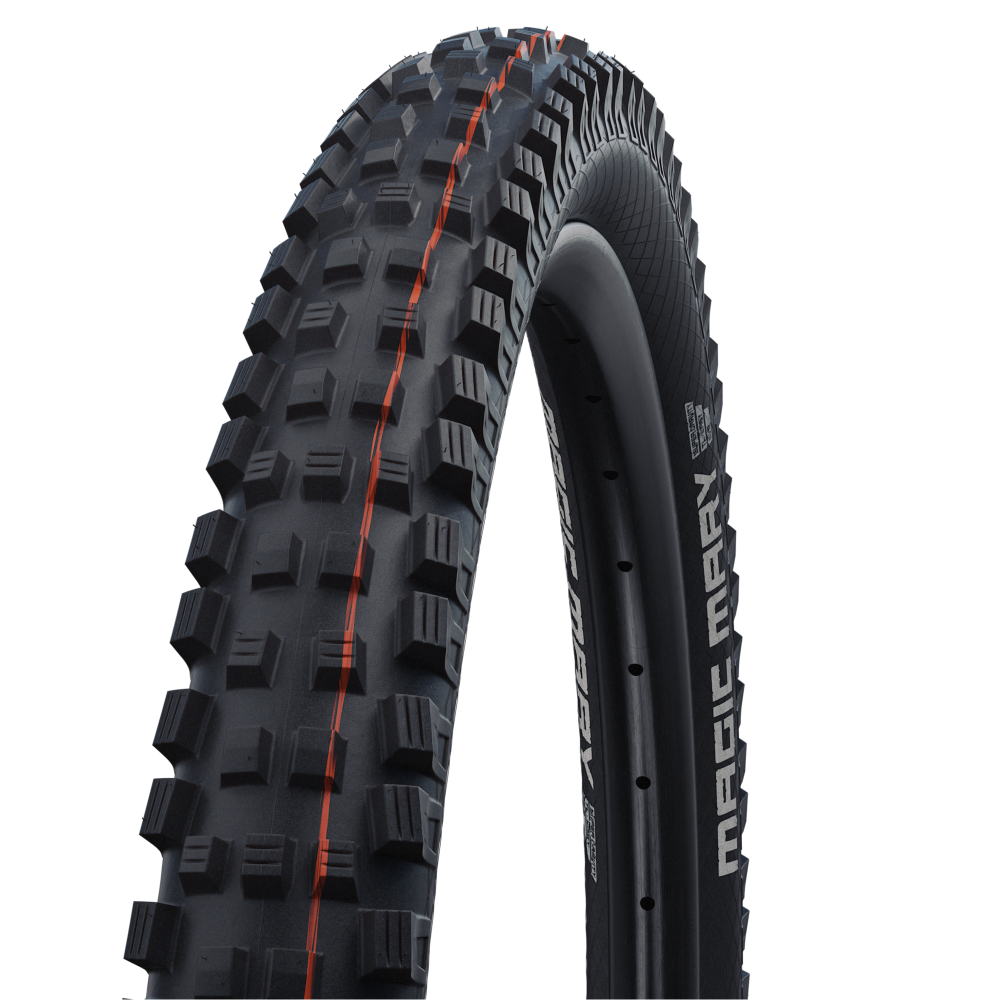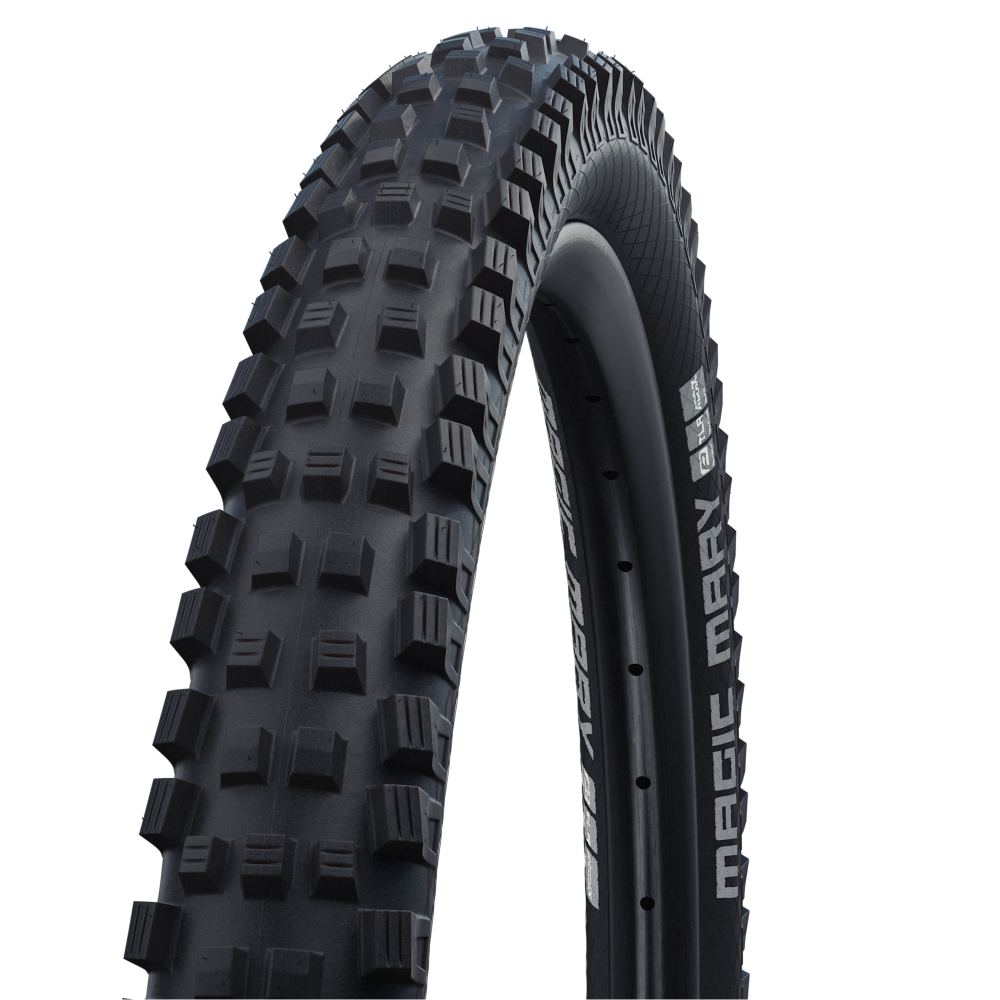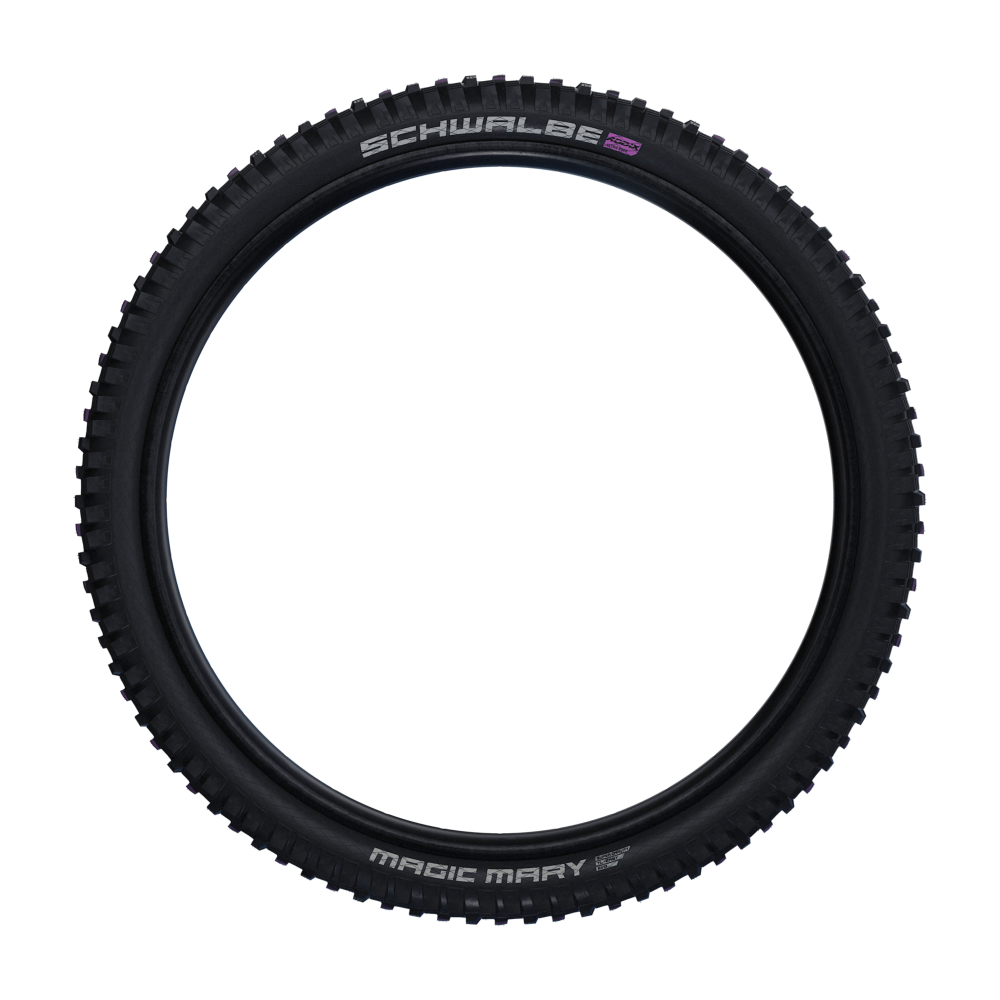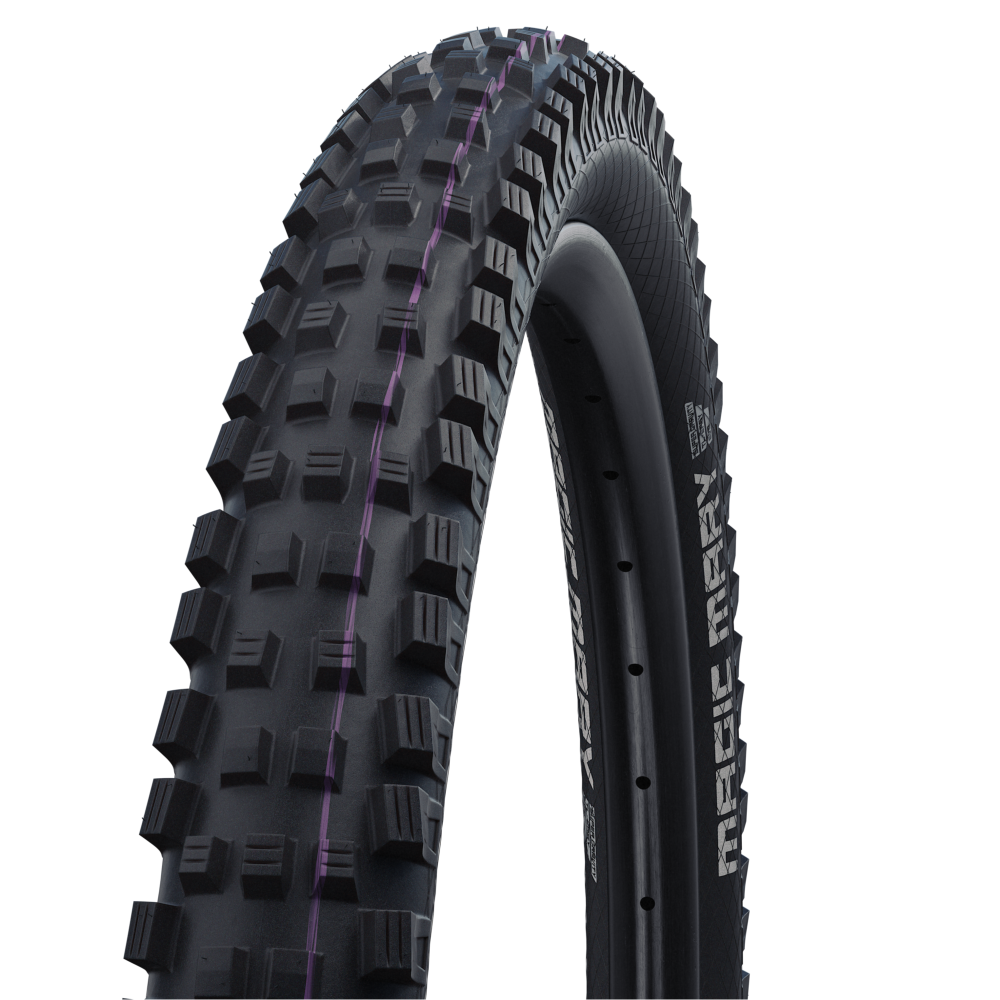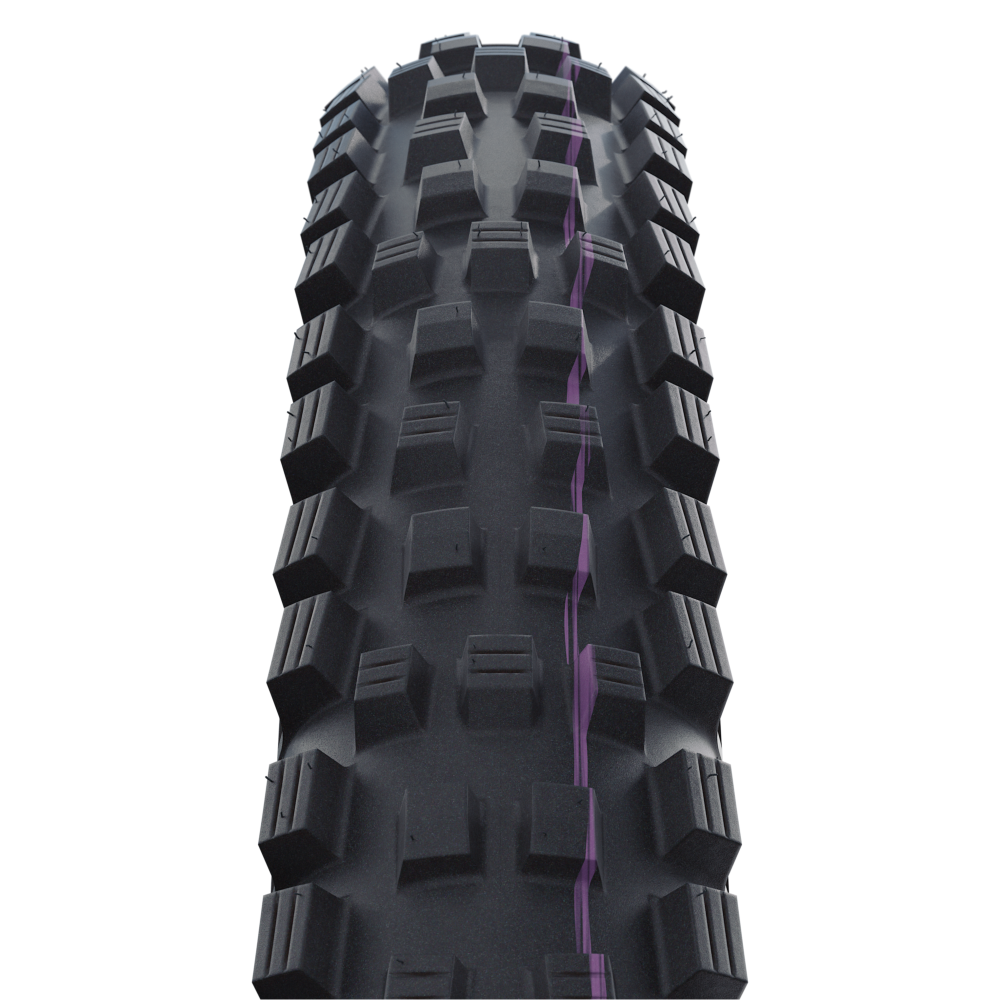 /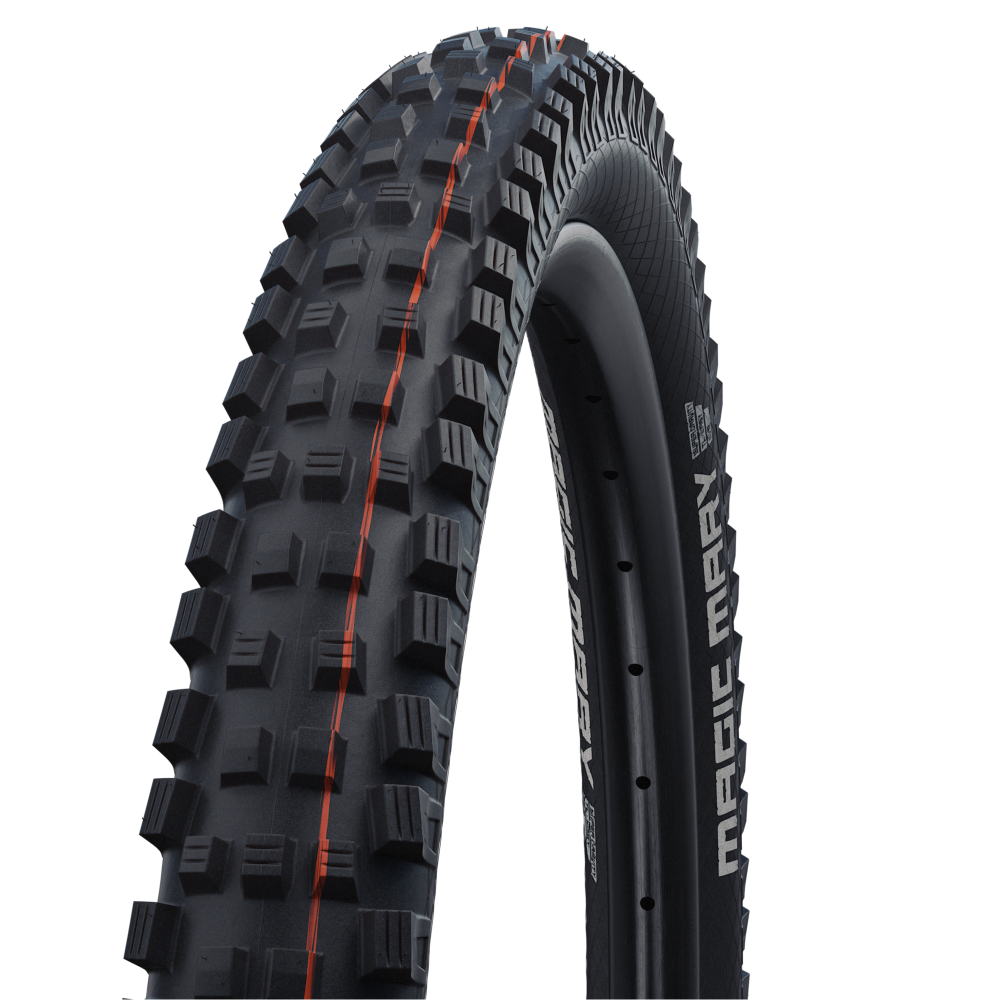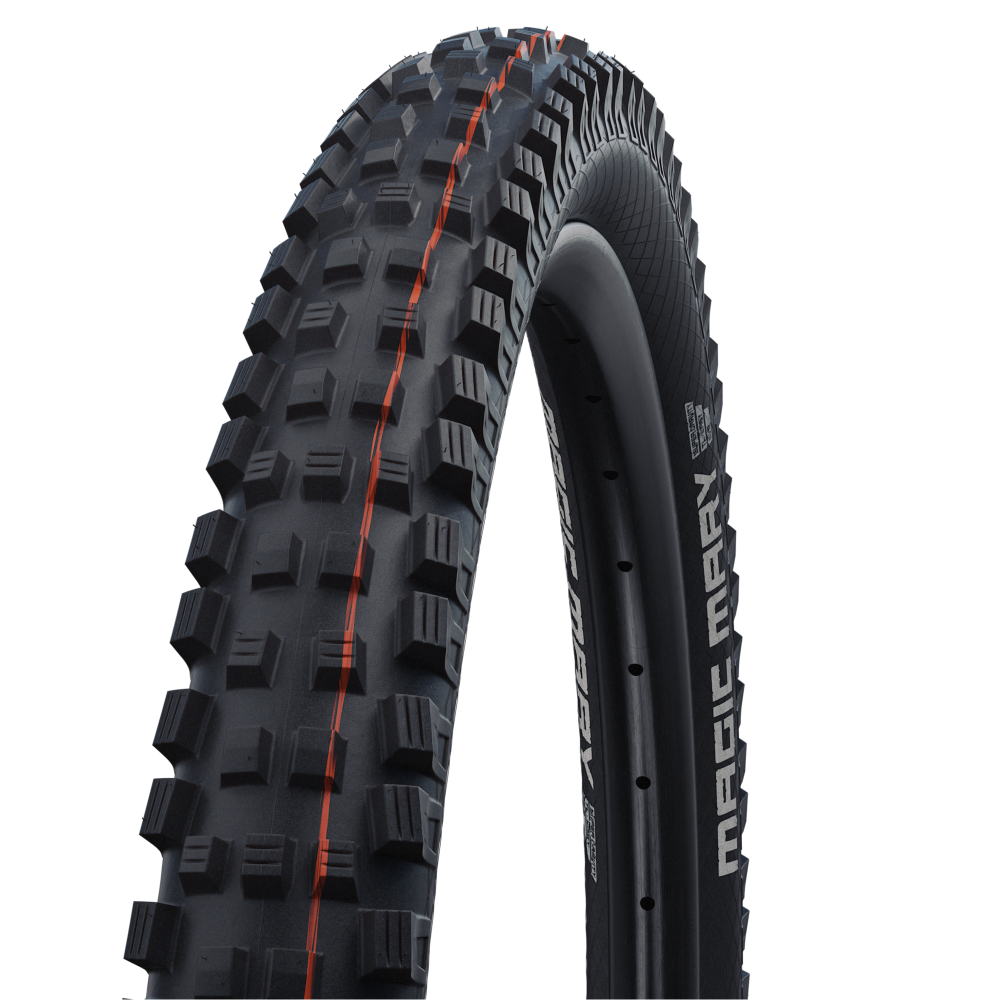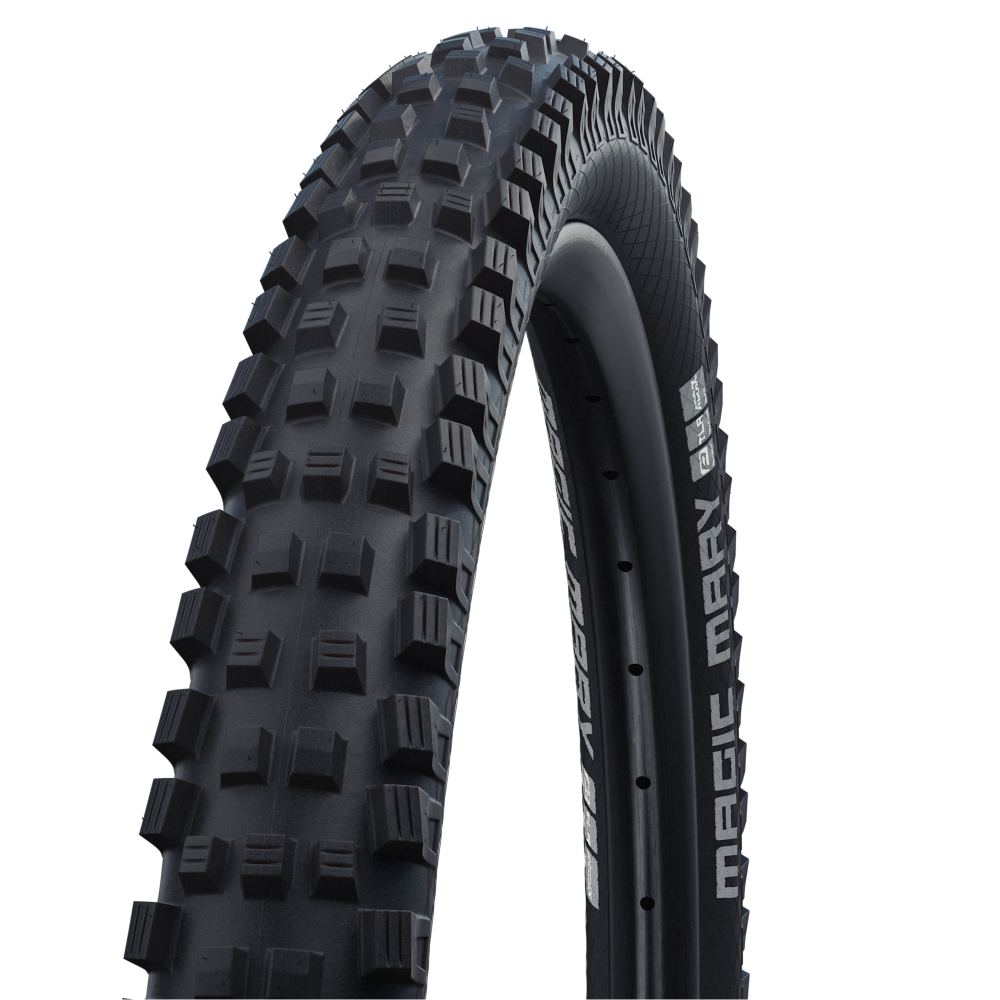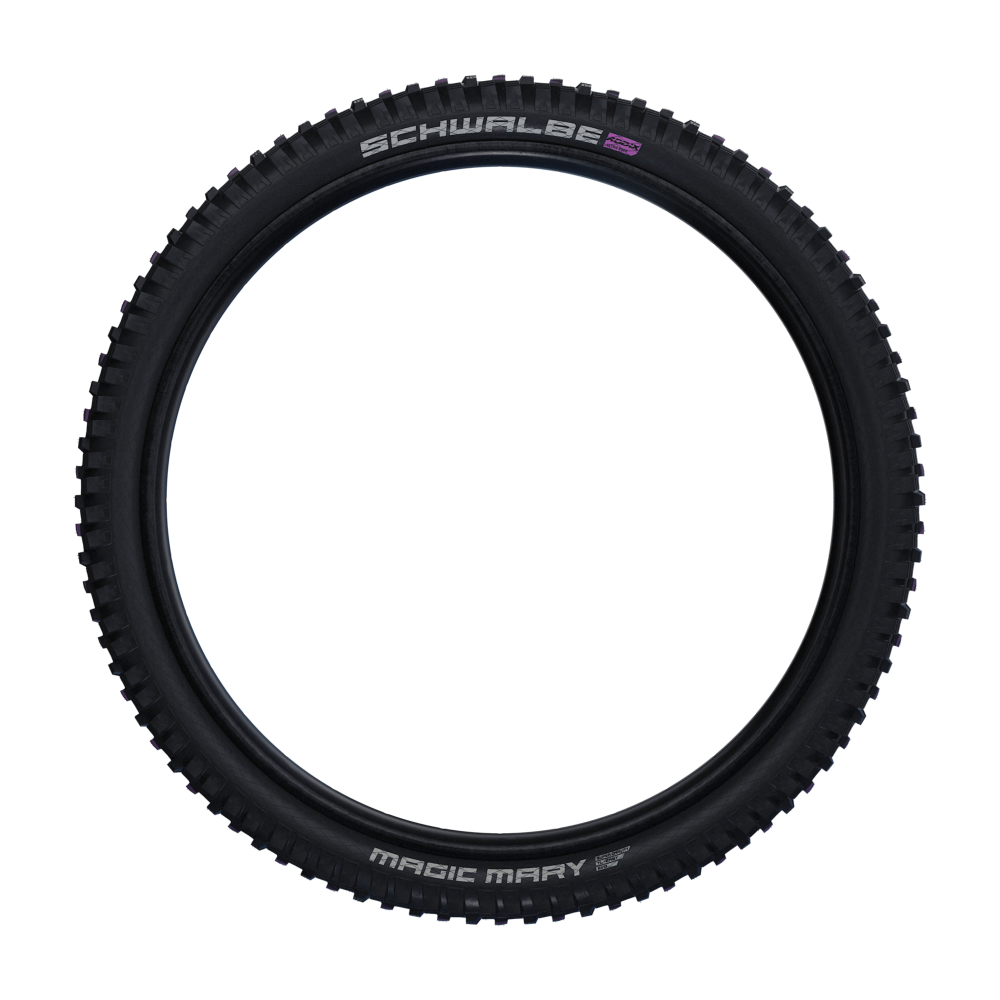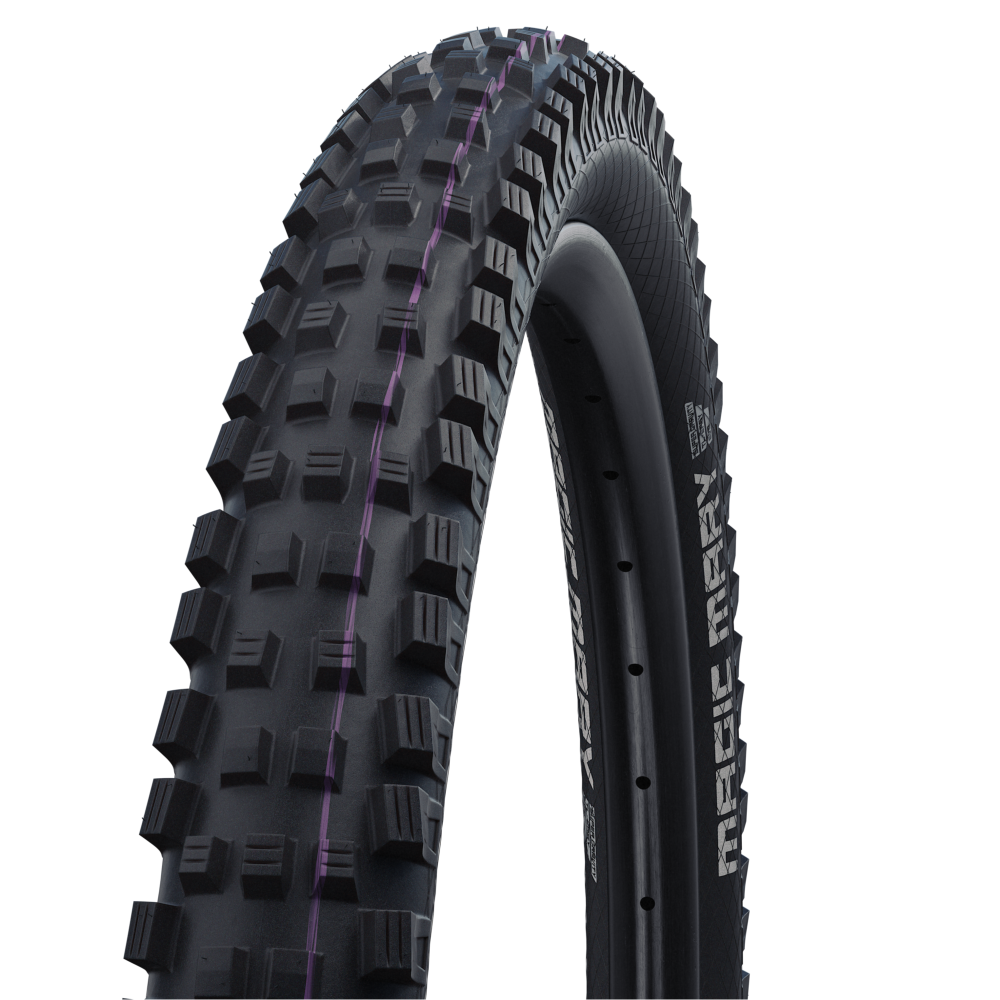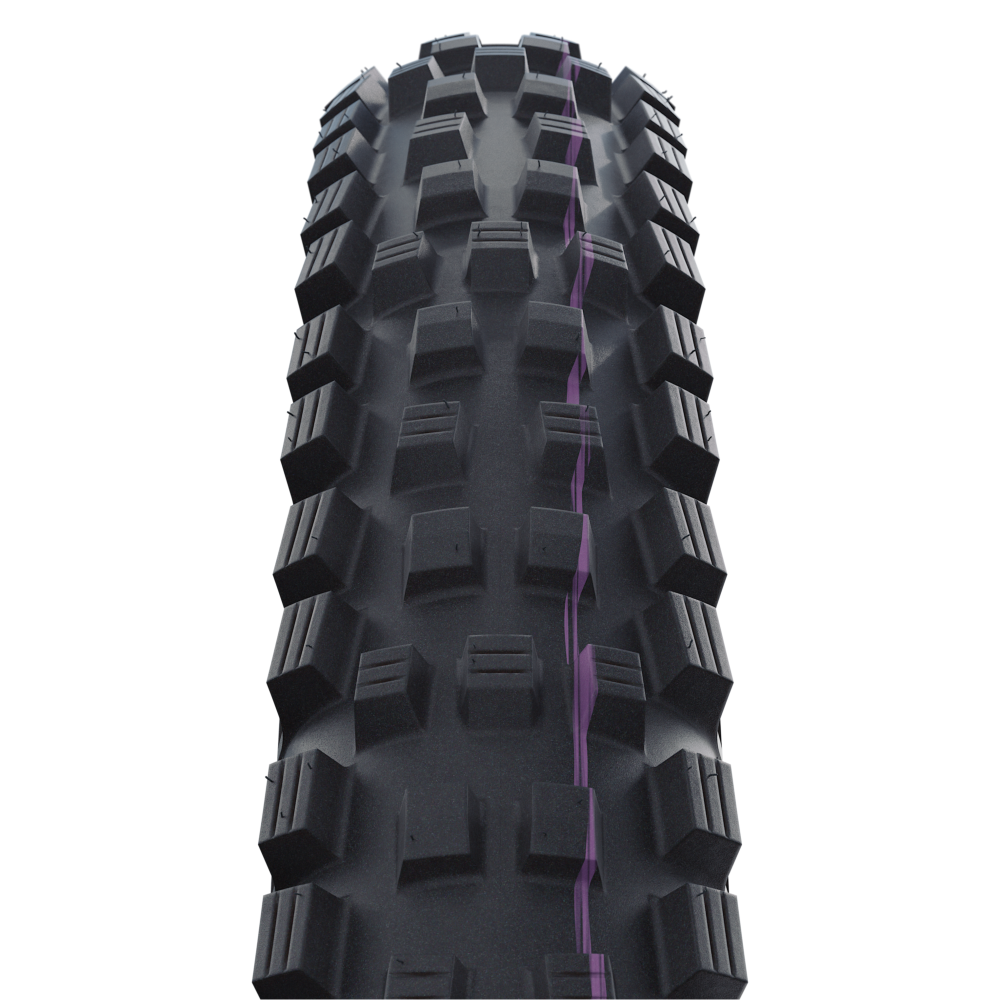 Product Description
THE ULTIMATE GRAVITY TIRE. Indisputably the favorite among Schwalbe Downhill and Enduro athletes. Perfect all-round characteristics for almost all tracks and conditions. The sophisticated intermediate profile is combined with the best compounds and construction, pushing the limits to surprising levels.
Strong shoulder studs and aggressive, open tread design provide maximum braking traction and cornering grip even in extremely muddy terrain.
Equipped with V-Groves specially developed for Magic Mary, every stud can bite into the ground for even more grip.
Angled studs in the middle of the tread optimise the rolling characteristics.
More information:
ADDIX Compound
Best Use
Technical Data
Size:

ETRTO 57-622 (29x2.25 Inch)

Type:

Folding

Compound:

Addix Soft

Version:

Super Trail

Colour:

Black

Seal:

Tubeless

Weight:

1080 g

Pressure:

1.7-3.8 Bar (24-55 psi)

Maximum load:

110 kg

EPI:

67

E-Bike:

E-25

Profile:

HS447

Product number:

11601026.01

EAN:

4026495879354

Price:

US$98.00
Ratings
Features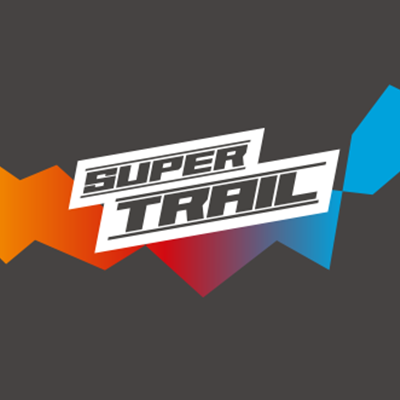 Super Trail
As versatile as a multi-tool: a stable construction, with a range of applications from intense all-mountain and trail rides to enduro use. Ideal for riders riding a medium-travel bike.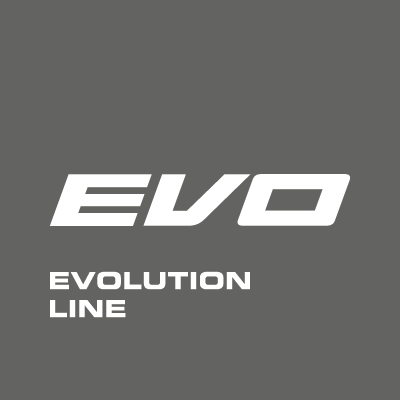 Evolution Line
The very best possible. Highest grade materials. Latest technology.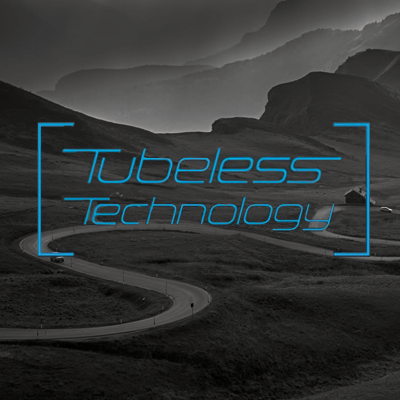 Tubeless Technology
For all ambitious sports cyclists Tubeless is the right choice. Only Tubeless achieves the best values in terms of:
+ SPEED
+ GRIP
+ PUNCTURE PROTECTION
+ COMFORT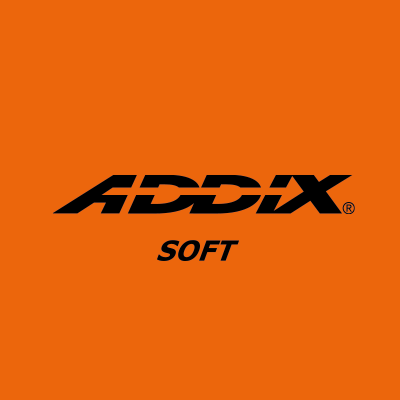 ADDIX Soft Compound
ADDIX SOFT is a compound that bridges many disciplines. It's just as at home in the Enduro and downhill world as it is in the demanding discipline of all-mountain and trail riding.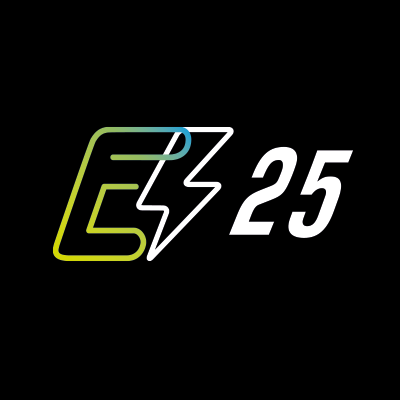 E-25
Tires with the recommendation "E-25" are the perfect choice for all pedelecs with pedal assistance up to 25 km/h. The most important criterion for this recommendation: safety.
Product overview
Find your perfect tire even faster. Use the search to narrow down the articles or
sort the tires with the arrows directly in the table according to your interest.
INCH
ETRTO
SIZE
VERSION
SEAL
TYPE
E-BIKE
COMPOUND
COLOUR
BAR
PSI
WEIGHT
EPI
MAXIMUM LOAD
PRODUCT NUMBER
QUALITY
PRICE

HS447
4026495876575
26"
60-559
26x2.35
Super Gravity
Tubeless
Folding
E-25
Addix Ultra Soft
Black
1.6-3.5
23-50
1095 g
67
115 kg
11600536.03
Evolution Line
US$91.30

US$101.44

HS447
4026495752862
26"
60-559
26x2.35
Downhill
Tube
Wired
Vertstar
Black
1.6-3.5
23-50
1190 g
2x67
115 kg
11100746.01
Evolution Line
US$45.51

US$75.85

HS447
4026495876551
26"
60-559
26x2.35
Super Gravity
Tubeless
Folding
E-25
Addix Soft
Black
1.6-3.5
23-50
1095 g
67
115 kg
11600513.03
Evolution Line
US$104.00

HS447
4026495833547
26"
60-559
26x2.35
BikePark
Tube
Wired
E-25
Addix
Black
1.6-3.5
23-50
1400 g
2x50
115 kg
11100976.01
Performance Line
US$38.00

HS447
4026495876612
26"
60-559
26x2.35
Super Downhill
Tubeless
Folding
E-25
Addix Ultra Soft
Black
1.6-3.5
23-50
1210 g
2x67
115 kg
11654179
Evolution Line
US$104.00

HS447
4026495876858
26"
65-559
26x2.60
Super Downhill
Tubeless
Folding
E-25
Addix Ultra Soft
Black
1.5-3.2
20-46
1325 g
2x67
120 kg
11654182
Evolution Line
US$104.00

HS447
4026495876599
26"
60-559
26x2.35
Super Trail
Tubeless
Folding
E-25
Addix Soft
Black
1.6-3.5
23-50
970 g
67
115 kg
11600538.03
Evolution Line
US$98.00

HS447
4026495820868
27.5"
57-584
27.5x2.25
Evolution
Tubeless
Folding
E-25
Addix Soft
Black
1.7-3.8
24-55
860 g
67
110 kg
11600992.01
Evolution Line
US$43.48

US$86.95

HS447
4026495878098
27.5"
62-584
27.5x2.40
Super Gravity
Tubeless
Folding
E-50
Addix Ultra Soft
Black
Max. 3.5
Max. 50.0
1205 g
67
115 kg
11600537.03
Evolution Line
US$104.00

HS447
4026495878159
27.5"
62-584
27.5x2.40
Super Gravity
Tubeless
Folding
E-50
Addix Soft
Classic
Max. 3.5
Max. 50.0
1205 g
67
115 kg
11654046.01
Evolution Line
US$104.00

HS447
4026495898157
27.5"
62-584
27.5x2.40
Super Trail
Tubeless
Folding
E-50
Addix Ultra Soft
Black
Max. 3.5
Max. 50.0
1110 g
67
115 kg
11654278
Evolution Line
US$98.00

HS447
4026495878197
27.5"
62-584
27.5x2.40
Super Downhill
Tubeless
Folding
E-50
Addix Ultra Soft
Black
Max. 3.5
Max. 50.0
1320 g
2x67
115 kg
11654180
Evolution Line
US$104.00

HS447
4026495878050
27.5"
62-584
27.5x2.40
Super Gravity
Tubeless
Folding
E-50
Addix Soft
Black
Max. 3.5
Max. 50.0
1205 g
67
115 kg
11600511.03
Evolution Line
US$104.00

HS447
4026495814140
27.5"
65-584
27.5x2.60
Apex
Tubeless
Folding
E-25
Addix Speedgrip
Black
1.2-2.6
17-38
1000 g
67
115 kg
11601009
Evolution Line
US$58.83

US$98.05

HS447
4026495878111
27.5"
62-584
27.5x2.40
Super Trail
Tubeless
Folding
E-50
Addix Soft
Black
Max. 3.5
Max. 50.0
1110 g
67
115 kg
11600539.03
Evolution Line
US$98.00

HS447
4026495904193
27.5"
62-584
27.5x2.40
Super Gravity
Tubeless
Folding
E-50
Addix Soft
Bronze Sidewall
Max. 3.5
Max. 50.0
1220 g
67
115 kg
11654381
Evolution Line
US$104.00

HS447
4026495882255
27.5"
62-584
27.5x2.40
BikePark
Tube
Wired
E-50
Addix
Black
Max. 3.5
Max. 50.0
1525 g
2x50
115 kg
11100977.02
Performance Line
US$45.00

HS447
4026495817448
27.5"
60-584
27.5x2.35
Super Gravity
Tubeless
Folding
E-25
Addix Ultra Soft
Black
1.6-3.5
23-50
1155 g
67
115 kg
11600537.02
Evolution Line
US$46.25

US$92.50

HS447
4026495816687
27.5"
60-584
27.5x2.35
Downhill
Tube
Wired
Addix Ultra Soft
Black
1.6-3.5
23-50
1305 g
2x67
115 kg
11100747.02
Evolution Line
US$52.17

US$86.95

HS447
4026495878616
27.5"
65-584
27.5x2.60
Super Downhill
Tubeless
Folding
E-50
Addix Ultra Soft
Black
1.2-2.6
17-38
1393 g
2x67
120 kg
11654183
Evolution Line
US$104.00

HS447
4026495816748
27.5"
65-584
27.5x2.60
Downhill
Tube
Wired
Addix Ultra Soft
Black
1.5-3.2
20-46
1470 g
2x67
120 kg
11100966.01
Evolution Line
US$74.00

US$92.50

HS447
4026495878999
27.5"
70-584
27.5x2.80
Super Trail
Tubeless
Folding
E-25
Addix Soft
Black
1.2-2.6
17-38
1205 g
67
120 kg
11601012.01
Evolution Line
US$98.00

HS447
4026495878531
27.5"
65-584
27.5x2.60
Super Trail
Tubeless
Folding
E-25
Addix Soft
Black
1.2-2.6
17-38
1135 g
67
115 kg
11601010.01
Evolution Line
US$98.00

HS447
4026495878579
27.5"
65-584
27.5x2.60
Super Gravity
Tubeless
Folding
E-25
Addix Soft
Black
1.2-2.6
17-38
1280 g
67
115 kg
11601051.02
Evolution Line
US$104.00

HS447
4026495814188
27.5"
65-584
27.5x2.60
Apex
Tubeless
Folding
E-25
Addix Soft
Black
1.2-2.6
17-38
1065 g
67
115 kg
11601010
Evolution Line
US$98.05

HS447
4026495880879
29"
62-622
29x2.40
Super Downhill
Tubeless
Folding
E-50
Addix Ultra Soft
Black
Max. 3.5
Max. 50.0
1400 g
2x67
125 kg
11654181
Evolution Line
US$104.00

HS447
4026495887526
29"
62-622
29x2.40
BikePark
Tube
Wired
E-50
Addix
Black
Max. 3.5
Max. 50.0
1600 g
2x50
125 kg
11159188
Performance Line
US$45.00

HS447
4026495881173
29"
65-622
29x2.60
Super Trail
Tubeless
Folding
E-25
Addix Soft
Black
1.2-2.6
17-38
1220 g
67
115 kg
11601102.01
Evolution Line
US$98.00

HS447
4026495881210
29"
65-622
29x2.60
Super Gravity
Tubeless
Folding
E-25
Addix Soft
Black
1.2-2.6
17-38
1370 g
67
115 kg
11654048.01
Evolution Line
US$104.00

HS447
4026495880718
29"
62-622
29x2.40
Super Gravity
Tubeless
Folding
E-50
Addix Soft
Black
Max. 3.5
Max. 50.0
1280 g
67
125 kg
11600615.03
Evolution Line
US$104.00

HS447
4026495869775
29"
60-622
29x2.35
Super Gravity
Tubeless
Folding
E-25
Addix Ultra Soft
Black
1.6-3.5
23-50
1225 g
67
125 kg
11654090
Evolution Line
US$92.50

HS447
4026495879354
29"
57-622
29x2.25
Super Trail
Tubeless
Folding
E-25
Addix Soft
Black
1.7-3.8
24-55
1080 g
67
110 kg
11601026.01
Evolution Line
US$98.00

HS447
4026495880831
29"
62-622
29x2.40
Super Gravity
Tubeless
Folding
E-50
Addix Ultra Soft
Black
Max. 3.5
Max. 50.0
1280 g
67
125 kg
11654090.01
Evolution Line
US$104.00

HS447
4026495898195
29"
62-622
29x2.40
Super Trail
Tubeless
Folding
E-50
Addix Ultra Soft
Black
Max. 3.5
Max. 50.0
1150 g
67
125 kg
11654279
Evolution Line
US$98.00

HS447
4026495820905
29"
57-622
29x2.25
Evolution
Tubeless
Folding
E-25
Addix Soft
Black
1.7-3.8
24-55
910 g
67
110 kg
11601026
Evolution Line
US$43.48

US$86.95

HS447
4026495880756
29"
62-622
29x2.40
Super Trail
Tubeless
Folding
E-50
Addix Soft
Black
Max. 3.5
Max. 50.0
1150 g
67
125 kg
11600616.03
Evolution Line
US$98.00

HS447
4026495904230
29"
62-622
29x2.40
Super Gravity
Tubeless
Folding
E-50
Addix Soft
Bronze Sidewall
Max. 3.5
Max. 50.0
1295 g
67
125 kg
11654382
Evolution Line
US$104.00

HS447
4026495880794
29"
62-622
29x2.40
Super Gravity
Tubeless
Folding
E-50
Addix Soft
Classic
Max. 3.5
Max. 50.0
1280 g
67
125 kg
11654047.01
Evolution Line
US$104.00