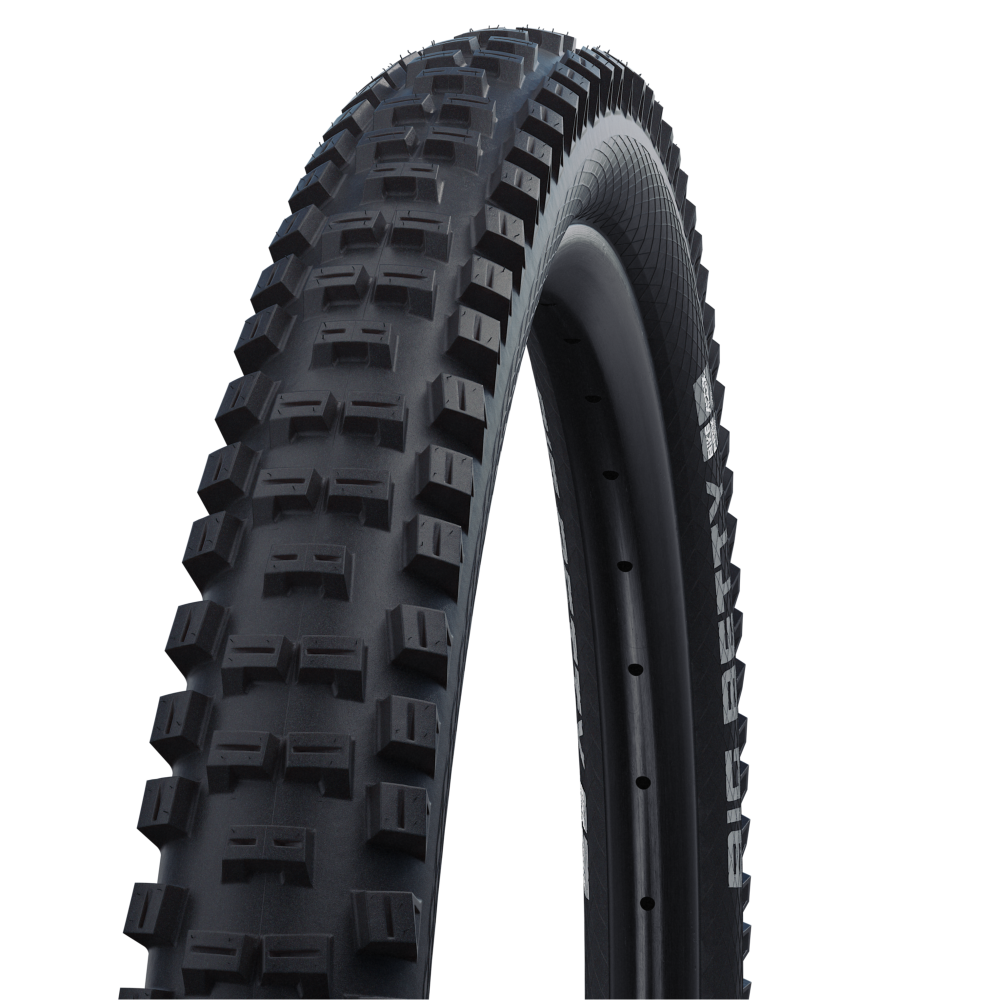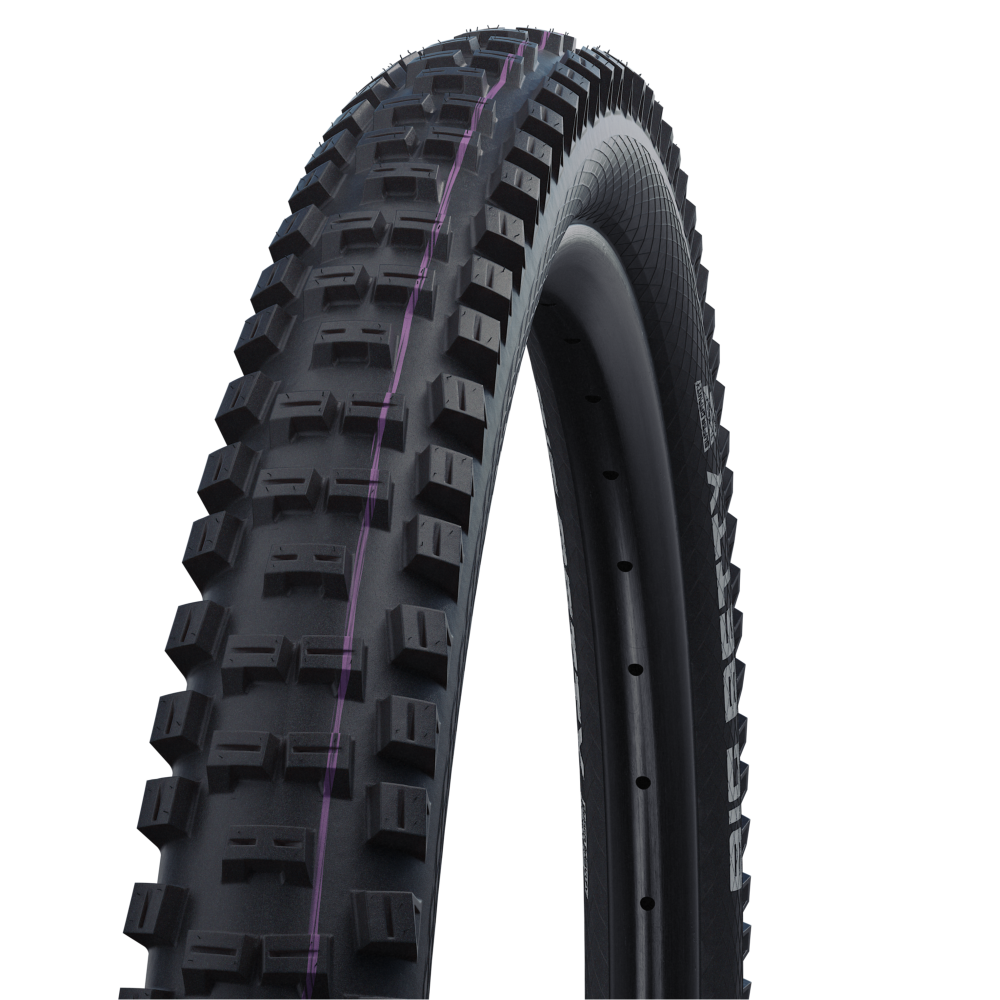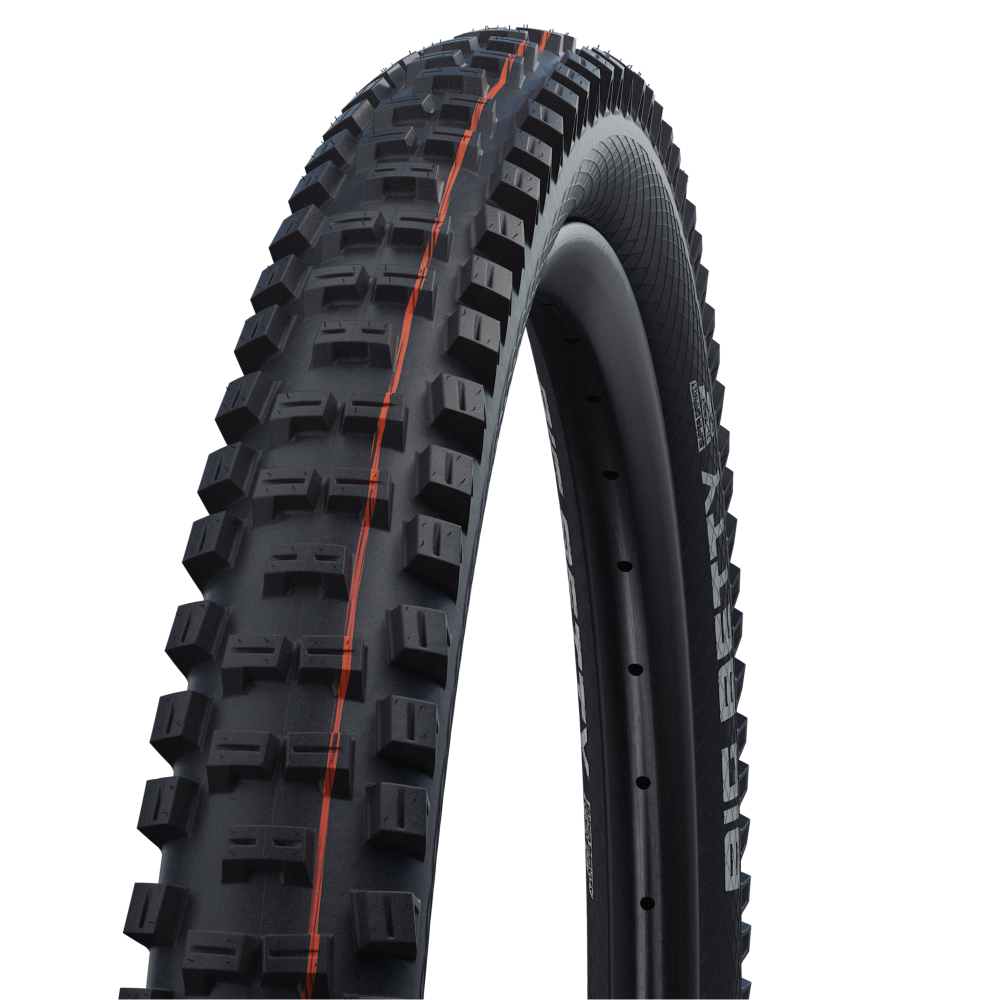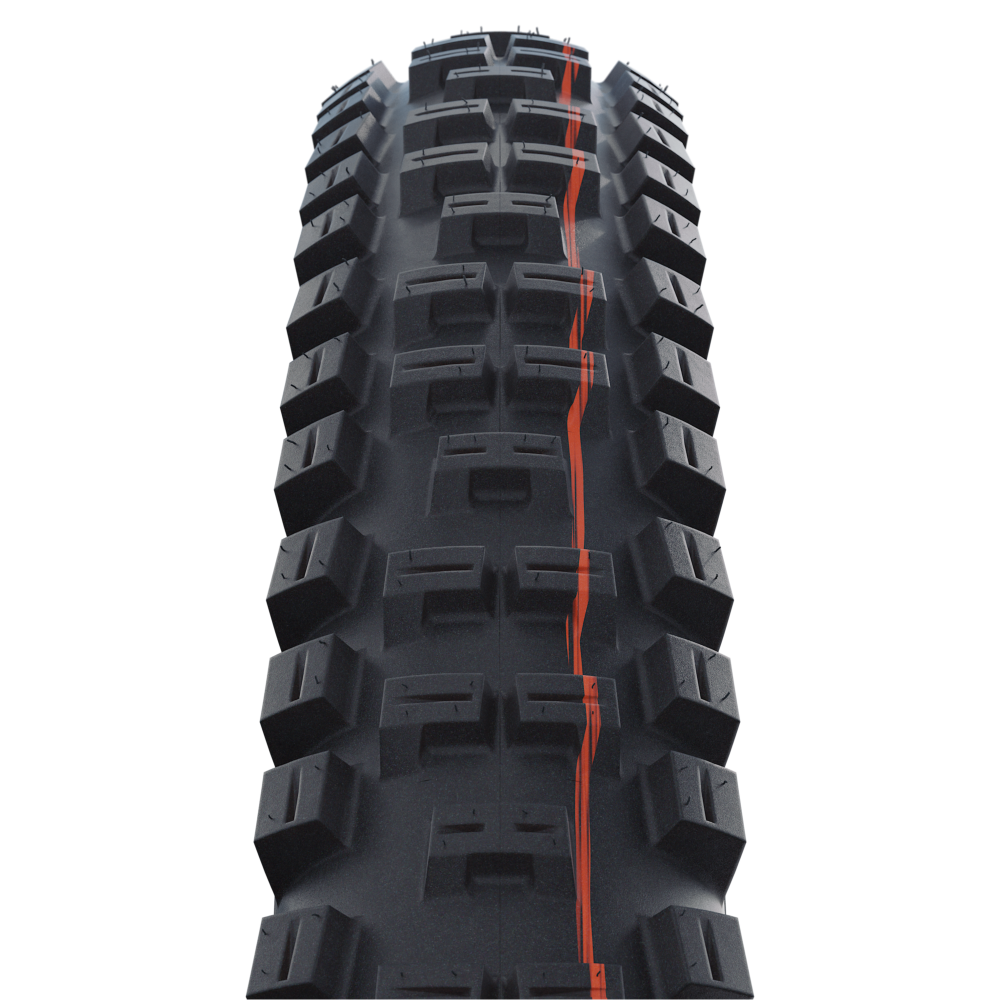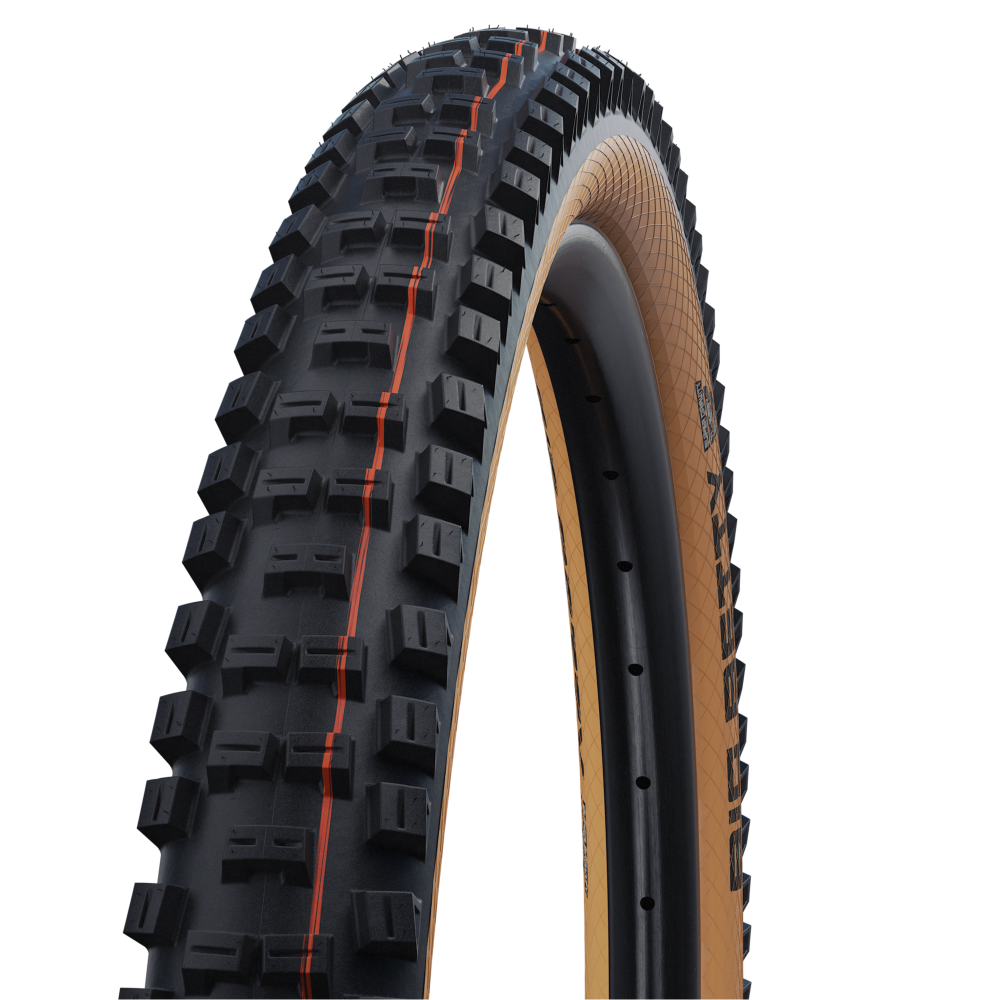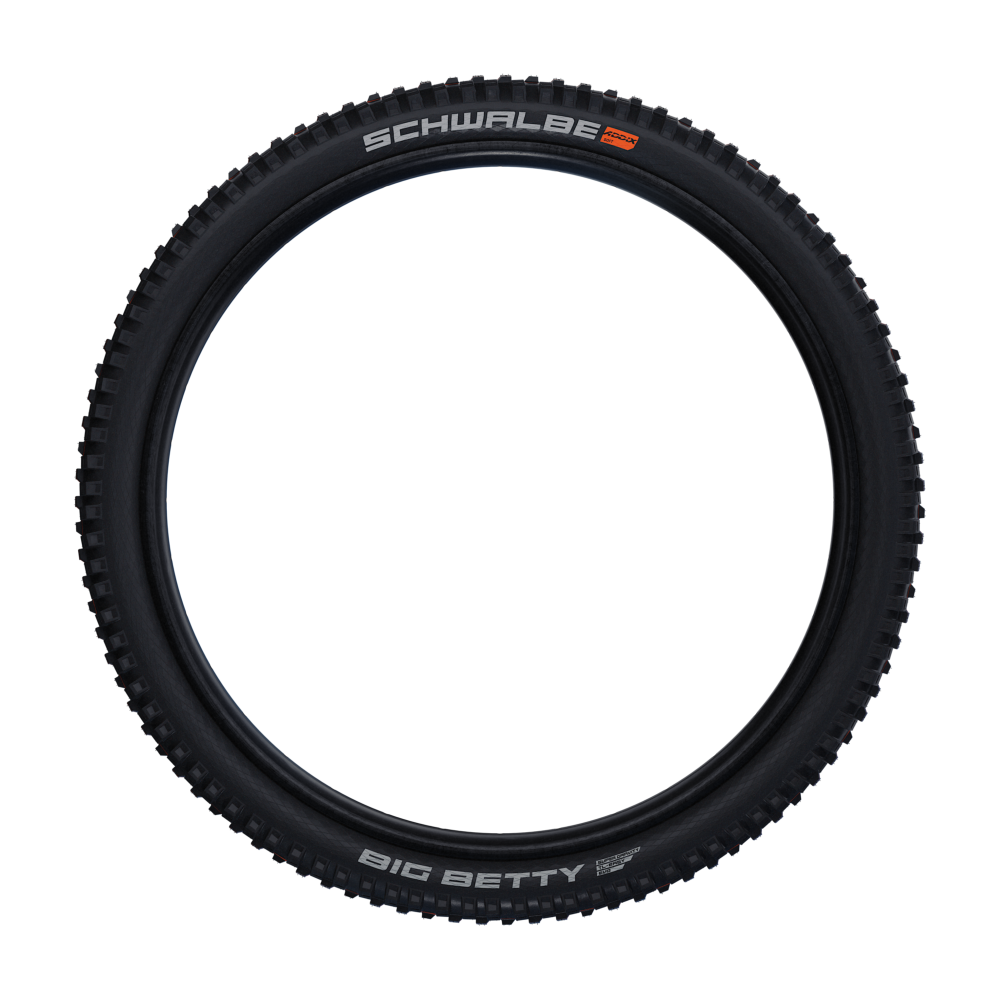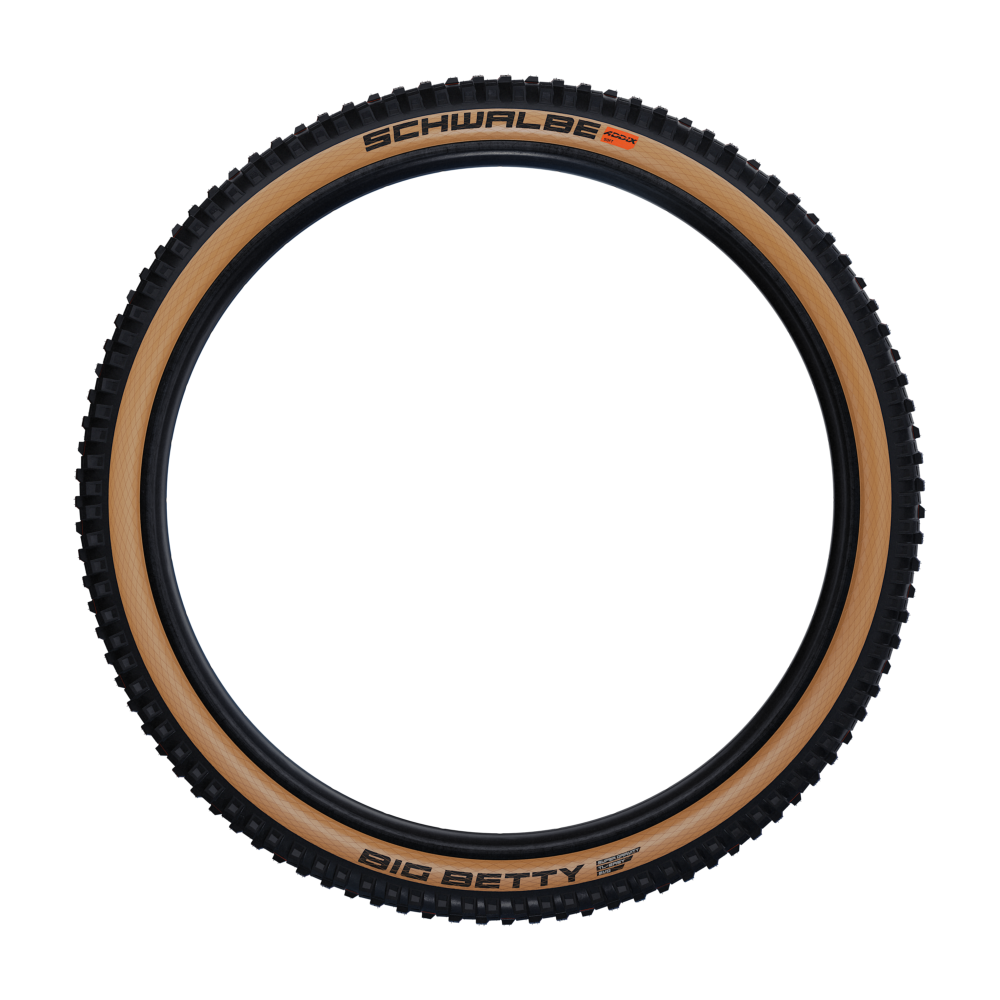 /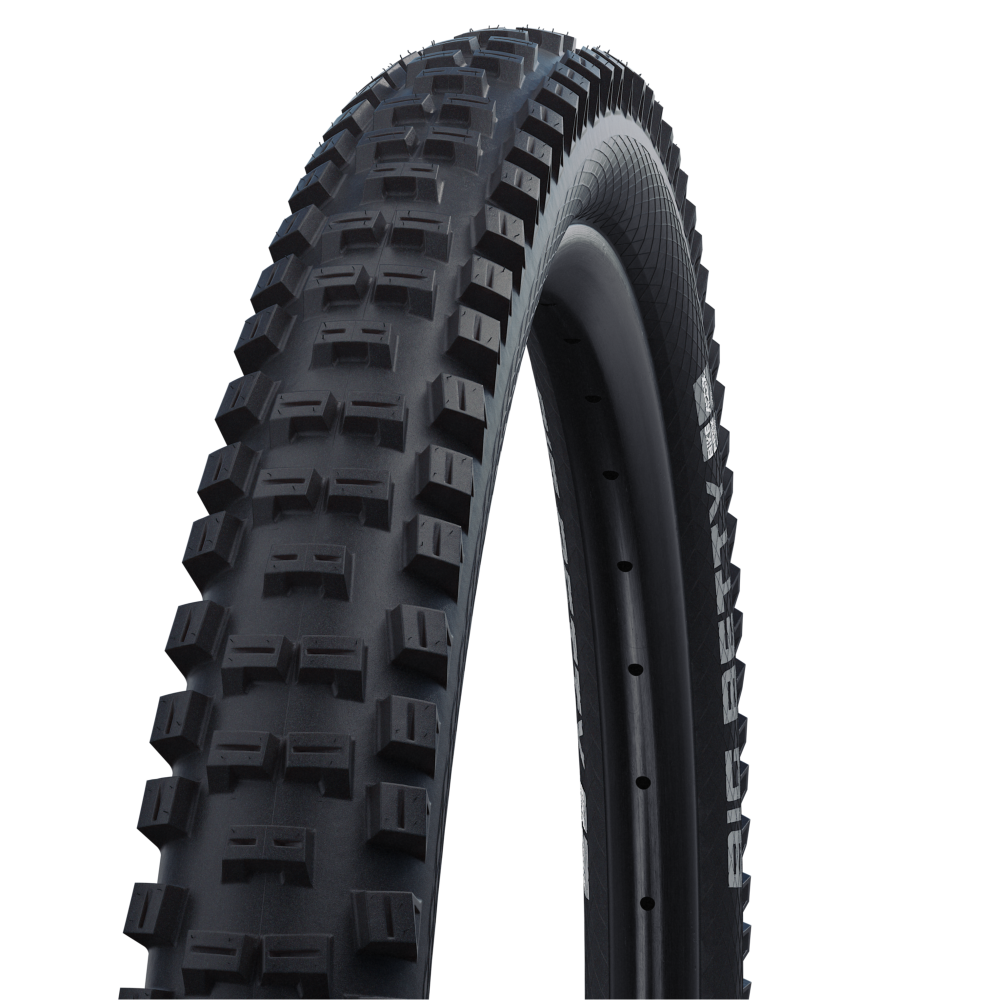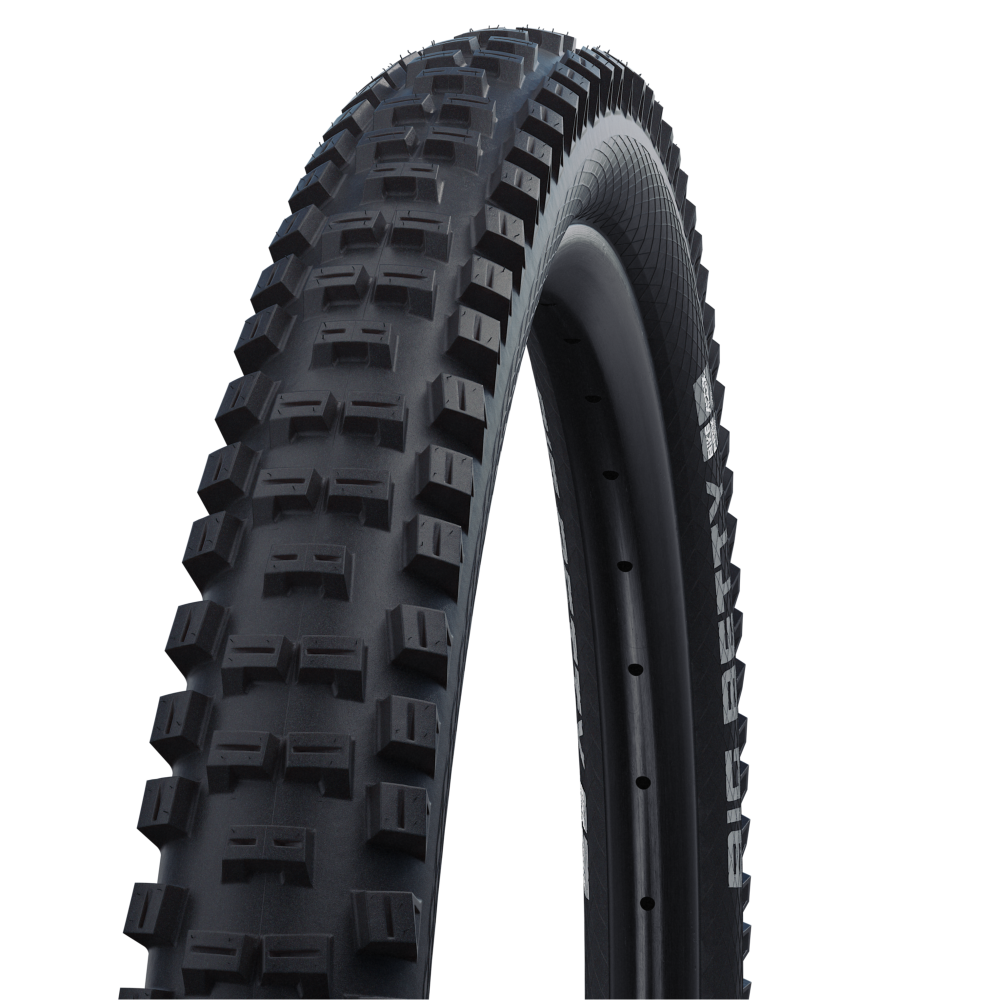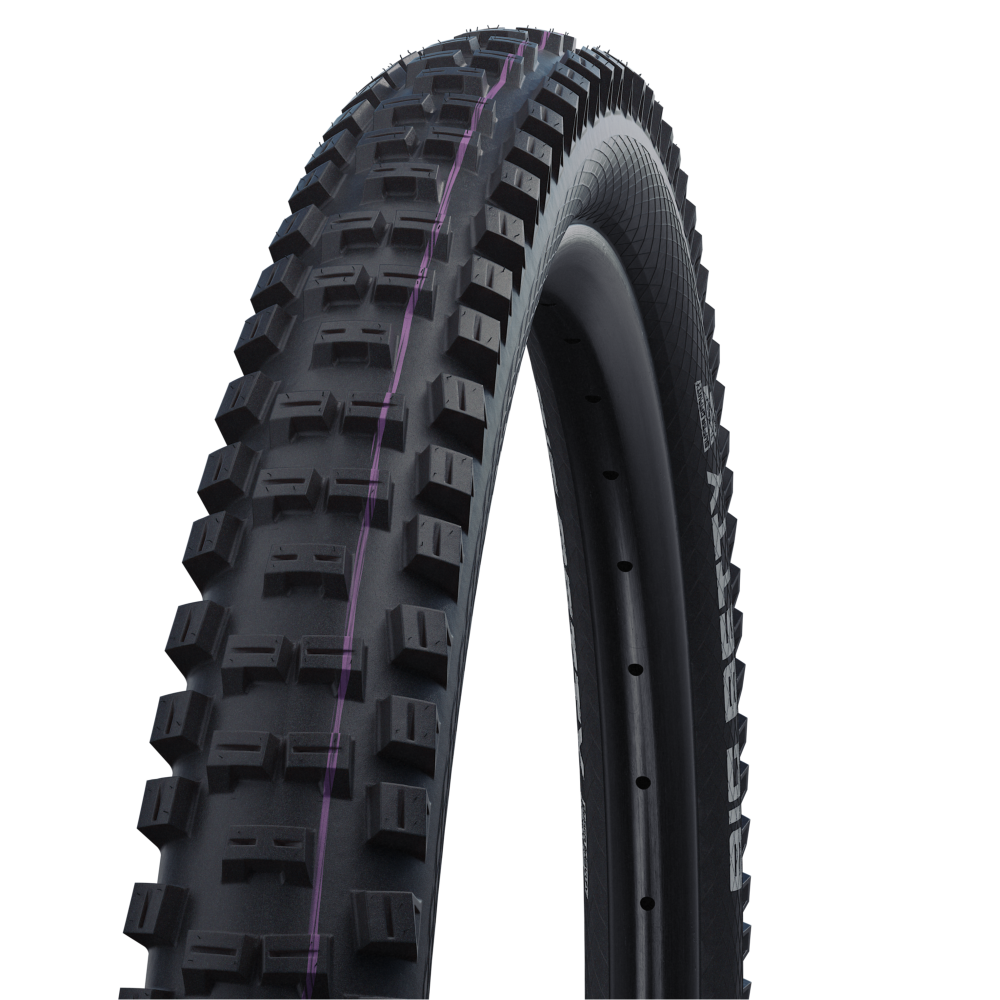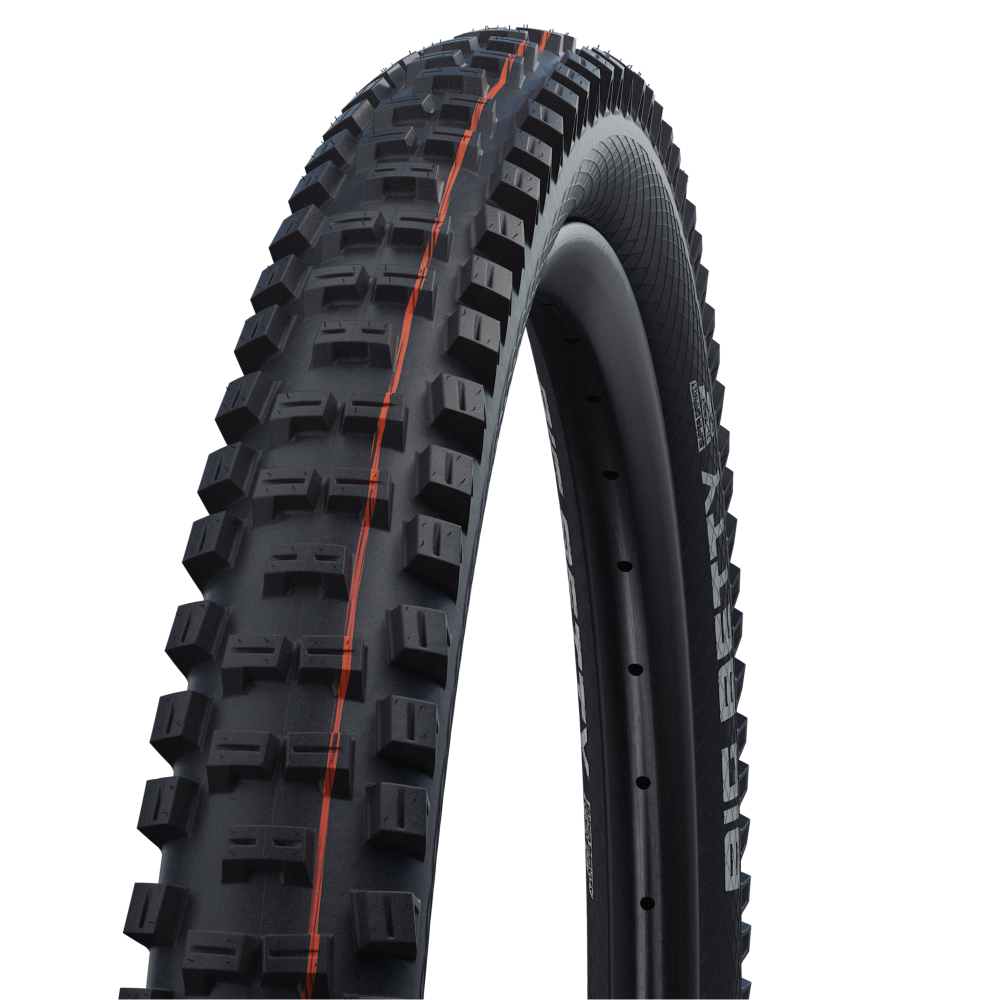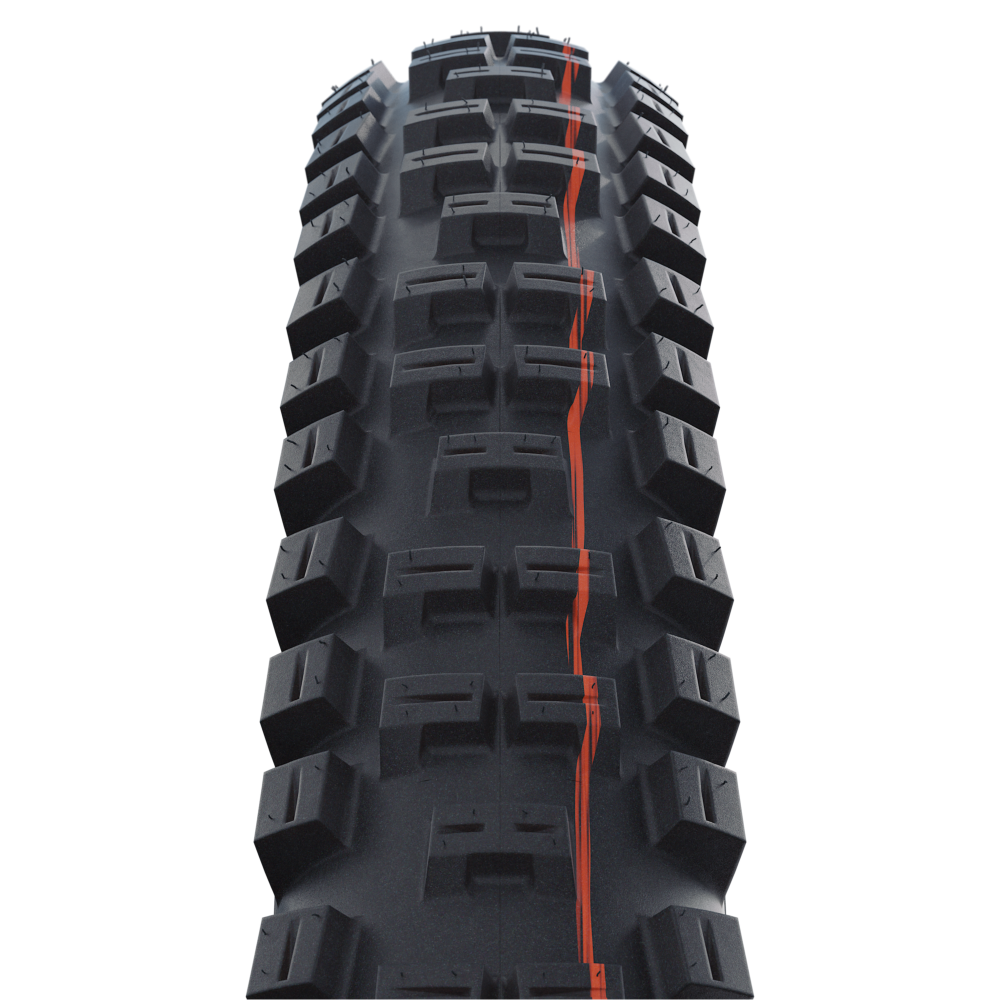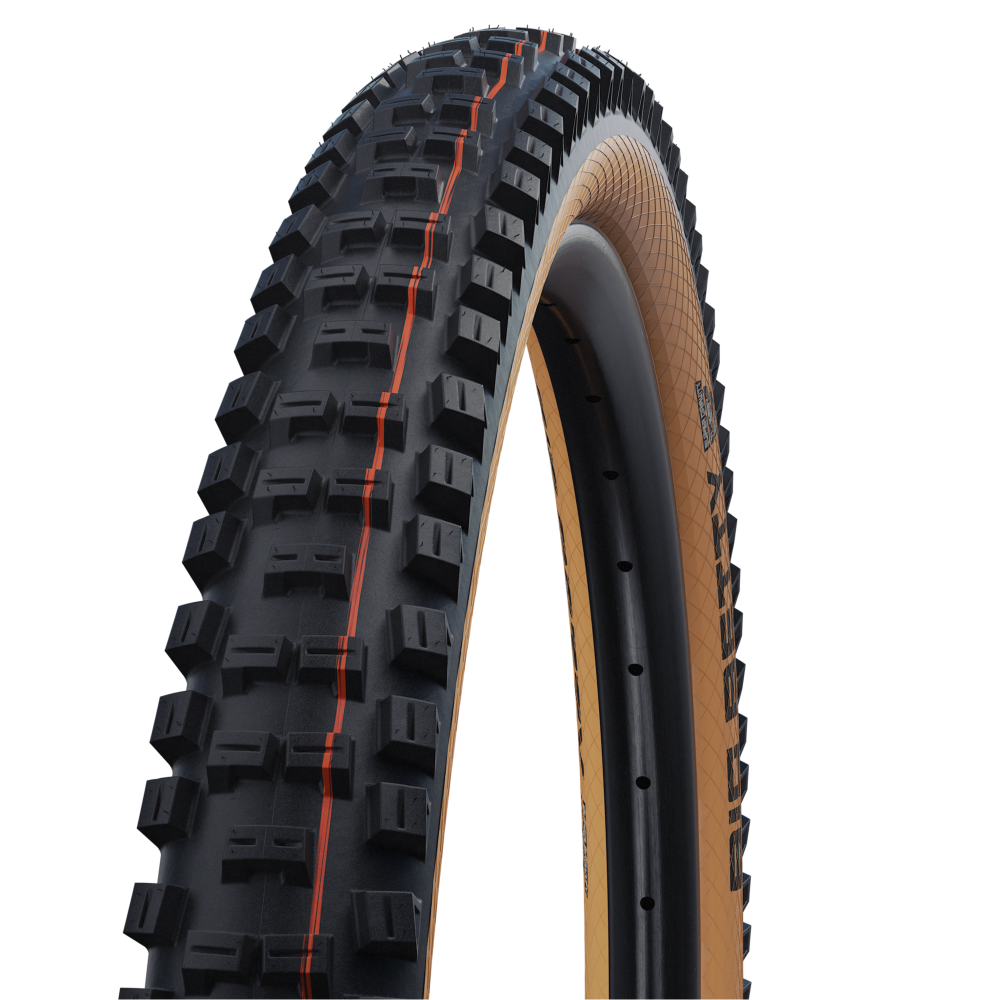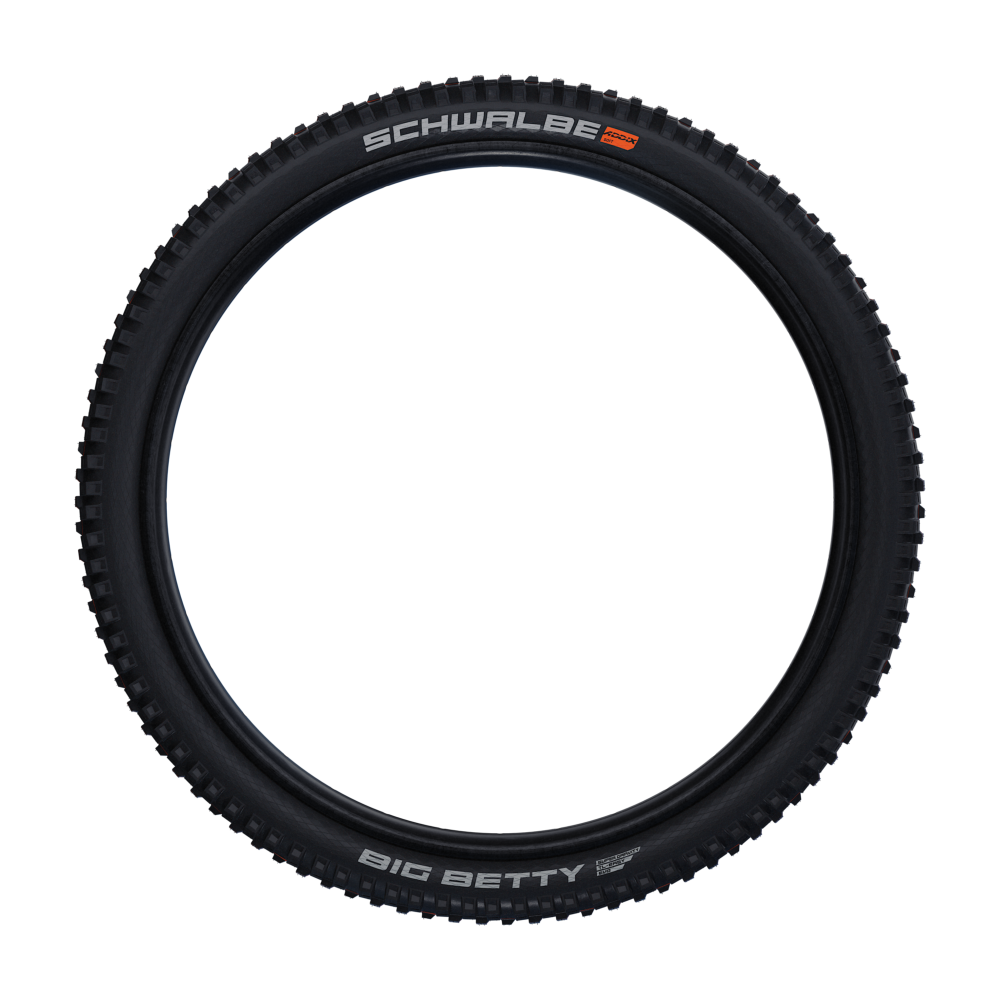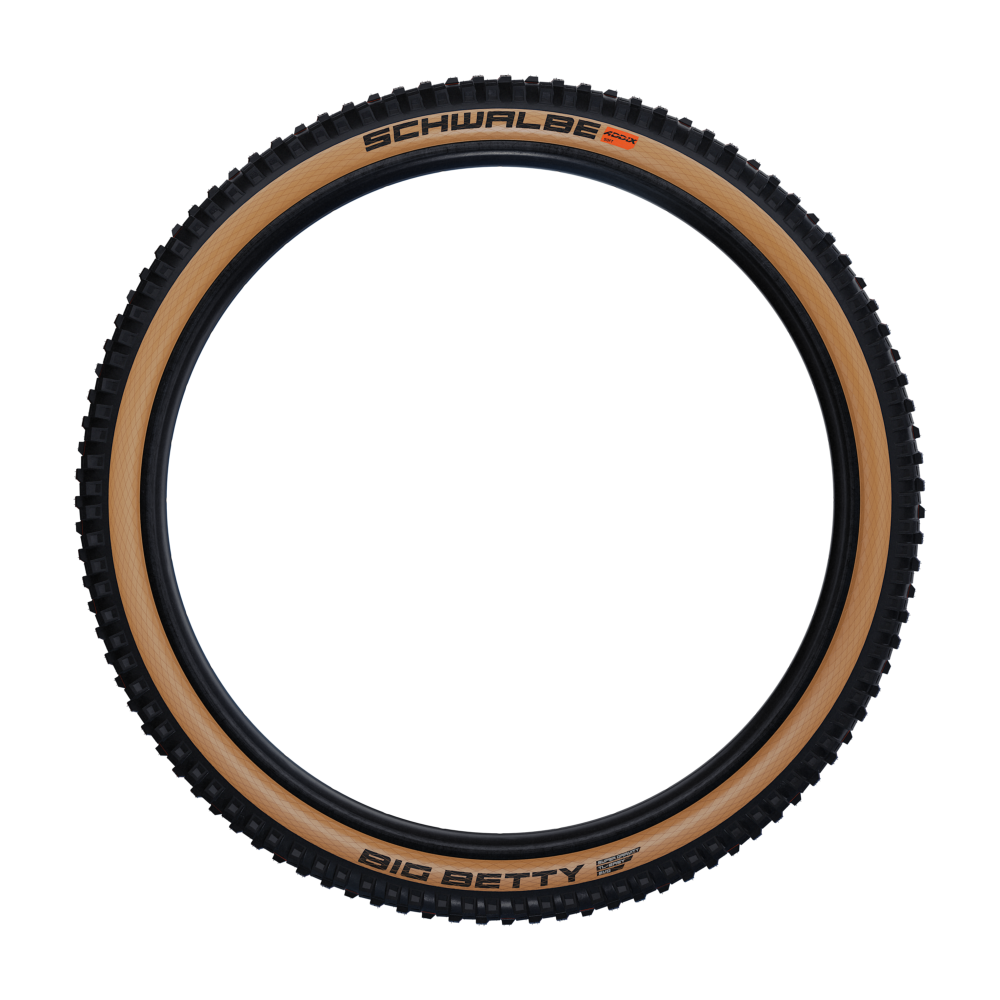 Product Description
BIG BETTY IS BACK! Equipped with everything modern tire technology has to offer. A Downhill and Enduro Allrounder for dry to damp conditions. Big Betty works perfectly on the rear wheel when combined with our much-loved Magic Mary.
Long supported braking edges for maximum braking traction
Extremely stable shoulder blocks for outstanding cornering grip
Open and aggressive tread for excellent grip and self-cleaning
Best Use
Technical Data
Size:

ETRTO 62-584 (27.5x2.40 Inch)

Type:

Folding

Compound:

Addix Ultra Soft

Version:

Super Downhill

Colour:

Black

Seal:

Tubeless

Weight:

1300 g

Pressure:

Max. 3.5 Bar (Max. 50.0 psi)

Maximum load:

115 kg

EPI:

2x67

E-Bike:

E-50

Profile:

HS608

Product number:

11654164

EAN:

4026495878012

Price:

US$104.00
Ratings
Features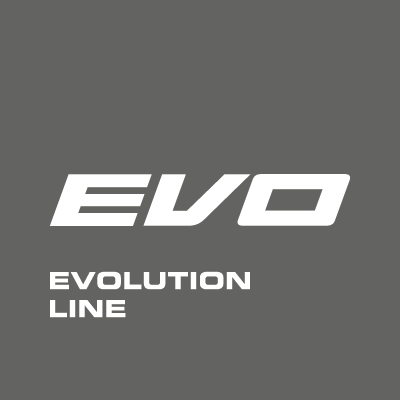 Evolution Line
The very best possible. Highest grade materials. Latest technology.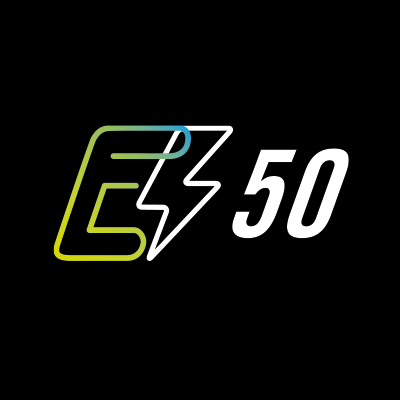 E-50
E-Bike tires with European ECE-R75 approval. Our recommendation for fast E-Bikes - S-Pedelecs with type approval, insurance, and motor assist over 25 km/h – for which a special tire approval is necessary.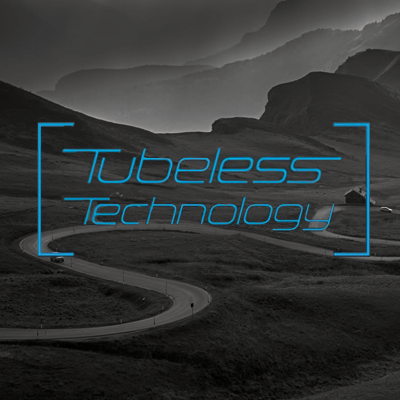 Tubeless Technology
For all ambitious sports cyclists Tubeless is the right choice. Only Tubeless achieves the best values in terms of:
+ SPEED
+ GRIP
+ PUNCTURE PROTECTION
+ COMFORT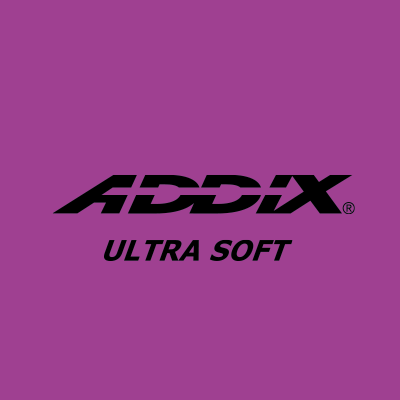 ADDIX Ultra Soft Compound
ADDIX ULTRA SOFT is the ADDIX compound for hardcore use in enduro and downhill. It has sensationally good damping properties and also performs perfectly in cold weather.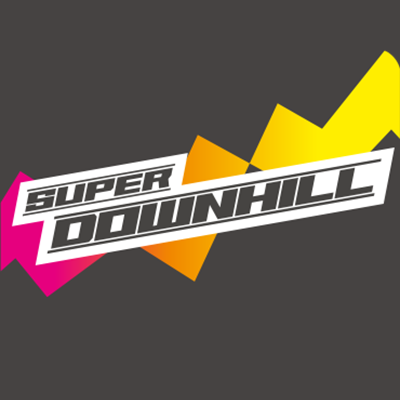 Super Downhill
For the bravest and most aggressive. For those for whom no jump is too big, no descent too steep and no obstacle too large. Made for the Downhill World Cup. Super Downhill stands for uncompromising stability and performance like no other construction.
Product overview
Find your perfect tire even faster. Use the search to narrow down the articles or
sort the tires with the arrows directly in the table according to your interest.
| | | | | INCH | ETRTO | SIZE | VERSION | SEAL | TYPE | E-BIKE | COMPOUND | COLOUR | BAR | PSI | WEIGHT | EPI | MAXIMUM LOAD | PRODUCT NUMBER | QUALITY | PRICE | |
| --- | --- | --- | --- | --- | --- | --- | --- | --- | --- | --- | --- | --- | --- | --- | --- | --- | --- | --- | --- | --- | --- |
| | | HS608 | 4026495899499 | 20" | 57-406 | 20x2.25 | Super Ground | Tubeless | Folding | E-50 | Addix Soft | Black | Max. 3.5 | Max. 50.0 | 670 g | 67 | 90 kg | 11654324 | Evolution Line | US$98.00 | |
| | | HS608 | 4026495899451 | 24" | 62-507 | 24x2.40 | Super Ground | Tubeless | Folding | E-50 | Addix Soft | Black | Max. 3.5 | Max. 50.0 | 875 g | 67 | 90 kg | 11654323 | Evolution Line | US$98.00 | |
| | | HS608 | 4026495876810 | 26" | 62-559 | 26x2.40 | BikePark | Tube | Wired | E-50 | Addix | Black | Max. 3.5 | Max. 50.0 | 1350 g | 2x50 | 115 kg | 11159149 | Performance Line | US$45.00 | |
| | | HS608 | 4026495876834 | 26" | 62-559 | 26x2.40 | Super Trail | Tubeless | Folding | E-50 | Addix Soft | Black | Max. 3.5 | Max. 50.0 | 1040 g | 67 | 115 kg | 11654147 | Evolution Line | US$98.00 | |
| | | HS608 | 4026495878258 | 27.5" | 65-584 | 27.5x2.60 | Super Trail | Tubeless | Folding | E-50 | Addix Soft | Black | Max. 3.0 | Max. 45.0 | 1180 g | 67 | 115 kg | 11654157 | Evolution Line | US$98.00 | |
| | | HS608 | 4026495877978 | 27.5" | 62-584 | 27.5x2.40 | Super Trail | Tubeless | Folding | E-50 | Addix Soft | Black | Max. 3.5 | Max. 50.0 | 1085 g | 67 | 115 kg | 11654151 | Evolution Line | US$98.00 | |
| | | HS608 | 4026495903813 | 27.5" | 62-584 | 27.5x2.40 | Super Gravity | Tubeless | Folding | E-50 | Addix Soft | Bronze Sidewall | Max. 3.5 | Max. 50.0 | 1015 g | 67 | 115 kg | 11654373 | Evolution Line | US$104.00 | |
| | | HS608 | 4026495878012 | 27.5" | 62-584 | 27.5x2.40 | Super Downhill | Tubeless | Folding | E-50 | Addix Ultra Soft | Black | Max. 3.5 | Max. 50.0 | 1300 g | 2x67 | 115 kg | 11654164 | Evolution Line | US$104.00 | |
| | | HS608 | 4026495878838 | 27.5" | 70-584 | 27.5x2.80 | Super Trail | Tubeless | Folding | E-25 | Addix Soft | Black | Max. 2.6 | Max. 38.0 | 1295 g | 67 | 120 kg | 11654160 | Evolution Line | US$98.00 | |
| | | HS608 | 4026495877893 | 27.5" | 62-584 | 27.5x2.40 | Super Gravity | Tubeless | Folding | E-50 | Addix Soft | Black | Max. 3.5 | Max. 50.0 | 1180 g | 67 | 115 kg | 11654148 | Evolution Line | US$104.00 | |
| | | HS608 | 4026495877855 | 27.5" | 62-584 | 27.5x2.40 | BikePark | Tube | Wired | E-50 | Addix | Black | Max. 3.5 | Max. 50.0 | 1410 g | 2x50 | 115 kg | 11159151 | Performance Line | US$45.00 | |
| | | HS608 | 4026495878234 | 27.5" | 65-584 | 27.5x2.60 | Super Gravity | Tubeless | Folding | E-50 | Addix Soft | Black | Max. 3.0 | Max. 45.0 | 1295 g | 67 | 115 kg | 11654156 | Evolution Line | US$104.00 | |
| | | HS608 | 4026495903875 | 29" | 62-622 | 29x2.40 | Super Gravity | Tubeless | Folding | E-50 | Addix Soft | Bronze Sidewall | Max. 3.5 | Max. 50.0 | 1305 g | 67 | 125 kg | 11654374 | Evolution Line | US$104.00 | |
| | | HS608 | 4026495880510 | 29" | 62-622 | 29x2.40 | Super Gravity | Tubeless | Folding | E-50 | Addix Soft | Black | Max. 3.5 | Max. 50.0 | 1290 g | 67 | 125 kg | 11654152 | Evolution Line | US$104.00 | |
| | | HS608 | 4026495880916 | 29" | 65-622 | 29x2.60 | Super Gravity | Tubeless | Folding | E-50 | Addix Soft | Black | Max. 3.0 | Max. 45.0 | 1370 g | 67 | 115 kg | 11654158 | Evolution Line | US$104.00 | |
| | | HS608 | 4026495880473 | 29" | 62-622 | 29x2.40 | BikePark | Tube | Wired | E-50 | Addix | Black | Max. 3.5 | Max. 50.0 | 1500 g | 2x50 | 125 kg | 11159152 | Performance Line | US$45.00 | |
| | | HS608 | 4026495880633 | 29" | 62-622 | 29x2.40 | Super Downhill | Tubeless | Folding | E-50 | Addix Ultra Soft | Black | Max. 3.5 | Max. 50.0 | 1380 g | 2x67 | 125 kg | 11654163 | Evolution Line | US$104.00 | |
| | | HS608 | 4026495880596 | 29" | 62-622 | 29x2.40 | Super Trail | Tubeless | Folding | E-50 | Addix Soft | Black | Max. 3.5 | Max. 50.0 | 1125 g | 67 | 125 kg | 11654155 | Evolution Line | US$98.00 | |
| | | HS608 | 4026495880930 | 29" | 65-622 | 29x2.60 | Super Trail | Tubeless | Folding | E-50 | Addix Soft | Black | Max. 3.0 | Max. 45.0 | 1260 g | 67 | 115 kg | 11654159 | Evolution Line | US$98.00 | |