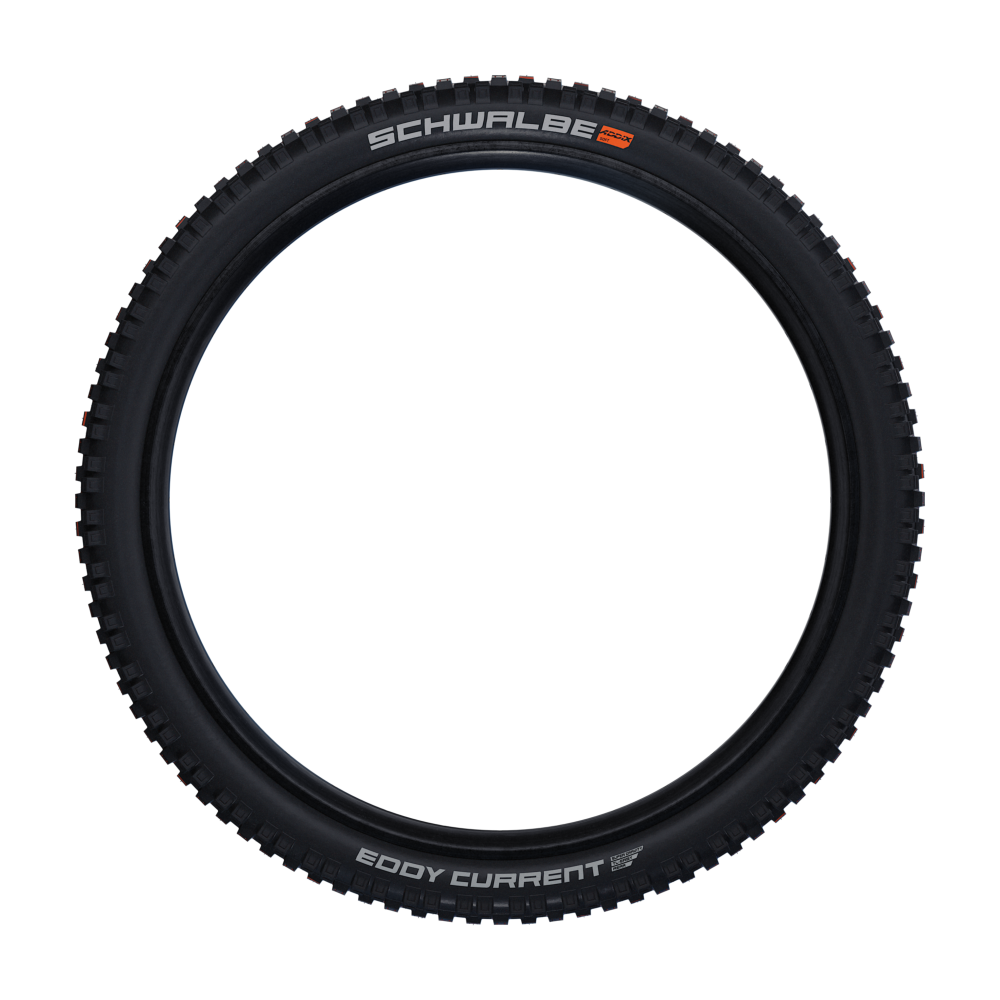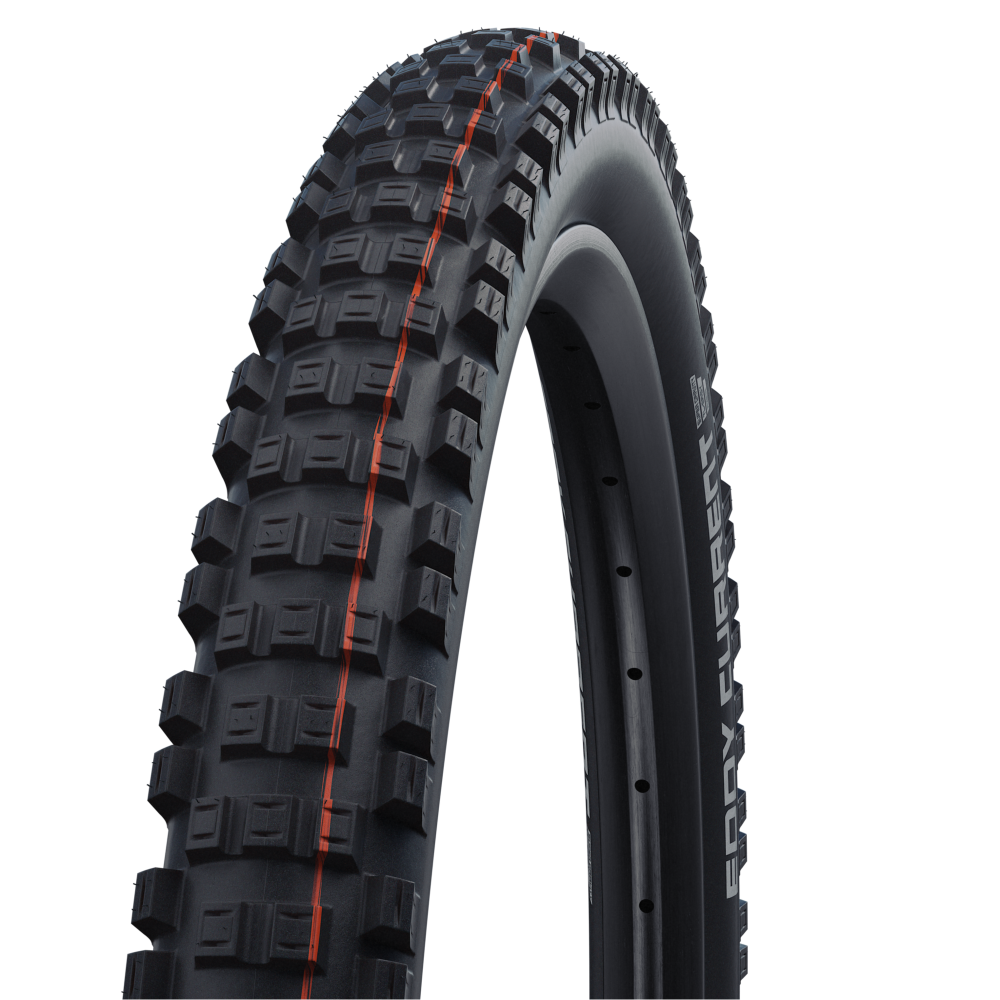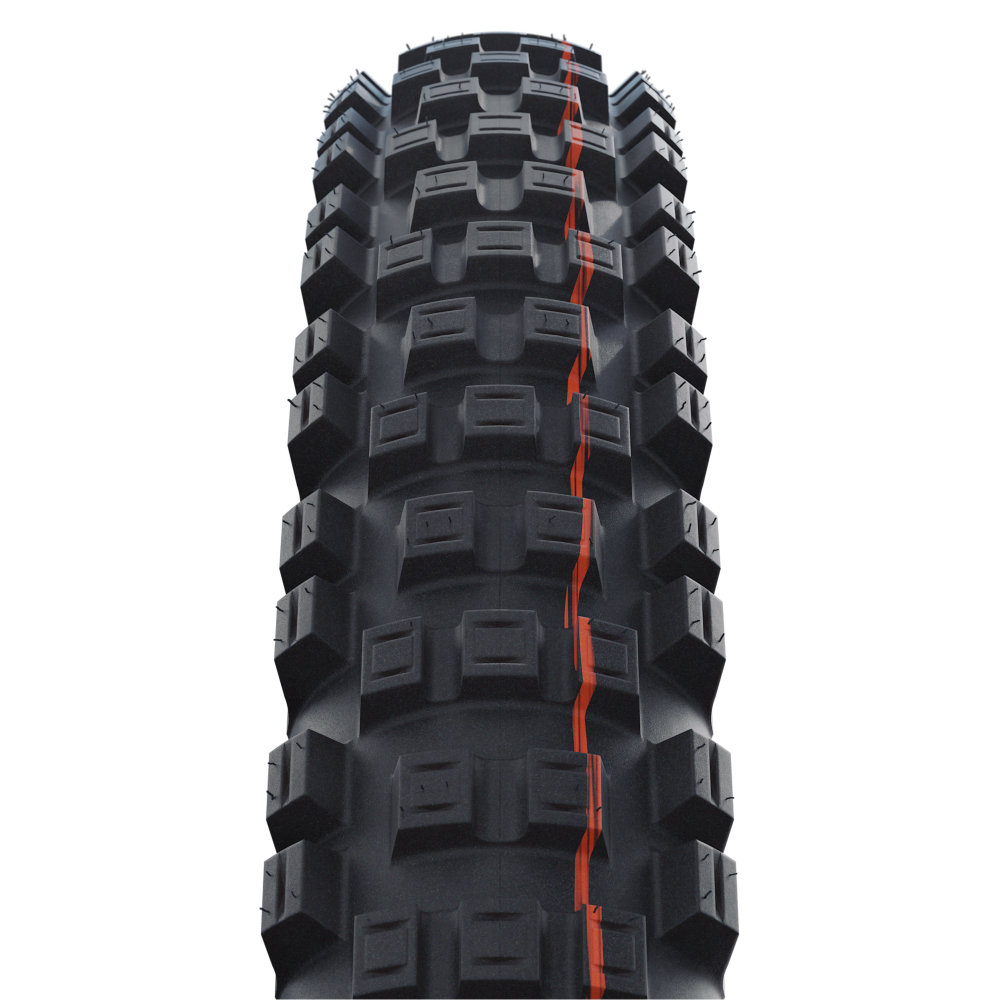 /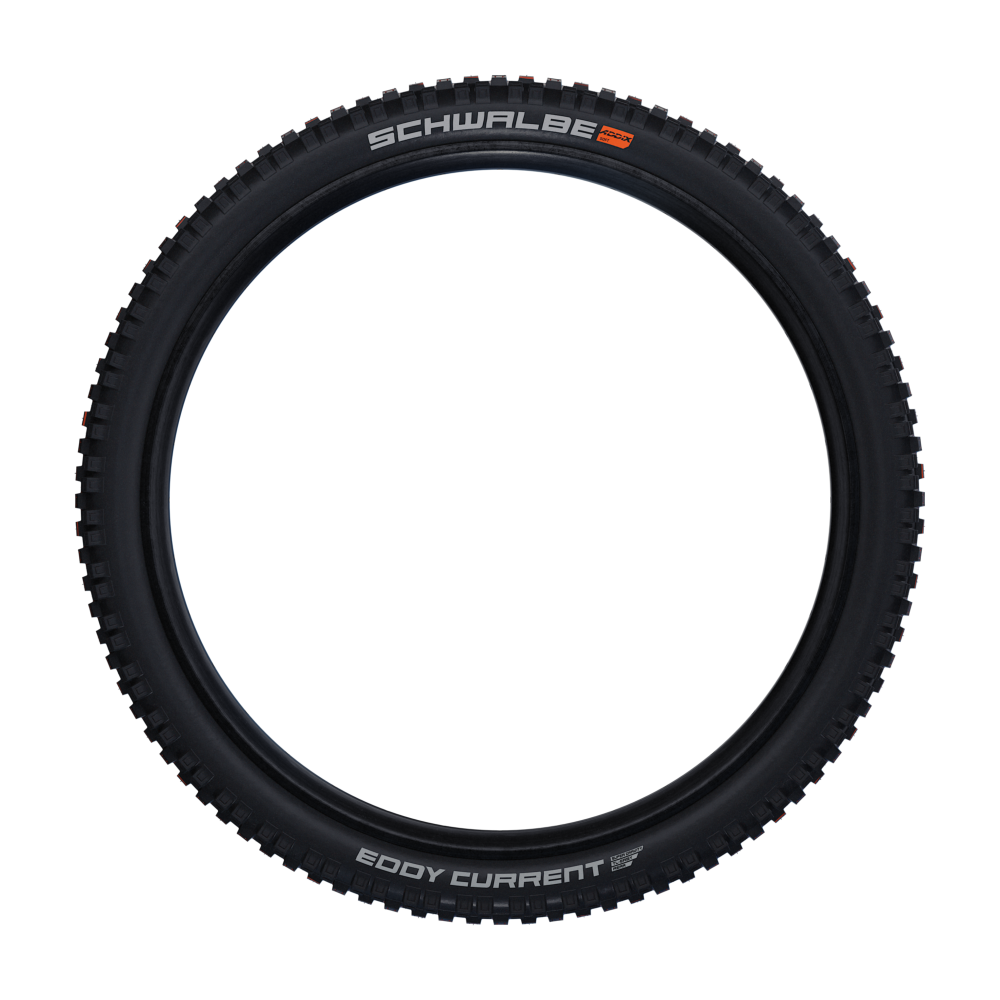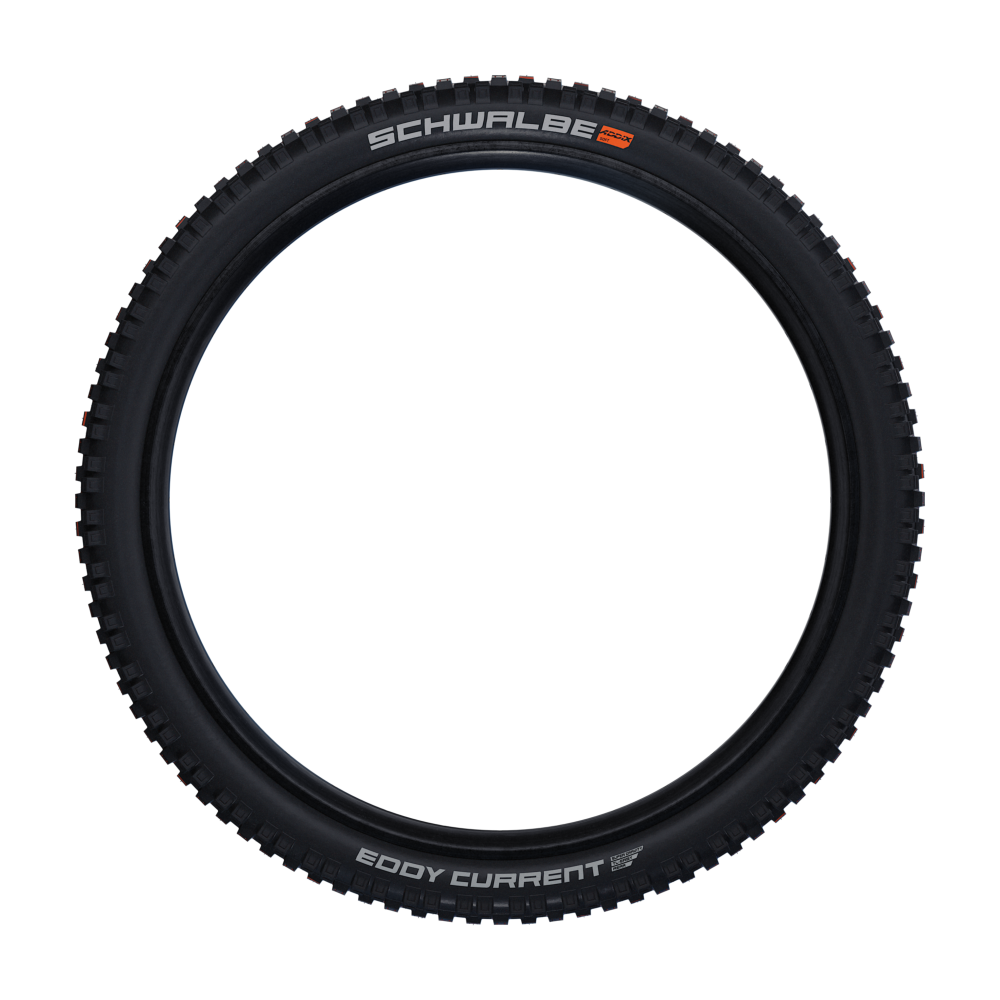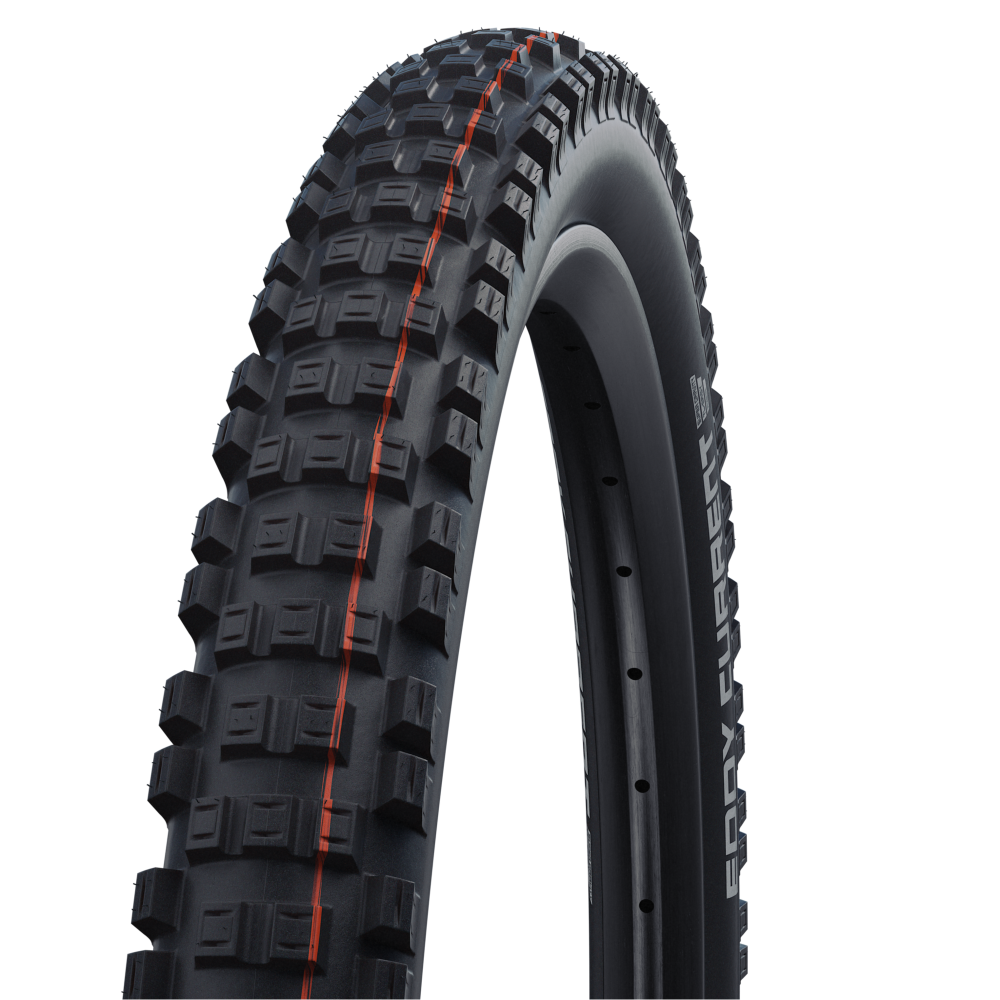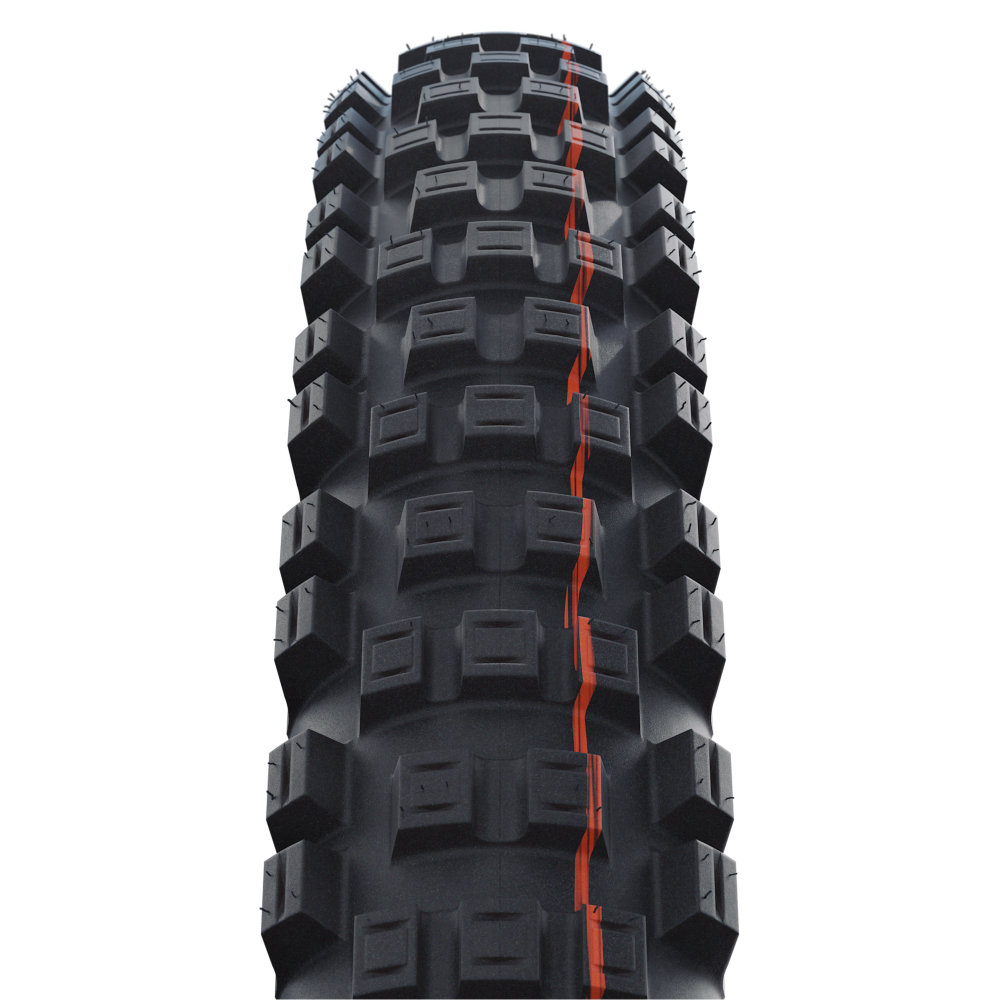 Product Description
THE REVOLUTION FOR E-MTB'S. Our first real E-MTB specialist for All Mountain and Enduro. It allows uncompromising riding even uphill, takes fierce acceleration as well as allowing technical riding on trails. Its solid appearance comes from the stable blocks, more rubber and big widths.
Tread design inspired by Motocross with massive, stable studs in the center and the shoulder area for reliable riding behavior.
Concise V-Grooves in the center and side blocks for direct, precise steering characteristics.
Specially adjusted design for front and rear wheel use.
FRONT:
Reliable cornering grip paired with high braking traction.
Excellent transmission of steering corrections throughlong grip edges even when less weight is on the front wheel in ascents. The result: Understeer is more controllable.
REAR:
Maximum propulsion and braking traction throughmassive blocks that transmit sufficient power to the ground, even on the steepest climbs.
Hard wearing thanks to large-volume center studs.
More information:
Eddy Current Webspecial
ADDIX Compound
Best Use
Technical Data
Size:

ETRTO 70-584 (27.5x2.80 Inch)

Type:

Folding

Compound:

Addix Soft

Version:

Super Gravity

Colour:

Black

Seal:

Tubeless

Weight:

1445 g

Pressure:

1.2-2.6 Bar (17-38 psi)

Maximum load:

120 kg

EPI:

67

E-Bike:

E-25

Profile:

HS497

Product number:

11653985.01

EAN:

4026495878890

Price:

US$104.00
Ratings
Features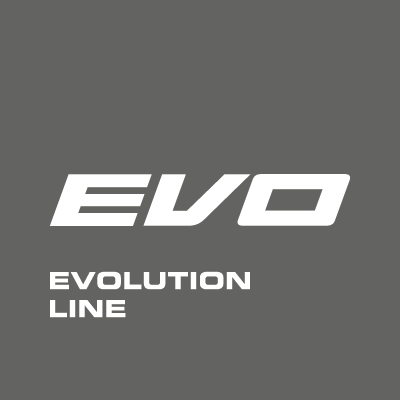 Evolution Line
The very best possible. Highest grade materials. Latest technology.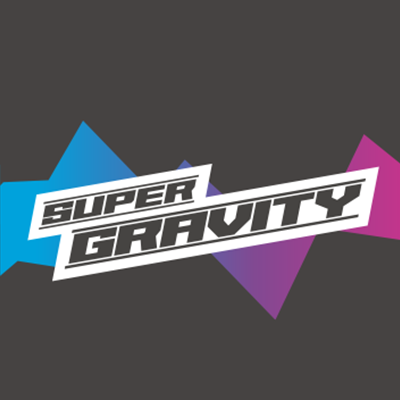 Super Gravity
Go where others dare not to venture . Where the rider and the trail demand everything from the material. Where the bikes have a lot of travel. Right there is the zone for tires with Super Gravity construction.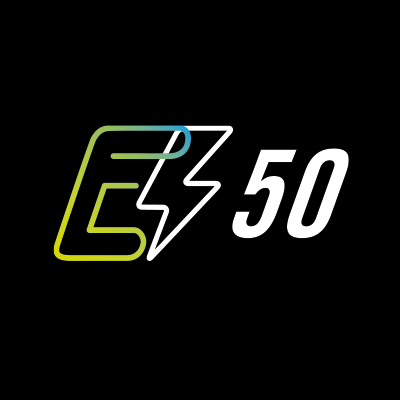 E-50
E-Bike tires with European ECE-R75 approval. Our recommendation for fast E-Bikes - S-Pedelecs with type approval, insurance, and motor assist over 25 km/h – for which a special tire approval is necessary.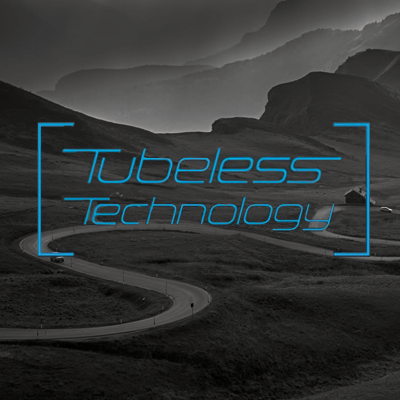 Tubeless Technology
For all ambitious sports cyclists Tubeless is the right choice. Only Tubeless achieves the best values in terms of:
+ SPEED
+ GRIP
+ PUNCTURE PROTECTION
+ COMFORT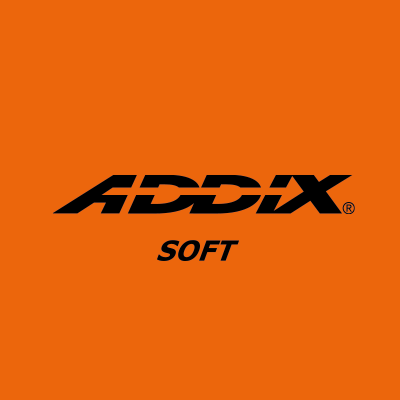 ADDIX Soft Compound
ADDIX SOFT is a compound that bridges many disciplines. It's just as at home in the Enduro and downhill world as it is in the demanding discipline of all-mountain and trail riding.
Product overview
Find your perfect tire even faster. Use the search to narrow down the articles or
sort the tires with the arrows directly in the table according to your interest.
| | | | | INCH | ETRTO | SIZE | VERSION | SEAL | TYPE | E-BIKE | COMPOUND | COLOUR | BAR | PSI | WEIGHT | EPI | MAXIMUM LOAD | PRODUCT NUMBER | QUALITY | PRICE | |
| --- | --- | --- | --- | --- | --- | --- | --- | --- | --- | --- | --- | --- | --- | --- | --- | --- | --- | --- | --- | --- | --- |
| | | HS497 | 4026495878890 | 27.5" | 70-584 | 27.5x2.80 | Super Gravity | Tubeless | Folding | E-25 | Addix Soft | Black | 1.2-2.6 | 17-38 | 1445 g | 67 | 120 kg | 11653985.01 | Evolution Line | US$104.00 | |
| | | HS497 | 4026495878319 | 27.5" | 65-584 | 27.5x2.60 | Super Gravity | Tubeless | Folding | E-50 | Addix Soft | Black | 1.5-3.0 | 20-45 | 1430 g | 67 | 115 kg | 11654033.01 | Evolution Line | US$104.00 | |
| | | HS497 | 4026495880992 | 29" | 65-622 | 29x2.60 | Super Gravity | Tubeless | Folding | E-50 | Addix Soft | Black | 1.5-3.0 | 20-45 | 1455 g | 67 | 115 kg | 11653986.01 | Evolution Line | US$104.00 | |