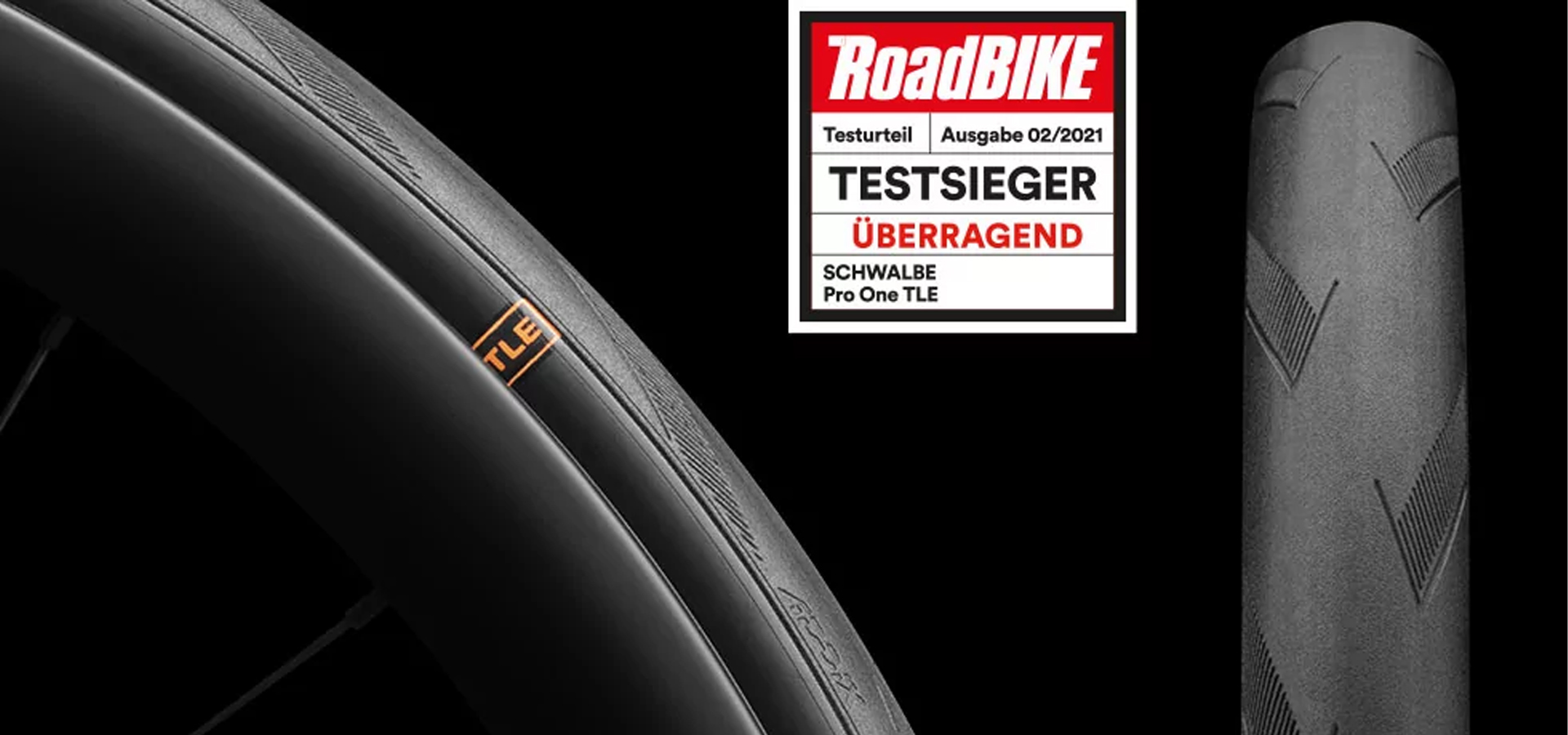 TUBELESS TIRES IN ROADBIKE TEST
---
TEST VICTORY WITH THE VERDICT "OUTSTANDING" FOR THE SCHWALBE PRO ONE
In search of the best tubeless set-up, Roadbike magazine (02/2021 issue) tested various Tubeless Easy tires and sealants. In the tire test, the Schwalbe Pro One TLE came out on top against the competition and took the test victory with the verdict "outstanding".
THE ADVANTAGES
Tubeless set-ups are also becoming increasingly popular on road bikes. No wonder, because riding without a tube brings with it a whole host of advantages that are particularly important for road cyclists: lower rolling resistance combined with greater comfort and grip. The tubeless set-up is also extremely puncture-proof: thanks to sealing milk, minor defects are sealed in seconds while riding.
THE SCHWALBE PRO ONE TLE
The Schwalbe Pro One TLE was specially developed for use without a tube. The special Souplesse carcass construction integrates the Tubeless Easy technology in the most advanced way. From this follows that the tire is not only extremely smooth and comfortable, as well as enormously puncture resistant. The specially developed V-Guard protects the Schwalbe Pro One TLE reliably from cuts and punctures and is at the same time extremely light.
Furthermore, in the laboratory and practical test of Roadbike magazine, the Schwalbe Pro One TLE can convince all along the line: no other tire in the test shows so sovereign in terms of puncture protection and rolling resistance. In addition, the Schwalbe Pro One TLE inspires with the lowest weight in the test field. In terms of handling, the tire is enormous and agile.
PRO ONE TLE >>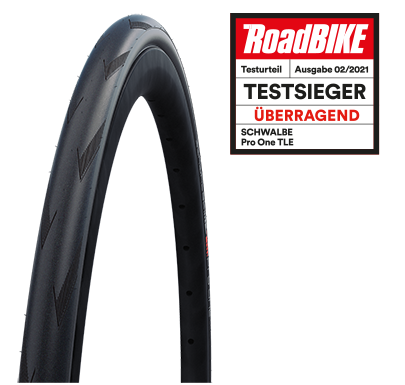 TEST VICTORY WITH THE VERDICT "OUTSTANDING"
Tubeless on a road bike? The testers are convinced because the direct driving comparison makes the difference clear. With less rolling resistance, you are faster on the road and the contact with the road is also noticeably more intimate. In the direct comparison, the Schwalbe Pro One TLE scores in terms of weight, puncture protection and rolling resistance across the board. With the test rating "outstanding", the Schwalbe Pro One takes the test victory.
IDEAL COMBINATION: DOC BLUE
---
TEST VICTORY FOR SCHWALBE DOC BLUE PROFESSIONAL
For the best performance on the road, the combination of Tubeless Easy tires and sealant is indispensable. Schwalbe Doc Blue Professional takes the test victory in Roadbike magazine. Get all the info here:
GO TO NEWS >>