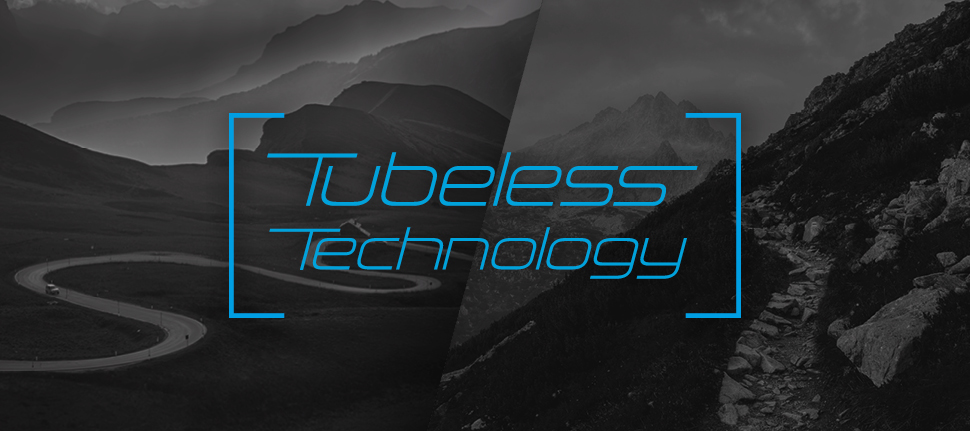 THE TUBELESS EXPERTS
---
SINCE 2002.
TUBELESS ADVANTAGES
We have believed in tubeless technology right from the beginning - putting a lot of pioneering research and development into this area. Now we are convinced: Tubeless is the tire technology of the future! This is true for mountain and gravel bikes and especially for road bikes.
YOUR ADVANTAGES:
Less rolling resistance. This crucially reduces the rolling resistance. It is even lower than in super-light competition tires.
More grip. Lower air pressure increases the contact patch. This brings noticeable advantages in comfort, but also significantly more grip and control in critical situations and on rough trails.
High puncture safety. Sudden loss of air through bursting tubes or valve tear off is impossible. At the same time puncture protection liquid seal punctures within a few tenths of a second whilst riding.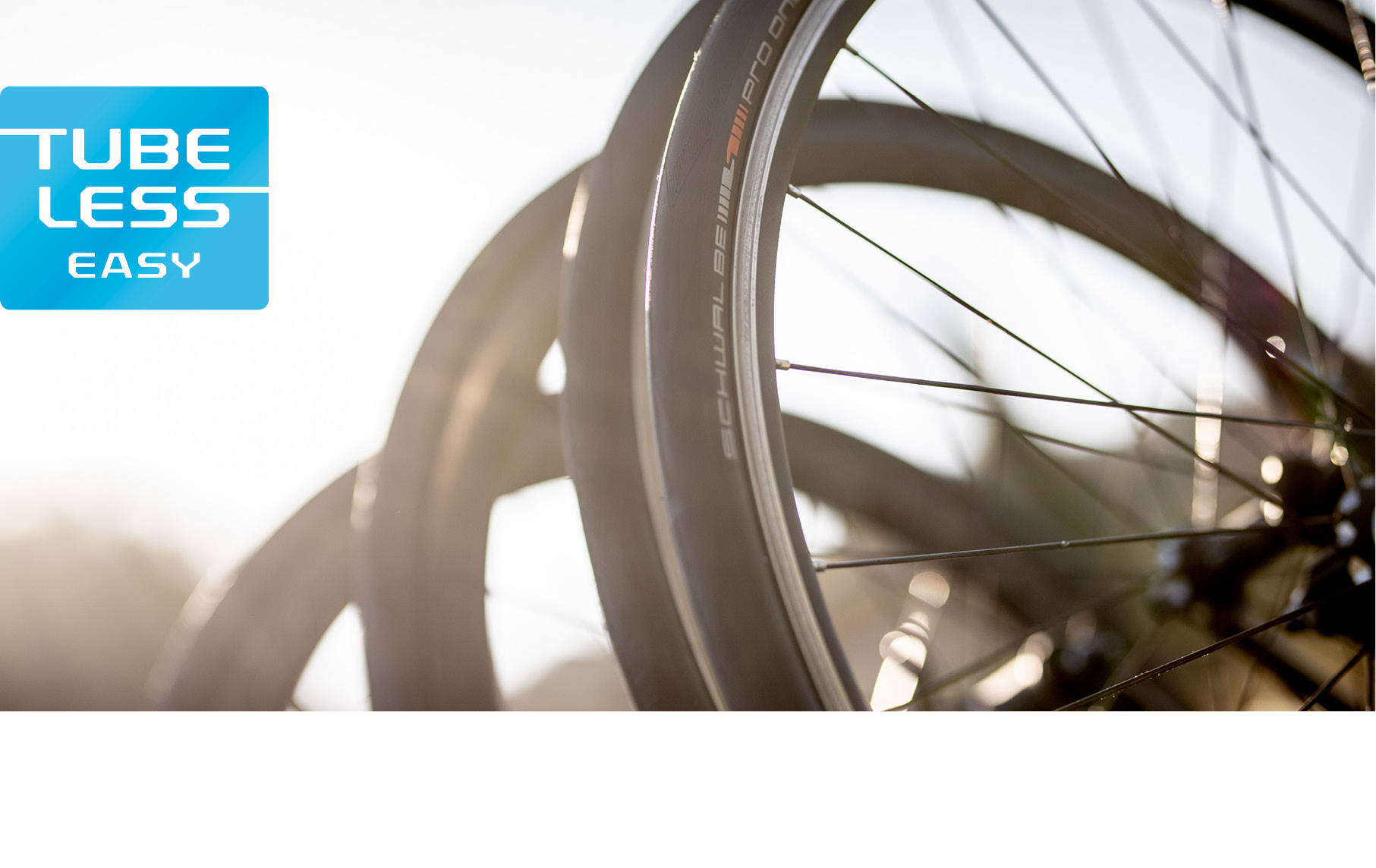 The Schwalbe Tubeless Easy technology allows riding pleasure without tube even for high pressure tires.
Tubeless tires for racing bikes, cross bikes and touring bikes are considerably lighter and also faster.
Easy installation and perfect and secure fit on the rim.
The reference for Tubeless.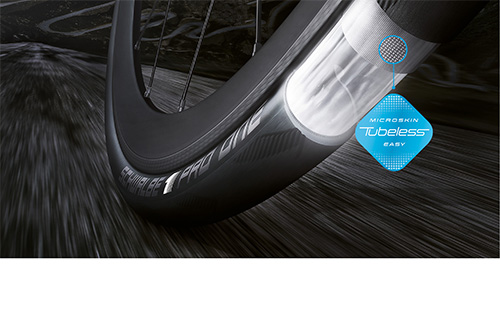 MicroSkin envelops the entire carcass and facilitates smooth Tubeless Easy operation even for high-pressure tires. And on a side note, MicroSkin also improves the cut resistance.
MicroSkin can be found in the Schwalbe One and our Gravel and Cross tires.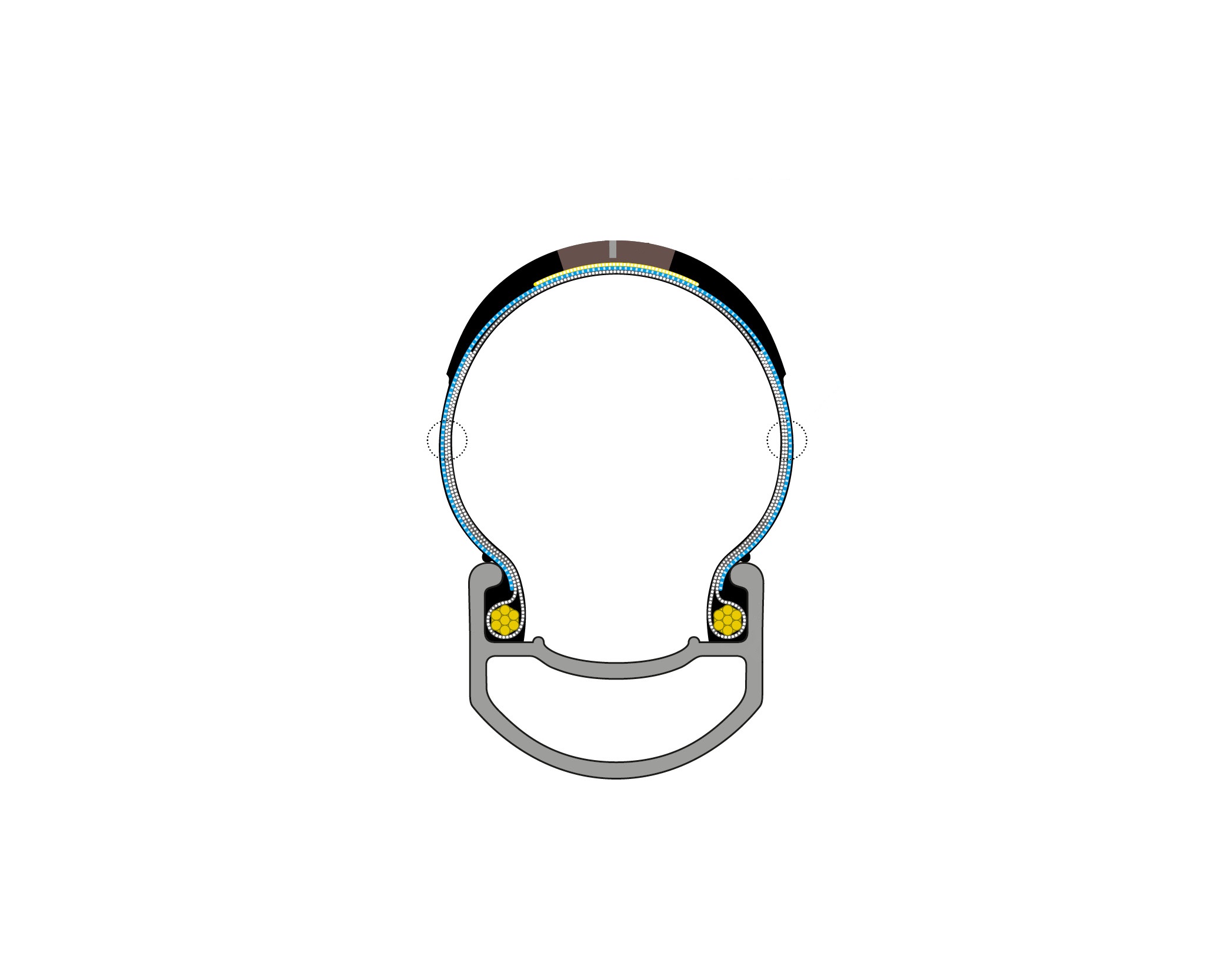 INTEGRATED TUBELESS EASY TECHNOLOGY
The turn-up construction integrates Tubeless Easy technology in the most progressive way possible. This is what makes the tire so supple and comfortable. Riding this tire feels just like the velvety motion of a classic tubular tire.
INSTRUCTIONS FOR THE FIRST ASSEMBLY: Schwalbe Pro One and Schwalbe Pro One TT Tubeless Easy tires must be used with Doc Blue tire sealant. At least 30 ml, preferably 60 ml per tire. The tire must be run for at least 25 km directly after the sealent is added.
If the instructions for the first assembly are ignored, the sealing of the tire cannot be guaranteed.
PRO ONE
SAFE IN OPERATION, EASY TO ASSEMBLE
As experts in tubeless technology, we work hand in hand with wheel and rim manufacturers as well as industry committees. We check the compatibility of wheels, rims and tires at our in-house test center. The results are summarized in the compatibility overview. If a wheel or rim is missing from the overview, we would be happy to hear about it at info@schwalbe.com
WHAT REQUIREMENTS MUST THE OPTIMUM WHEEL FOR SCHWALBE TUBELESS ROAD BIKE TIRES MEET?
TO THE REQUIREMENTS
TIRE AND WHEEL COMPATIBILITY OVERVIEW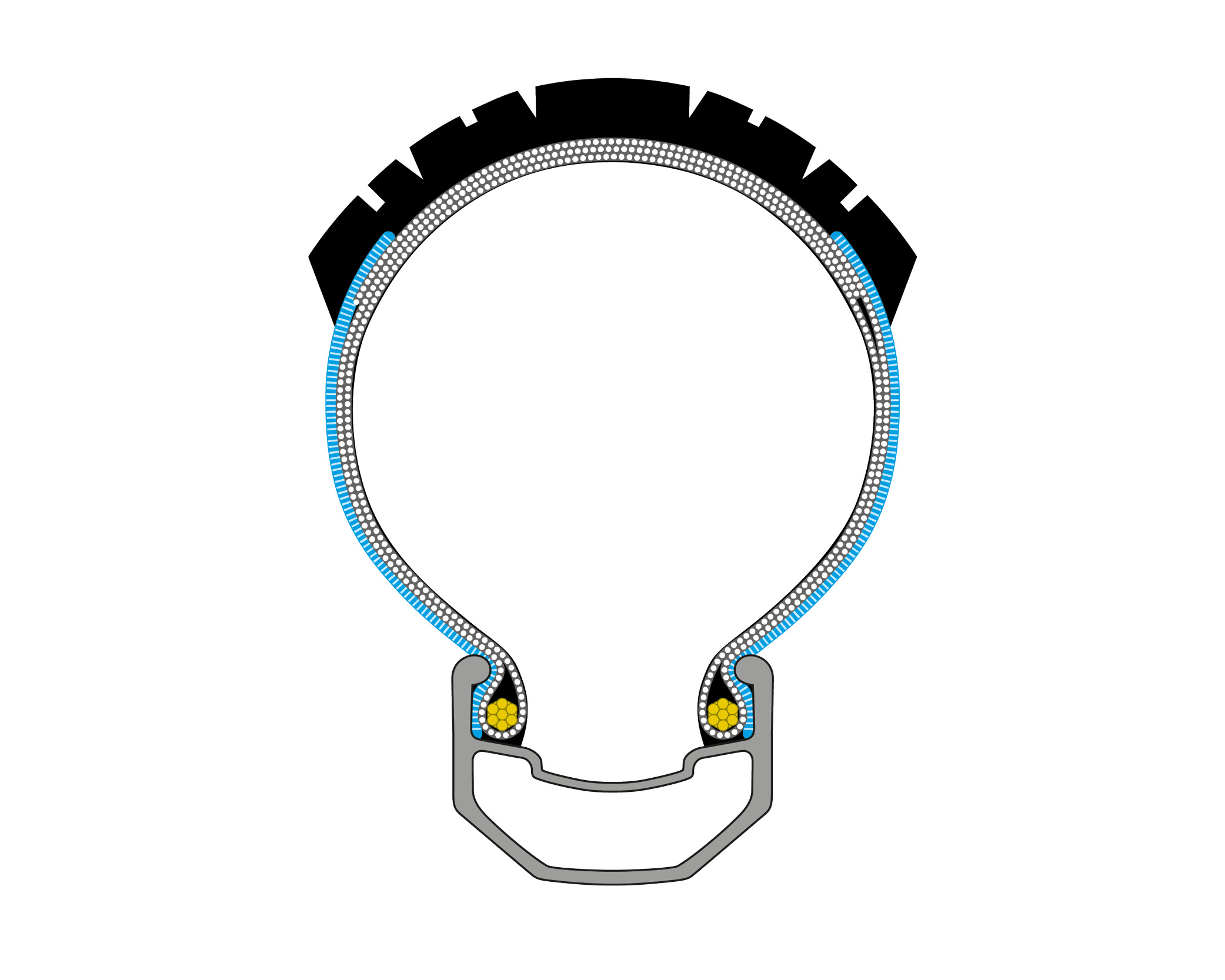 TUBELESS EASY
MTB EVO
The monofile SnakeSkin fabric on the side wall makes the tubeless conversion for the MTB extremely easy and safe. It also provides the best cut protection on the side wall.
For this reason, Tubeless Easy with SnakeSkin comes as standard with our high-end MTB tyres in our EVOLUTION Line.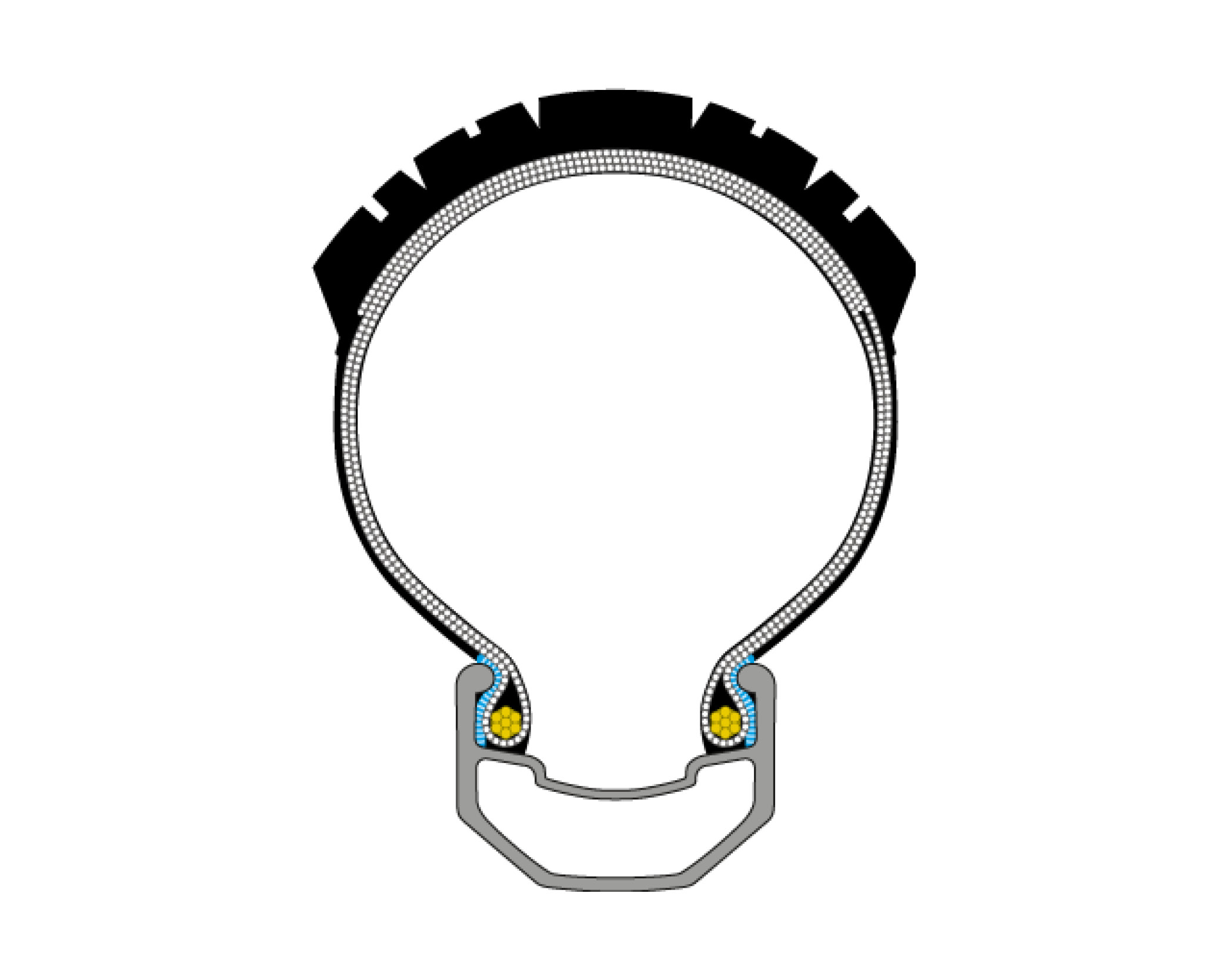 TUBELESS READY
MTB PERFORMANCE
Extra-strong bead cores, with rubber reinforced sidewalls.
Tubeless conversion for our Performance MTB Tires
TUBELESS EASY WITH MICROSKIN OR SNAKESKIN
MicroSkin (up to 50mm tire width) or SnakeSkin (from 50mm tire width) cover the entire carcass and enable Tubeless Easy operation.
Tubeless tires for cross, gravel and touring bikes are much lighter and faster.
The MicroSkin and SnakeSkin provide high and maximum cutting protection respectively for the side walls.
TUBELESS FITTING
---
EASIER THAN YOU'D THINK!

Fit the tire as usual onto the rim. Be cautious when applying the tire levers.
Important: Apply assembly liquid to both tire beads before inflating (1).
Make sure the valve is between the beads when inflating (2).
Start inflating with a powerful burst of air (track pump or compressor) (3).
The tire engages audibly on the rim. Using the rim line, make sure the tire is properly in place (4).
Deflate the tire a little. Remove the valve core (valve key is supplied with Doc Blue) and fill in 60 ml of the puncture protection liquid Doc Blue (5).
For road bike tubes 30 ml are enough.
Strictly observe the indications regarding maximum inflation pressure of tire and rim!
Do not use CO2 cartridges.
CO2 has a negative effect on the puncture protection liquid.
Be careful in general when using the sealing liquid. It easily causes stains on clothing or pieces of furniture.
TOOLS UND ACCESSORIES
---
FOR TUBELESS SYSTEMS:
Discover practical tools and matching accessories specifically for the Schwalbe Tubeless System.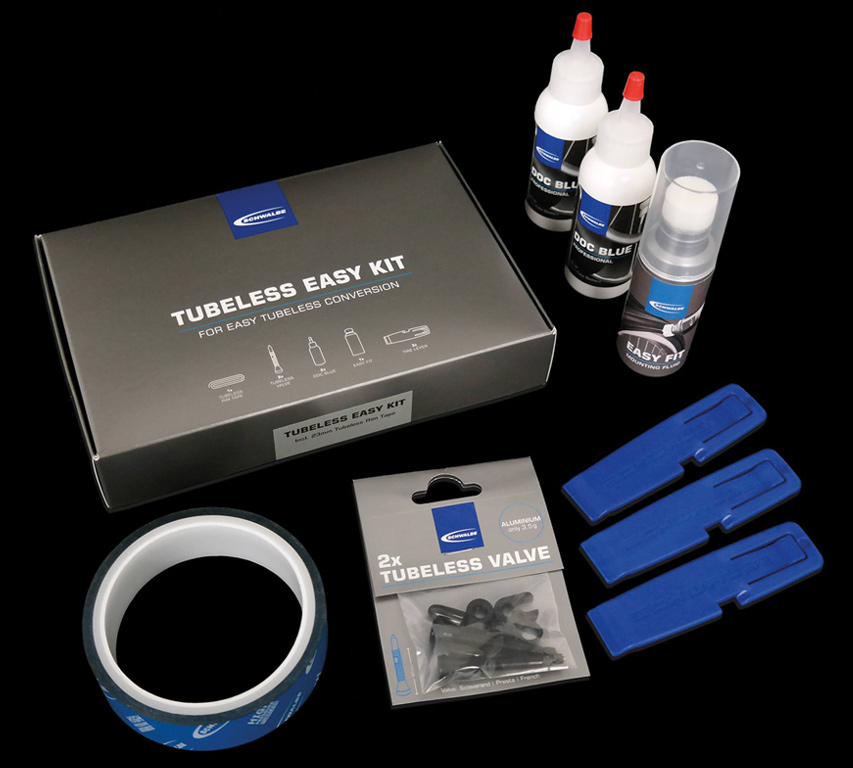 TUBELESS EASY KIT
All in one package for a tubeless conversion.
You can buy all accessories separately or choose this whole set. The new Schwalbe Tubeless Easy Kit offers everything to convert your bike to tubeless. It contains two Tubeless rim tapes, two Tubeless valves, 2 bottles Doc Blue, the mounting fluid Easy Fit as well as a set of tire levers. The kit is available with rim tapes in a width of 21, 23 and 25mm – for every purposes whether MTB or road bike.
Tubeless Easy Kit 21, Art.-No. 16620021
Tubeless Easy Kit 23, Art.-No. 16620023
Tubeless Easy Kit 25, Art.-No. 16620025


Tire Levers: The colour blue is a trademark of Park Tool for bicycle tools and is used under license.
TUBELESS VALVES
The new tubeless valves are available in stem lengths of 40 mm, 60 mm and 100 mm and their design makes fitting them a breeze. There is a suitable valve solution for every depth of rim.
The valve base can be firmly installed in the rim using the hex key (4 mm) without over-tightening. The shortened cone ensures a low installation height and therefore more space for the tire beads. Thanks to the large valve inner diameter (4 mm), the tire can be inflated particularly effectively with air and sealing fluid.


TL-Valve, 40 mm, 2er Set, Art-No. 3470
TL-Valve, 60 mm, 2er Set, Art-No. 3471
TL-Valve, 100 mm, 2er Set, Art-No. 3472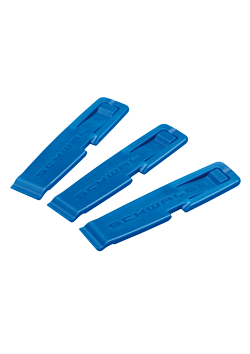 TIRE LEVER
Makes changing tires a snap. The new shape and surface of the tire lever makes the assembly and disassembly of a tire more enjoyable. For both tires and hands too!
The new tire levers are especially helpful in difficult assembly operations. Clip it onto the rim, to fix the already mounted section of the tire, and it won't slide out when the last section is levered onto the rim.


Patent Pending.


3 piece set, Art.-No. 1847

The colour blue is a trademark of Park Tool for bicycle tools and is used under license.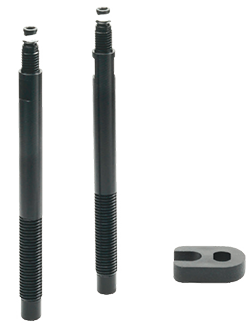 VALVE EXTENSION
For high pressure (Presta) valve with removable valve core. Aluminum. 2 per set. Valve core removal key included.
30 mm, black, threaded, Art.-No. 3461
65 mm, black, threaded, Art.-No. 3462
The valve extensions in 30mm and 65mm are tubeless compatible.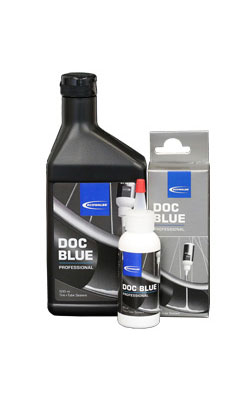 DOC BLUE PROFESSIONAL
Ideally suited for Tubeless conversions. Produced by Stan's NoTubes! It can also be used as a puncture preventative for bicycle tubes, tubular tires and standard Tubeless systems.
60 ml bottle, Art.-No. 3710
200 ml bottle, Art.-No. 3714
500 ml bottle, Art.-No. 3711

APPLICATION: For preventive puncture protection and tubeless conversion. Filling quantities: tires from 23-60mm —> 60-90 ml/tire, from 62-100mm —> 90-120 ml/tire. Shake well! Effective up to 7 months. Unsuitable for significant defects (cuts/bursts). Tubeless conversion only with wheels and tires suitable for tubeless applications.

Our hints: Check tire pressure and sealant regularly. Depending on the weather conditions and mileage, the durability of the sealant varies and the safety factor shrinks.
Our formula for stressless riding:
Refill every month with approx. 10 ml sealant through the valve, so there is no need to demount the tire.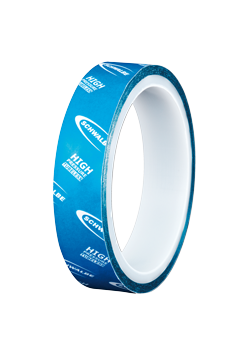 TUBELESS RIM TAPE
The tubeless rim tape is extremely user friendly and at the same time very high pressure resistant. Even on road bikes a single ply of tape is sufficient.
10 m x 19 mm, Art.-No. 887019
10 m x 21 mm, Art.-No. 887021
10 m x 23 mm, Art.-No. 887023
10 m x 25 mm, Art.-No. 887025
10 m x 27 mm, Art.-No. 887027
10 m x 29 mm, Art.-No. 887029
10 m x 32 mm, Art.-No. 887032
10 m x 37 mm, Art.-No. 887037
10 m x 42 mm, Art.-No. 887042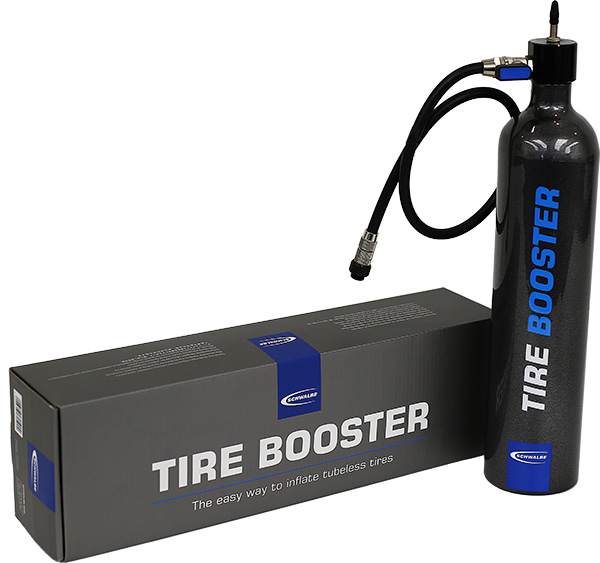 TIRE BOOSTER
The easy way to inflate tubeless tires.
With the new TIRE BOOSTER, tubeless tire assembly can be accomplished easily. Even without a compressor. With a power of up to eleven bar every tire immediately seats itself safely on the rim and seals everything evenly. If you need an even bigger flow of air, a special adapter is also available. The 435 g light, handy cylinder is the perfect remedy for every tubeless tire assembly, whether at home or on your trips.
Art.-No. 6080.01, $ 80,00
Only for SV valves.
HOW TO USE THE TIRE BOOSTER?