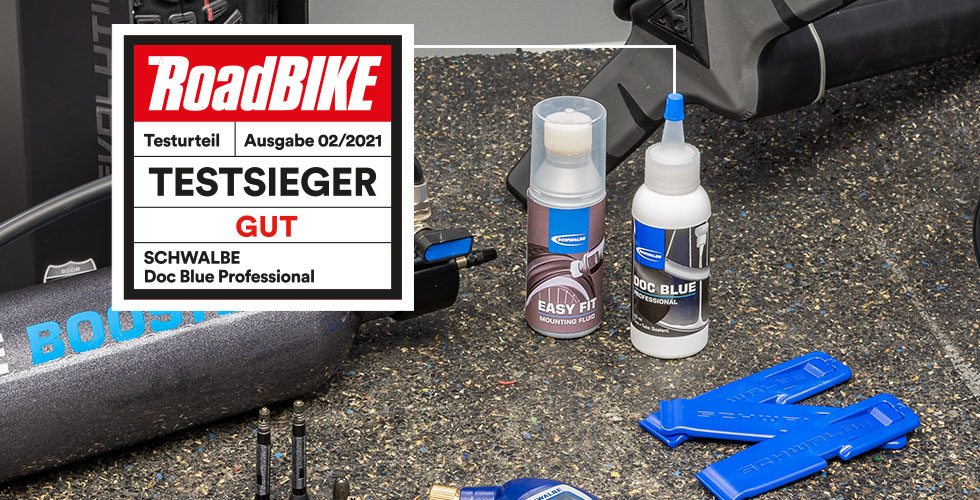 SEALANT IN ROADBIKE TEST
---
TEST VICTORY FOR SCHWALBE DOC BLUE PROFESSIONAL
Sealing milk makes the tubeless set-up extremely puncture-proof: minor defects and punctures are sealed in seconds while riding. The quality of the sealing milk plays the central role in functionality. Schwalbe Doc Blue achieves the best results and is chosen as the winner in the comparative test of Roadbike magazine.
TUBELESS ON THE ROAD BIKE
Tubeless riding also offers enormous advantages for road cyclists: Since there can be no friction between tire and tube, rolling resistance is much lower with tubeless set-up. In addition, it is possible to ride with lower air pressure, which improves both the comfort and the grip of the tire. The tubeless system also scores in terms of puncture safety: not only is the risk of punctures significantly lower, thanks to the sealant smaller defects are also sealed during the ride.
SCHWALBE DOC BLUE - TEST VICTORY IN ROADBIKE MAGAZINE
Tubeless Easy tires, such as the Schwalbe Pro One TLE, must be used in combination with sealant. This ensures the tightness of the system and also has the advantage that minor defects are sealed while still riding. Thus, the tubeless system offers better puncture protection without negatively affecting the rolling resistance. On the contrary, since there is no friction between tire and tube to overcome, tubeless set-ups even ride smoother.
Schwalbe Doc Blue Professional is a sealant made of natural latex. It is extremely easy to handle and comes in the 60ml or 500ml bottle. In the laboratory and practical test of Roadbike magazine, a total of eight different sealants were tested. The result: Schwalbe Doc Blue Professional shines with the best sealing performance. Even at the high air pressures of road biking, Doc Blue provides reliable puncture protection without significant pressure loss.
DOC BLUE >>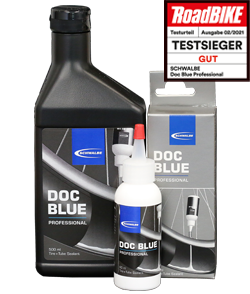 IDEAL COMBINATION: PRO ONE TLE
---
TEST VICTORY WITH "OUTSTANDING" RATING
For the best performance on the road, the combination of Tubeless Easy tires and sealing milk is indispensable. The Schwalbe Pro One TLE takes the test victory with the verdict "outstanding" in the test of Roadbike magazine. Here is all the information about the tire:
TO THE NEWS >>