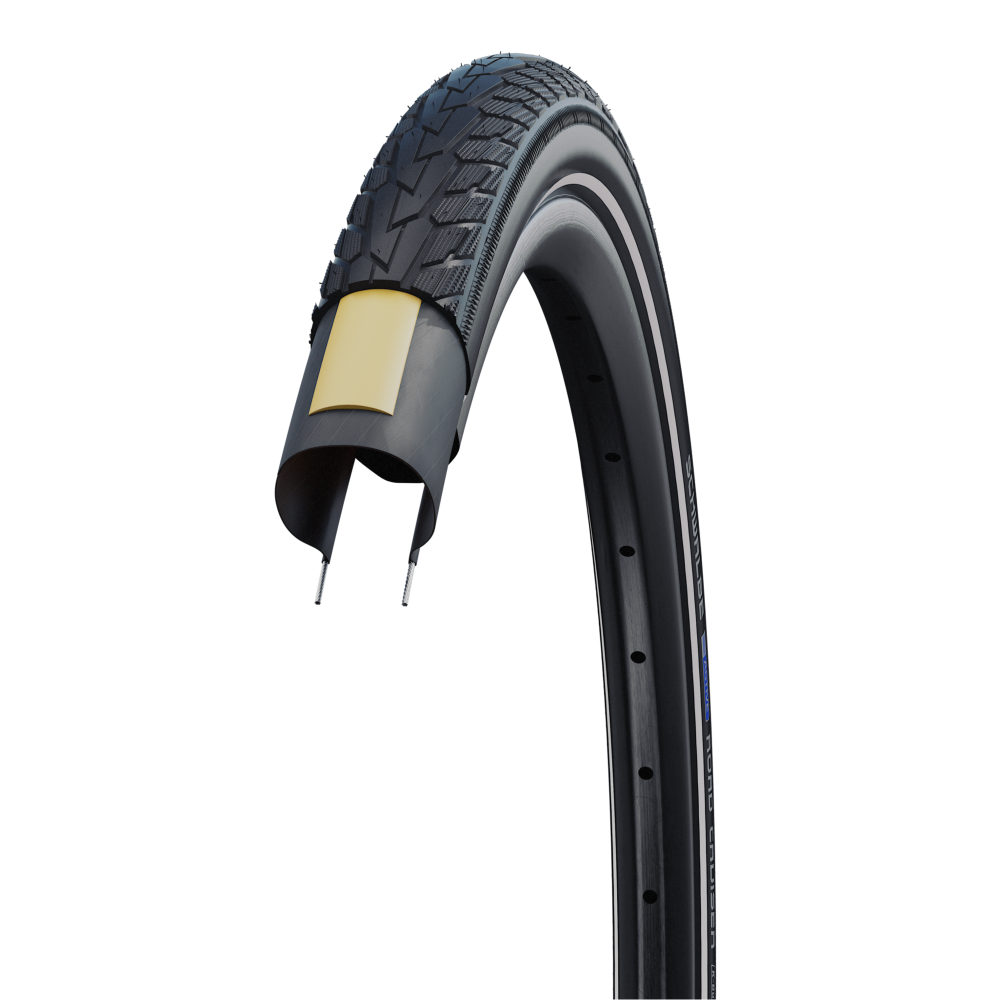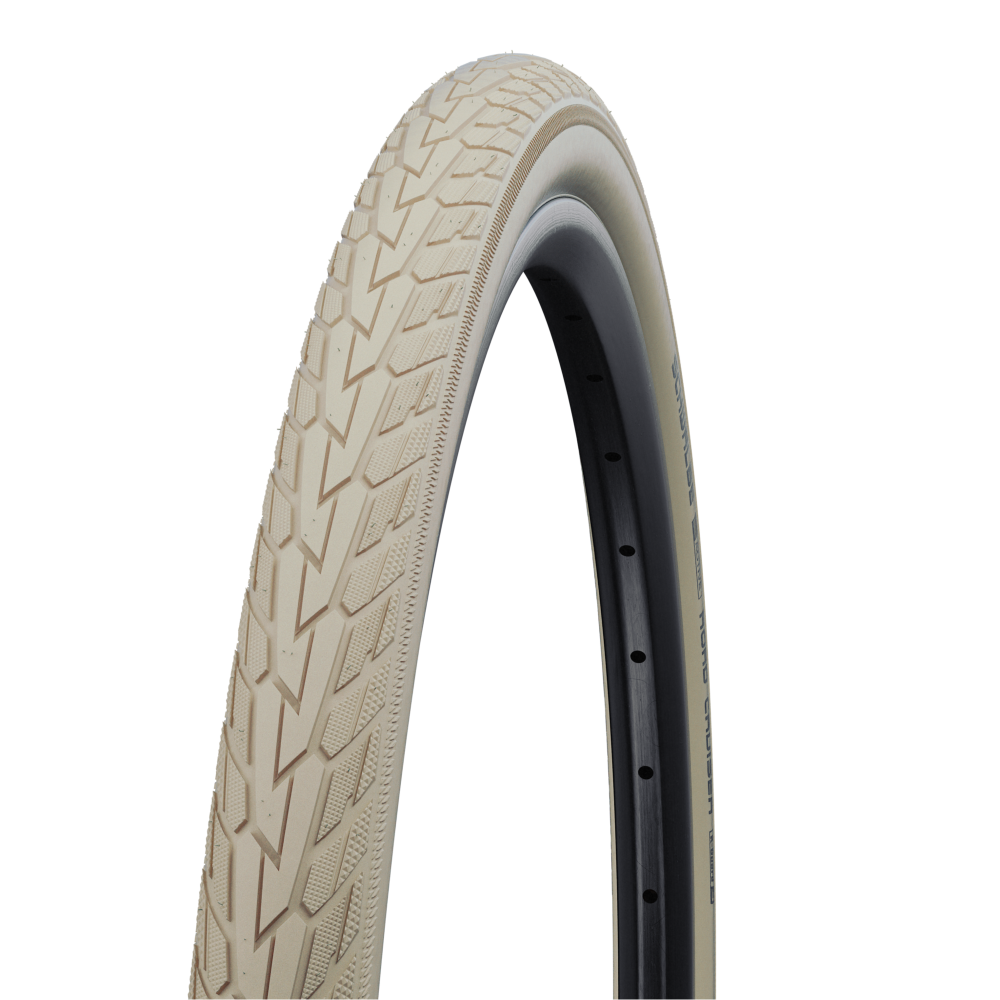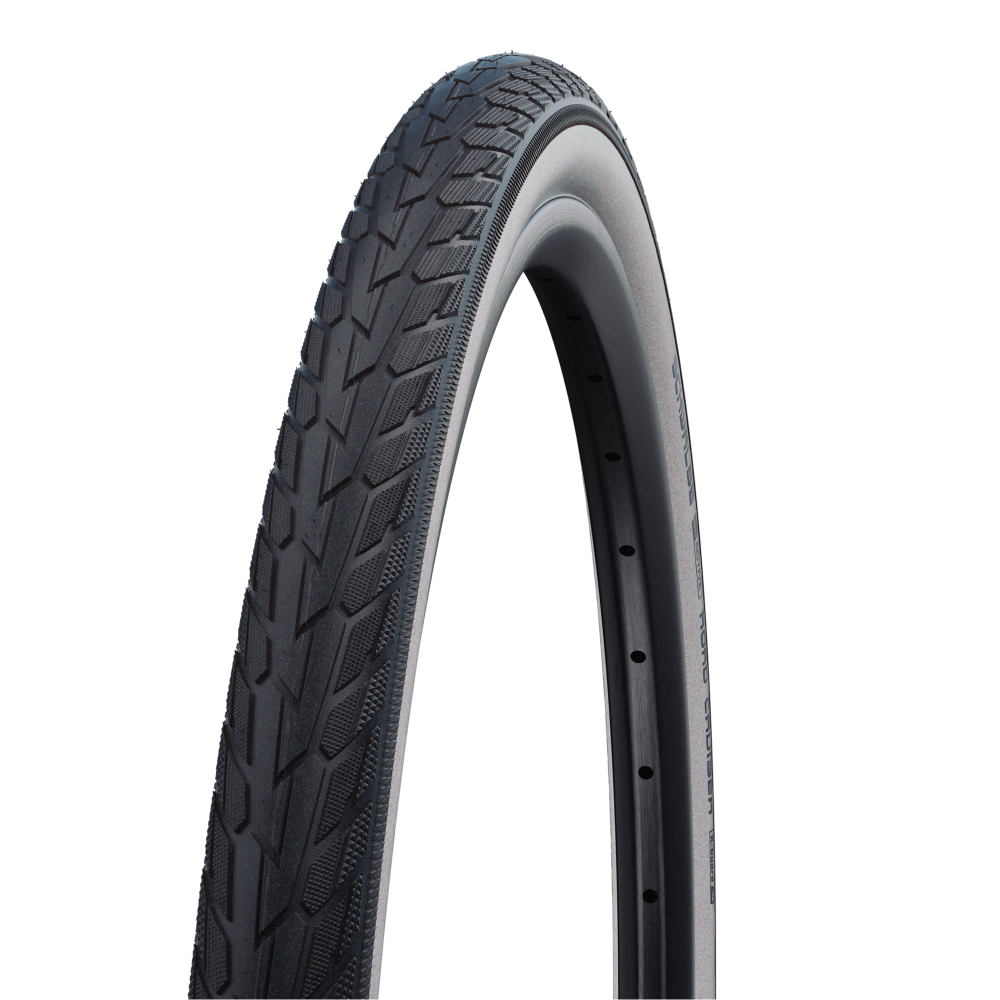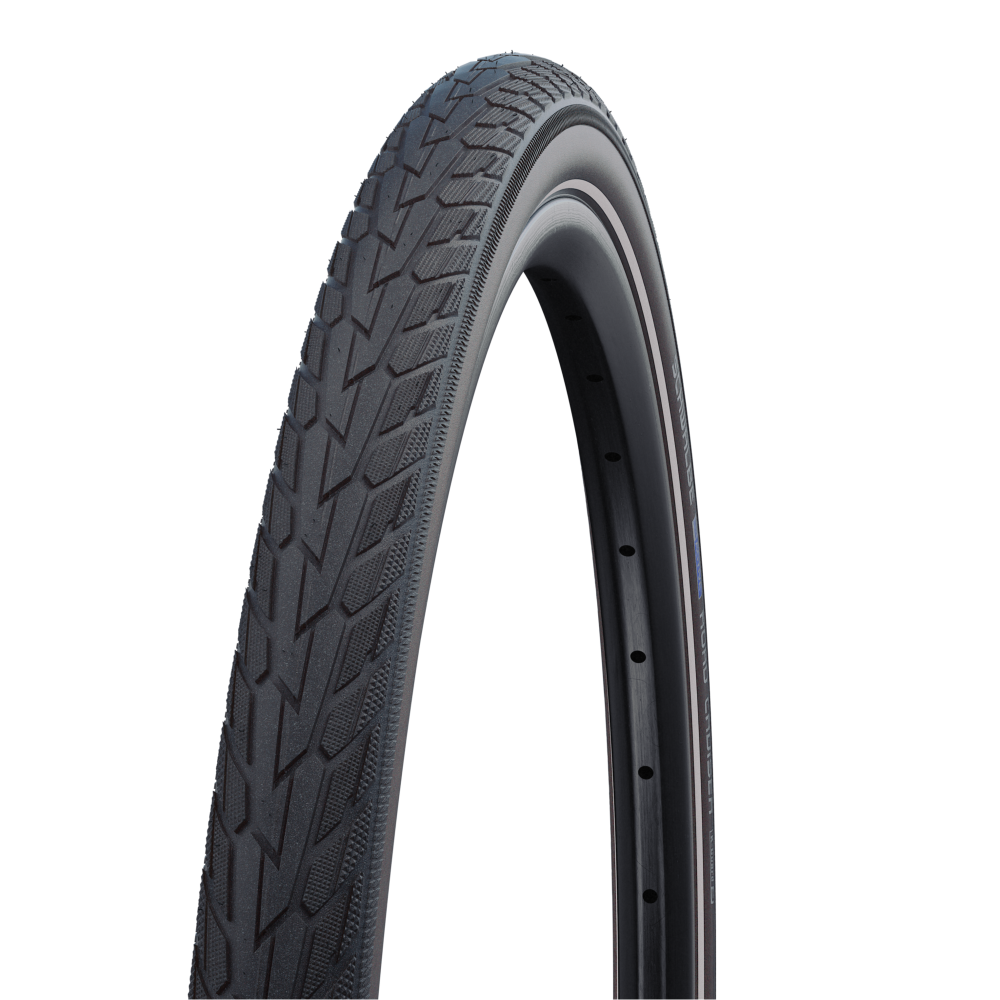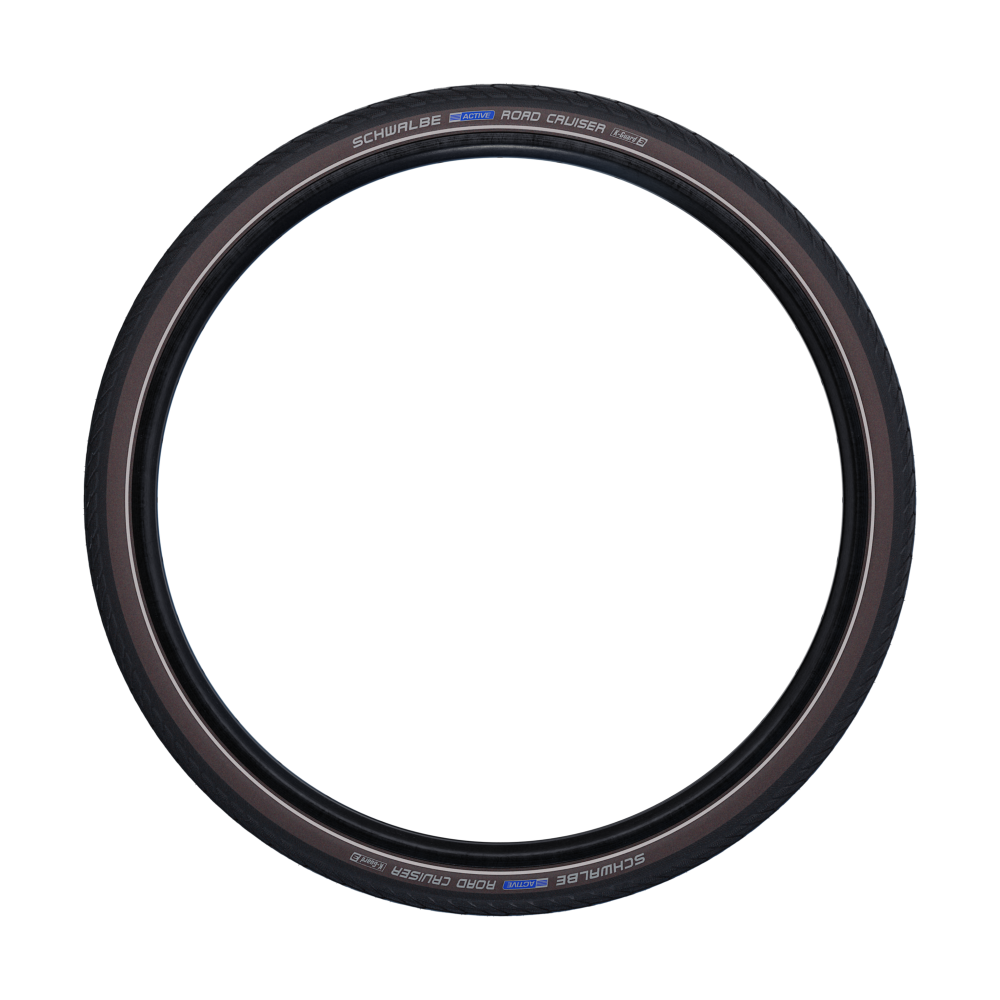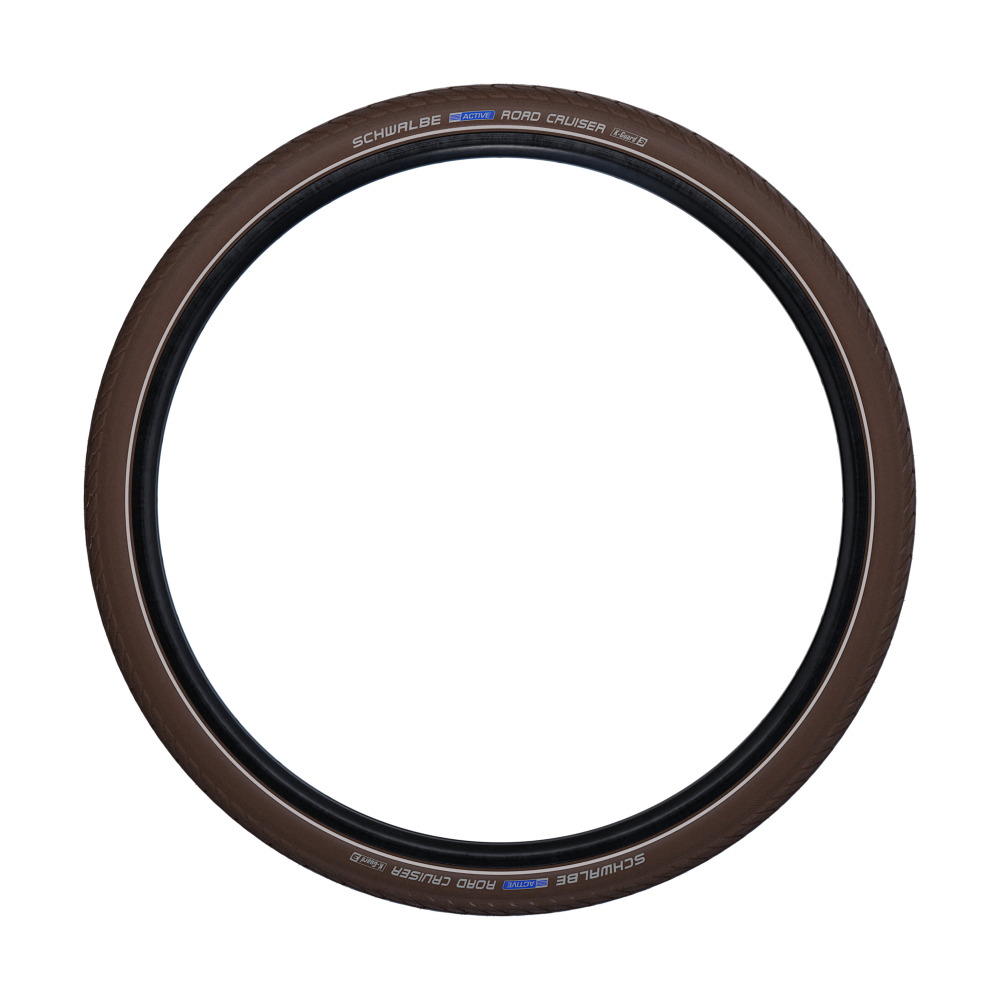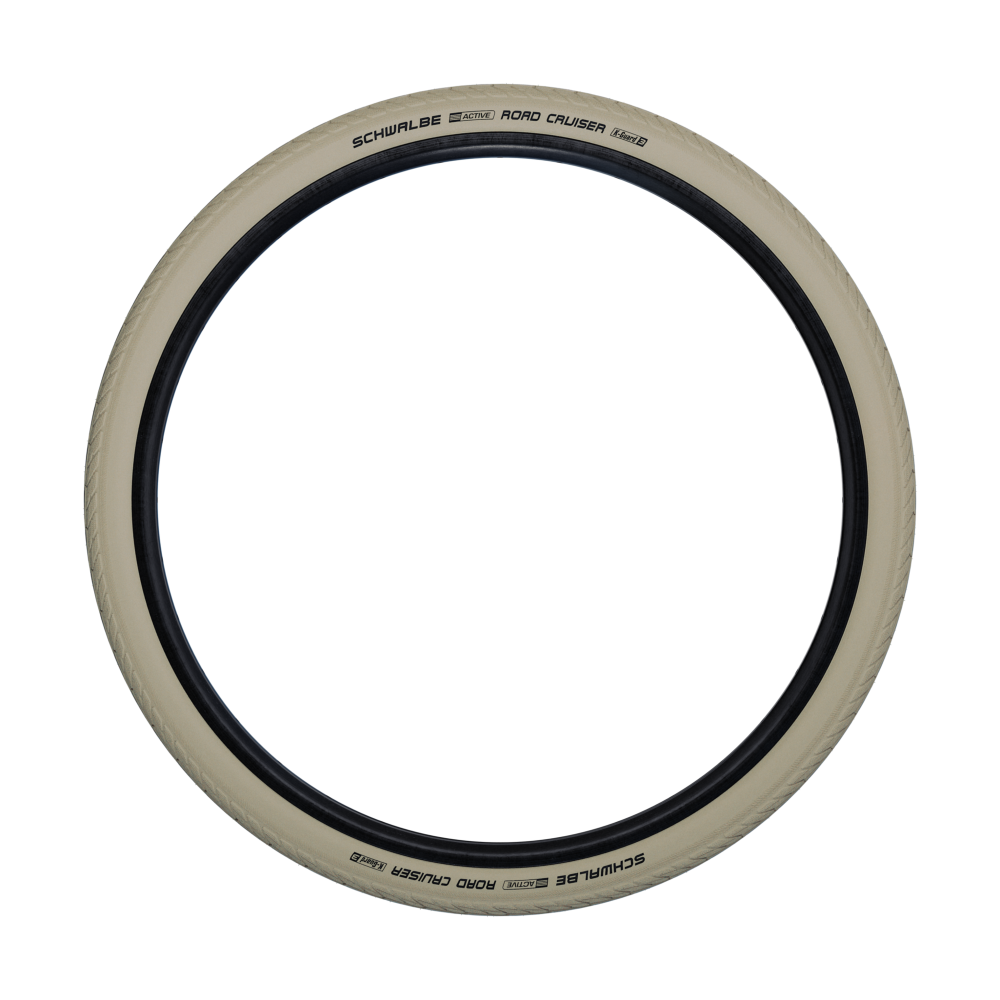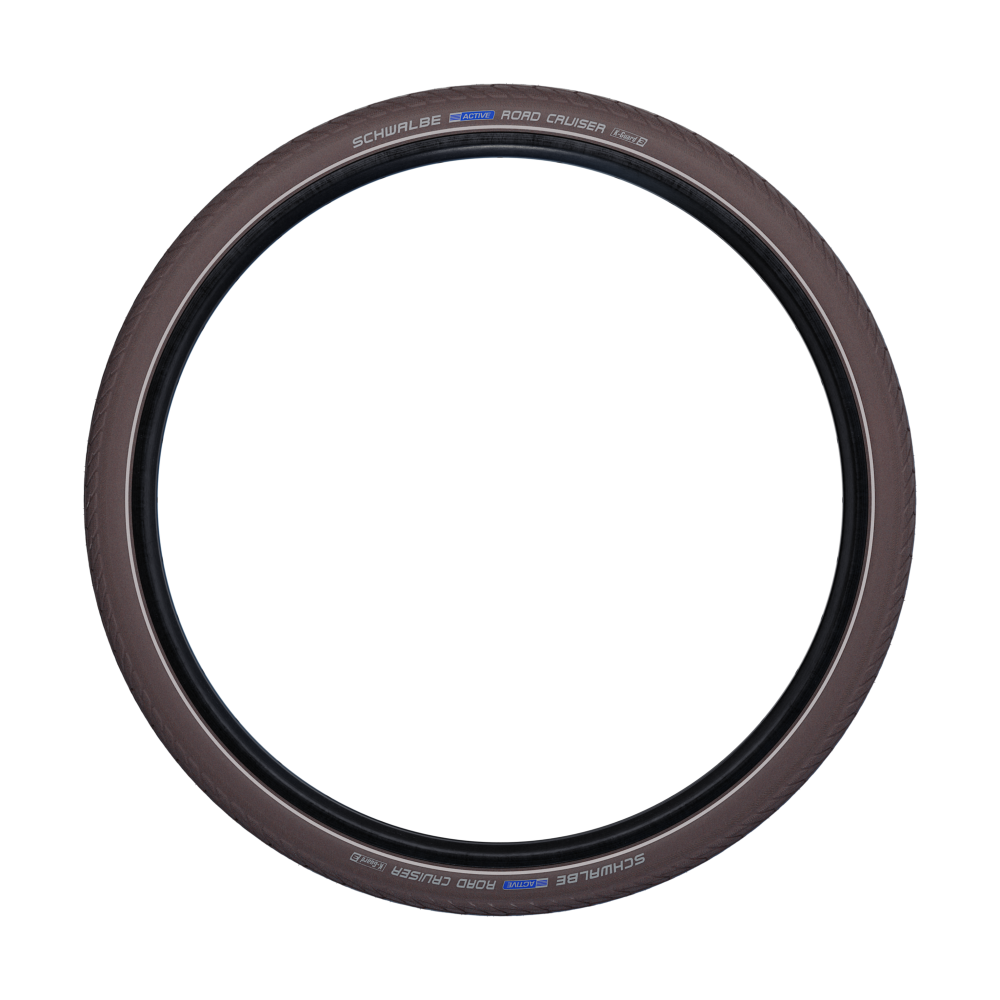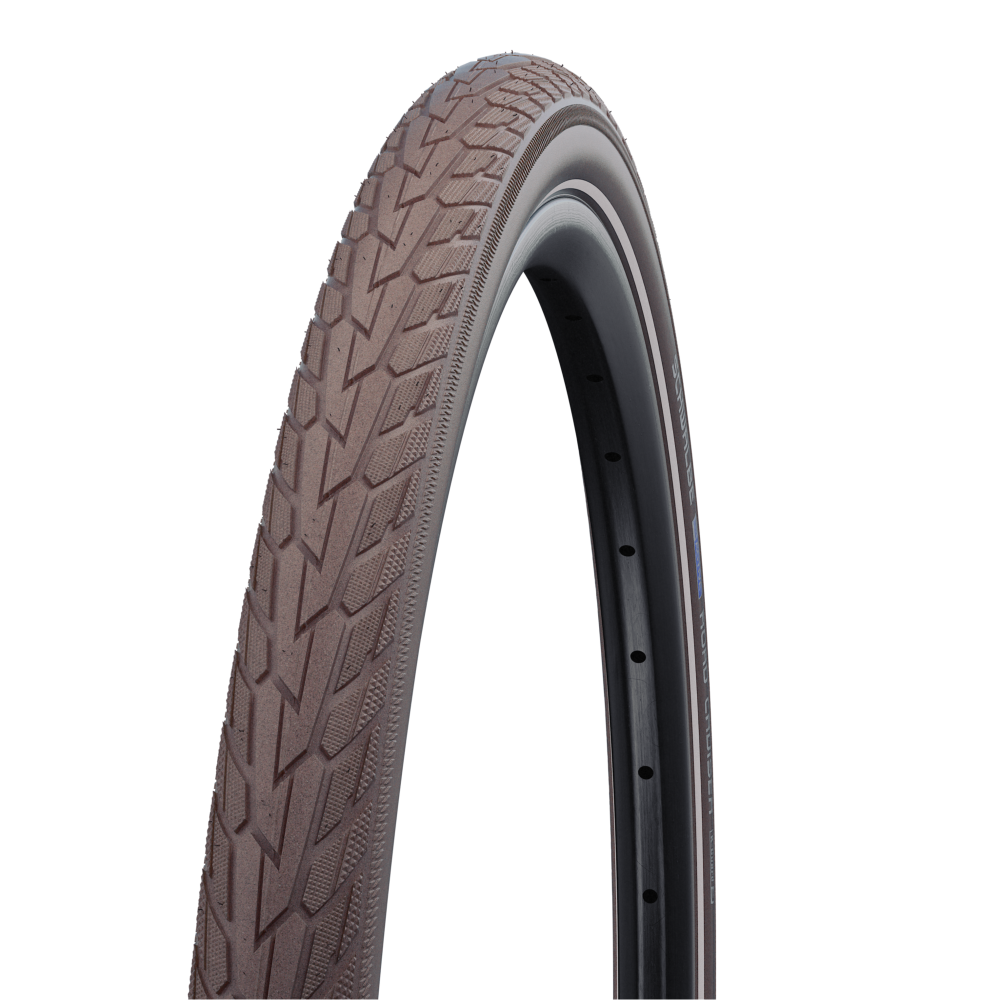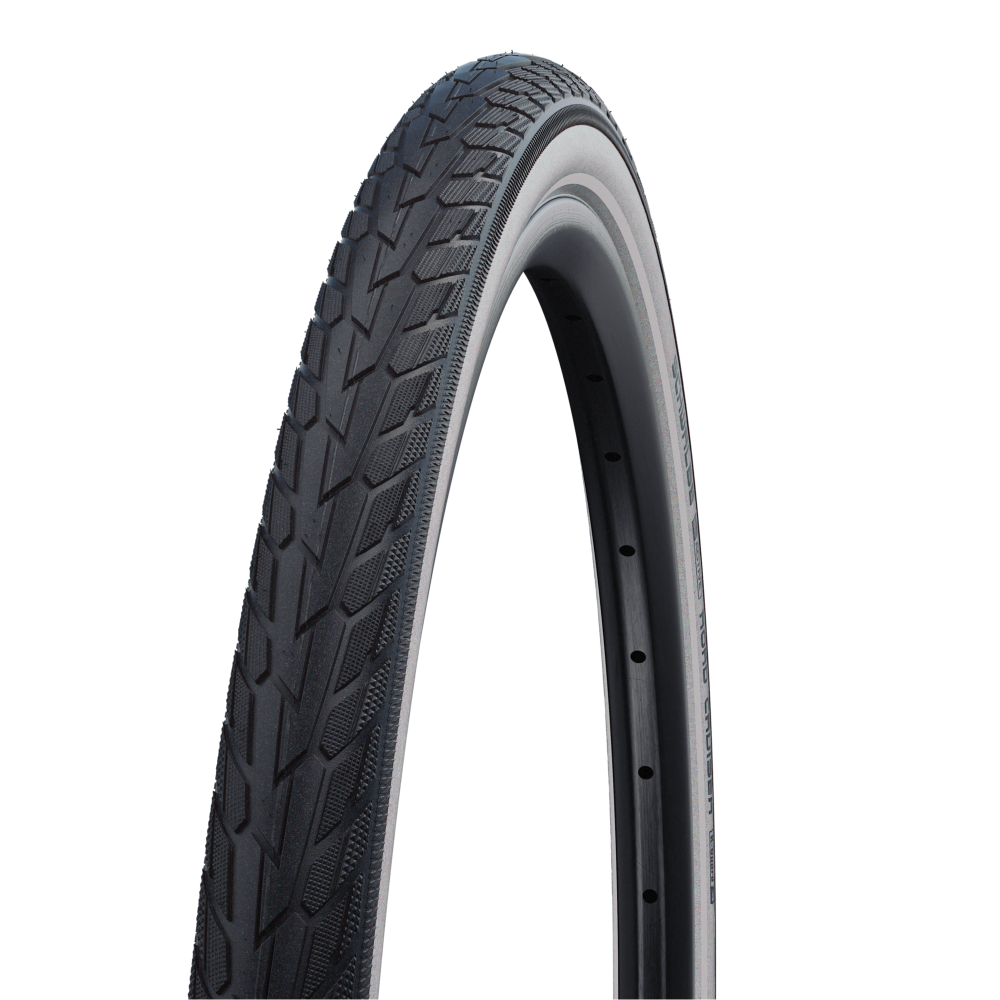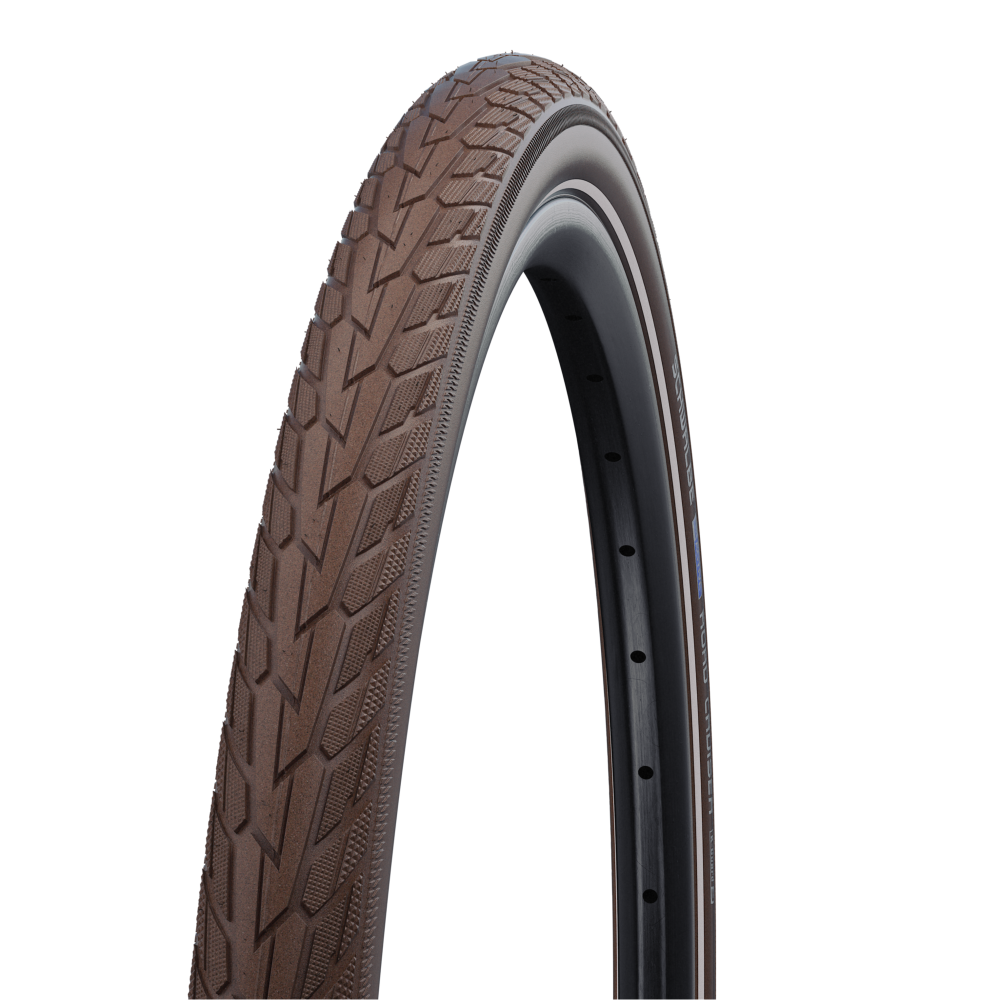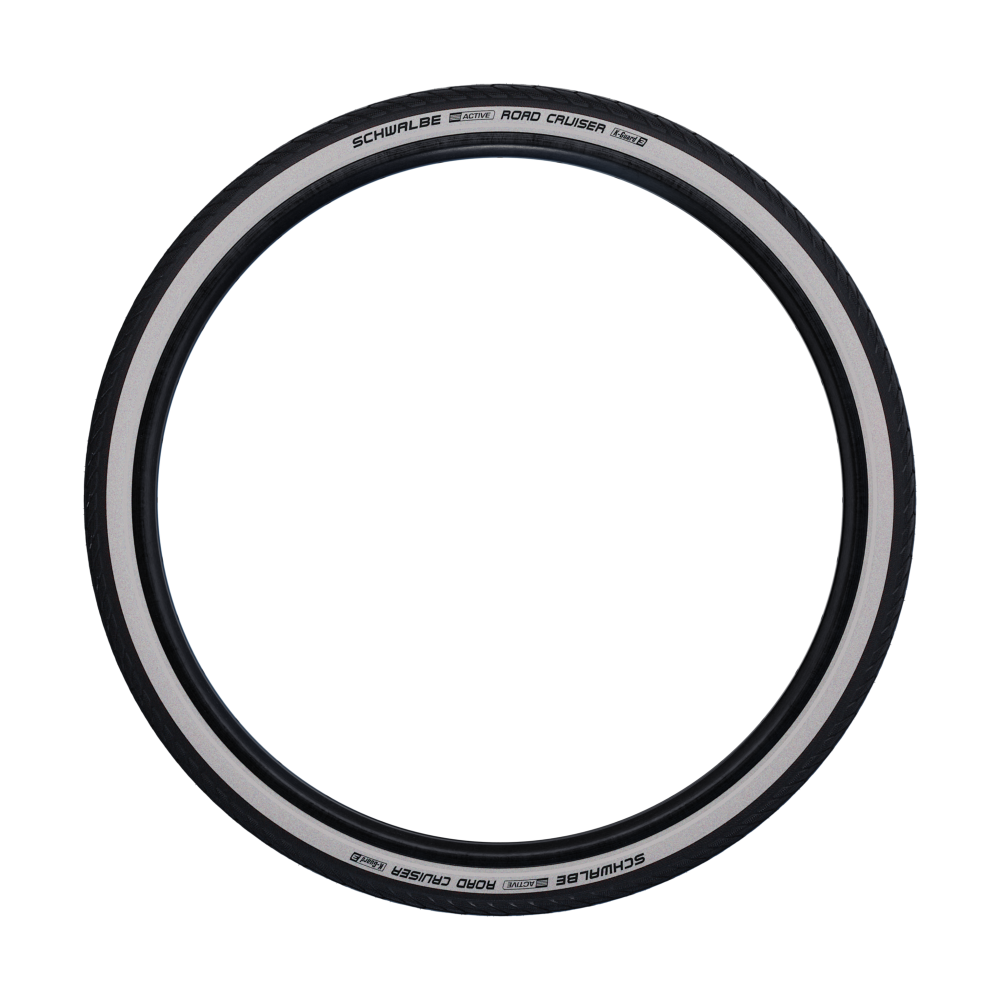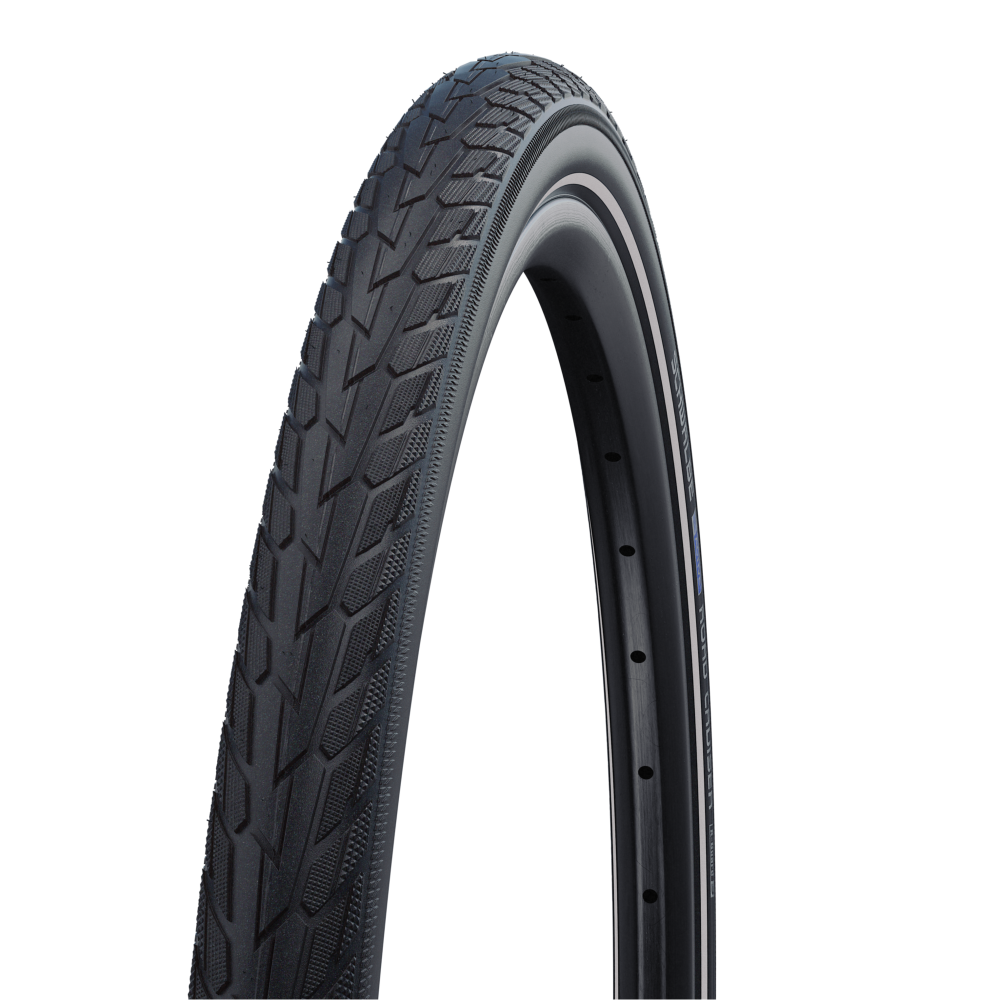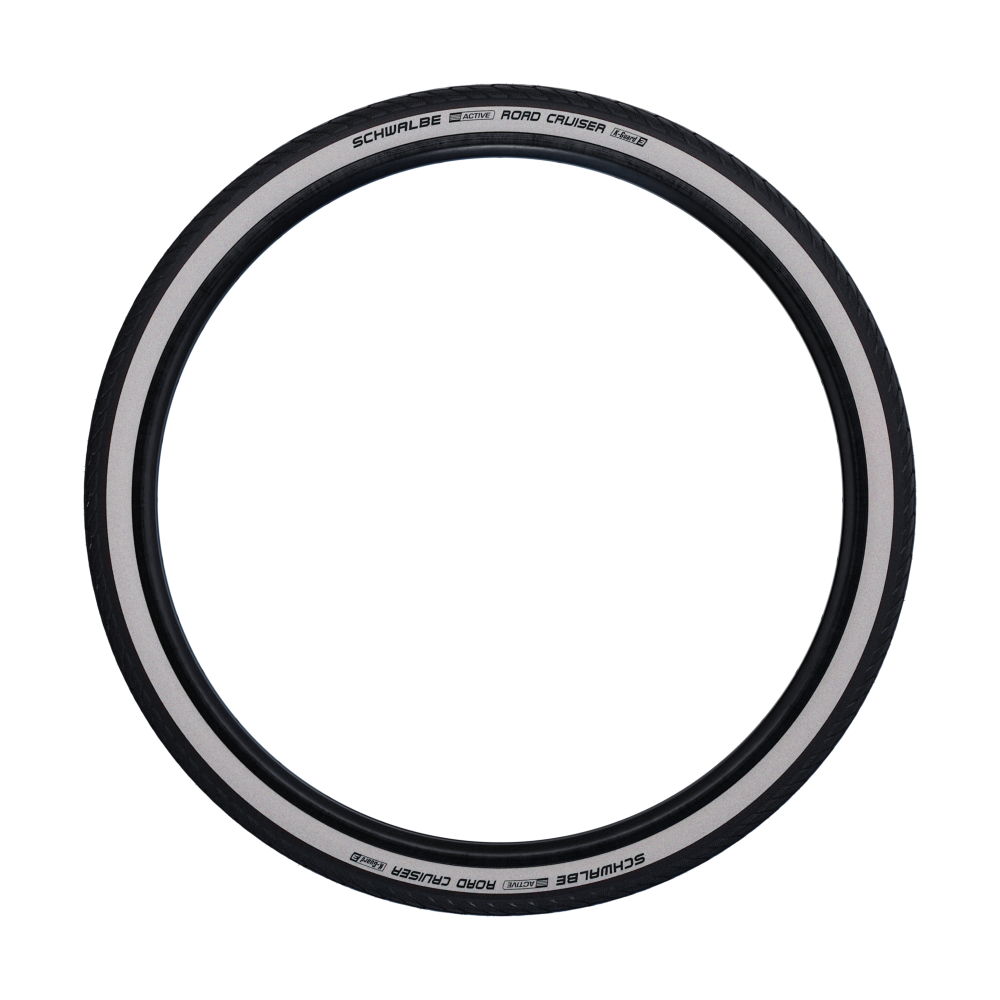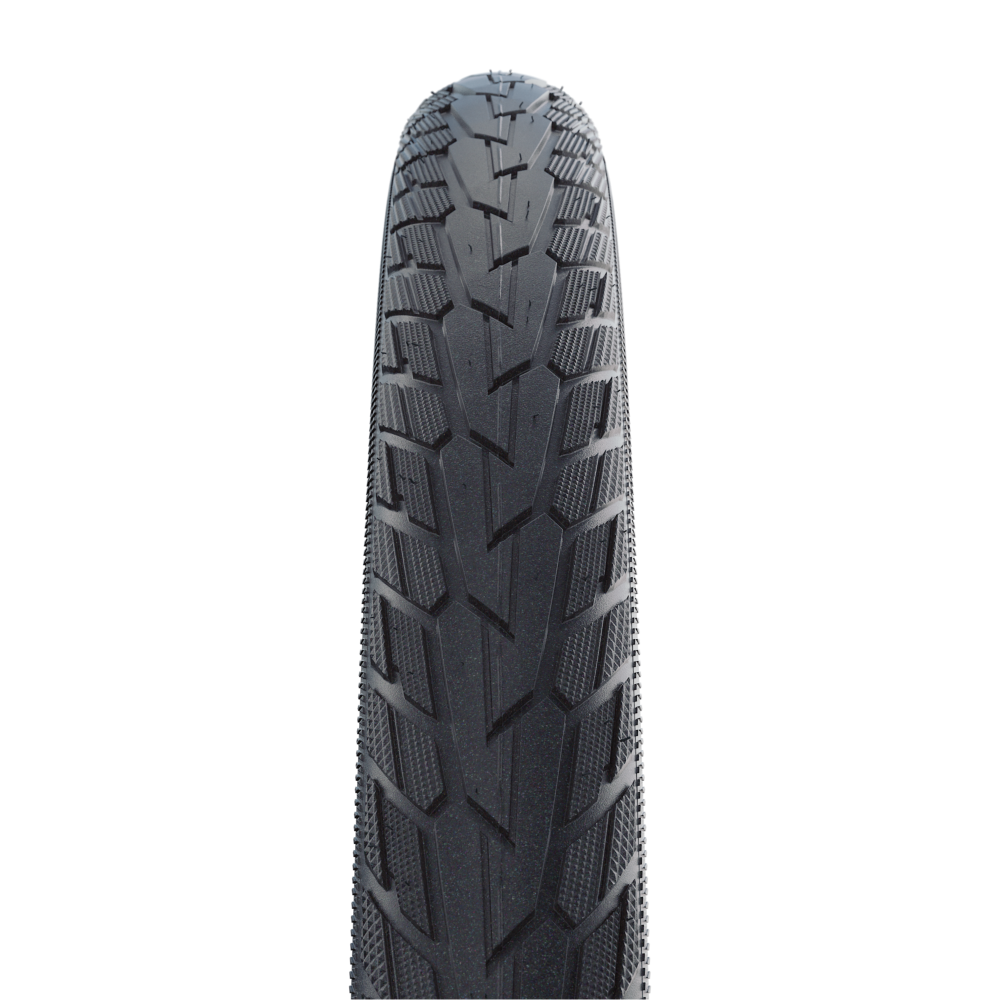 /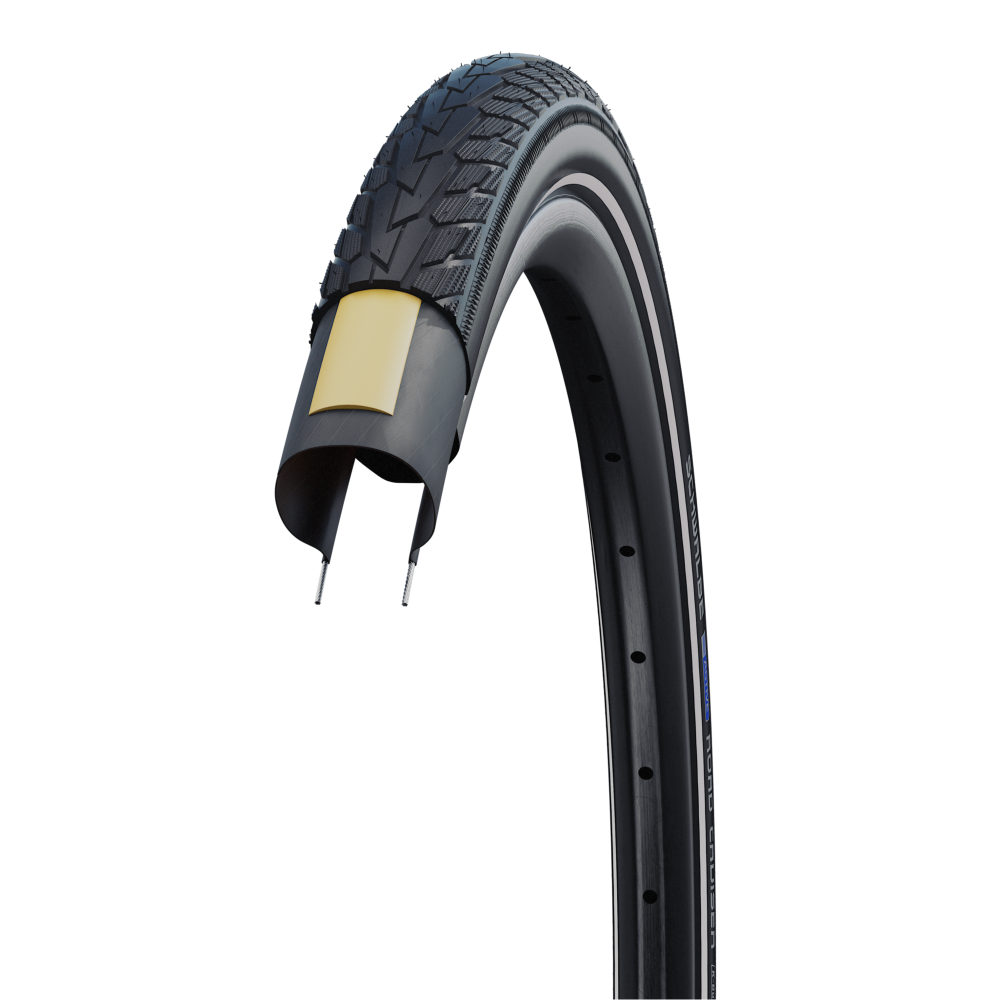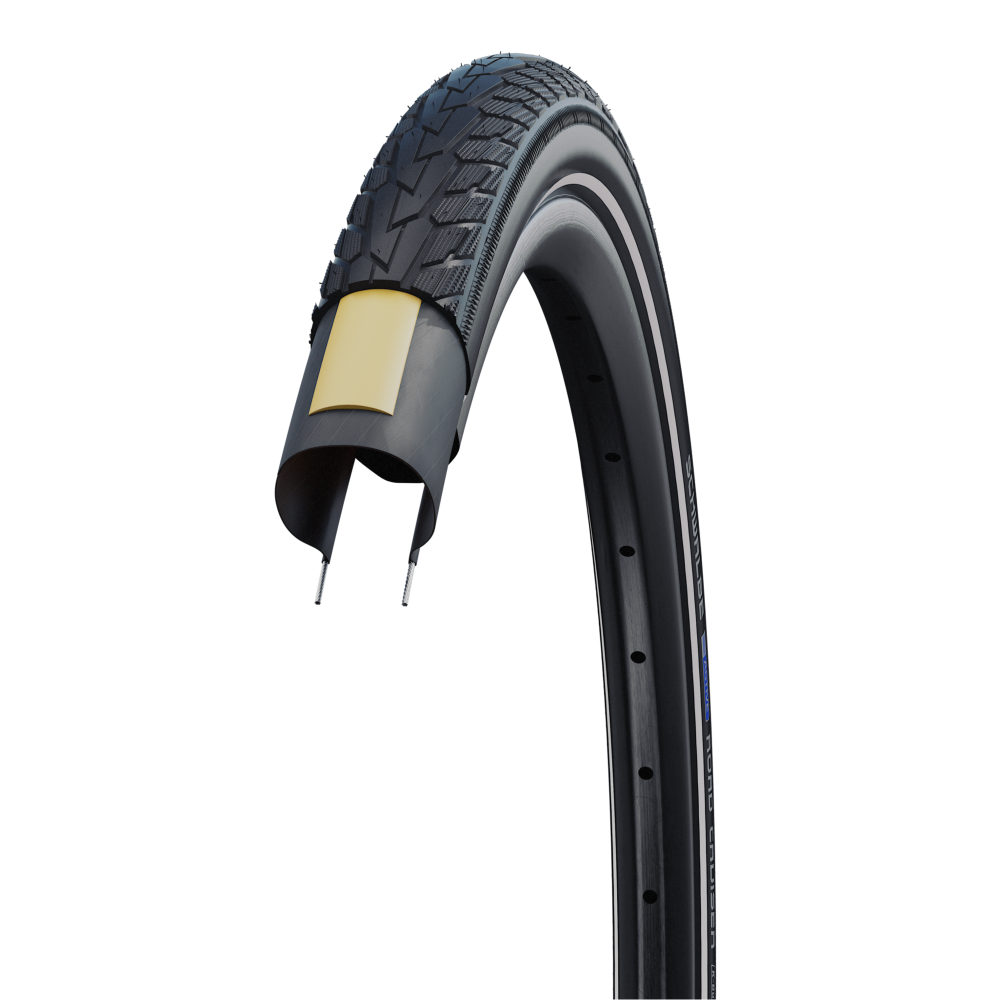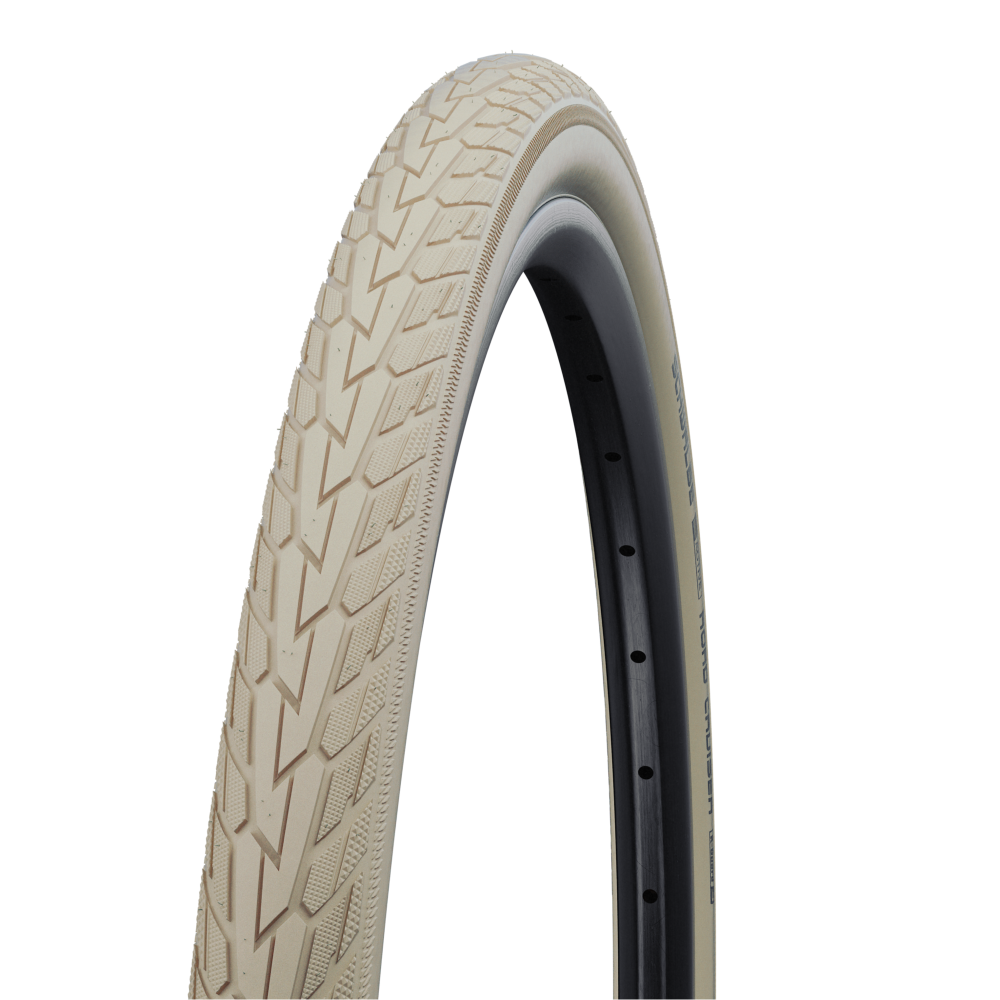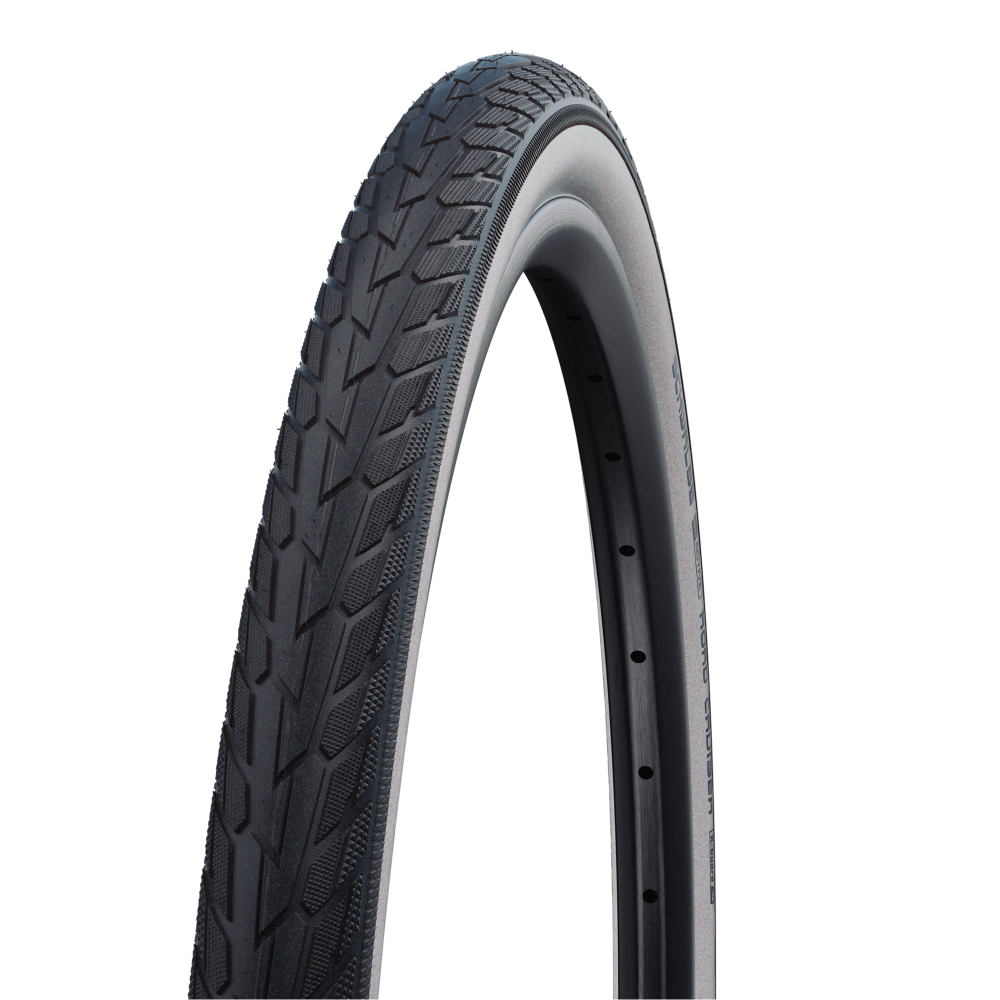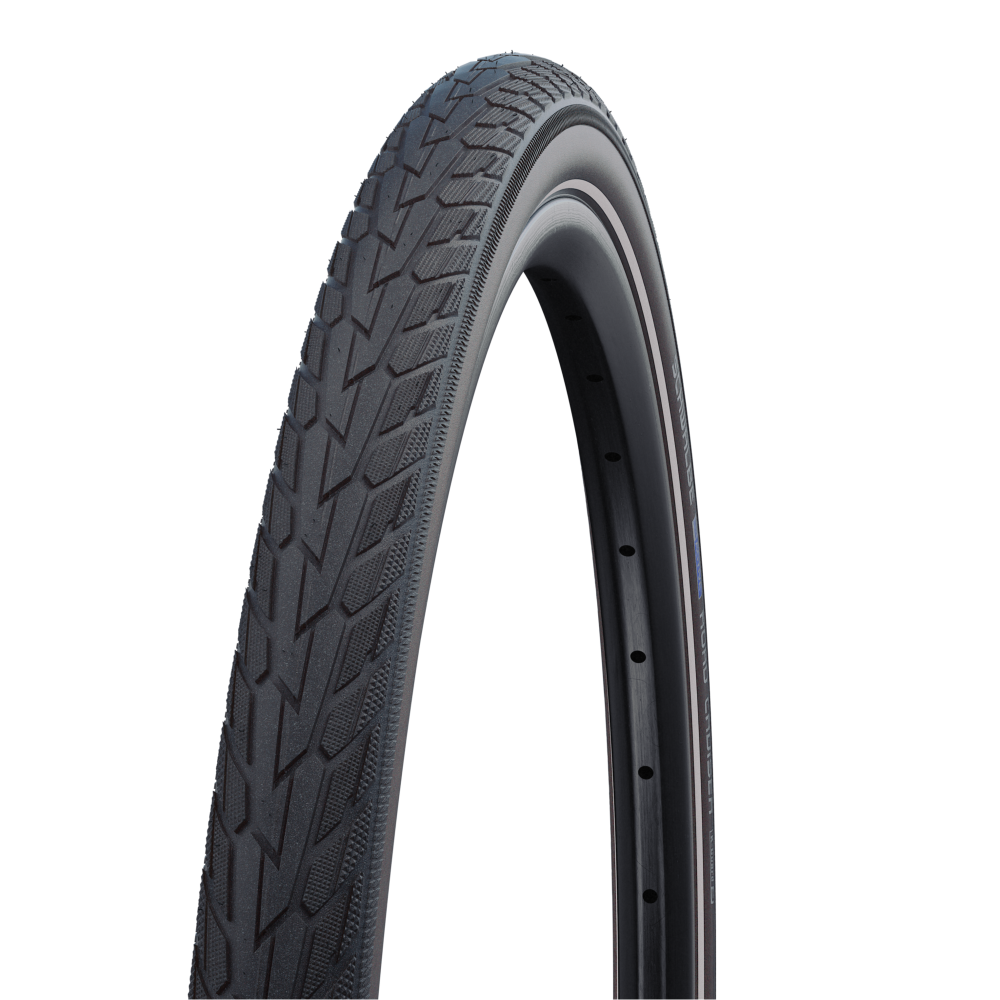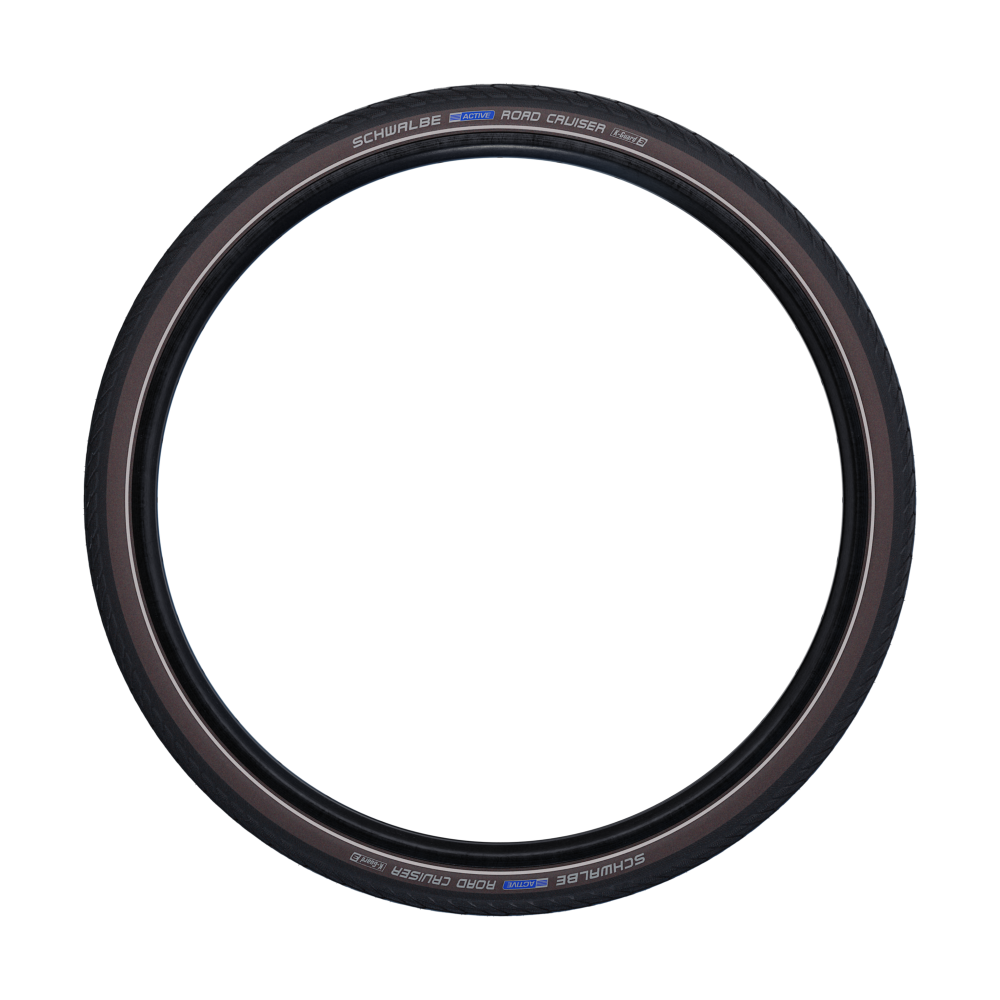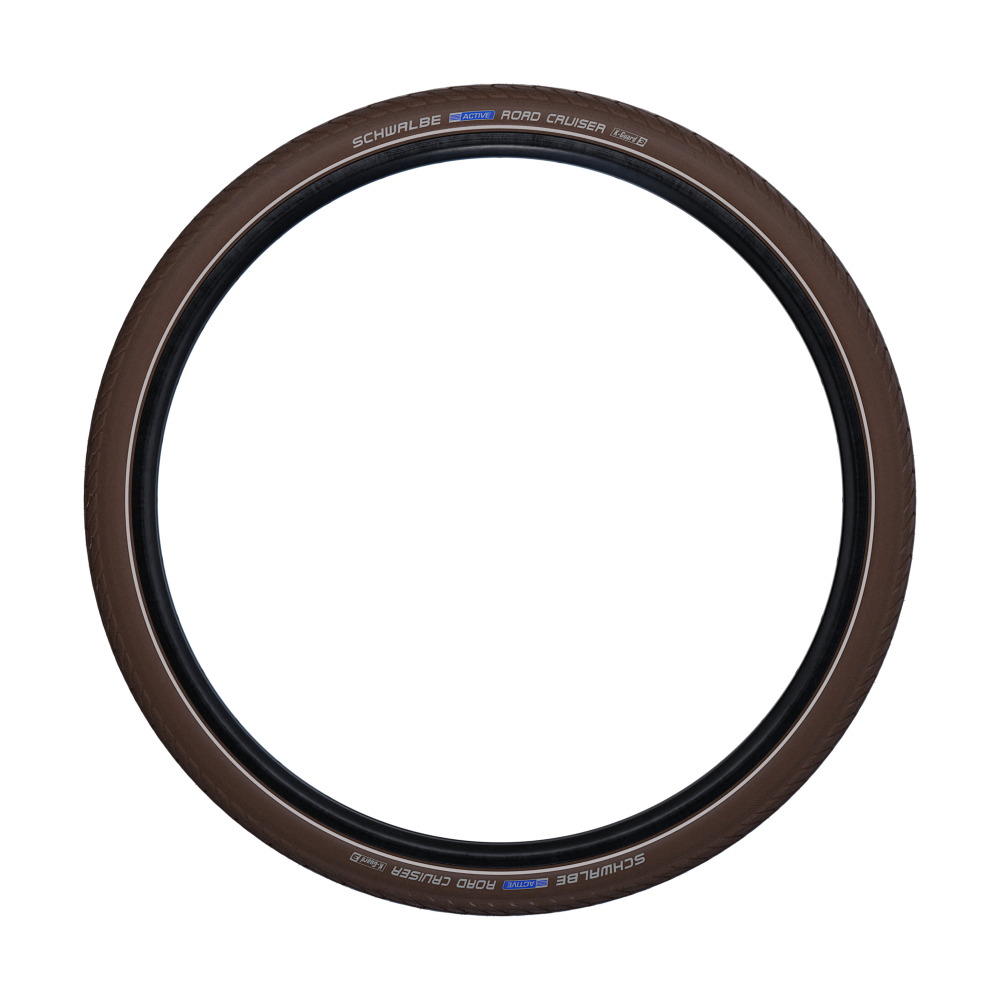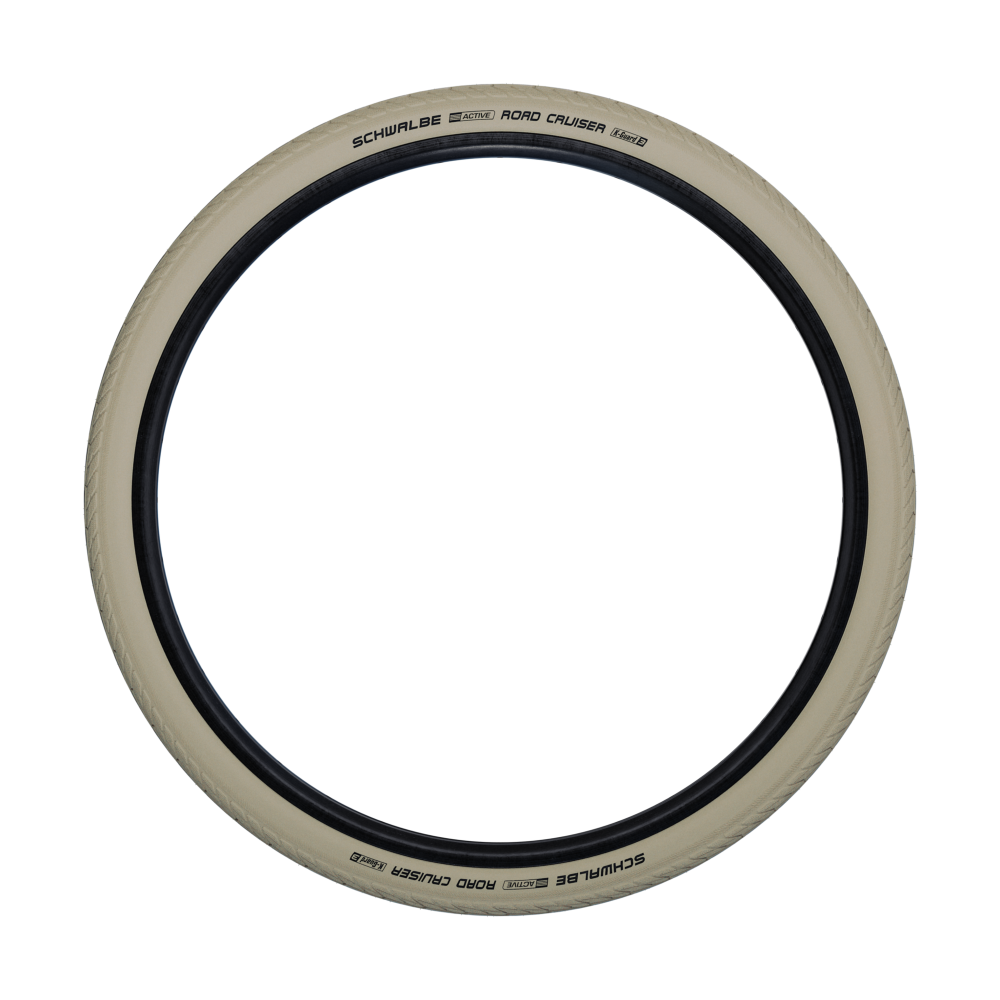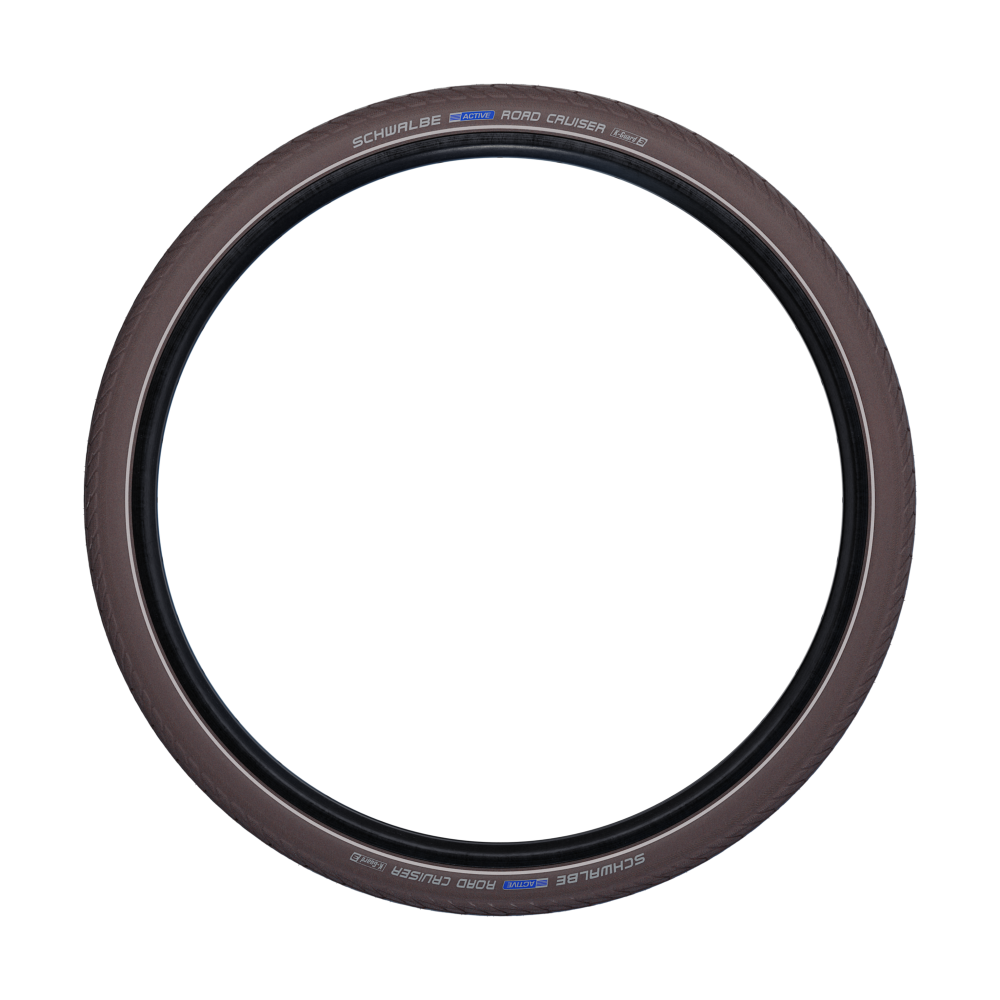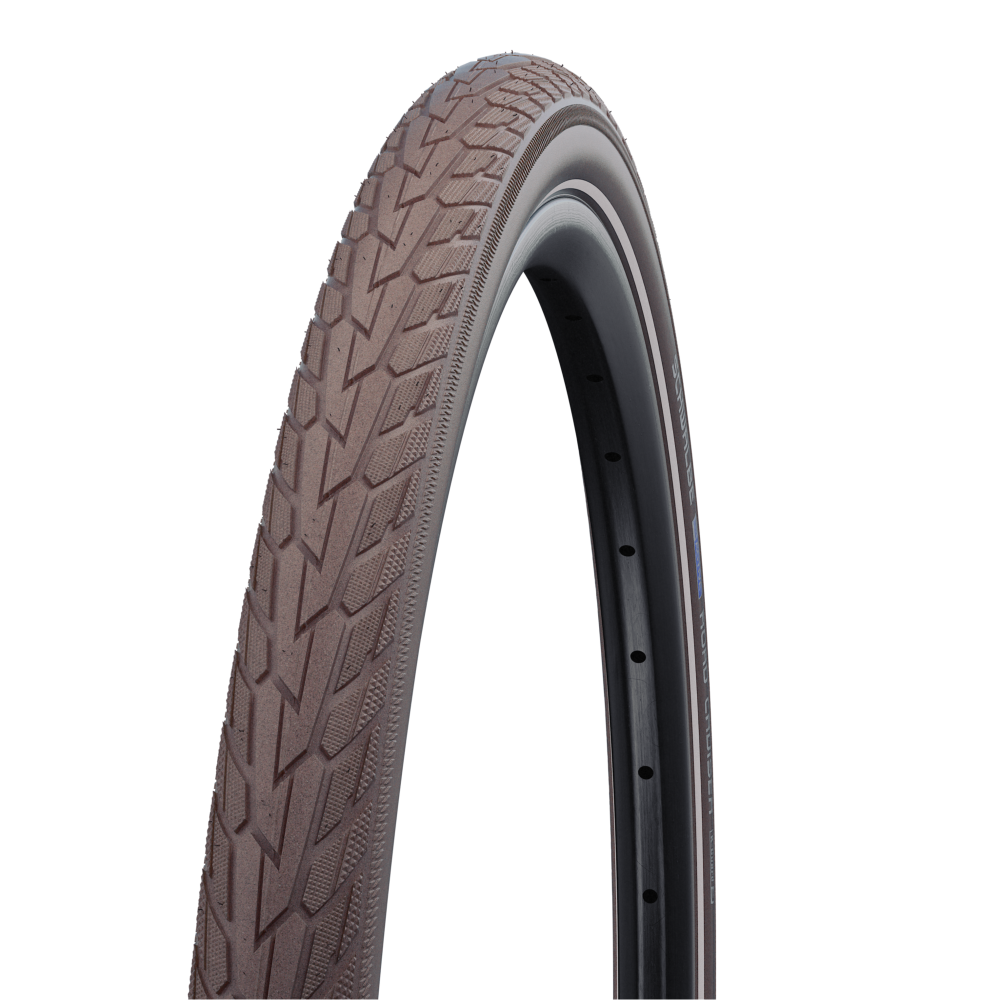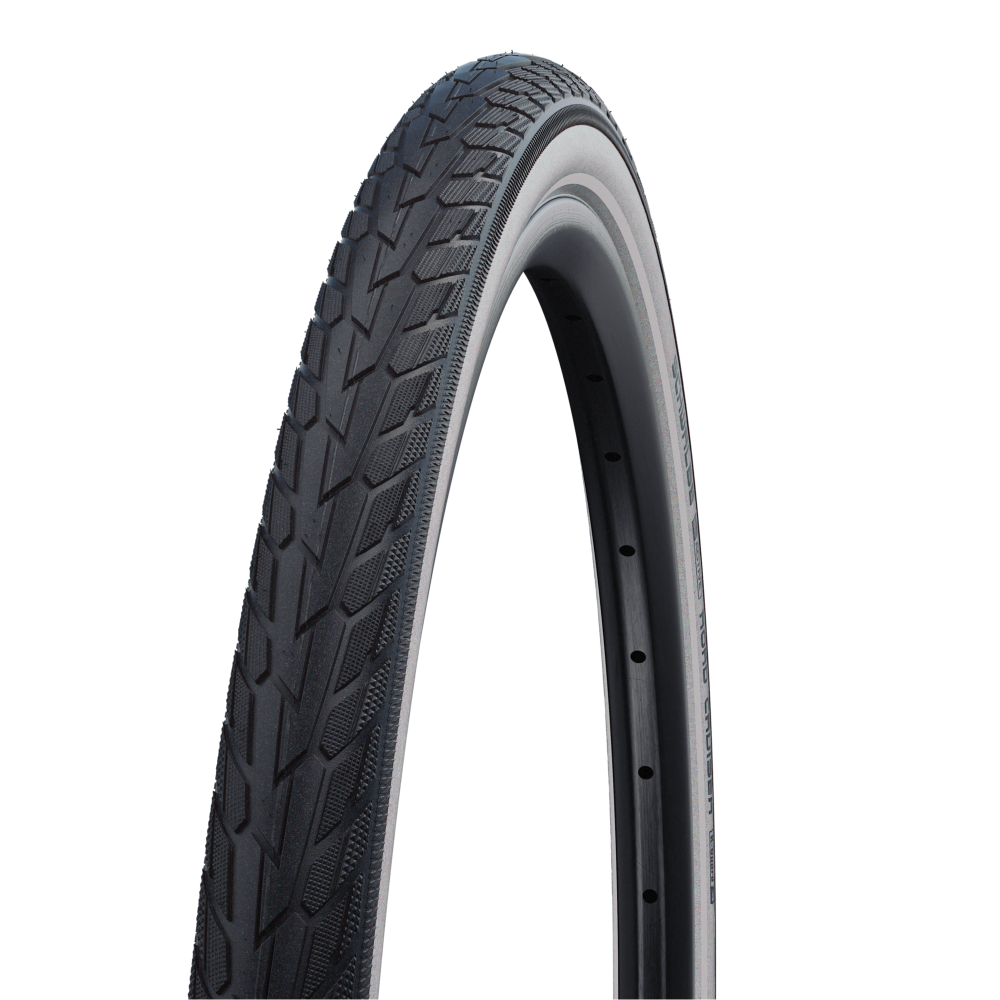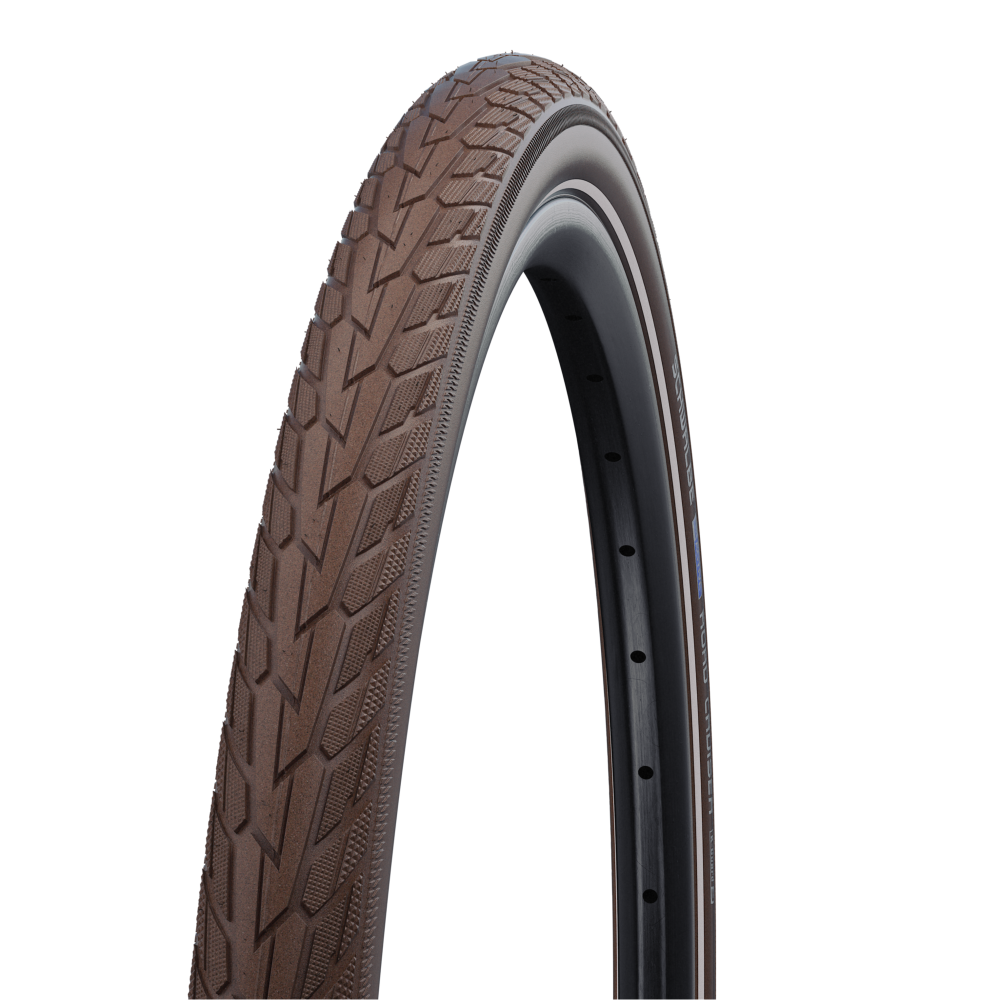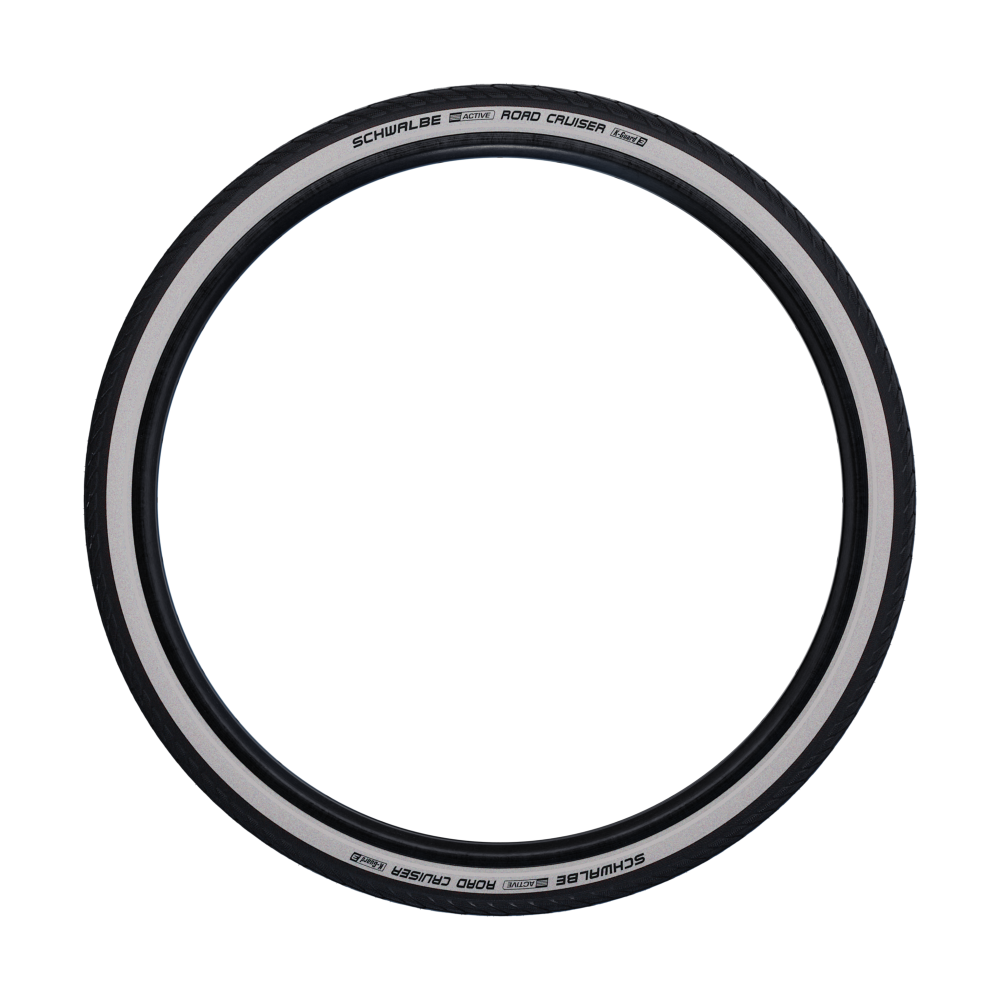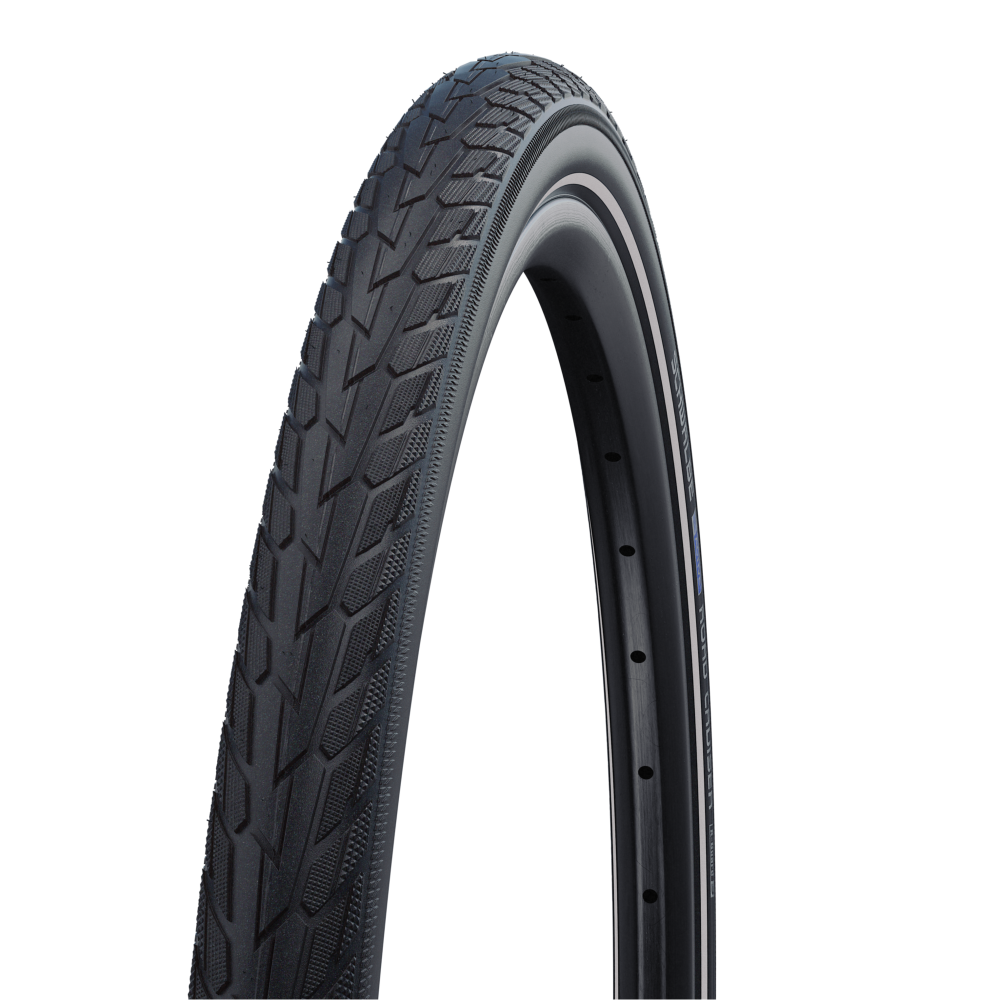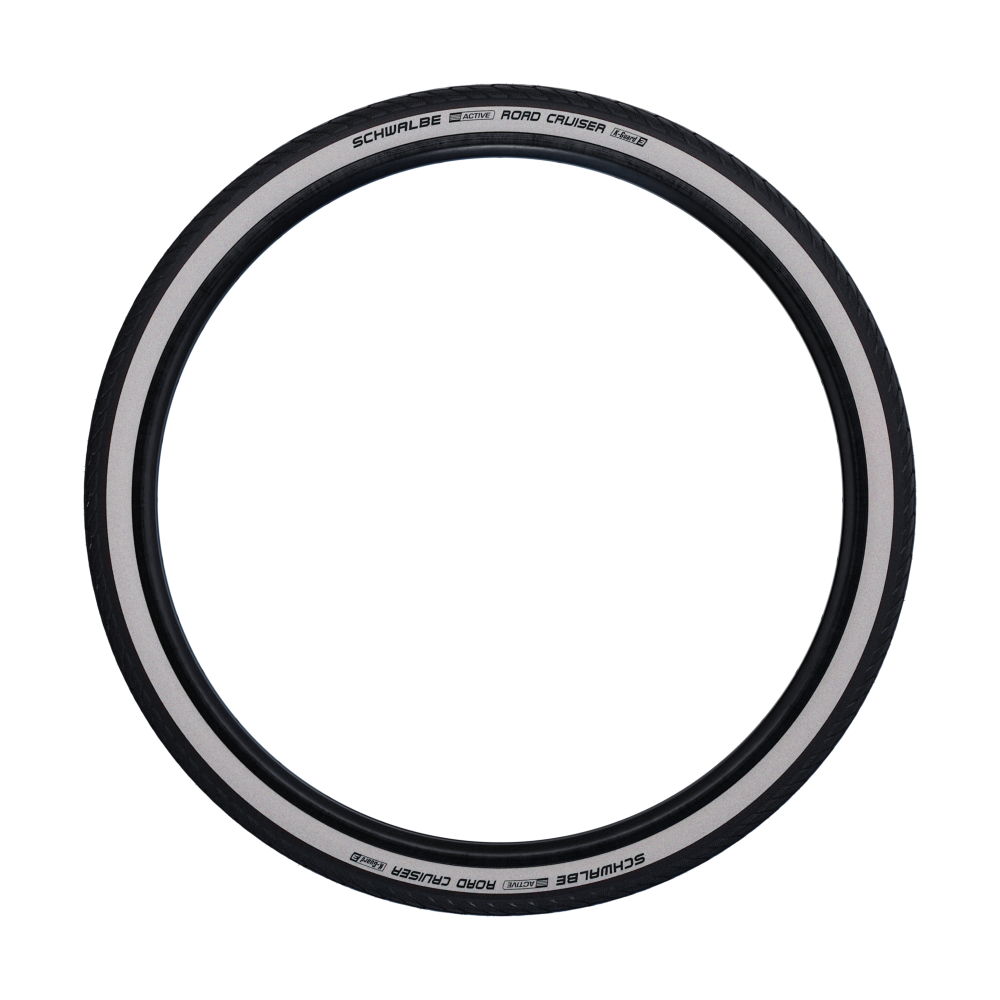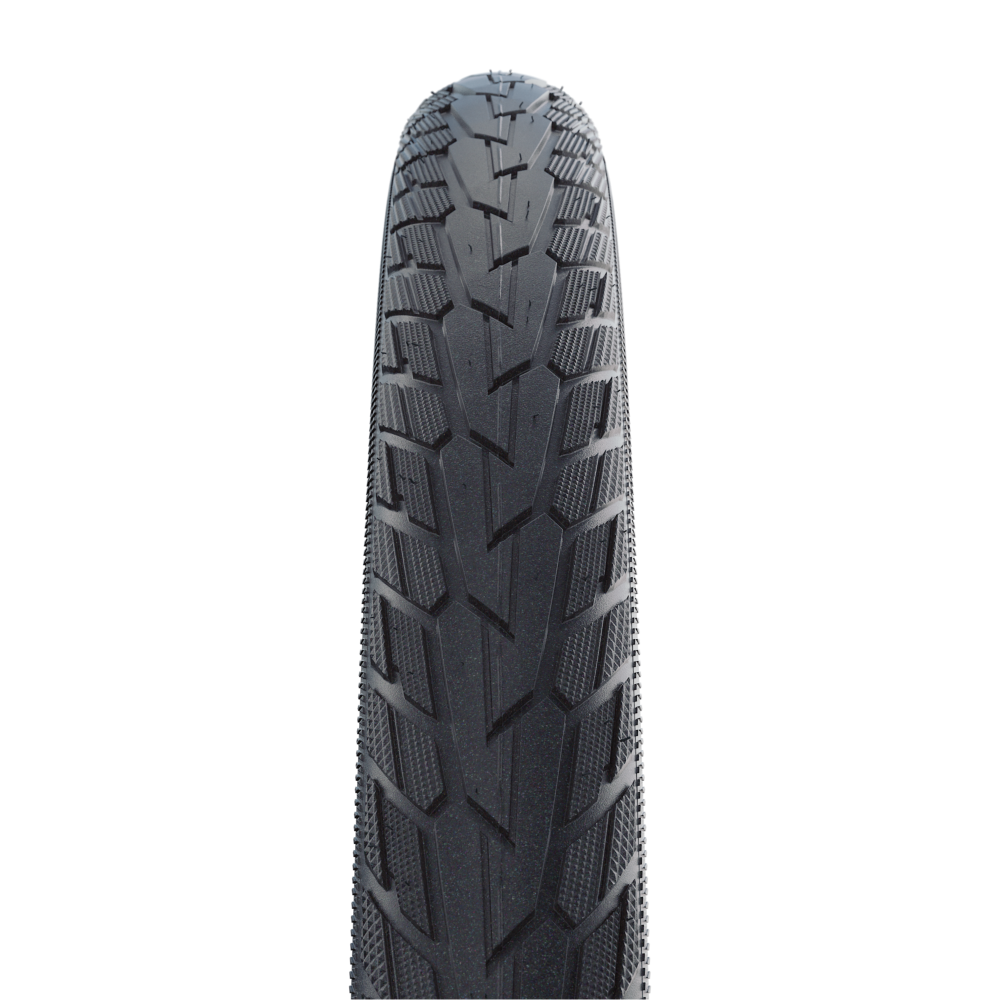 Product Description
URBAN, INDIVIDUELL AND DYNAMIC. The Road Cruiser impresses due to its appealing tread design and plenty of color options for bicycles from 12" up to 28" inch. The outstanding feature of the Road Cruiser, however, is in the tread and it is called Green Compound. A rubber with polymers only made from renewable and recycled raw materials in such a quality, that we use it for the first time in a conventional bicycle tire.
Green Compound is exclusively available for tires with a black tread.
Best Use
Technical Data
Size:

ETRTO 42-622 (28x1.60 Inch)

Type:

Wired

Compound:

Green Compound

Version:

K-Guard

Colour:

Black-Reflex

Seal:

Tube

Weight:

705 g

Pressure:

3.5-6.0 Bar (50-85 psi)

Maximum load:

100 kg

EPI:

50

Profile:

HS484

Product number:

11101306

EAN:

4026495822824

Price:

US$24.00
Ratings
Features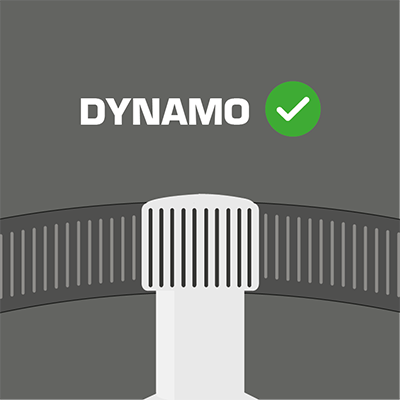 Dynamo
Tire with dynamo ribbing on the sidewall. Specially designed for use with classic sidewall driven dynamos.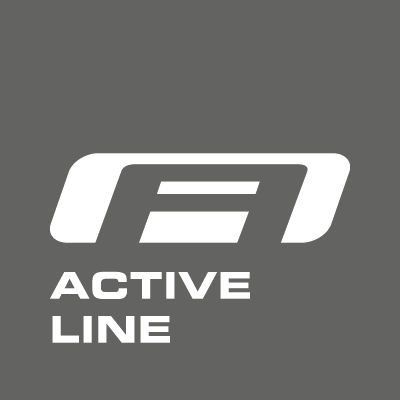 Active Line
Reliable brand quality.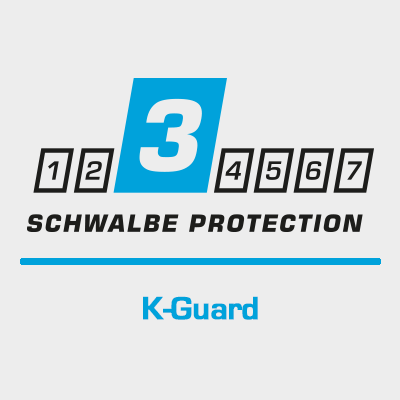 K-Guard
Natural rubber insert reinforced with Kevlar® fibers. A solid puncture protection for tires in the Active Line.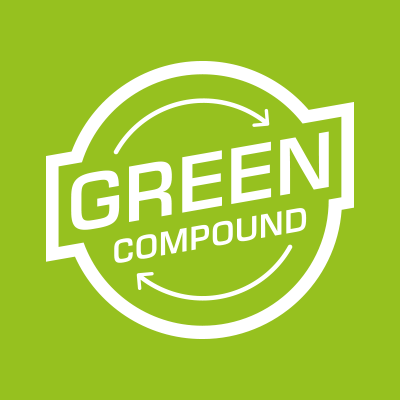 Green Compound
The most sustainable rubber compound with special technology from Schwalbe. It makes it possible for the first time to manufacture the tread rubber of a bicycle tire, with polymers exclusively from renewable and recycled raw materials, to demanding quality standards (grip / durability).
Product overview
Find your perfect tire even faster. Use the search to narrow down the articles or
sort the tires with the arrows directly in the table according to your interest.
INCH
ETRTO
SIZE
VERSION
SEAL
TYPE
E-BIKE
COMPOUND
COLOUR
BAR
PSI
WEIGHT
EPI
MAXIMUM LOAD
PRODUCT NUMBER
QUALITY
PRICE

HS484
4026495899093
12"
47-203
12x1.75
K-Guard
Tube
Wired
Green Compound
Black
2.0-4.5
30-65
260 g
50
50 kg
11159321
Active Line
US$13.00

HS484
4026495866651
12"
50-203
12x2.00
K-Guard
Tube
Wired
Green Compound
Black
2.0-4.5
30-65
320 g
50
55 kg
11101255.01
Active Line
US$13.00

HS484
4026495899116
14"
37-288
14x1 3/8,350x35A
K-Guard
Tube
Wired
Green Compound
Black
4.0-6.0
55-85
300 g
50
45 kg
11159322
Active Line
US$13.00

HS484
4026495811927
16"
47-305
16x1.75
K-Guard
Tube
Wired
Green Compound
Black
2.5-4.5
35-65
395 g
50
65 kg
11101256
Active Line
US$13.00

HS484
4026495822541
16"
47-305
16x1.75
K-Guard
Tube
Wired
Green Compound
Black-Reflex
2.5-4.5
35-65
395 g
50
65 kg
11101299
Active Line
US$21.00

HS484
4026495822589
20"
47-406
20x1.75
K-Guard
Tube
Wired
Green Compound
Black-Reflex
3.0-5.0
45-70
545 g
50
75 kg
11101300
Active Line
US$21.00

HS484
4026495812009
20"
47-406
20x1.75
K-Guard
Tube
Wired
Green Compound
Black
3.0-5.0
45-70
545 g
50
75 kg
11101258
Active Line
US$13.00

HS484
4026495813402
20"
47-406
20x1.75
K-Guard
Tube
Wired
Green Compound
Whitewall
3.0-5.0
45-70
545 g
50
75 kg
11101293
Active Line
US$18.00

HS377
4026495675055
22"
44-484
22x1 1/2
K-Guard
Tube
Wired
Sbc
Black-Reflex
2.0-4.5
30-65
585 g
50
80 kg
11131603.01
Active Line
US$28.00

HS377
4026495674676
22"
47-457
22x1.75
K-Guard
Tube
Wired
Sbc
Black-Reflex
2.0-4.5
30-65
610 g
50
80 kg
11120377.01
Active Line
US$20.61

US$22.90

HS484
4026495822626
24"
47-507
24x1.75
K-Guard
Tube
Wired
Green Compound
Black-Reflex
3.0-5.0
45-70
680 g
50
85 kg
11101301
Active Line
US$24.00

HS484
4026495812085
24"
47-507
24x1.75
K-Guard
Tube
Wired
Green Compound
Black
3.0-5.0
45-70
680 g
50
85 kg
11101260
Active Line
US$21.00

HS484
4026495812320
26"
47-559
26x1.75
K-Guard
Tube
Wired
Sbc
Brown-Reflex
3.0-5.0
45-70
720 g
50
100 kg
11101266
Active Line
US$28.00

HS484
4026495812368
26"
47-559
26x1.75
K-Guard
Tube
Wired
Sbc
Creme-Reflex
3.0-5.0
45-70
720 g
50
100 kg
11101267
Active Line
US$28.00

HS484
4026495822664
26"
47-559
26x1.75
K-Guard
Tube
Wired
Green Compound
Black-Reflex
3.0-5.0
45-70
720 g
50
100 kg
11101302
Active Line
US$24.00

HS484
4026495812245
26"
47-559
26x1.75
K-Guard
Tube
Wired
Green Compound
Gumwall
3.0-5.0
45-70
720 g
50
100 kg
11101264
Active Line
US$21.00

HS484
4026495812283
26"
47-559
26x1.75
K-Guard
Tube
Wired
Green Compound
Whitewall
3.0-5.0
45-70
720 g
50
100 kg
11101265
Active Line
US$21.00

HS484
4026495899079
27"
28/32-630
27x1 1/4
K-Guard
Tube
Wired
Green Compound
Whitewall
3.0-5.5
45-80
550 g
50
75 kg
11159323
Active Line
US$21.00

HS484
4026495899055
27"
28/32-630
27x1 1/4
K-Guard
Tube
Wired
Green Compound
Gumwall
3.0-5.5
45-80
550 g
50
75 kg
11159324
Active Line
US$21.00

HS484
4026495822701
27.5"
37-584
27.5x1.40,650x35B
K-Guard
Tube
Wired
Green Compound
Black-Reflex
4.0-6.0
55-85
580 g
50
85 kg
11101303
Active Line
US$24.00

HS484
4026495812443
27.5"
37-584
27.5x1.40,650x35B
K-Guard
Tube
Wired
Green Compound
Whitewall
4.0-6.0
55-85
580 g
50
85 kg
11101269
Active Line
US$21.00

HS484
4026495822749
27.5"
44-584
27.5x1.65,650x42B
K-Guard
Tube
Wired
Green Compound
Black-Reflex
3.5-5.5
50-80
660 g
50
95 kg
11101304
Active Line
US$24.00

HS484
4026495813082
28"
47-622
28x1.75
K-Guard
Tube
Wired
Green Compound
Gumwall
3.0-5.0
45-70
800 g
50
110 kg
11101285
Active Line
US$28.00

HS484
4026495822862
28"
47-622
28x1.75
K-Guard
Tube
Wired
Green Compound
Black-Reflex
3.0-5.0
45-70
800 g
50
110 kg
11101307
Active Line
US$24.00

HS484
4026495812962
28"
42-622
28x1.60,700x40C
K-Guard
Tube
Wired
Sbc
Coffee-Reflex
3.5-6.0
50-85
705 g
50
100 kg
11101282
Active Line
US$28.00

HS484
4026495813204
28"
47-622
28x1.75
K-Guard
Tube
Wired
Sbc
Coffee-Reflex
3.0-5.0
45-70
800 g
50
110 kg
11101288
Active Line
US$28.00

HS484
4026495812689
28"
37-622
28x1.40,700x35C
K-Guard
Tube
Wired
Green Compound
Gumwall
4.0-6.0
55-85
625 g
50
90 kg
11101275
Active Line
US$21.00

HS484
4026495812528
28"
32-622
28x1.25,700x32C
K-Guard
Tube
Wired
Green Compound
Black
4.5-6.5
65-95
550 g
50
80 kg
11101271
Active Line
US$21.00

HS484
4026495812849
28"
42-622
28x1.60,700x40C
K-Guard
Tube
Wired
Green Compound
Whitewall-Reflex
3.5-6.0
50-85
705 g
50
100 kg
11101279
Active Line
US$28.00

HS484
4026495812801
28"
42-622
28x1.60,700x40C
K-Guard
Tube
Wired
Green Compound
Black/Coffee-Reflex
3.5-6.0
50-85
705 g
50
100 kg
11101278
Active Line
US$28.00

HS484
4026495813129
28"
47-622
28x1.75
K-Guard
Tube
Wired
Green Compound
Whitewall
3.0-5.0
45-70
800 g
50
110 kg
11101286
Active Line
US$28.00

HS484
4026495812726
28"
37-622
28x1.40,700x35C
K-Guard
Tube
Wired
Green Compound
Whitewall
4.0-6.0
55-85
625 g
50
90 kg
11101276
Active Line
US$21.00

HS484
4026495812603
28"
32-622
28x1.25,700x32C
K-Guard
Tube
Wired
Green Compound
Whitewall
4.5-6.5
65-95
550 g
50
80 kg
11101273
Active Line
US$21.00

HS484
4026495813686
28"
47-622
28x1.75
K-Guard
Tube
Wired
Green Compound
Black/Coffee-Reflex
3.0-5.0
45-70
800 g
50
110 kg
11101296
Active Line
US$28.00

HS484
4026495812887
28"
42-622
28x1.60,700x40C
K-Guard
Tube
Wired
Sbc
Brown-Reflex
3.5-6.0
50-85
705 g
50
100 kg
11101280
Active Line
US$28.00

HS484
4026495822824
28"
42-622
28x1.60,700x40C
K-Guard
Tube
Wired
Green Compound
Black-Reflex
3.5-6.0
50-85
705 g
50
100 kg
11101306
Active Line
US$24.00

HS484
4026495822787
28"
37-622
28x1.40,700x35C
K-Guard
Tube
Wired
Green Compound
Black-Reflex
4.0-6.0
55-85
625 g
50
90 kg
11101305
Active Line
US$24.00

HS484
4026495812924
28"
42-622
28x1.60,700x40C
K-Guard
Tube
Wired
Sbc
Creme-Reflex
3.5-6.0
50-85
705 g
50
100 kg
11101281
Active Line
US$28.00