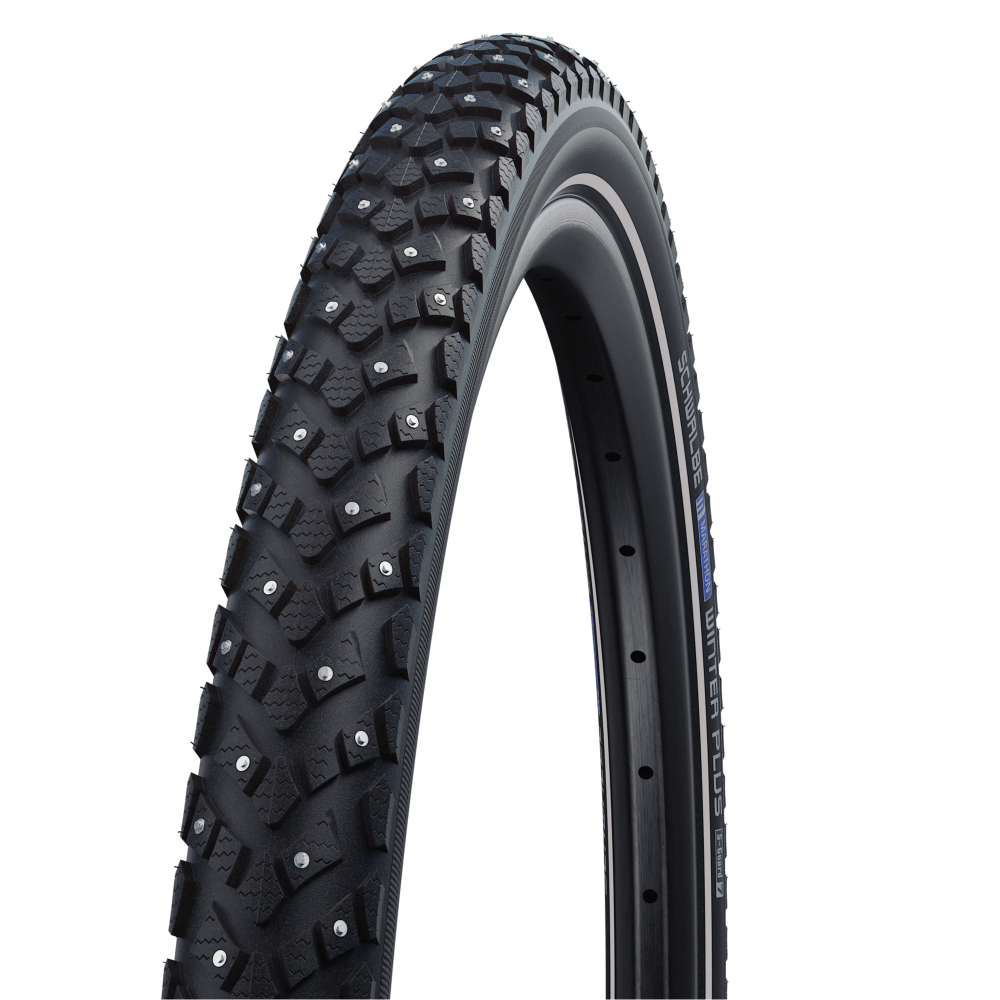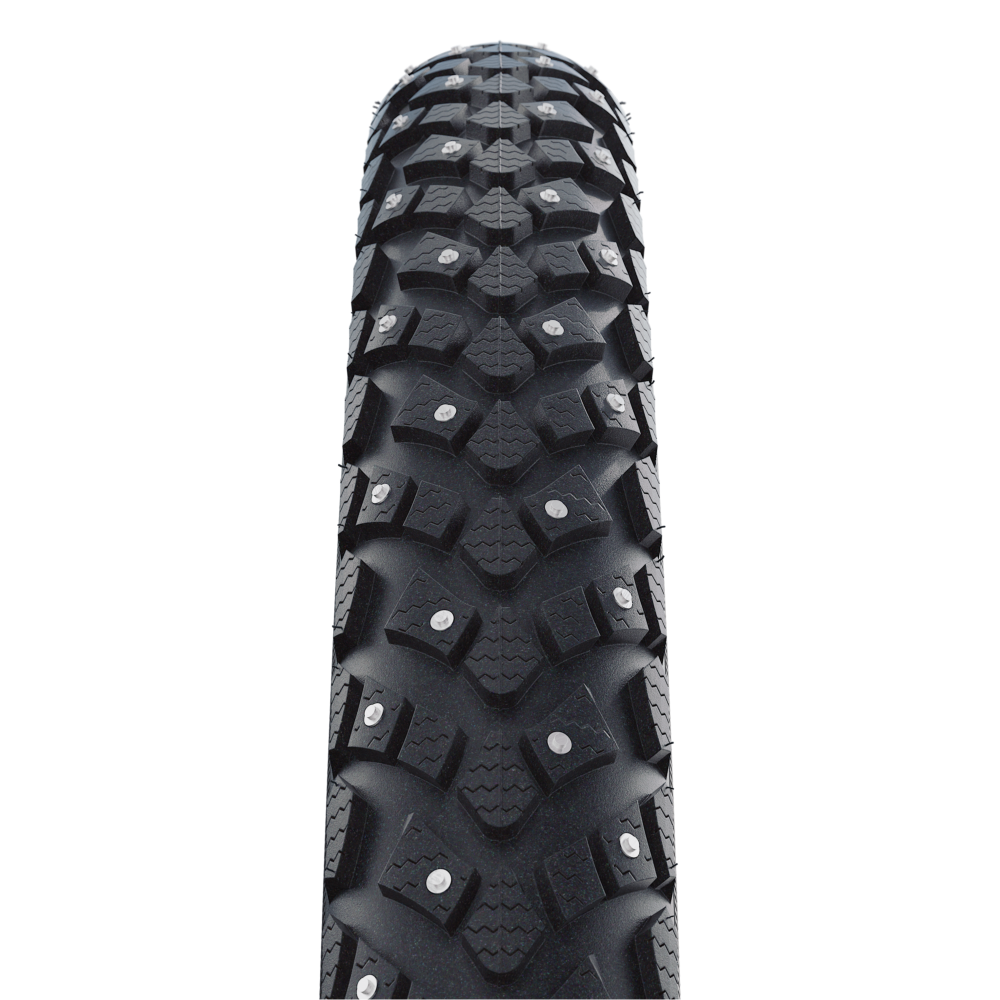 /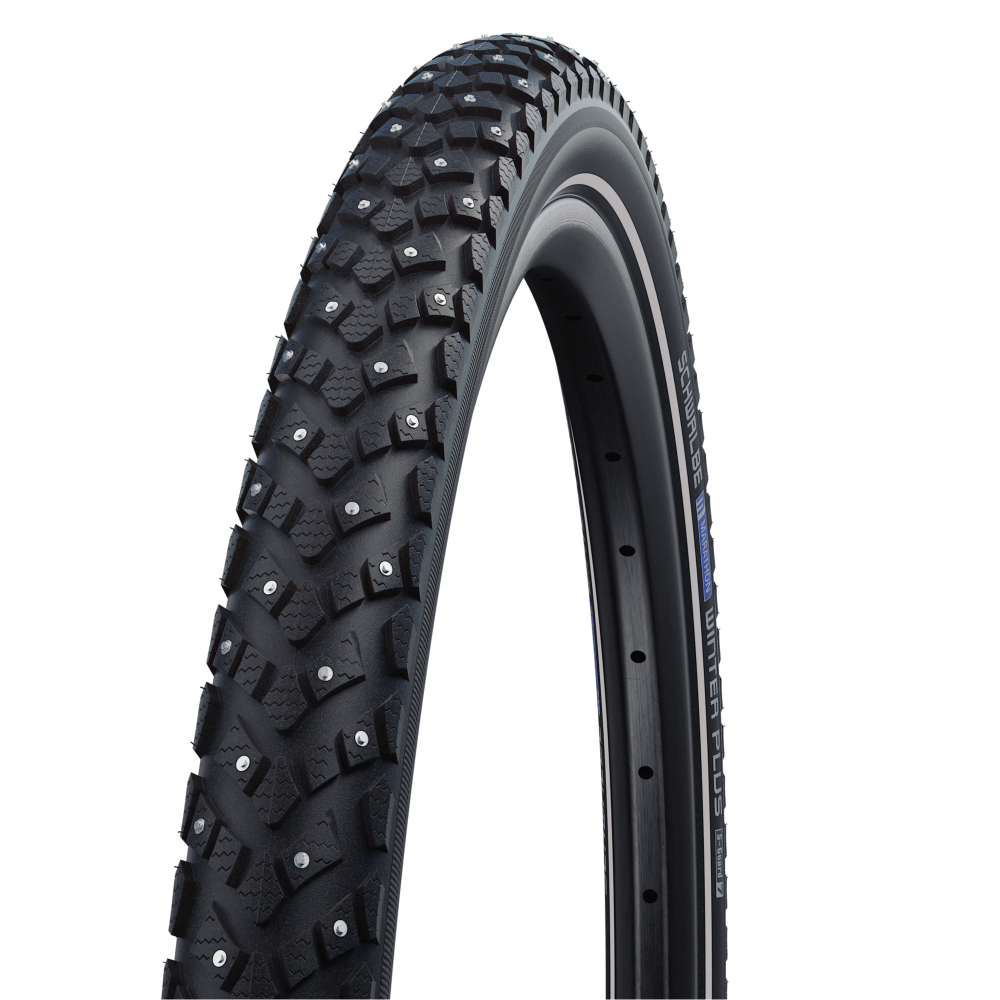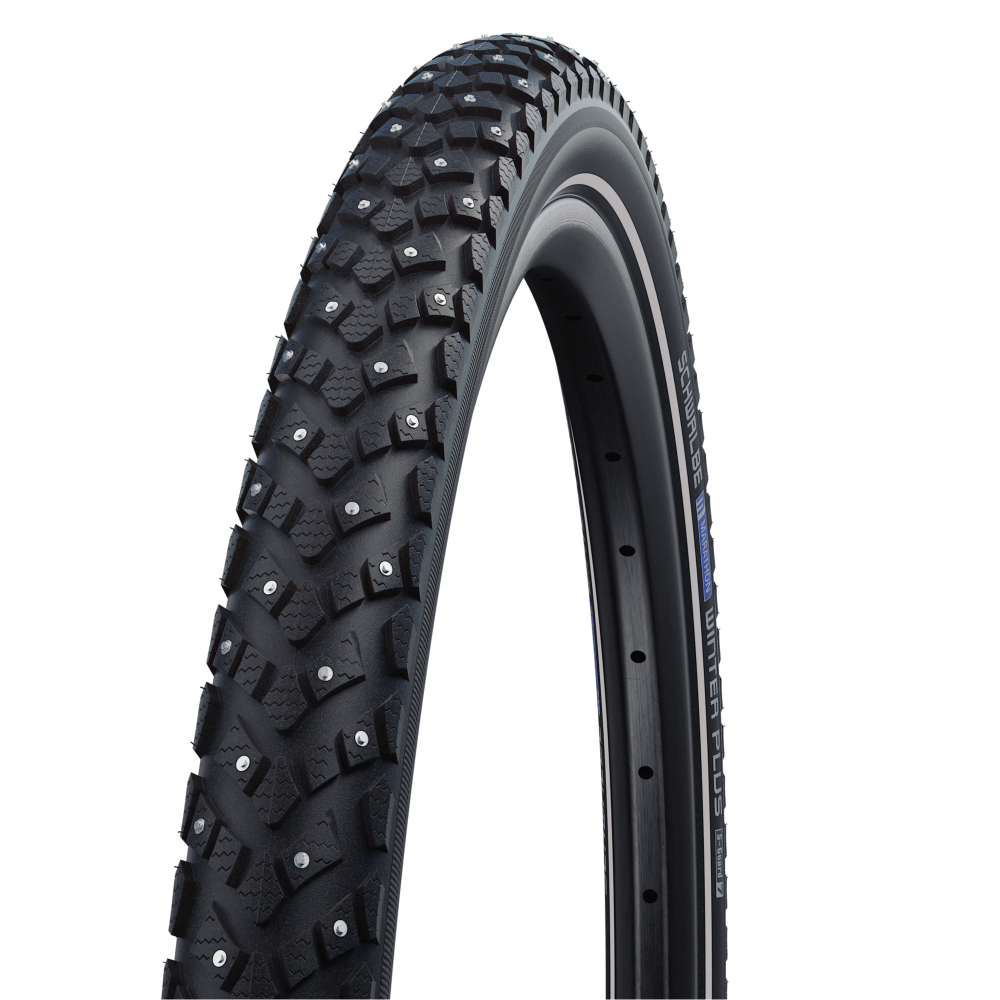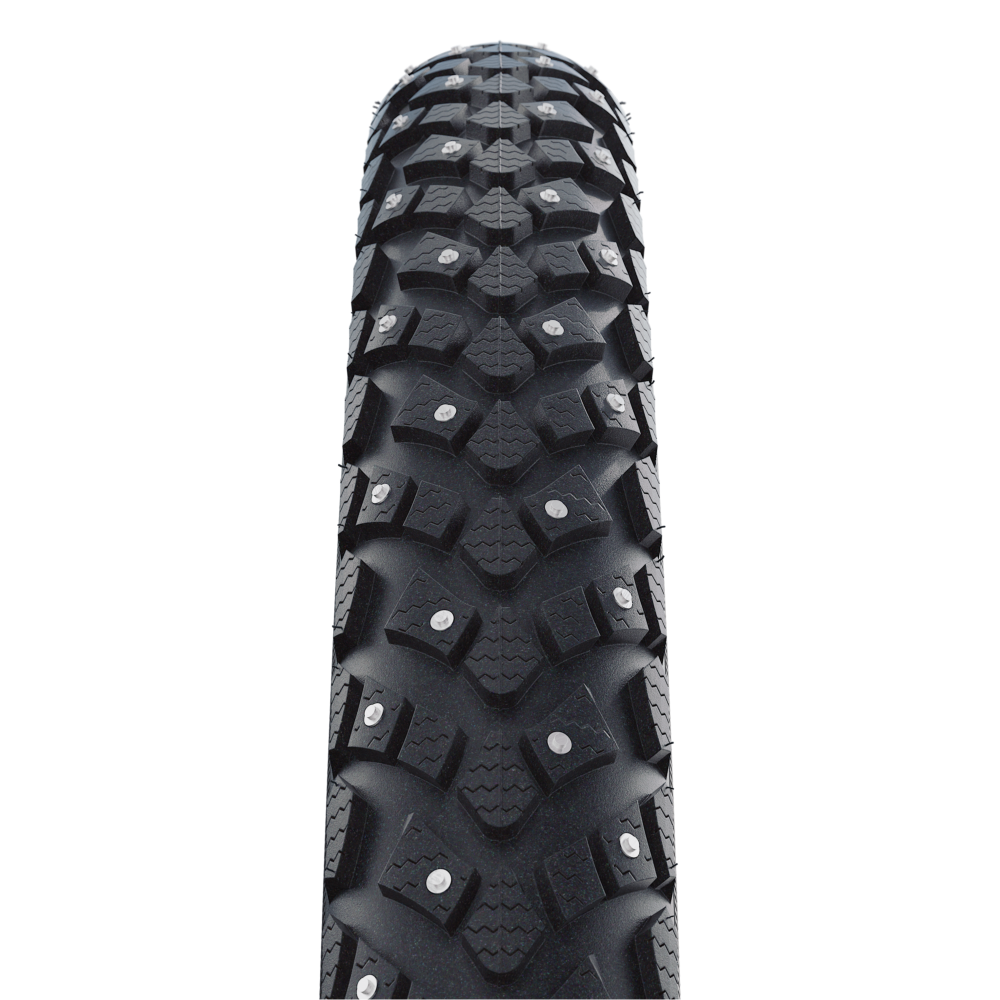 Product Description
FOR A SAFER JOURNEY. You have full control on icy roads with the Marathon Winter Plus. Even in tight bends and under violent braking everything remains under control, thanks to special Winter compound, lamella tread and up to 240 spikes. For best possible puncture protection it comes with a SmartGuard layer. Schwalbe Protection Level 7.
* Brand new studded tires must be ridden around 40km on asphalt roads without heavy acceleration and braking. This 'bed-in period' will ensure studs are fully set, after which, the studded tires can be used normally.

Technical Data
Size:

ETRTO 50-622 (28x2.00 Inch)

Type:

Wired

Compound:

Winter

Version:

SmartGuard

Colour:

Black-Reflex

Seal:

Tube

Weight:

1265 g

Pressure:

2.5-5.0 Bar (35-70 psi)

Maximum load:

115 kg

EPI:

67

E-Bike:

E-25

Profile:

HS396

Product number:

11100597.01

EAN:

4026495849890

Price:

US$89.00
Ratings
Features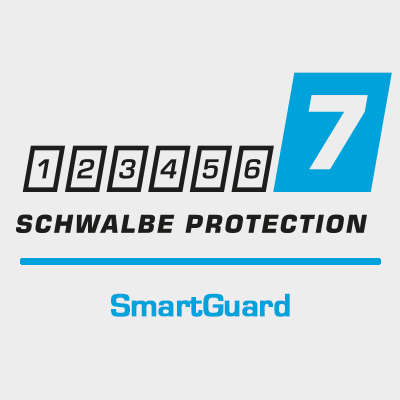 SmartGuard®
The most effective protection belt for bicycle and e-bike tires. 5 mm of highly elastic special rubber. Only tires with SmartGuard® and Smart DualGuard can rightly call themselves "unplattbar" or "flat-less". Exclusively from Schwalbe. Partly obtained from recycled material.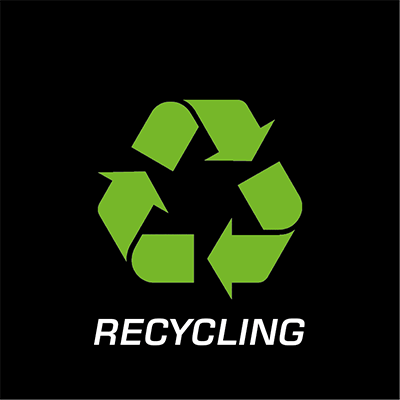 Recycling
Old products made of natural rubber (such as gloves, tubes...) are crumbed and, over several procedural steps, used as base material in the puncture protection system.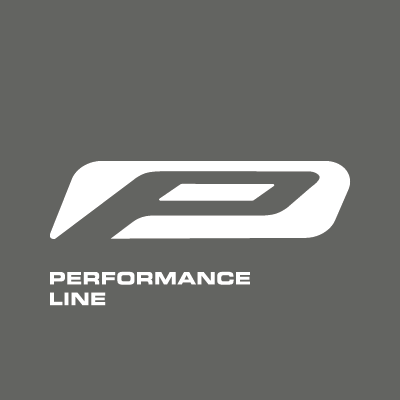 Performance Line
Excellent quality for intensive use.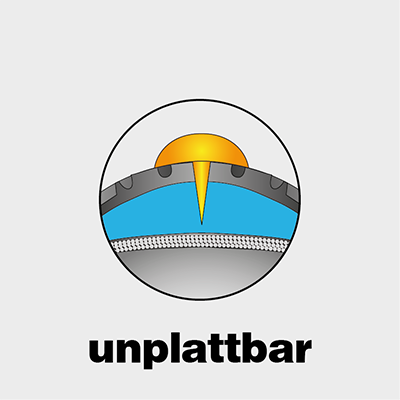 flat-less
Exclusively from Schwalbe. Only tires with SmartGuard® and Smart DualGuard puncture protection can rightly call themselves "unplattbar" or "flat-less". Proven a million times over - the safest choice for bikes and e-bikes. The flat-less puncture protection even protects against thumb tacks.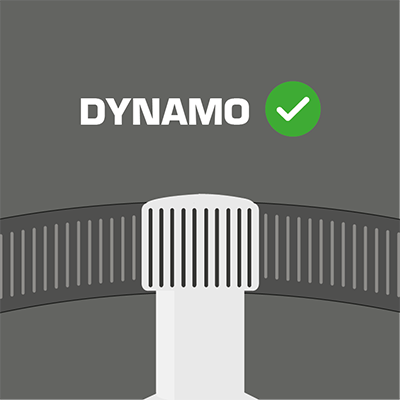 Dynamo
Tire with dynamo ribbing on the sidewall. Specially designed for use with classic sidewall driven dynamos.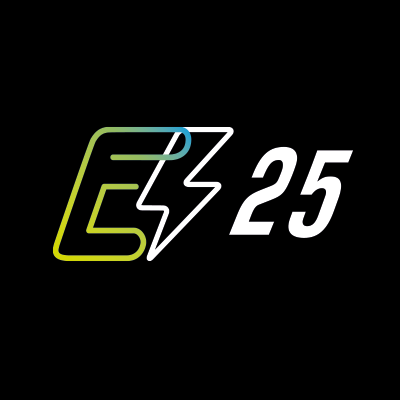 E-25
Tires with the recommendation "E-25" are the perfect choice for all pedelecs with pedal assistance up to 25 km/h. The most important criterion for this recommendation: safety.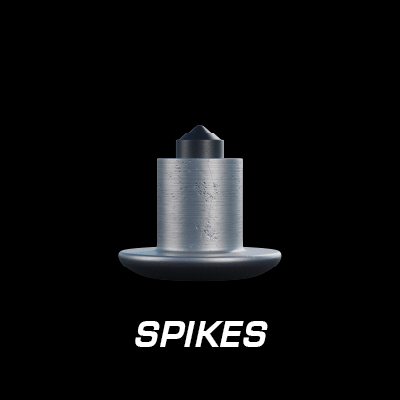 Spike
What should you know about studded tires? All important questions and answers:
Product overview
Find your perfect tire even faster. Use the search to narrow down the articles or
sort the tires with the arrows directly in the table according to your interest.
| | | | | INCH | ETRTO | SIZE | VERSION | SEAL | TYPE | E-BIKE | COMPOUND | COLOUR | BAR | PSI | WEIGHT | EPI | MAXIMUM LOAD | PRODUCT NUMBER | QUALITY | PRICE | |
| --- | --- | --- | --- | --- | --- | --- | --- | --- | --- | --- | --- | --- | --- | --- | --- | --- | --- | --- | --- | --- | --- |
| | | HS396 | 4026495849777 | 20" | 42-406 | 20x1.60 | SmartGuard | Tube | Wired | E-25 | Winter | Black-Reflex | 2.0-5.0 | 30-70 | 675 g | 67 | 70 kg | 11116448.02 | Performance Line | US$84.00 | |
| | | HS396 | 4026495852036 | 20" | 55-406 | 20x2.15 | SmartGuard | Tube | Wired | E-25 | Winter | Black-Reflex | 2.0-4.0 | 30-55 | 960 g | 67 | 95 kg | 11159003 | Performance Line | US$84.00 | |
| | | HS396 | 4026495849791 | 24" | 47-507 | 24x1.75 | SmartGuard | Tube | Wired | E-25 | Winter | Black-Reflex | 2.0-5.0 | 30-70 | 960 g | 67 | 90 kg | 11125444.02 | Performance Line | US$84.00 | |
| | | HS396 | 4026495849814 | 26" | 47-559 | 26x1.75 | SmartGuard | Tube | Wired | E-25 | Winter | Black-Reflex | 2.0-5.0 | 30-70 | 1025 g | 67 | 100 kg | 11136448.02 | Performance Line | US$84.00 | |
| | | HS396 | 4026495849838 | 26" | 50-559 | 26x2.00 | SmartGuard | Tube | Wired | E-25 | Winter | Black-Reflex | 2.5-5.0 | 35-70 | 1150 g | 67 | 105 kg | 11100598.01 | Performance Line | US$89.00 | |
| | | HS396 | 4026495889841 | 26" | 55-559 | 26x2.15 | SmartGuard | Tube | Wired | E-25 | Winter | Black-Reflex | 2.0-4.0 | 30-55 | 1350 g | 67 | 115 kg | 11159241 | Performance Line | US$89.00 | |
| | | HS396 | 4026495849876 | 28" | 42-622 | 28x1.60,700x40C | SmartGuard | Tube | Wired | E-25 | Winter | Black-Reflex | 2.0-5.0 | 30-70 | 970 g | 67 | 90 kg | 11156448.02 | Performance Line | US$84.00 | |
| | | HS396 | 4026495849890 | 28" | 50-622 | 28x2.00 | SmartGuard | Tube | Wired | E-25 | Winter | Black-Reflex | 2.5-5.0 | 35-70 | 1265 g | 67 | 115 kg | 11100597.01 | Performance Line | US$89.00 | |
| | | HS396 | 4026495849852 | 28" | 35-622 | 28x1.35,700x35C | SmartGuard | Tube | Wired | E-25 | Winter | Black-Reflex | 2.5-6.0 | 35-85 | 920 g | 67 | 80 kg | 11126448.02 | Performance Line | US$84.00 | |