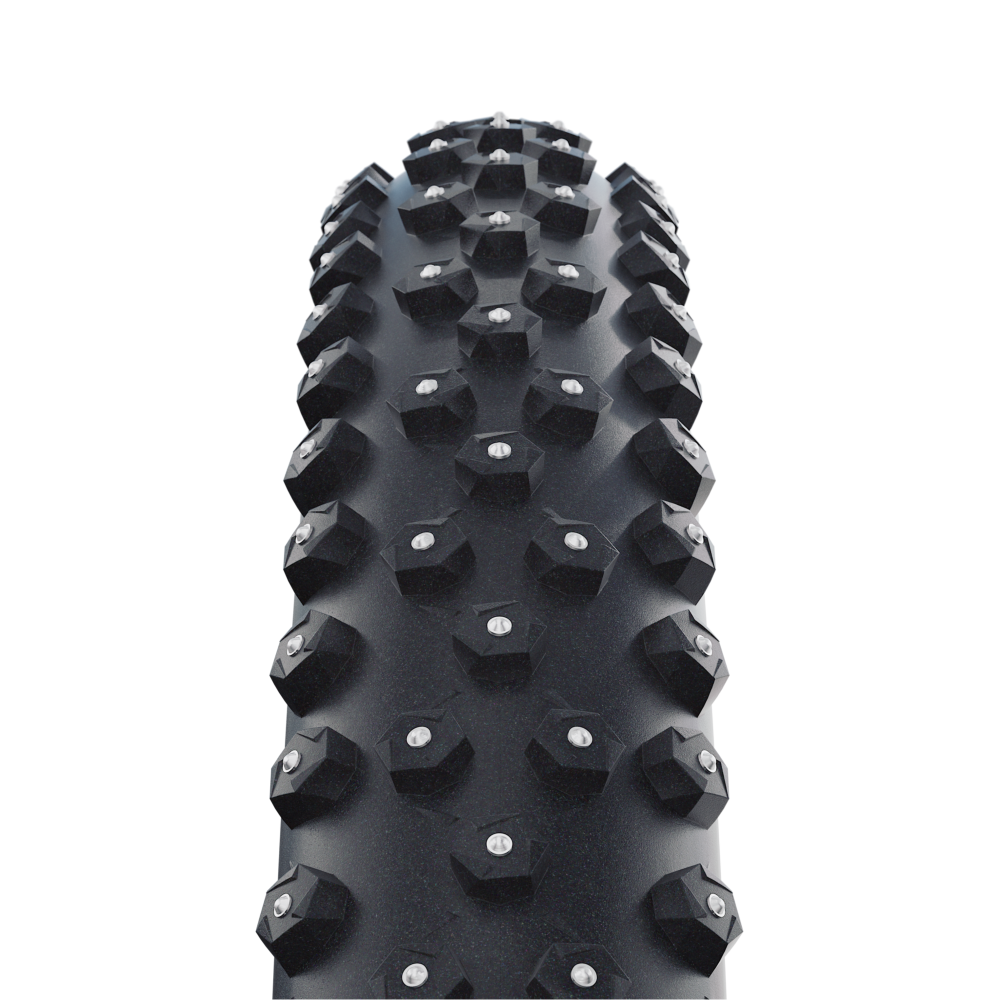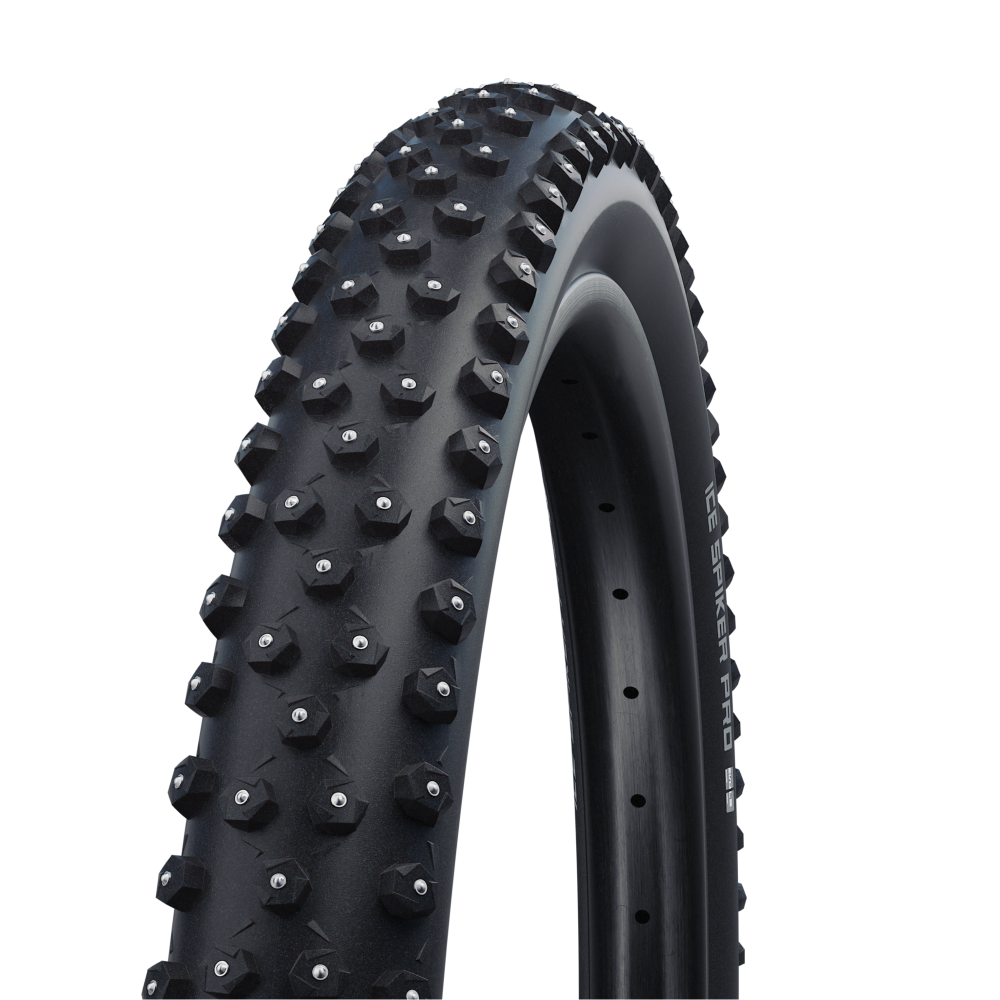 /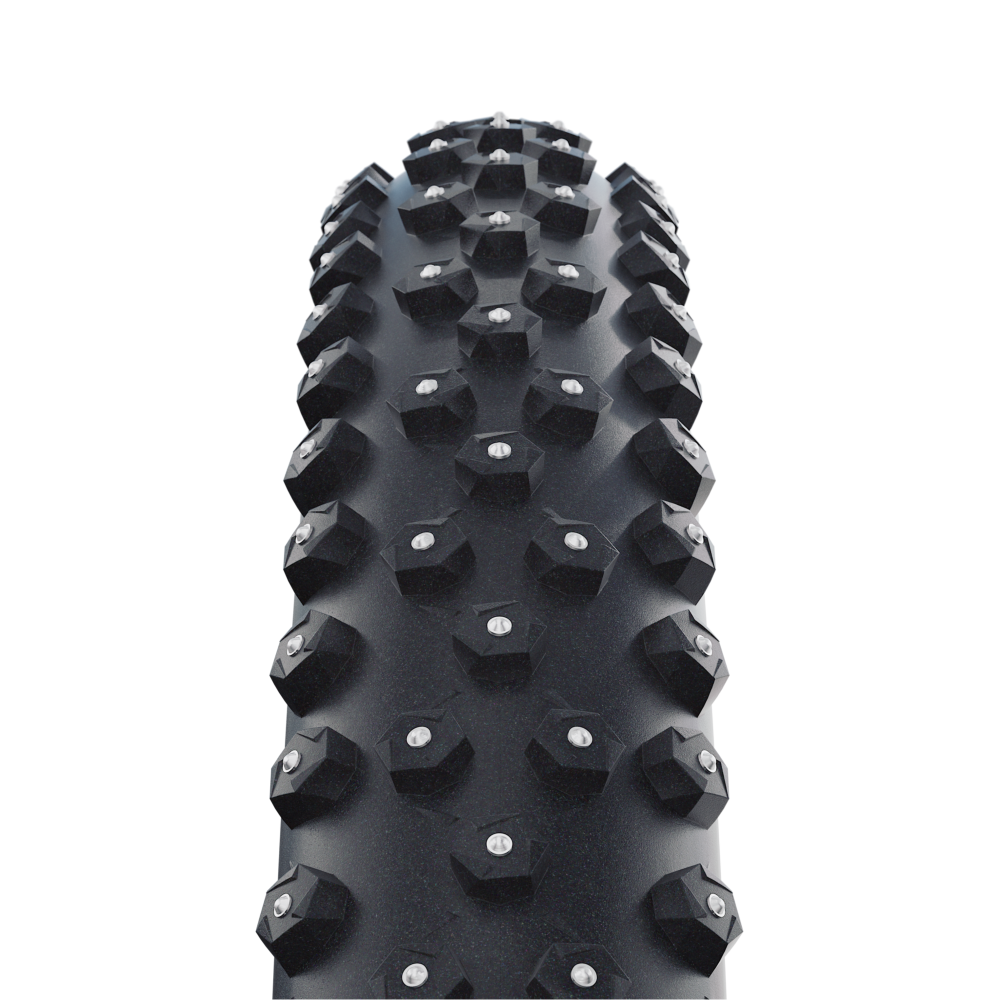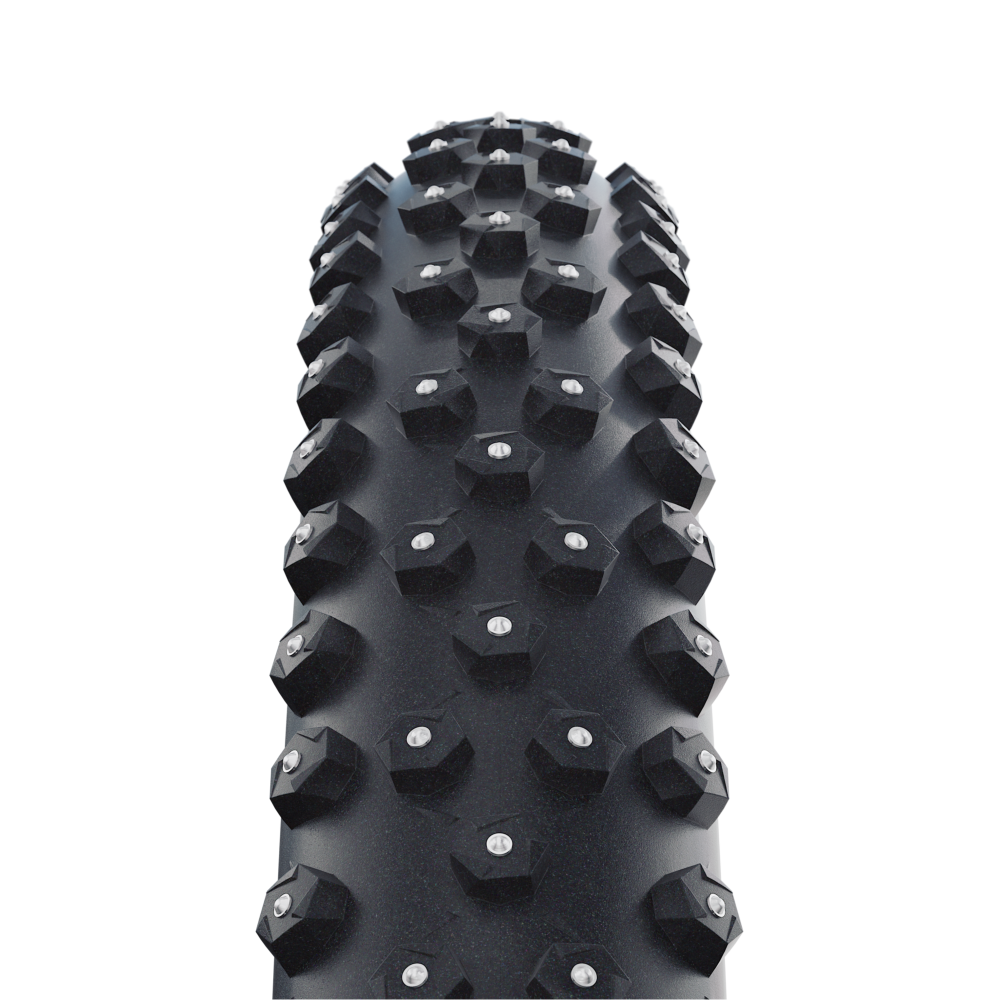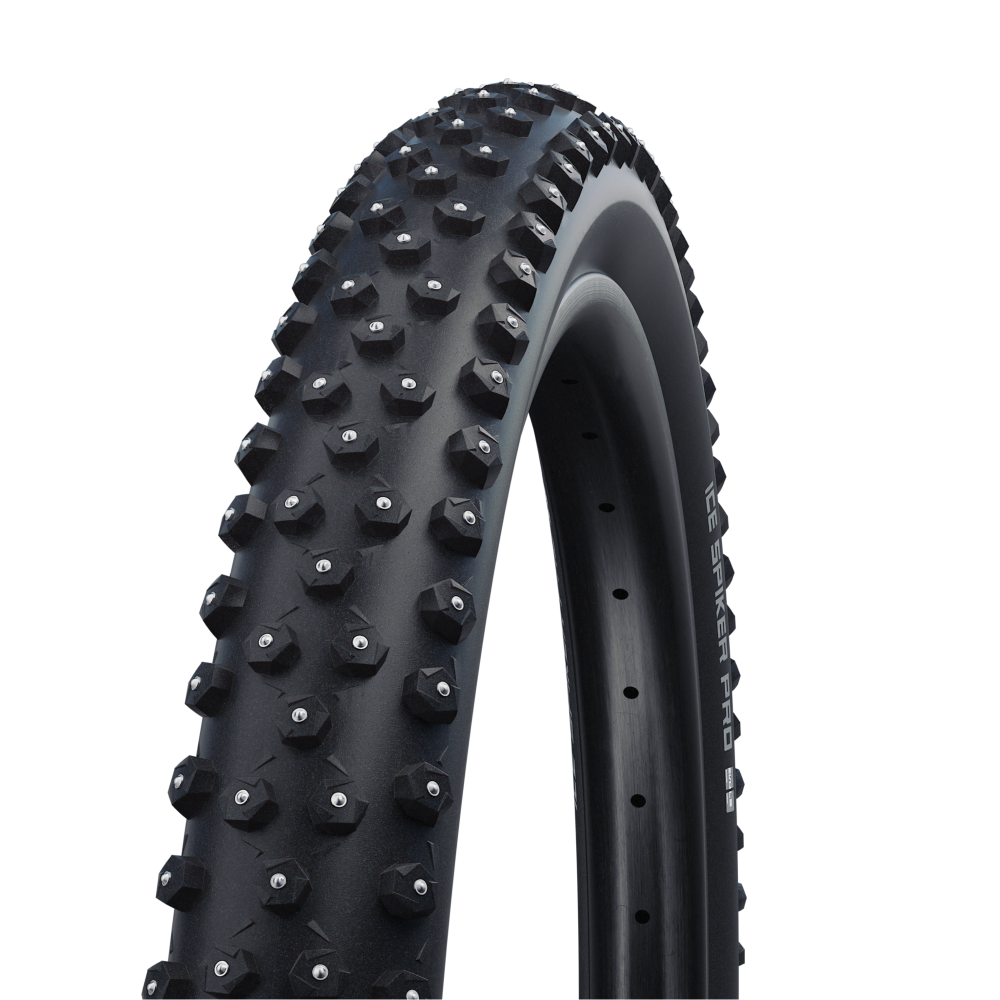 Product Description
LIGHTER, GRIPPIER, FASTER. The 'turbo' of spike tires. With up to 402 spikes it bites firmly into icy roads. The tungsten carbide core of each spike is clad in weight-saving aluminum. The tire remains agile and sporty.
Technical Data
Size:

ETRTO 57-584 (27.5x2.25 Inch)

Type:

Folding

Compound:

Winter

Version:

DD, RaceGuard

Colour:

Black

Seal:

Tubeless

Weight:

1000 g

Pressure:

1.8-3.7 Bar (26-54 psi)

Maximum load:

110 kg

EPI:

67

E-Bike:

E-25

Profile:

HS379

Product number:

11654174

EAN:

4026495881692

Price:

US$152.00
Ratings
Features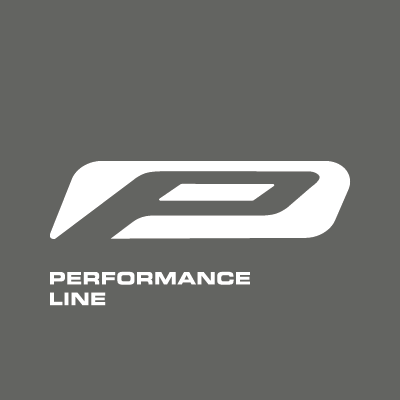 Performance Line
Excellent quality for intensive use.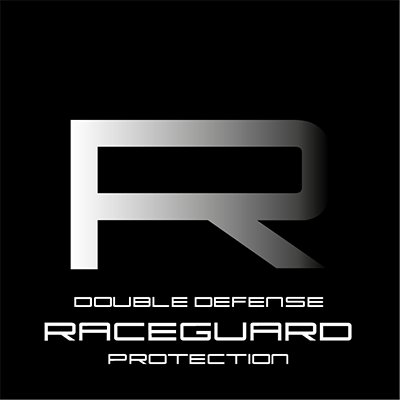 MTB-DD-Raceguard
The combined puncture protection. All around SnakeSkin + RaceGuard under the tread provides maximum security.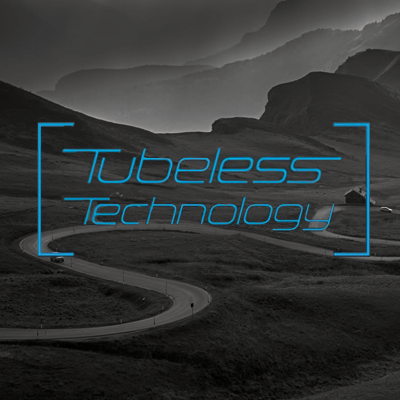 Tubeless Technology
For all ambitious sports cyclists Tubeless is the right choice. Only Tubeless achieves the best values in terms of:
+ SPEED
+ GRIP
+ PUNCTURE PROTECTION
+ COMFORT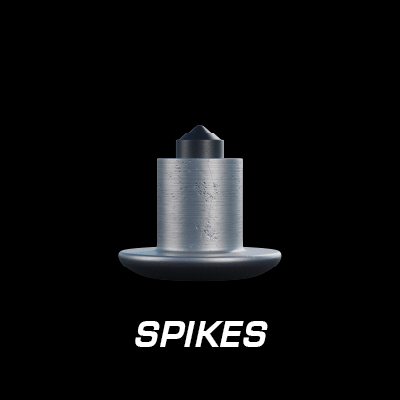 Spike
What should you know about studded tires? All important questions and answers:
Product overview
Find your perfect tire even faster. Use the search to narrow down the articles or
sort the tires with the arrows directly in the table according to your interest.
| | | | | INCH | ETRTO | SIZE | VERSION | SEAL | TYPE | E-BIKE | COMPOUND | COLOUR | BAR | PSI | WEIGHT | EPI | MAXIMUM LOAD | PRODUCT NUMBER | QUALITY | PRICE | |
| --- | --- | --- | --- | --- | --- | --- | --- | --- | --- | --- | --- | --- | --- | --- | --- | --- | --- | --- | --- | --- | --- |
| | | HS379 | 4026495749817 | 26" | 54-559 | 26x2.10 | RaceGuard | Tube | Wired | | Winter | Black | 2.0-4.0 | 30-55 | 995 g | 67 | 100 kg | 11100937 | Performance Line | US$98.00 | |
| | | HS379 | 4026495881692 | 27.5" | 57-584 | 27.5x2.25 | DD, RaceGuard | Tubeless | Folding | E-25 | Winter | Black | 1.8-3.7 | 26-54 | 1000 g | 67 | 110 kg | 11654174 | Performance Line | US$152.00 | |
| | | HS379 | 4026495881715 | 27.5" | 65-584 | 27.5x2.60 | DD, RaceGuard | Tubeless | Folding | E-25 | Winter | Black | 1.5-3.0 | 20-45 | 1241 g | 67 | 115 kg | 11654175 | Performance Line | US$153.00 | |
| | | HS379 | 4026495749893 | 27.5" | 57-584 | 27.5x2.25 | RaceGuard | Tube | Wired | | Winter | Black | 1.8-3.7 | 26-54 | 1100 g | 67 | 110 kg | 11100939 | Performance Line | US$98.00 | |
| | | HS379 | 4026495881739 | 29" | 57-622 | 29x2.25 | DD, RaceGuard | Tubeless | Folding | E-25 | Winter | Black | 1.5-3.0 | 20-45 | 1060 g | 67 | 115 kg | 11654176 | Performance Line | US$158.00 | |
| | | HS379 | 4026495749855 | 29" | 57-622 | 29x2.25 | RaceGuard | Tube | Wired | | Winter | Black | 1.8-3.7 | 26-54 | 1170 g | 67 | 120 kg | 11100938 | Performance Line | US$98.00 | |
| | | HS379 | 4026495915465 | 29" | 65-622 | 29x2.60 | DD, RaceGuard | Tubeless | Folding | E-25 | Winter | Black | 1.5-3.0 | 20-45 | 1225 g | 67 | 115 kg | 11654467 | Performance Line | US$153.00 | |