GERMAN SUSTAINABILITY AWARD
---
FOR SCHWALBES HOSE RECYCLING
Schwalbe's recycling system for inner tubes - the only one on the market - wins the 1st German Sustainability Award Design in the "Pioneer" category.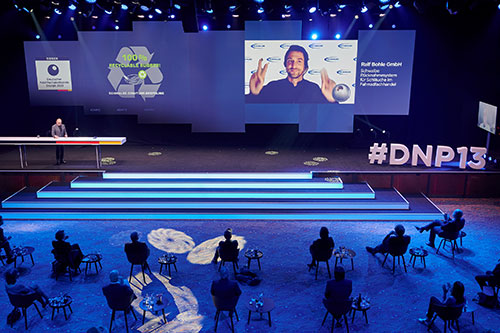 13th German Sustainability Award: Schwalbe wins in the "Pioneer" category
The award honors the closed product cycle and the coherent process design of the recycling system. Since 2015, the tire manufacturer from Reichshofen has recycled more than five million inner tubes and has now expanded the return of old tubes to the Netherlands, Belgium, and the UK, with other countries to follow. Participation in the system is free of charge for all bike shops.
"All Schwalbe tubes consist of 20 percent recycled old tubes. The old tubes are completely reused for this purpose without leaving any waste behind!" emphasizes Frank Bohle, managing partner of Schwalbe. For this, Schwalbe received one of the first-ever German Sustainability Awards Design as a "pioneer." "As representatives of an industry that offers products for 'green' mobility, we see it as our duty to also act sustainably ourselves. More projects and products will follow!" promises Frank Bohle, adding, "We are particularly pleased that the award also honors the bicycle and its importance for sustainable, forward-looking mobility."
The award ceremony took place on December 3, 2020, as a hybrid event at the Maritim Hotel Düsseldorf - and shone with forward-looking awards from renowned companies such as Siemens, Grohe, or Demeter as well as a high celebrity density. Honorary award winners Elton John, U.S. futurologist Jeremy Rifkin, and musicians Joy Denalane and Jack Johnson were also on hand. Out of around 100 finalists in the competition, 37 companies were honored as winners.
With nine competitions - including prizes for companies, cities and municipalities, research, start-ups, and design - the German Sustainability Award is the largest of its kind in Europe. The award has been presented since 2008 by the "Stiftung Deutscher Nachhaltigkeitspreis e. V." (German Sustainability Award Foundation) together with the German government, leading municipal associations, business associations, civil society organizations and research institutions.
All details on Schwalbe tube recycling and information on participating specialist dealers: www.schwalbe.com/en/recycling/
Further information
SCHWALBE | Ralf Bohle GmbH
Press Office
Otto-Hahn-Straße 1 | 51580 Reichshof-Wehnrath
Phone: +49 22 65 109-0 | press@schwalbe.com
www.schwalbe.com