HOW TO GET THROUGH THE WINTER SAFELY ON YOUR BIKE
---
Winter in Germany. For many cyclists, this means slipping and sliding on sparsely cleared bike paths and side roads. But that doesn't have to be the case! With an adapted riding style and the right equipment, winter can't harm you on your bike.
WHAT YOU CAN DO RIGHT AWAY: ADJUST TIRE PRESSURE
In general, you should be especially careful when riding in winter to avoid abrupt braking maneuvers and sharp turns. In addition, the right tire pressure is essential for proper grip on the road. By reducing the air pressure, you can provide more grip. This increases the contact area of the tire and automatically provides more grip. However, you should not go below the minimum tire pressure (as indicated on the tire sidewall) to prevent excessive wear or the tire from coming off the rim.
WHAT YOU SHOULD AVOID: DRIVE (SEMI-) SLICKS
Another important point is the tire tread. In low temperatures and adverse weather conditions, you need to be able to rely on your tire's traction. Treadless tires, such as slicks or semi-slicks, are not a good choice here. Instead, you should opt for tires with sipes, which provide good grip, especially on slippery surfaces.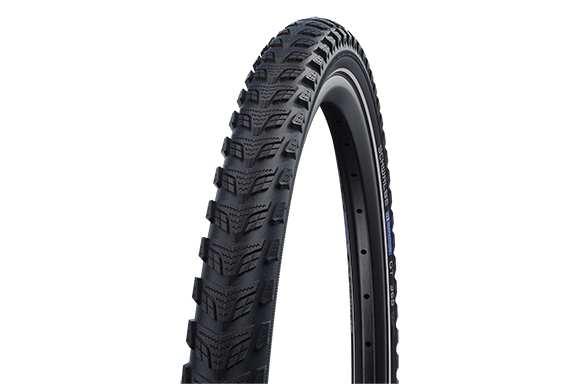 TIRE TIP
MARATHON GT 365
The Marathon GT 365 was specially developed for use as an all-season tire. The lamella profile and the specially tuned "Four Season" rubber compound provide safe grip in almost all weather conditions.
TO THE TIRE >>
WHAT REAL EXPERTS DO:
SPECIAL TIRES FOR SNOW AND ICE
At the latest when the roads and bike paths are covered in snow and ice, studded tires are indispensable for safe cycling. Studded tires literally claw into the ground and provide plenty of traction - even slipping away on slippery ice surfaces is virtually impossible. Even with studded tires you should orient yourself to the recommended minimum pressure of the tire, because then the studs grip best. If you use the tire on open roads (without snow), you can minimize the running noise by using a higher air pressure.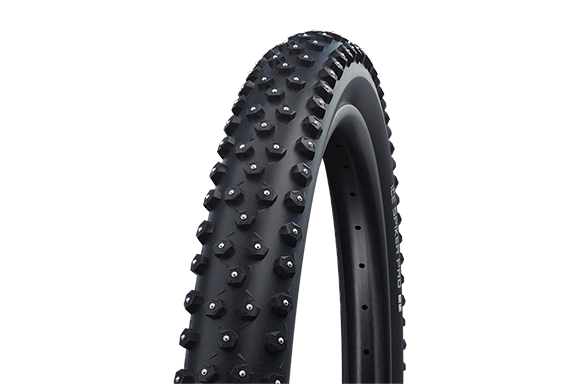 TIRE TIP
ICE SPIKER PRO
The Ice Spiker Pro provides the right bite for the MTB in winter. With up to 402 spikes, it provides exceptional traction - even on ice. The spike bodies are made of aluminum; this saves weight and the bike remains agile.
TO THE TIRE >>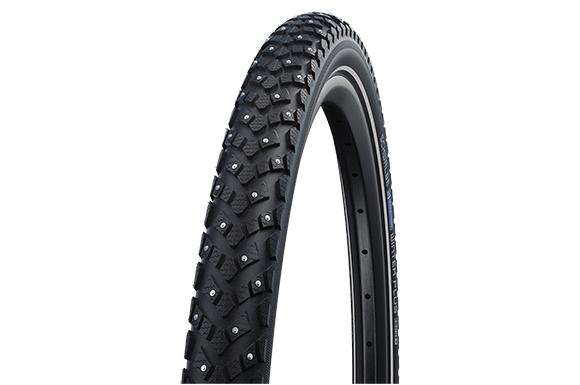 TIRE TIP
MARATHON WINTER PLUS
The Marathon Winter Plus combines a special winter compound with siped tread and up to 240 studs. As a result, the tire offers full control, even when cornering or during sharper braking maneuvers.
TO THE TIRE >>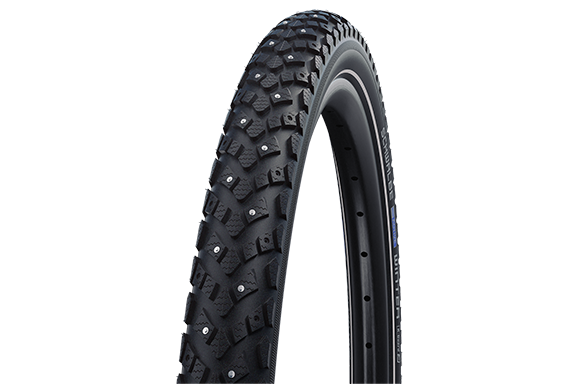 TIRE TIP
WINTER
The Winter also offers a rubber compound specially adapted for winter use in combination with a few studs. This makes the tire ideal for extra grip in milder winter conditions.
TO THE TIRE >>