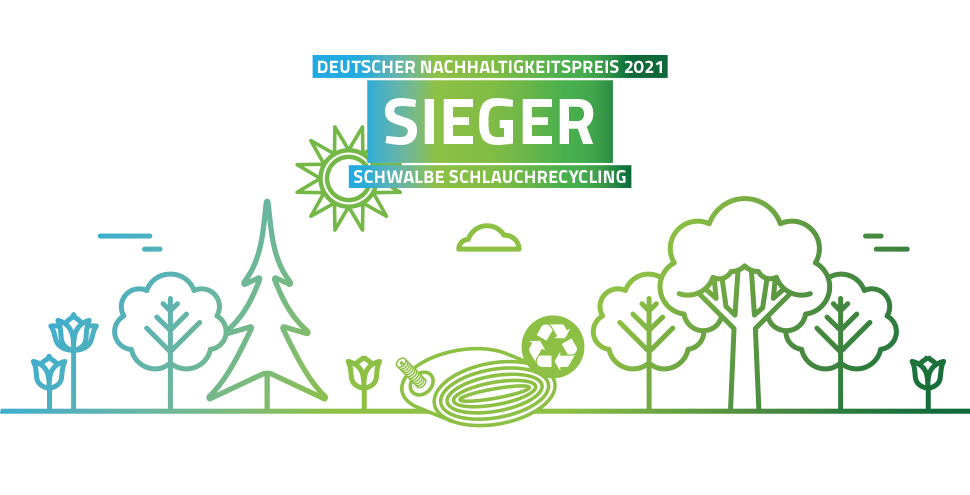 TUBE RECYCLING WINS
---
SCHWALBE HONORED AS PIONEER
JOINT COMMITMENT TO GREATER SUSTAINABILITY
As part of an industry that stands for the mobility of the future, it goes without saying that we also act responsibly and sustainably. For many years, this "Schwalbe Spirit" has shaped not only our product development, but also the entire process design all around.
In 2015, we launched our unique tube recycling program. The goal: to process and recycle old inner tubes to create a closed product cycle and save energy. To this end, dealers from Germany, the UK, Belgium, and the Netherlands can send (back) used butyl hoses of all brands and manufacturers to us - free of charge, of course. Since the program began, we have already been able to collect and recycle more than 5 million tubes together.
SCHWALBE TUBE RECYCLING WINS GERMAN SUSTAINABILITY AWARD
Our tube recycling system has now been awarded the German Sustainability Award 2021. The award honors the best minds and most effective concepts that drive green change. A jury of design and sustainability experts selected a total of 37 winners from over 100 finalists. We are particularly pleased that we were able to convince under the category "Pioneer". The award underscores our "Schwalbe Spirit" and motivates us as a team to make our products and processes even more sustainable in the future:
All Schwalbe standard tubes already consist of 20% recycled material. We are constantly working to increase this percentage without compromising quality. We will also continue to expand our multi-award-winning tube recycling program in order to be able to offer it in as many countries as possible.
The DNP was awarded at a hybrid event on December 03. We were able to receive the award via live stream.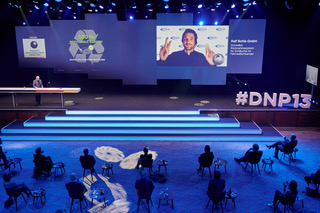 ABOUT THE GERMAN SUSTAINABILITY AWARD
The German Sustainability Award is the national award for excellence in sustainability. With now more than nine competitions - including prizes for companies, cities and municipalities, research, start-ups and, brand new this year, design - the award is the largest of its kind in Europe. The award is presented by the Stiftung Deutscher Nachhaltigkeitspreis e.V. (German Sustainability Award Foundation) in cooperation with the German federal government, leading municipal associations, business associations, civil society organizations and research institutions.