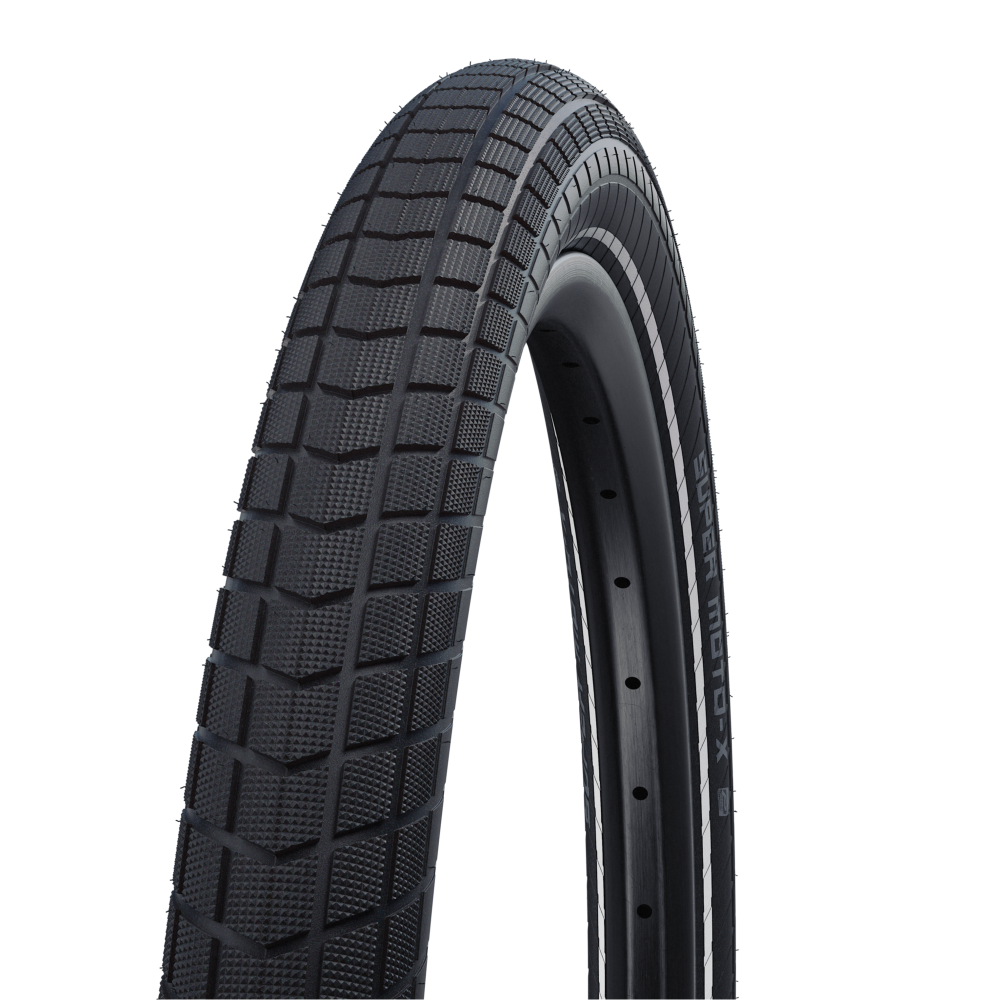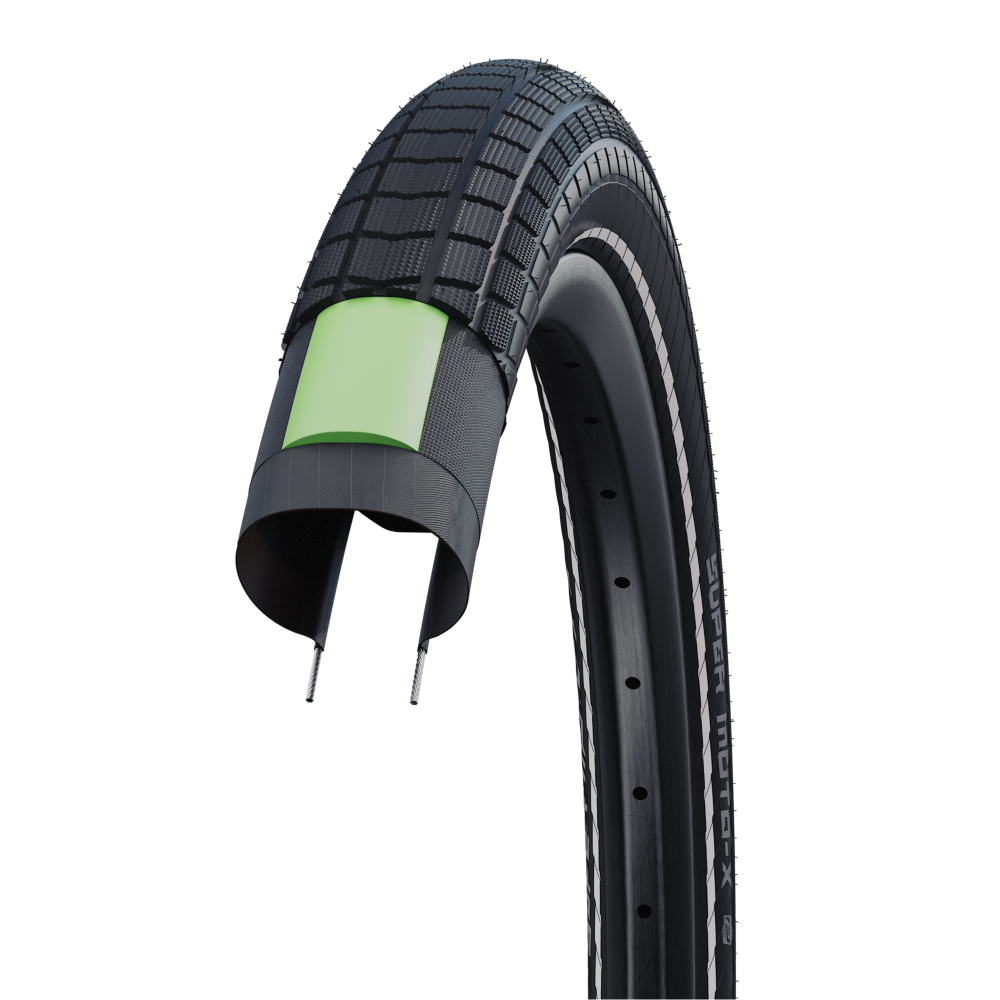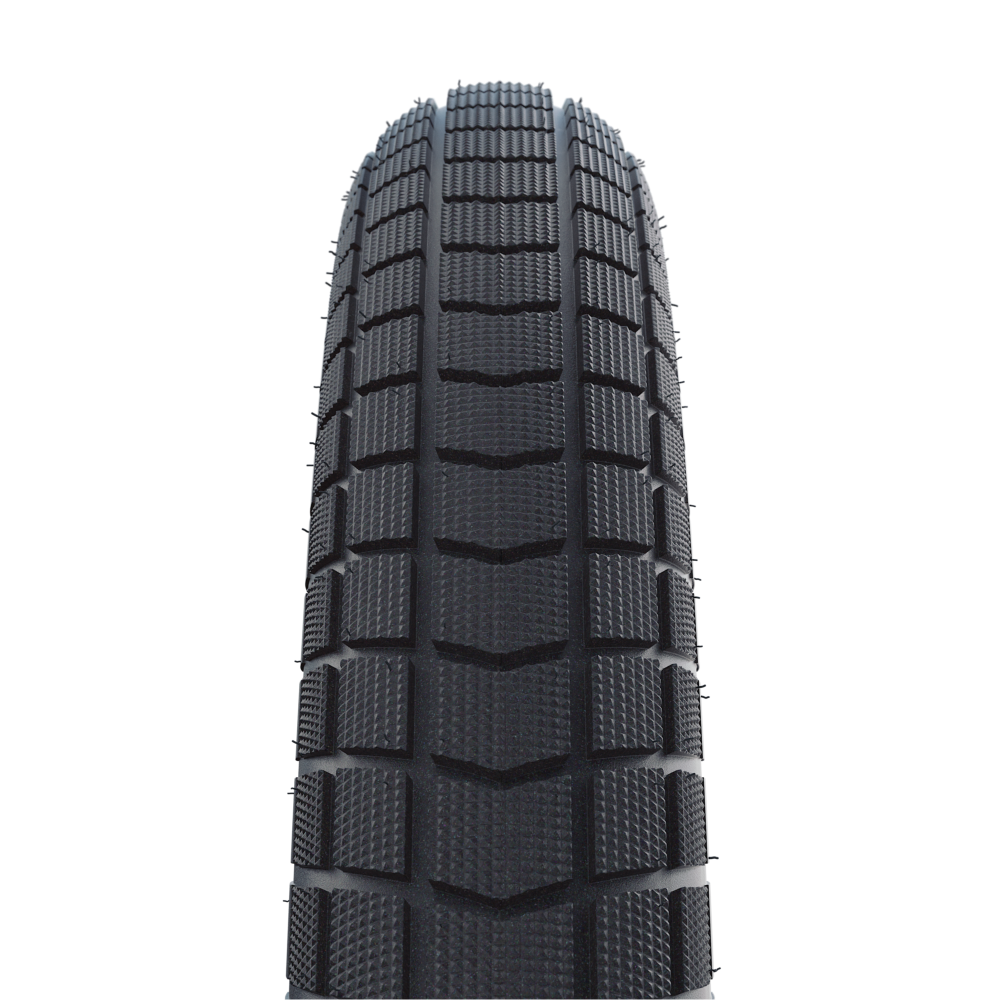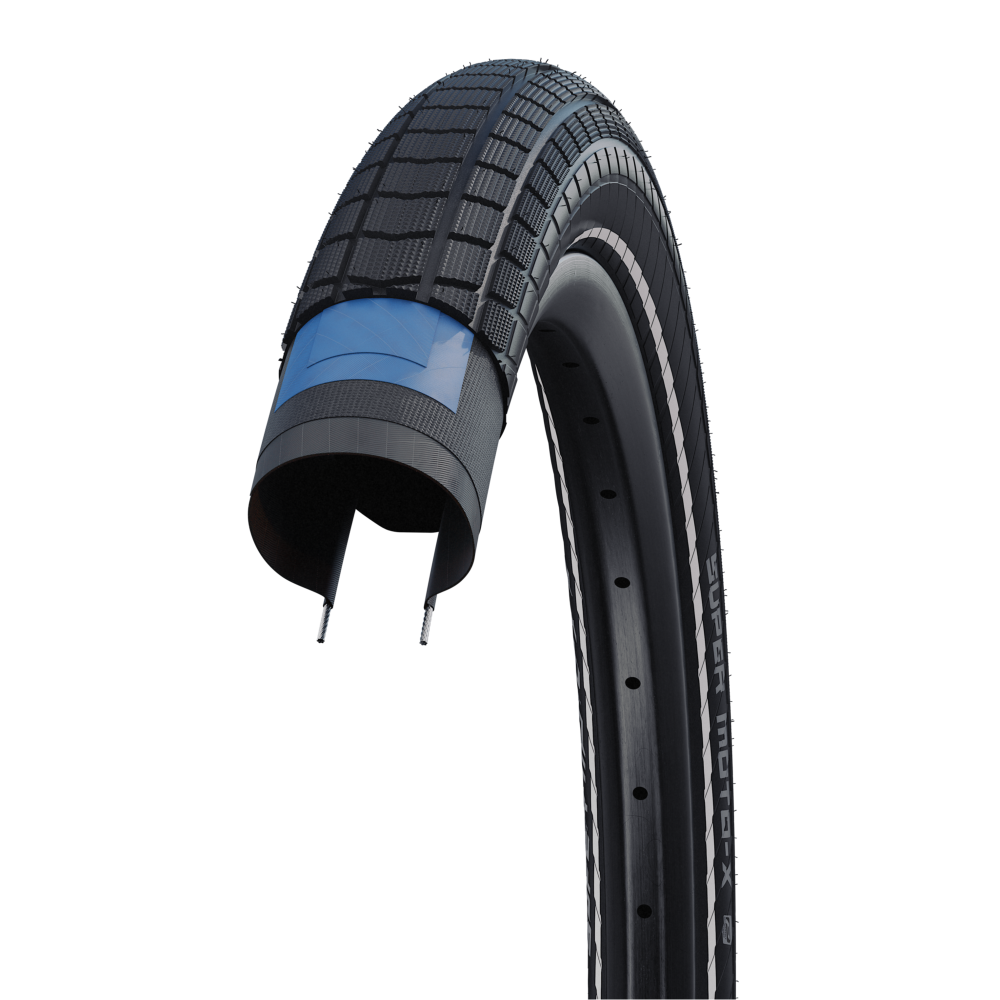 /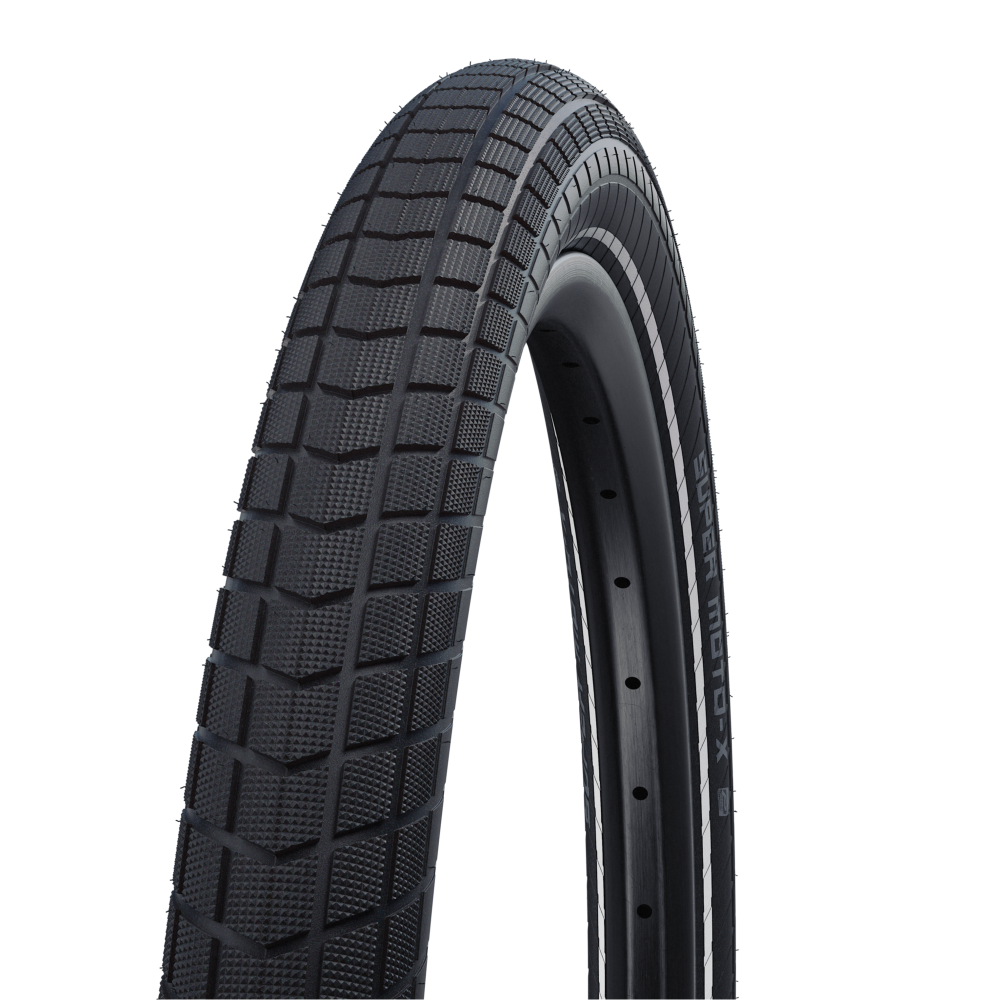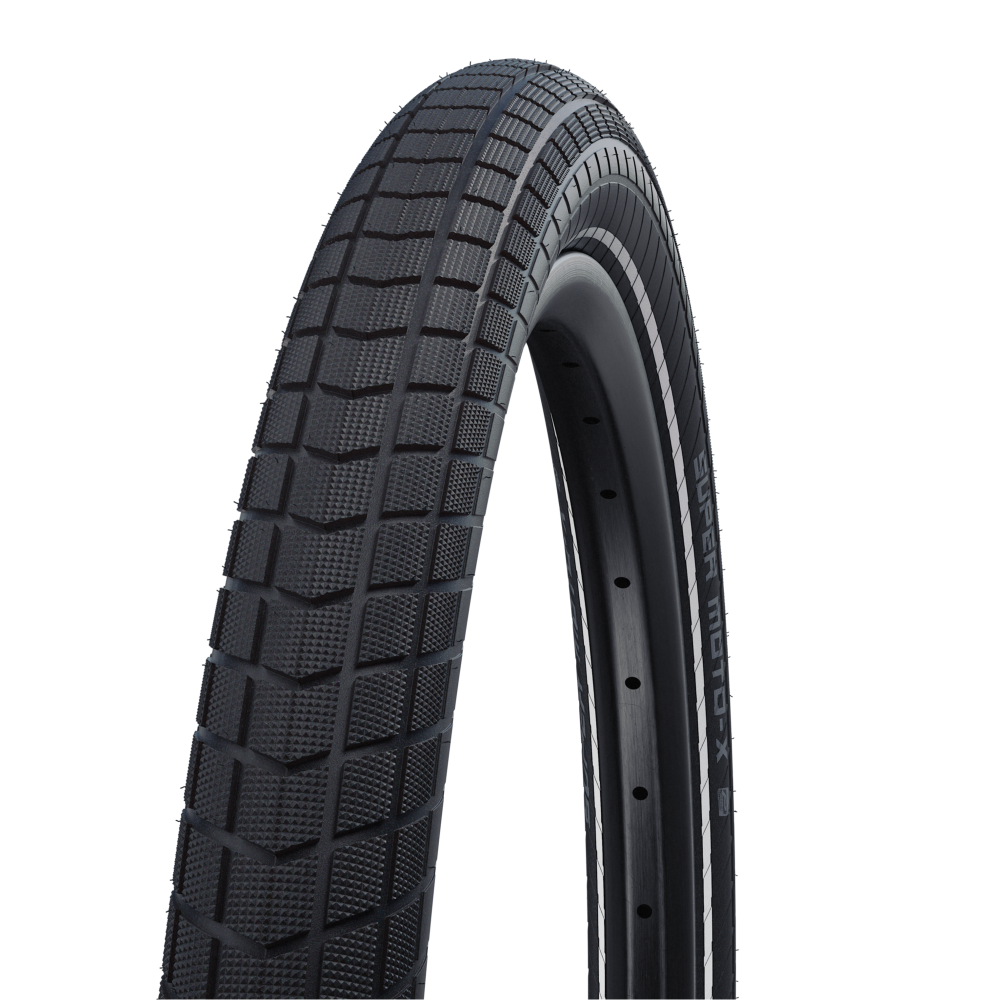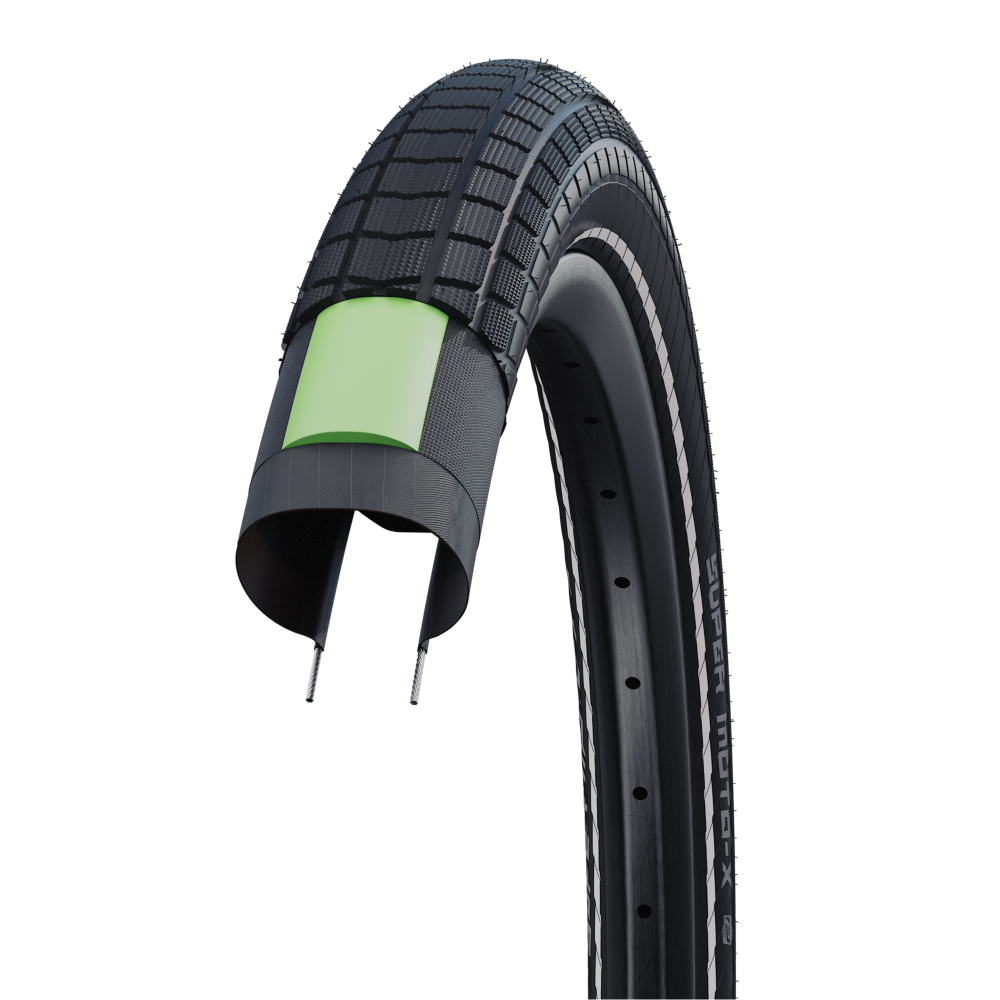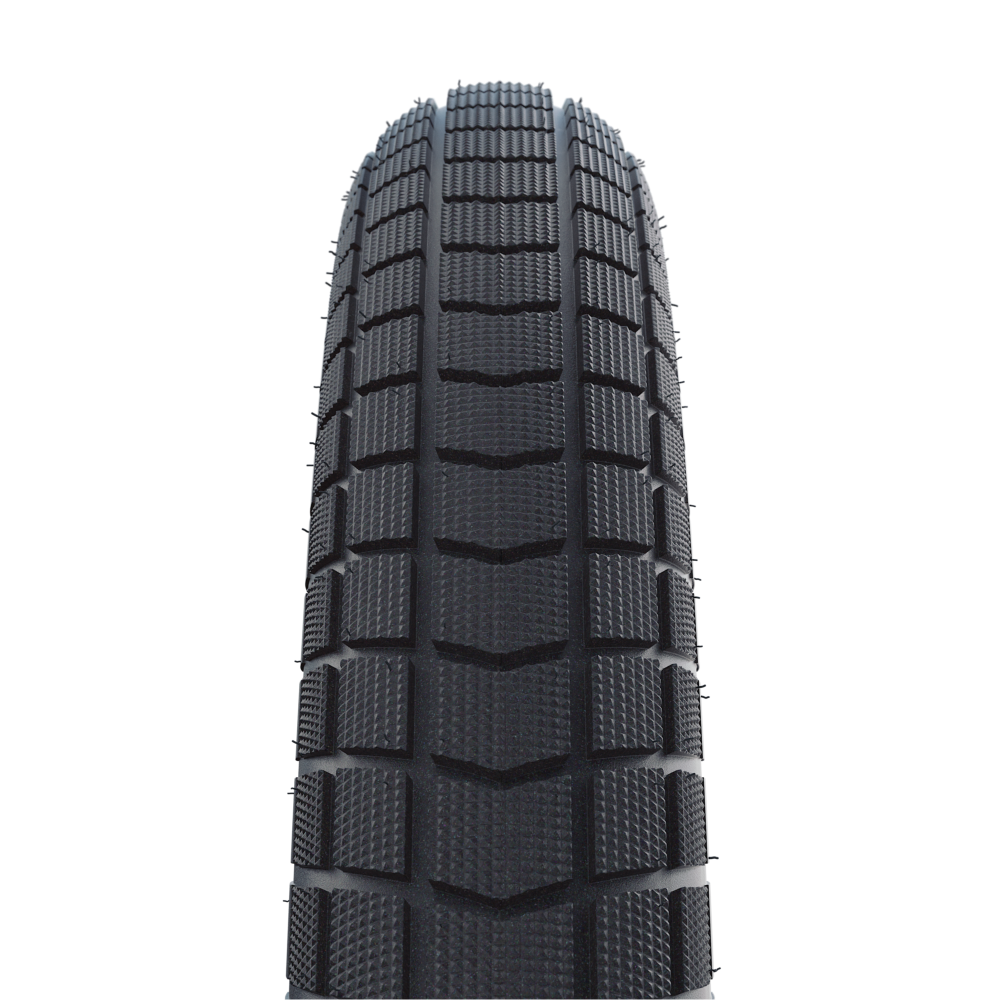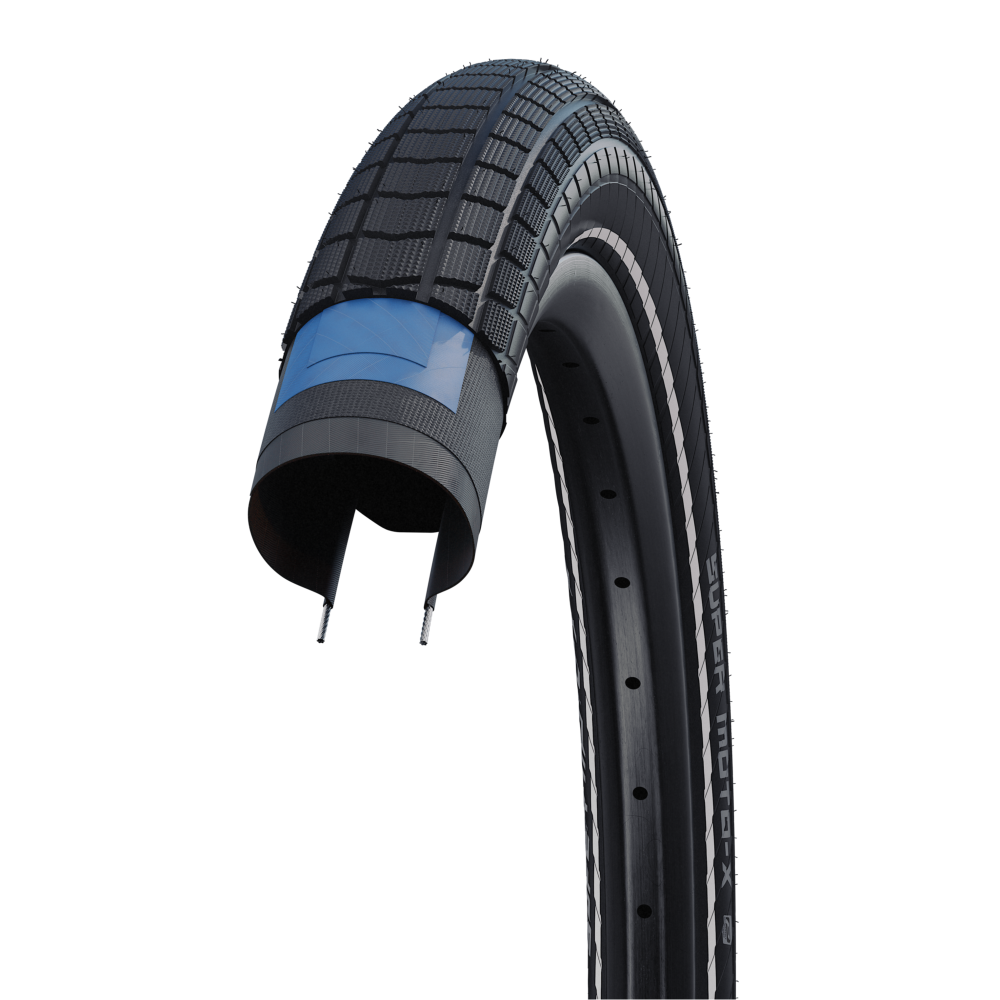 Product Description
WIDE, COMFORTABLE, SAFE! Whether travelling on asphalt or trail, the beefy Super Moto-X offers the best riding characteristics and plenty of comfort. The extra-resilient DoubleDefense construction lets you reach your destination safely, even in the toughest conditions. With a width of up to 70 mm, enormous volume and maximum load capacity, Super Moto-X is the perfect equipment for all types of e-bikes. Naturally, with the ECE-R75 mark for fast e-bikes.
Best Use
Technical Data
Size:

ETRTO 62-406 (20x2.40 Inch)

Type:

Wired

Compound:

Addix

Version:

DD, GreenGuard

Colour:

Black-Reflex

Seal:

Tube

Weight:

820 g

Pressure:

2.0-4.5 Bar (30-65 psi)

Maximum load:

115 kg

EPI:

67

E-Bike:

E-50

Profile:

HS439

Product number:

11101327.01

EAN:

4026495857024

Price:

US$42.00
Ratings
Features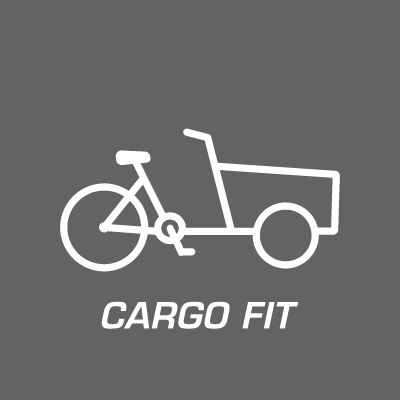 Cargo Fit
Special recommendation for use on cargo bikes. Robust tires with large volume, high puncture protection and high load capacity.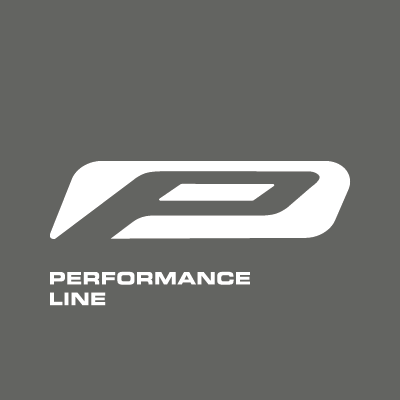 Performance Line
Excellent quality for intensive use.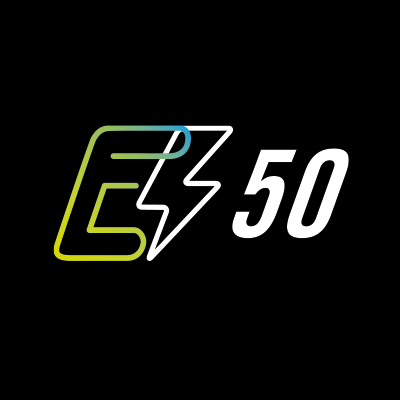 E-50
E-Bike tires with European ECE-R75 approval. Our recommendation for fast E-Bikes - S-Pedelecs with type approval, insurance, and motor assist over 25 km/h – for which a special tire approval is necessary.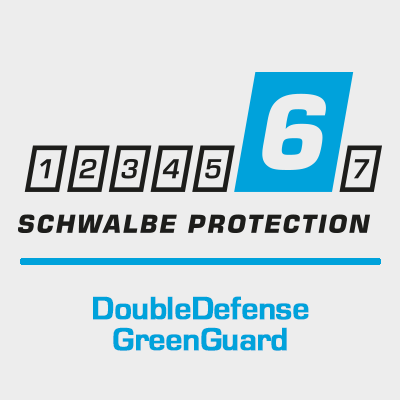 Double Defense, GreenGuard
The combined puncture protection. 3 mm flexible, special India rubber under the tread combined with SnakeSkin on the sidewalls. A really safe choice for E-Bike tires.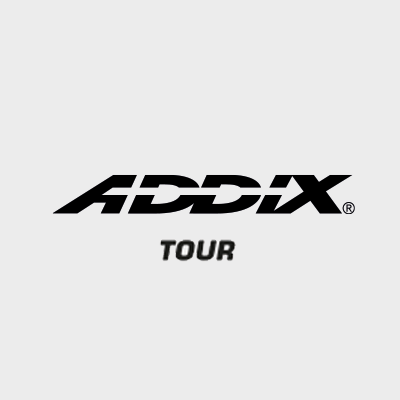 ADDIX Tour
The powerful Addix Compound, specially developed for touring tires, combines the performance parameters 'grip', 'rolling resistance' and 'durability' at the highest level. Ideal for intensive touring by bike or E-Bike.
Product overview
Find your perfect tire even faster. Use the search to narrow down the articles or
sort the tires with the arrows directly in the table according to your interest.
| | | | | INCH | ETRTO | SIZE | VERSION | SEAL | TYPE | E-BIKE | COMPOUND | COLOUR | BAR | PSI | WEIGHT | EPI | MAXIMUM LOAD | PRODUCT NUMBER | QUALITY | PRICE | |
| --- | --- | --- | --- | --- | --- | --- | --- | --- | --- | --- | --- | --- | --- | --- | --- | --- | --- | --- | --- | --- | --- |
| | | HS439 | 4026495937849 | 20" | 100-406 | 20x4.00 | Performance | Tube | Wired | E-50 | Addix | Black-Reflex | Max. 2.0 | Max. 30.0 | 995 g | 2x67 | 115 kg | 11159604 | Performance Line | US$55.00 | |
| | | HS439 | 4026495857024 | 20" | 62-406 | 20x2.40 | DD, GreenGuard | Tube | Wired | E-50 | Addix | Black-Reflex | 2.0-4.5 | 30-65 | 820 g | 67 | 115 kg | 11101327.01 | Performance Line | US$42.00 | |
| | | HS439 | 4026495920445 | 20" | 70-406 | 20x2.80 | DD, RaceGuard | Tube | Wired | E-50 | Addix | Black-Reflex | 1.5-3.5 | 20-50 | 710 g | 67 | 125 kg | 11159531 | Performance Line | US$44.00 | |
| | | HS439 | 4026495857048 | 26" | 62-559 | 26x2.40 | GreenGuard | Tube | Wired | E-50 | Addix | Black-Reflex | 2.0-4.0 | 30-55 | 1095 g | 67 | 140 kg | 11101381.01 | Performance Line | US$52.00 | |
| | | HS439 | 4026495784641 | 27.5" | 70-584 | 27.5x2.80 | DD, RaceGuard | Tube | Wired | E-50 | Addix | Black | 1.5-3.0 | 20-45 | 980 g | 67 | 155 kg | 11101108 | Performance Line | US$55.00 | |
| | | HS439 | 4026495760126 | 27.5" | 62-584 | 27.5x2.40 | GreenGuard | Tube | Wired | E-50 | Addix | Black | 2.0-4.0 | 30-55 | 1125 g | 67 | 145 kg | 11100726.01 | Performance Line | US$52.00 | |
| | | HS439 | 4026495857000 | 27.5" | 62-584 | 27.5x2.40 | GreenGuard | Tube | Wired | E-50 | Addix | Black-Reflex | 2.0-4.0 | 30-55 | 1125 g | 67 | 145 kg | 11101112.01 | Performance Line | US$55.00 | |