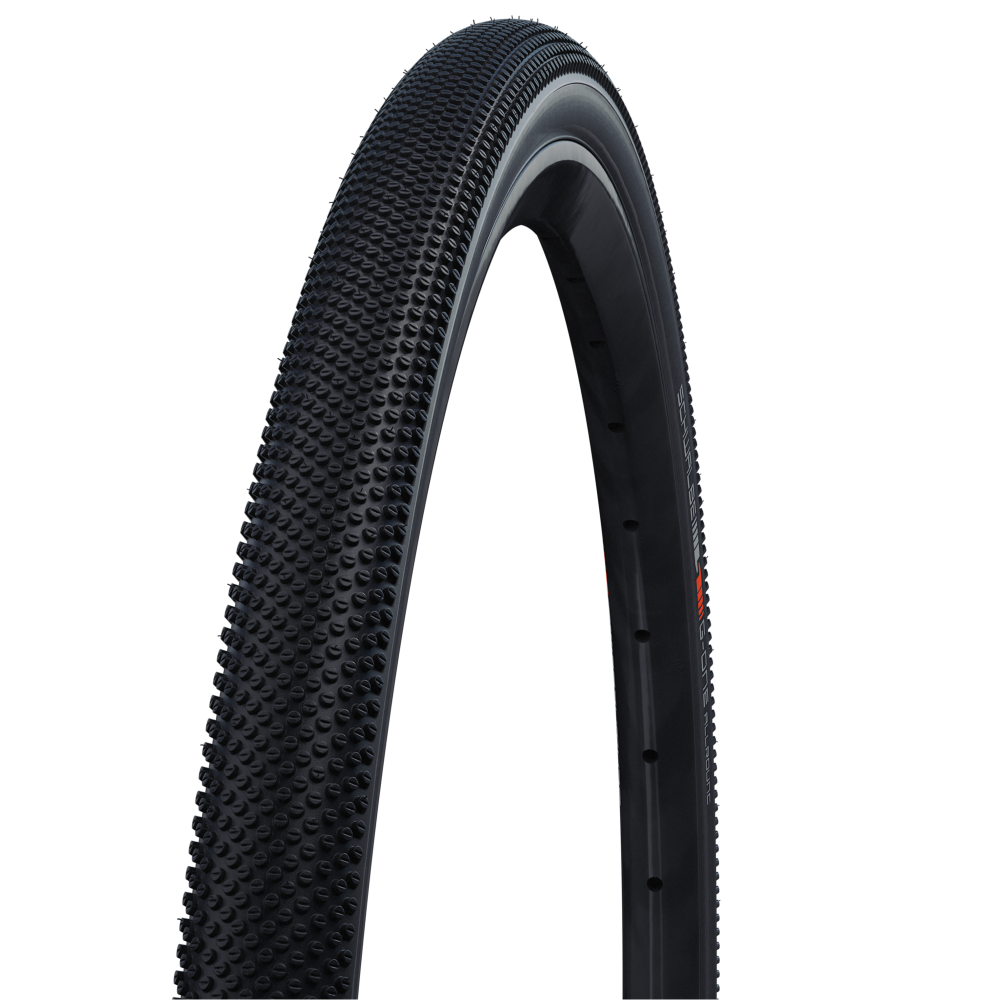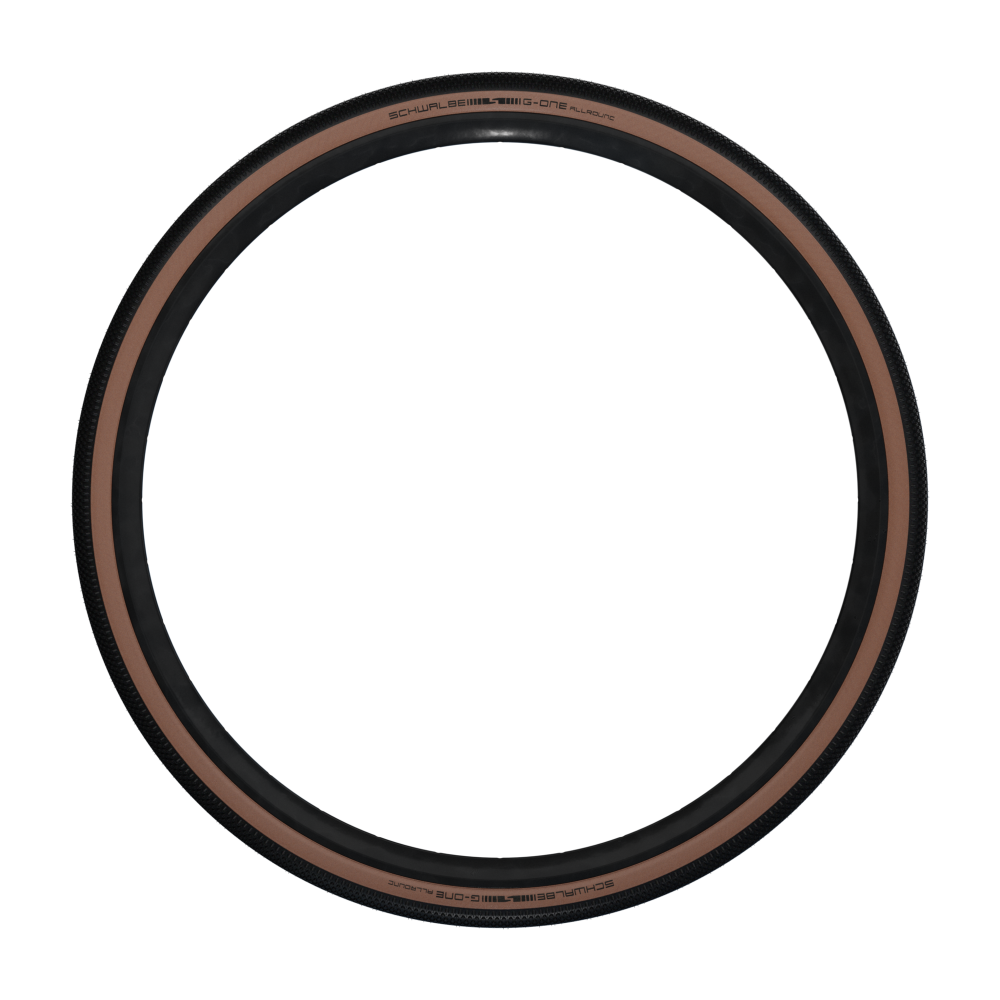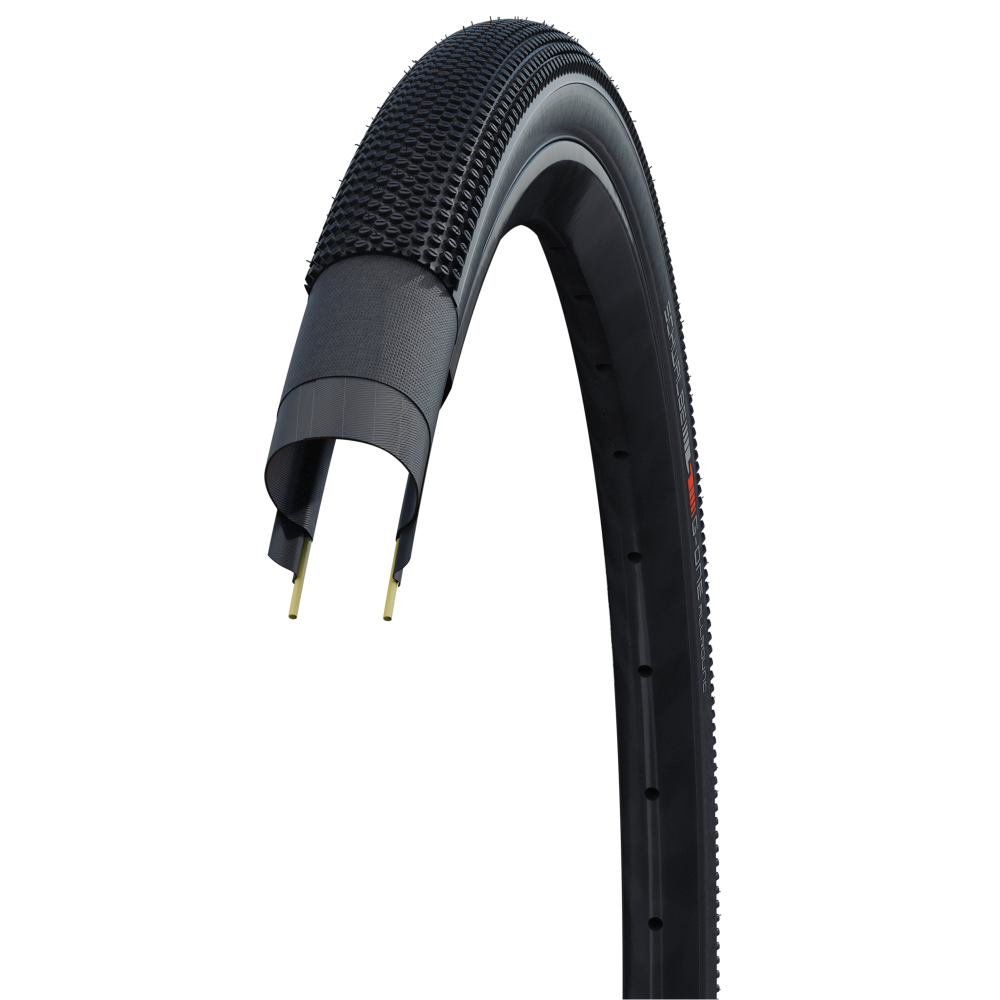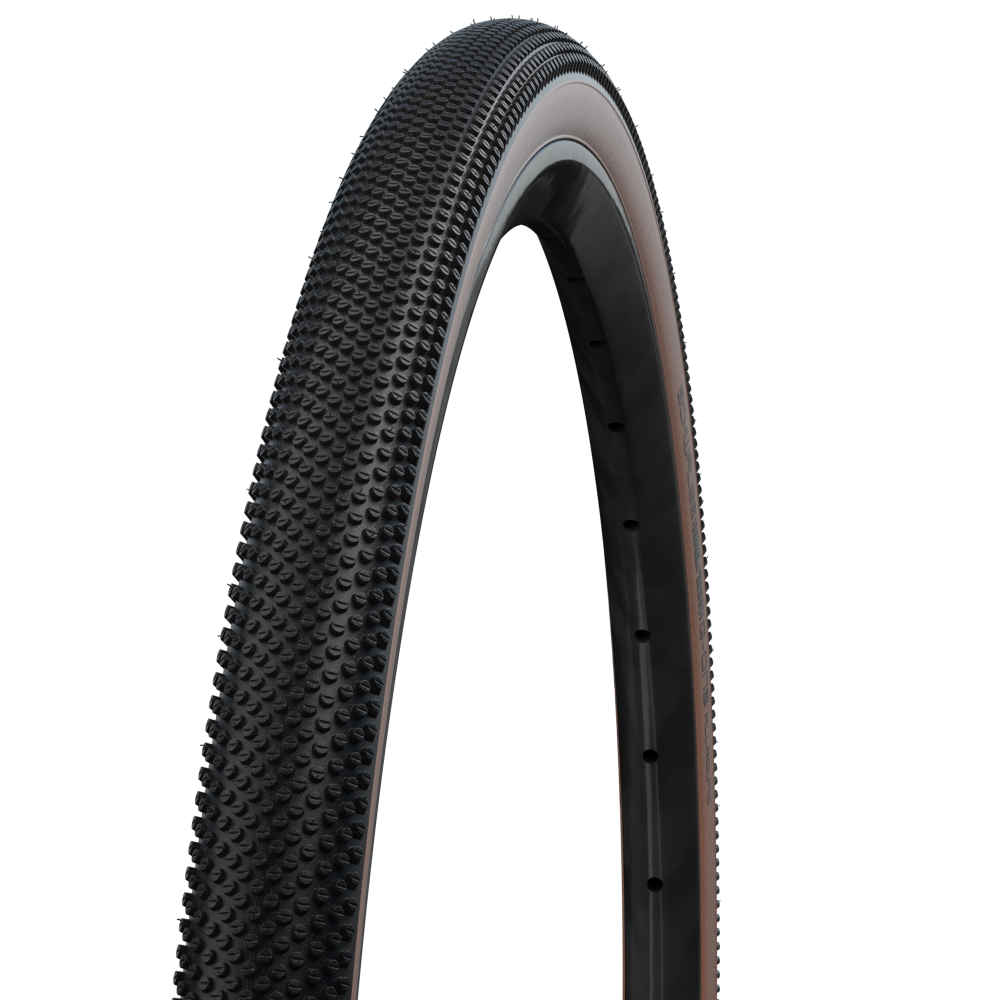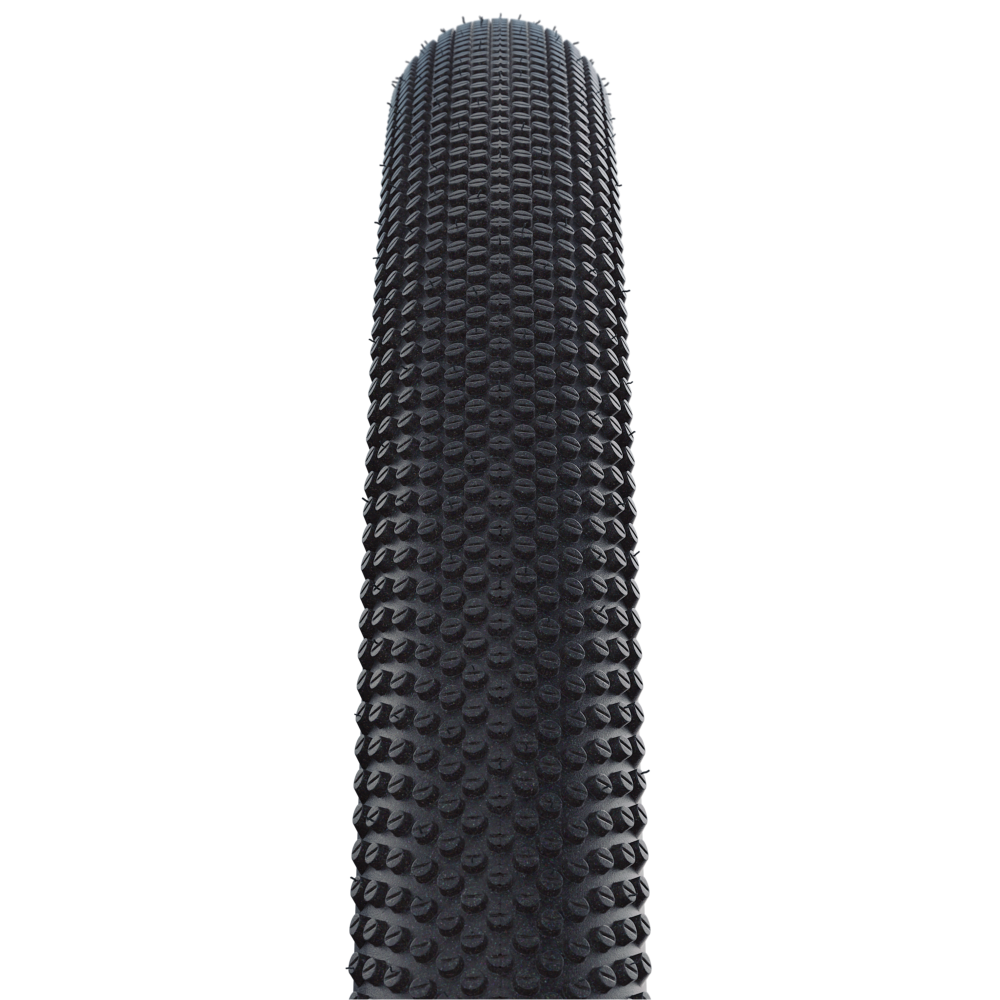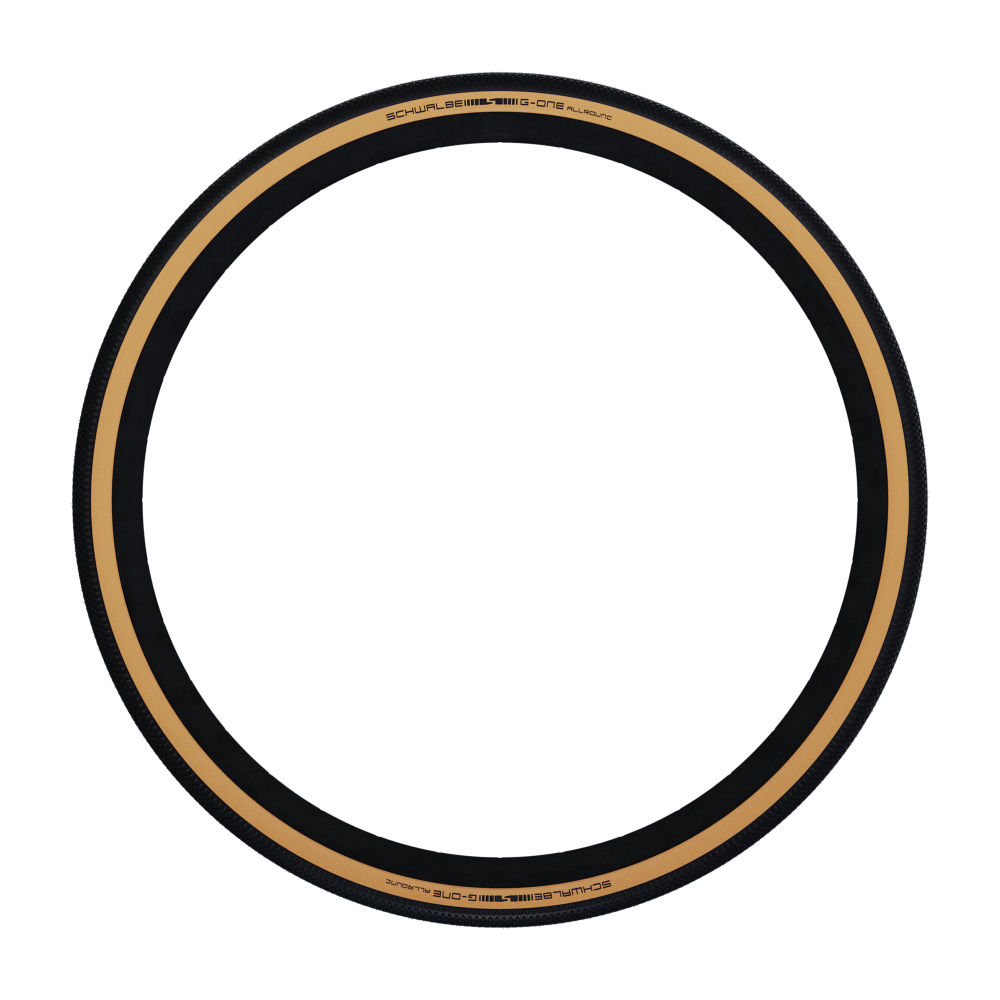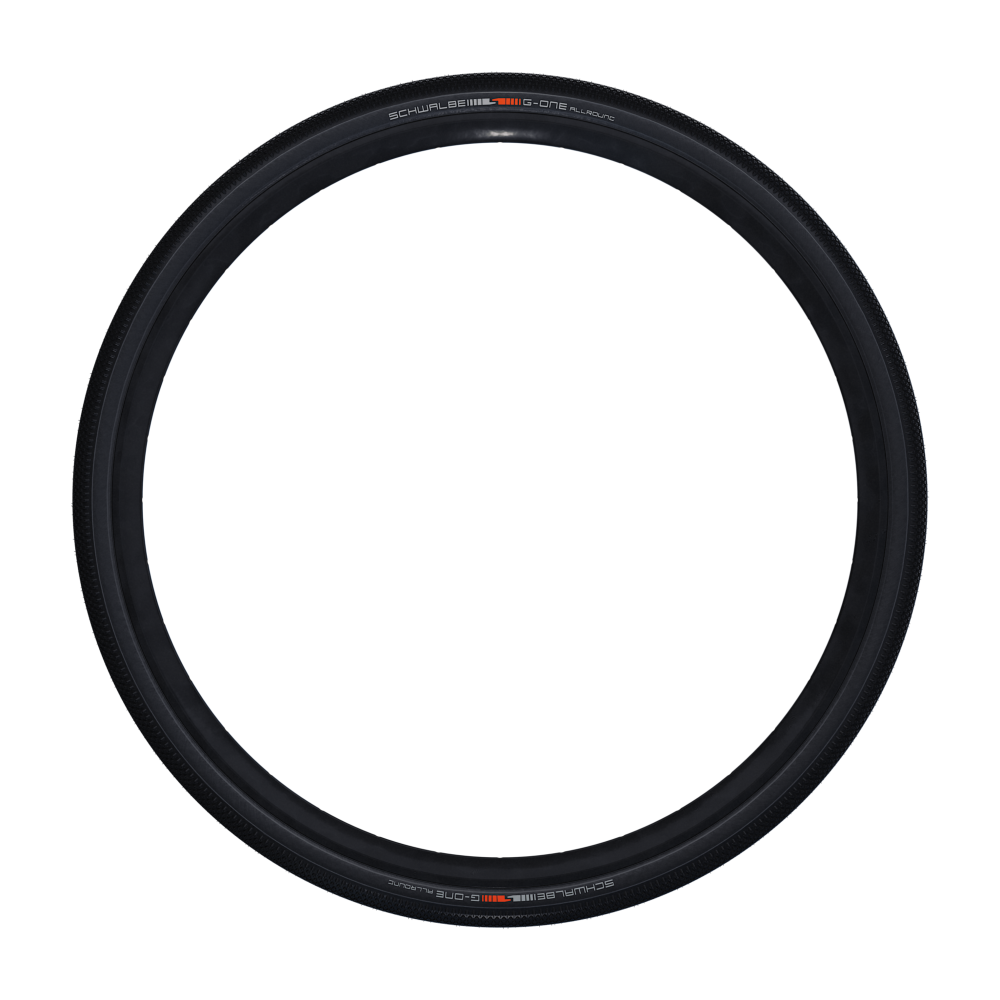 /
Schwalbe G-One Allround
Topseller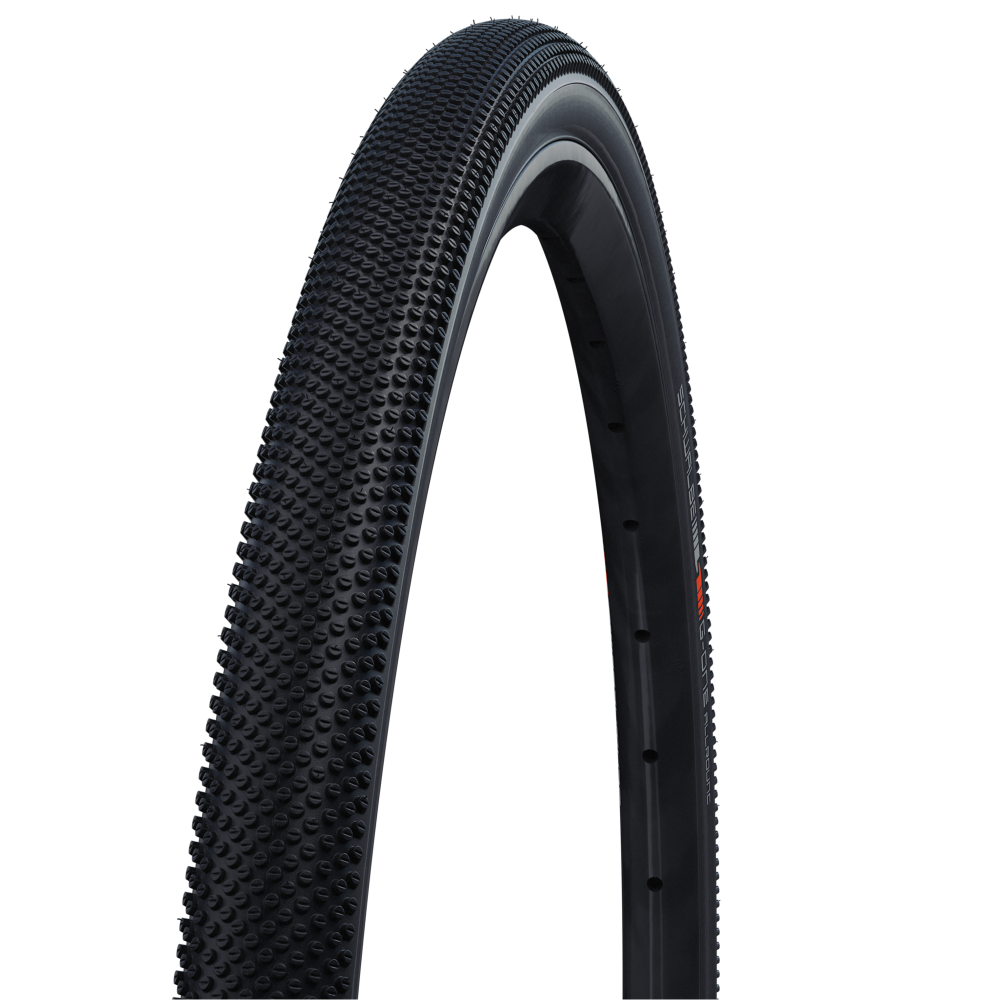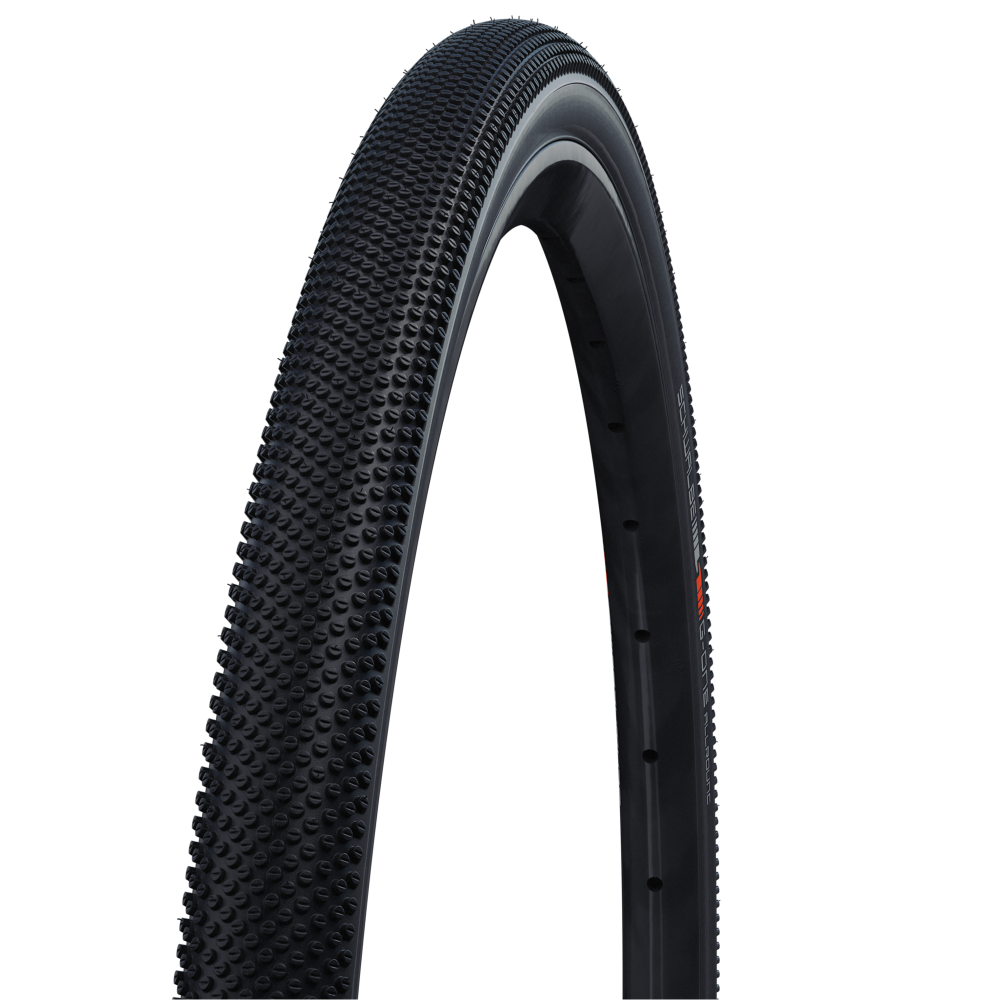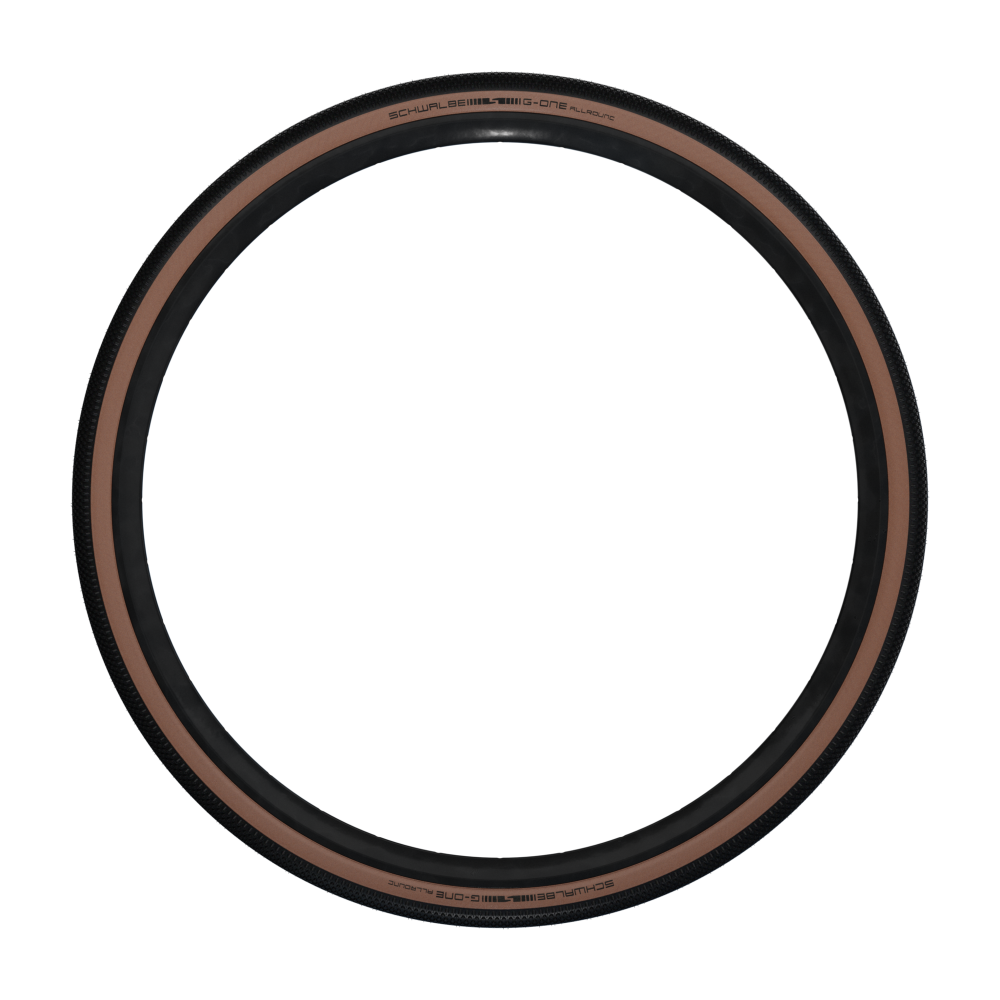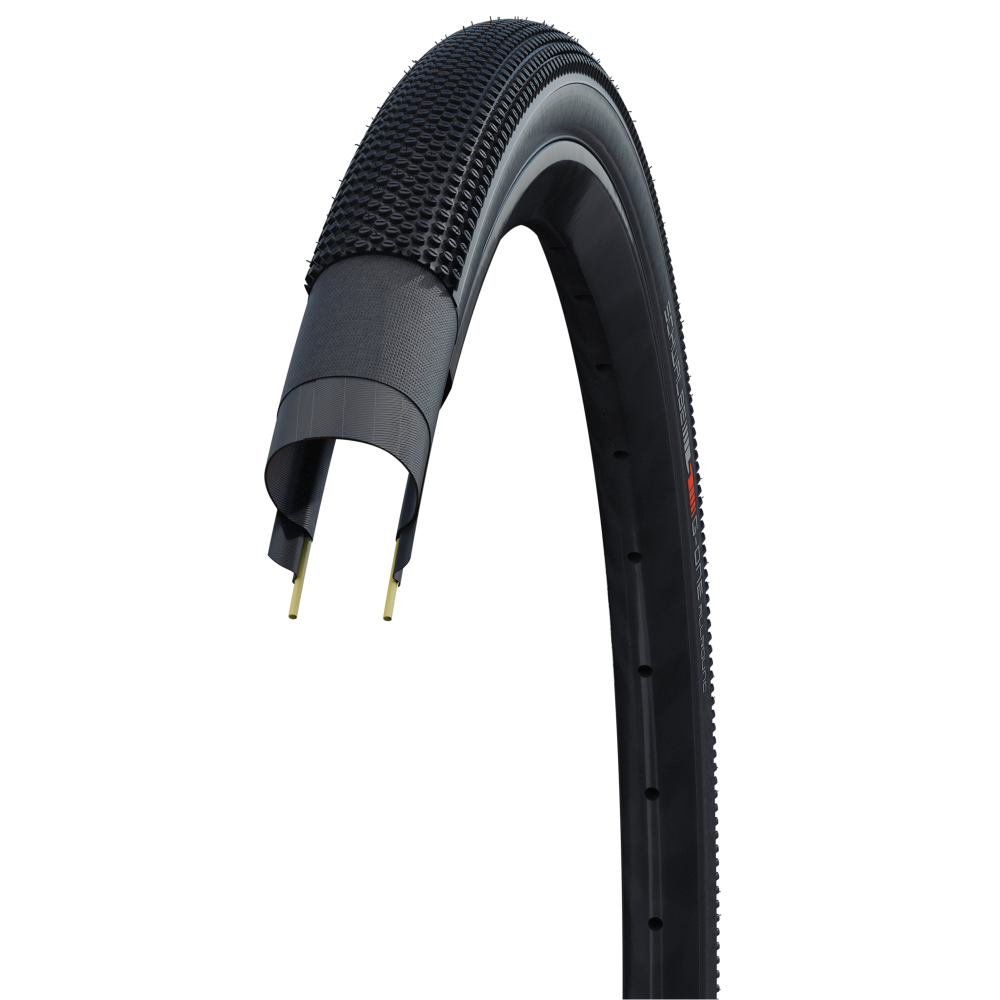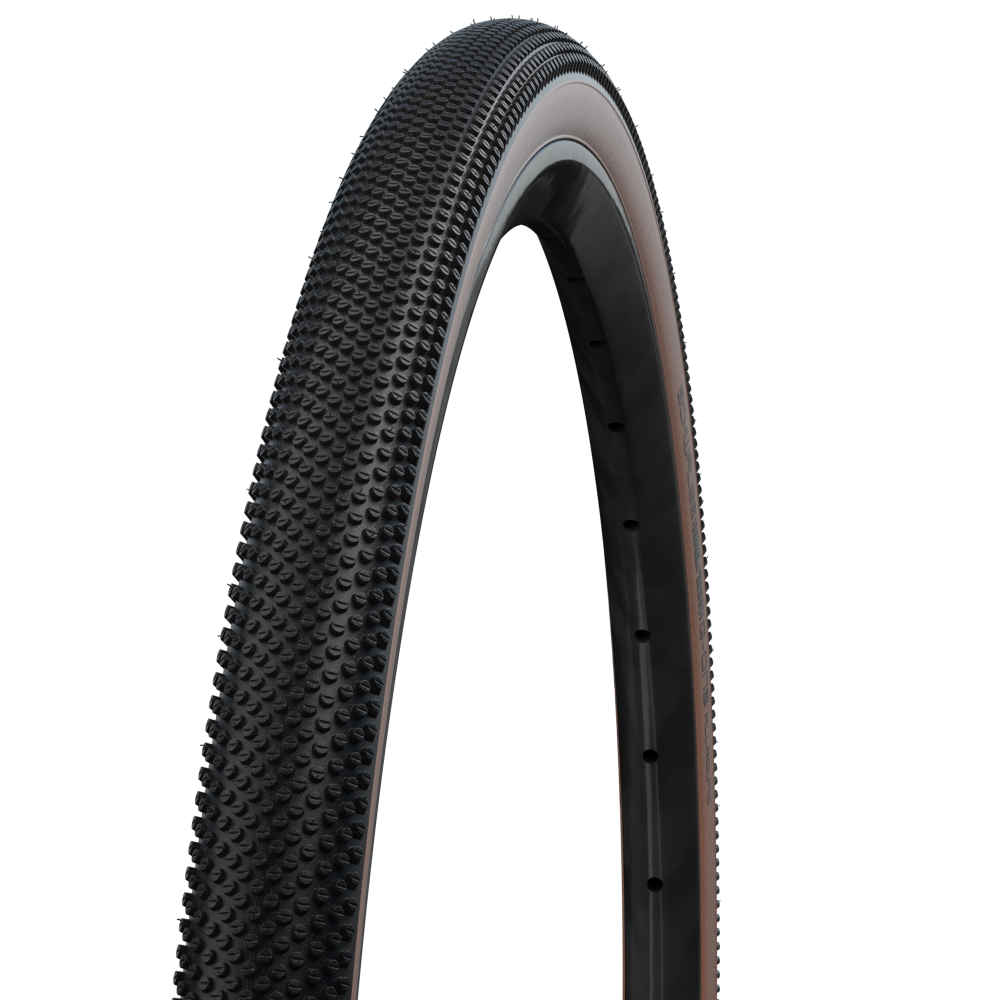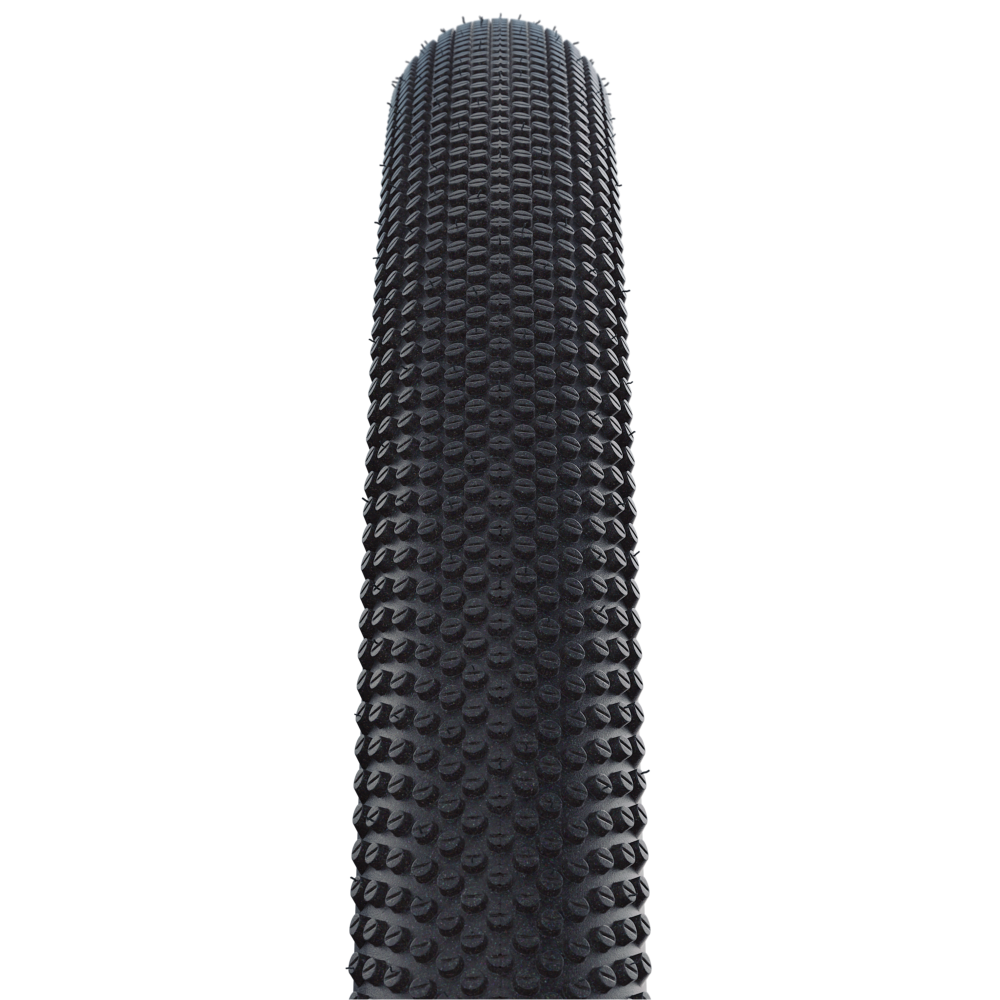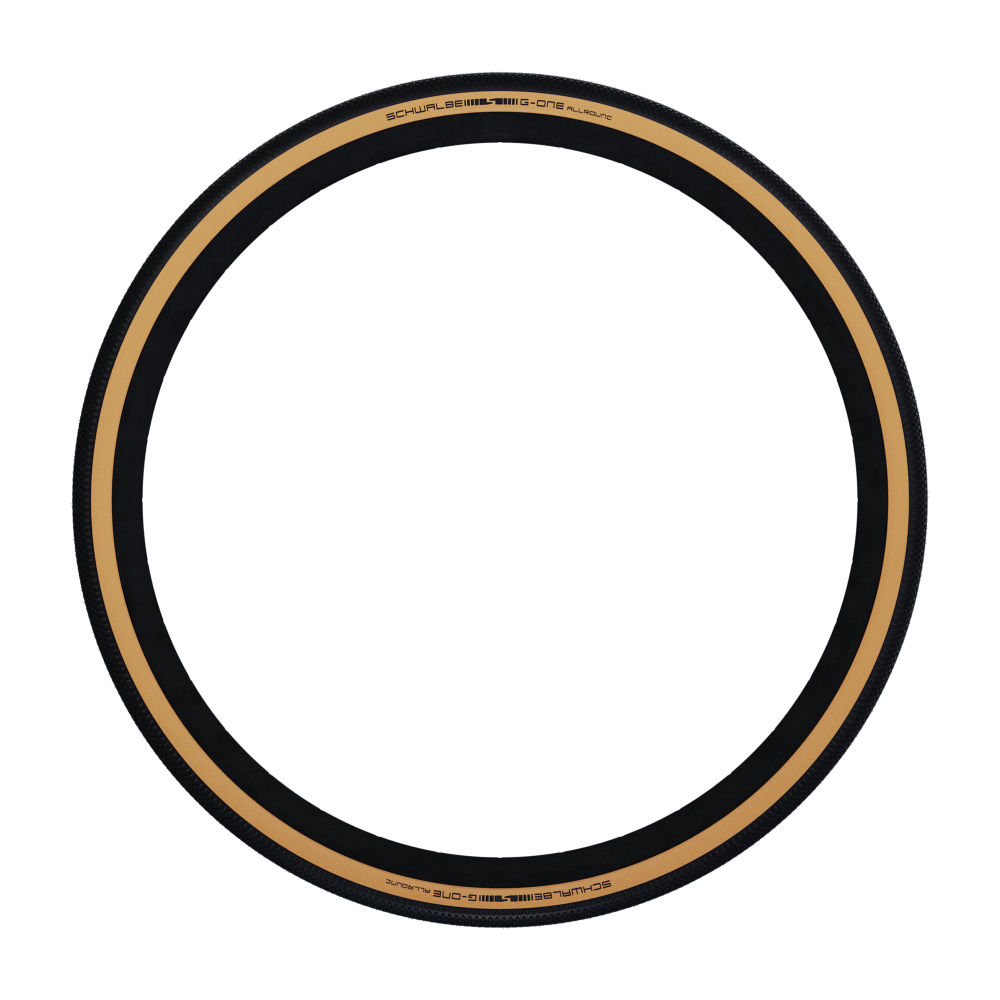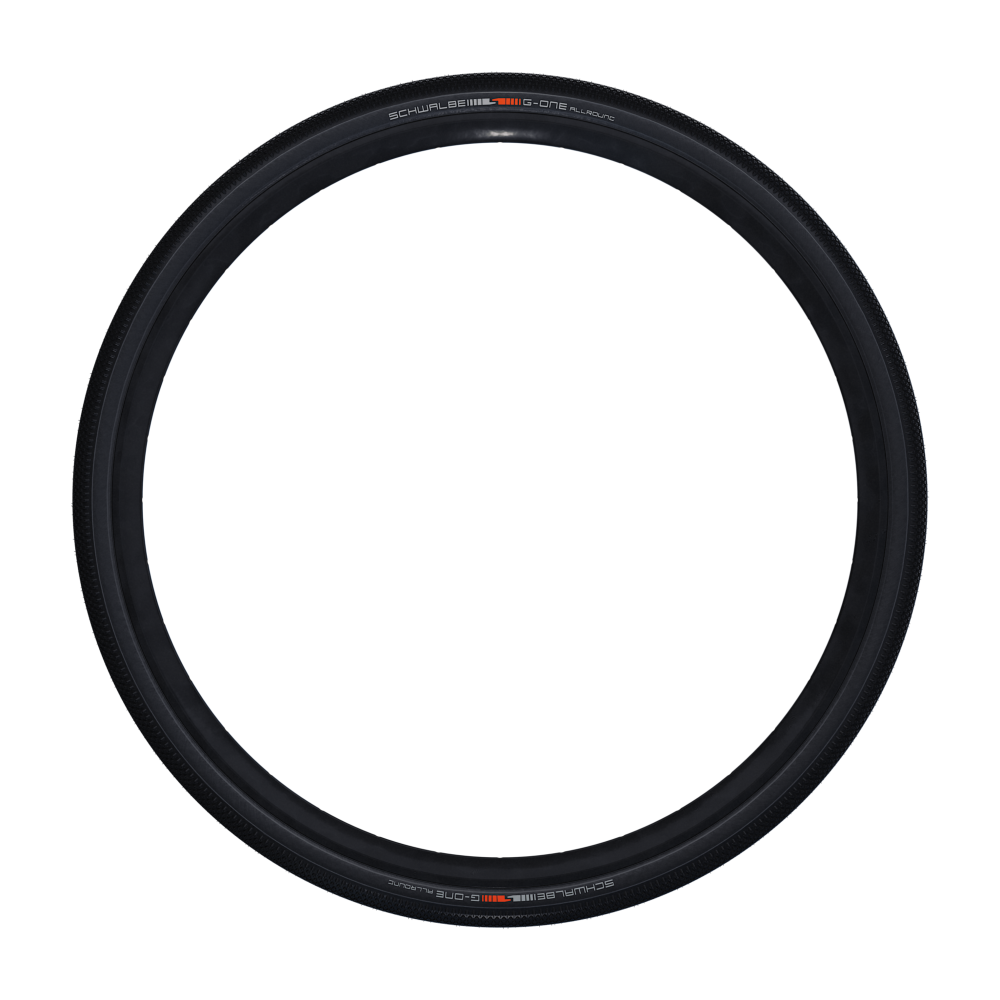 Product Description
THE MULTI-PURPOSE GRAVEL TIRE. It impresses with unique versatility and balanced riding characteristics, whether on asphalt pavement, dirt roads or even off-road. Whether after work, or on an adventure trip, the re are virtually no limits to the "Allrounder".
The versatile tread rolls easily and with low vibration, but grips safely and reliably on gravel roads and smoother, dry trails.
Best Use
Technical Data
Size:

ETRTO 35-622 (28x1.35 Inch)

Type:

Folding

Compound:

Addix

Version:

RaceGuard

Colour:

Black

Seal:

Tubeless

Weight:

420 g

Pressure:

3.0-4.5 Bar (45-65 psi)

Maximum load:

75 kg

EPI:

67

E-Bike:

E-25

Profile:

HS473

Product number:

11600774.01

EAN:

4026495885508

Price:

US$53.00
Ratings
Features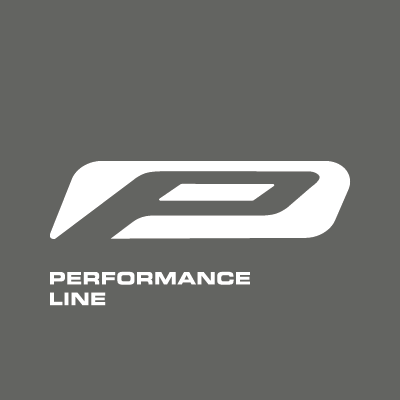 Performance Line
Excellent quality for intensive use.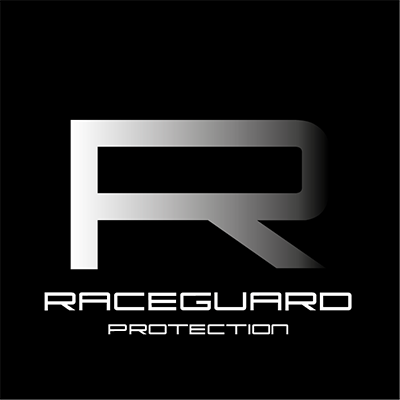 RaceGuard
2 layers of crosswise Nylon fabric on high-grade 67 EPI carcass. For proven protection of light Touring tires.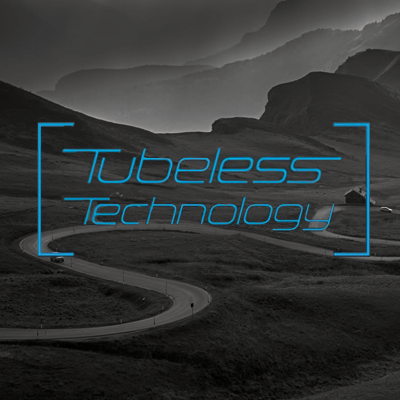 Tubeless Technology
For all ambitious sports cyclists Tubeless is the right choice. Only Tubeless achieves the best values in terms of:
+ SPEED
+ GRIP
+ PUNCTURE PROTECTION
+ COMFORT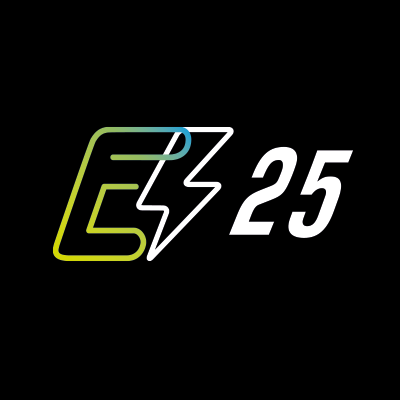 E-25
Tires with the recommendation "E-25" are the perfect choice for all pedelecs with pedal assistance up to 25 km/h. The most important criterion for this recommendation: safety.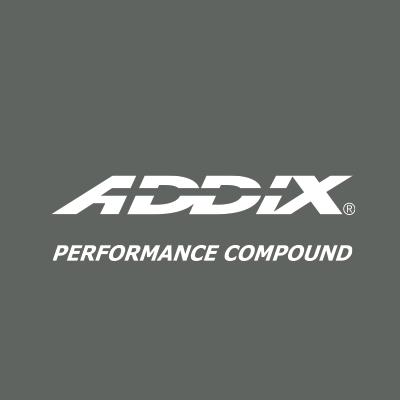 ADDIX Performance Compound
Very durable rubber compound with a wide range of requirements. Similar to Speedgrip, it is a universal compound for tires in the Performance Line.
Product overview
Find your perfect tire even faster. Use the search to narrow down the articles or
sort the tires with the arrows directly in the table according to your interest.
INCH
ETRTO
SIZE
VERSION
SEAL
TYPE
E-BIKE
COMPOUND
COLOUR
BAR
PSI
WEIGHT
EPI
MAXIMUM LOAD
PRODUCT NUMBER
QUALITY
PRICE

HS473
4026495884945
27.5"
57-584
27.5x2.25,650Bx57
Super Ground
Tubeless
Folding
E-25
Addix Speedgrip
Black
1.8-3.7
26-54
650 g
67
110 kg
11600954.02
Evolution Line
US$88.00

HS473
4026495884884
27.5"
40-584
27.5x1.50,650Bx40
Super Ground
Tubeless
Folding
E-25
Addix Speedgrip
Black
3.0-4.5
45-65
450 g
67
100 kg
11600792.02
Evolution Line
US$88.00

HS473
4026495885362
27.5"
70-584
27.5x2.80,650Bx70
DD, RaceGuard
Tubeless
Folding
E-25
Addix
Black
1.5-3.0
20-45
845 g
67
150 kg
11600953.01
Performance Line
US$61.00

HS473
4026495885201
27.5"
35-584
27.5x1.35,650Bx35
RaceGuard
Tubeless
Folding
E-25
Addix
Black
3.0-4.5
45-65
395 g
67
75 kg
11600927.01
Performance Line
US$53.00

HS473
4026495885324
27.5"
57-584
27.5x2.25,650Bx57
DD, RaceGuard
Tubeless
Folding
E-25
Addix
Black-Reflex
1.8-3.7
26-54
725 g
67
110 kg
11654063.01
Performance Line
US$61.00

HS473
4026495901949
28"
35-622
28x1.35,700x35C
RaceGuard
Tubeless
Folding
E-25
Addix
Bronze Sidewall
Max. 4.5
Max. 65.0
420 g
67
75 kg
11654211
Performance Line
US$61.00

HS473
4026495885508
28"
35-622
28x1.35,700x35C
RaceGuard
Tubeless
Folding
E-25
Addix
Black
3.0-4.5
45-65
420 g
67
75 kg
11600774.01
Performance Line
US$53.00

HS473
4026495901963
28"
40-622
28x1.50,700x40C
RaceGuard
Tubeless
Folding
E-25
Addix
Bronze Sidewall
Max. 4.5
Max. 65.0
485 g
67
100 kg
11654339
Performance Line
US$61.00

HS473
4026495885720
28"
40-622
28x1.50,700x40C
RaceGuard
Tubeless
Folding
E-25
Addix
Classic
3.0-4.5
45-65
485 g
67
100 kg
11654062.01
Performance Line
US$54.90

US$61.00

HS473
4026495892261
28"
35-622
28x1.35,700x35C
RaceGuard
Tubeless
Folding
E-25
Addix
Classic
3.0-4.5
45-65
420 g
67
70 kg
11601053.01
Performance Line
US$61.00

HS473
4026495882552
28"
45-622
28x1.70,700x45C
Super Ground
Tubeless
Folding
E-25
Addix Speedgrip
Black
Max. 4.0
Max. 55.0
540 g
67
100 kg
11654170
Evolution Line
US$88.00

HS473
4026495901987
28"
45-622
28x1.70,700x45C
RaceGuard
Tubeless
Folding
E-25
Addix
Bronze Sidewall
Max. 4.0
Max. 55.0
550 g
67
100 kg
11654359
Performance Line
US$61.00

HS473
4026495885027
28"
35-622
28x1.35,700x35C
Super Ground
Tubeless
Folding
E-25
Addix Speedgrip
Black
3.0-4.5
45-65
420 g
67
75 kg
11600764.02
Evolution Line
US$88.00

HS473
4026495885089
28"
40-622
28x1.50,700x40C
Super Ground
Tubeless
Folding
E-25
Addix Speedgrip
Black
3.0-4.5
45-65
480 g
67
100 kg
11600766.02
Evolution Line
US$88.00

HS473
4026495885669
28"
40-622
28x1.50,700x40C
RaceGuard
Tubeless
Folding
E-25
Addix
Black
3.0-4.5
45-65
485 g
67
100 kg
11600775.01
Performance Line
US$53.00

HS473
4026495885126
29"
57-622
29x2.25
Super Ground
Tubeless
Folding
E-25
Addix Speedgrip
Black
1.8-3.7
26-54
685 g
67
120 kg
11600955.01
Evolution Line
US$88.00

HS473
4026495885829
29"
57-622
29x2.25
DD, RaceGuard
Tubeless
Folding
E-25
Addix
Black-Reflex
1.8-3.7
26-54
760 g
67
120 kg
11654064.01
Performance Line
US$61.00