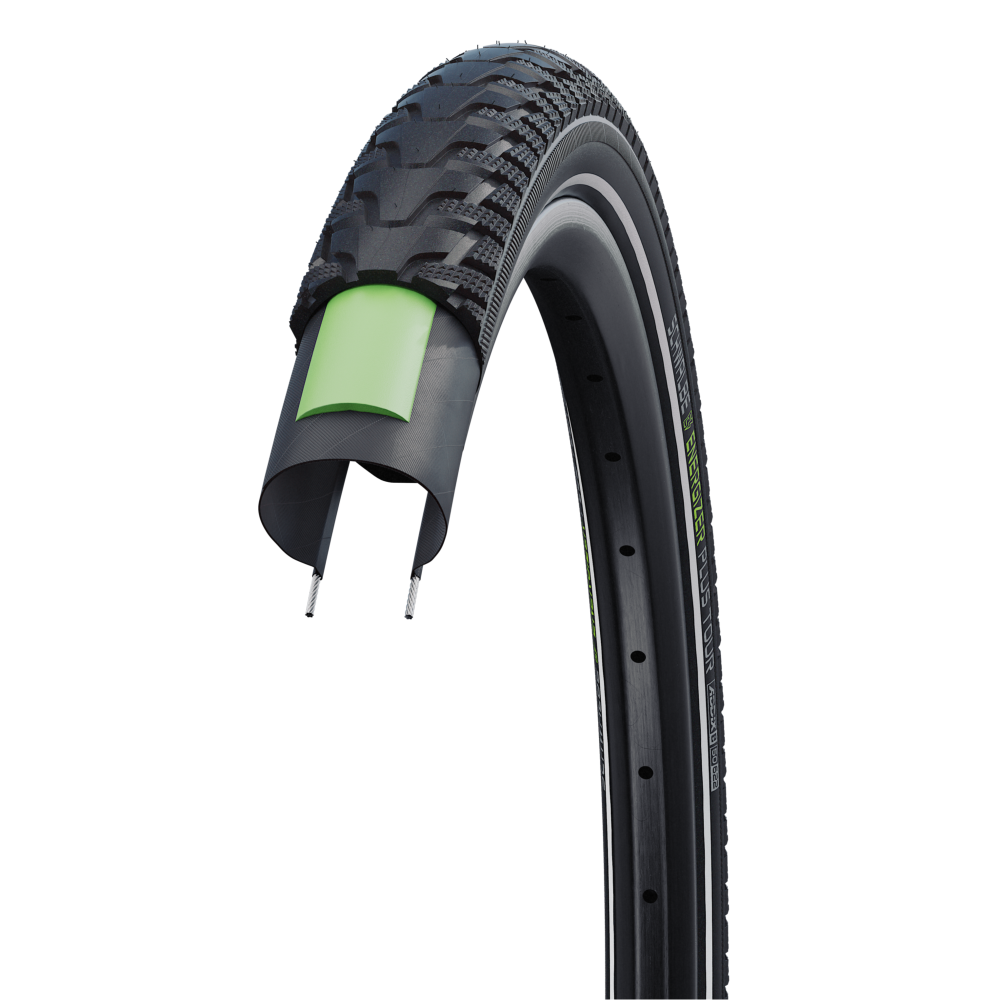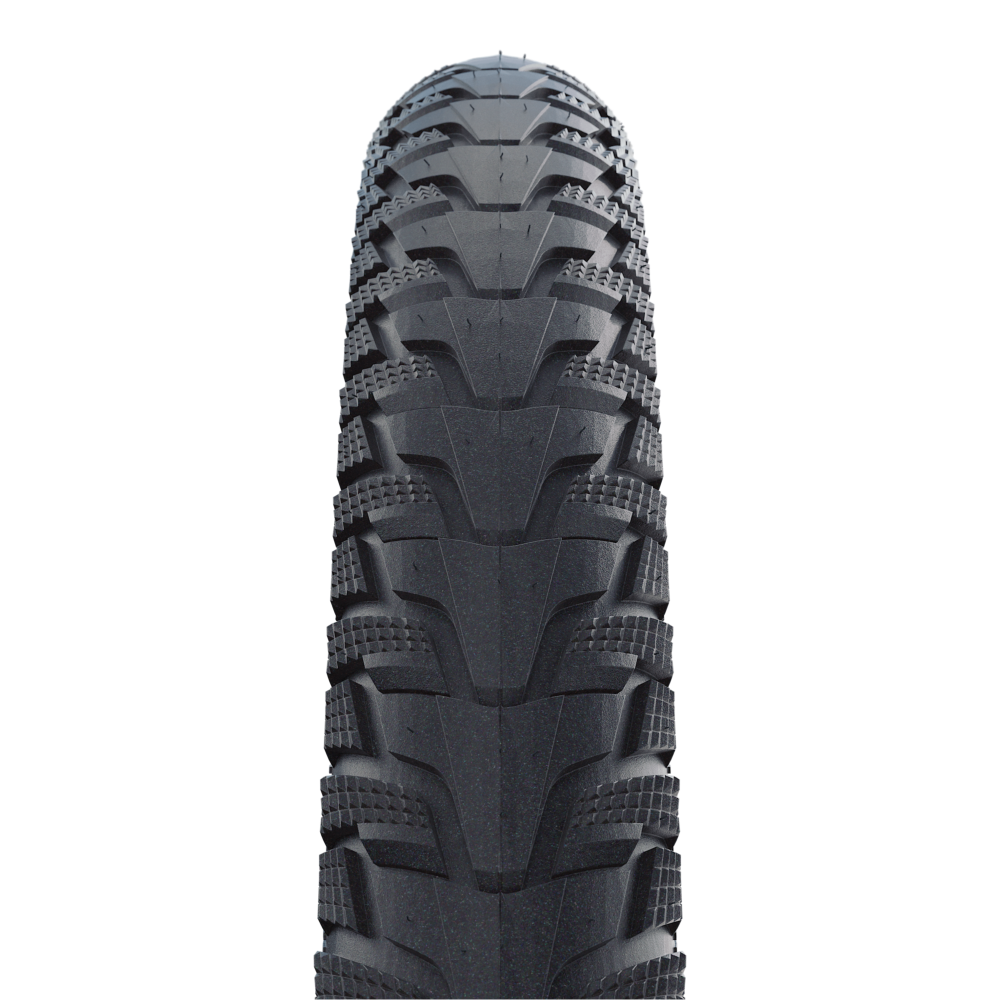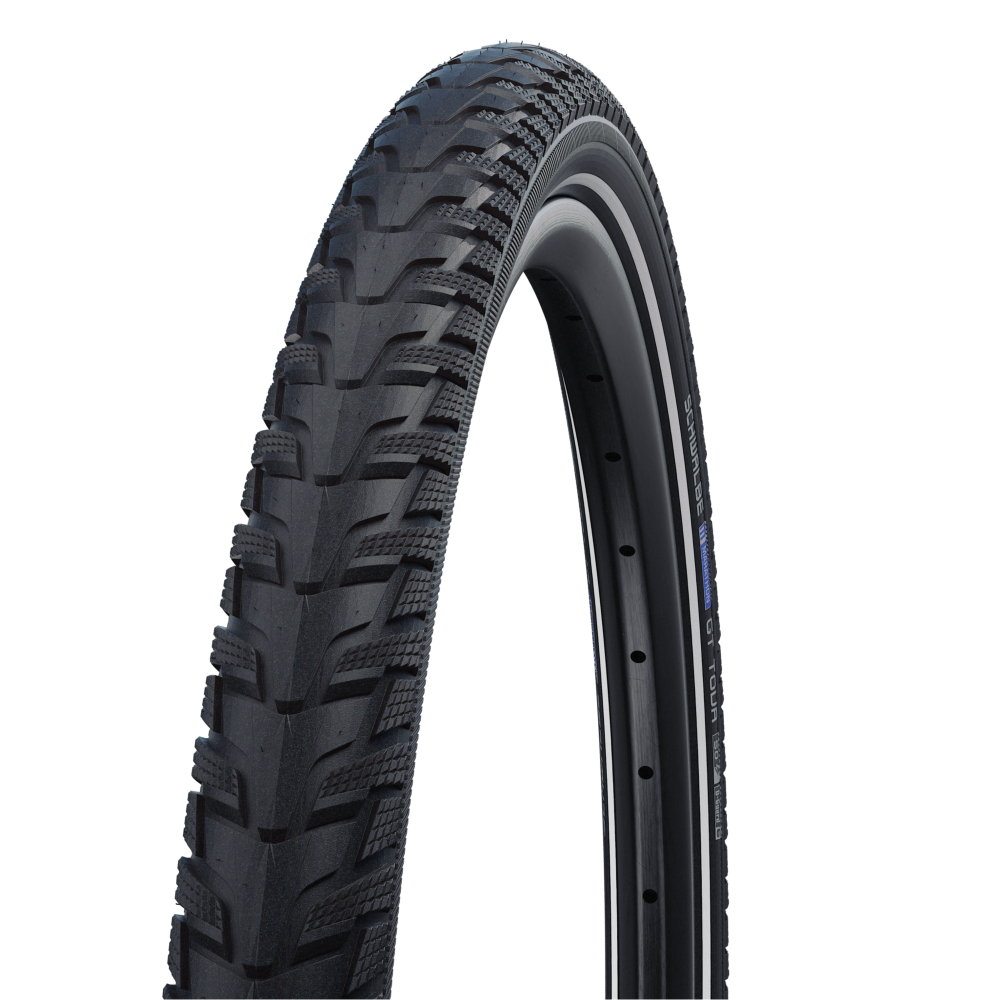 /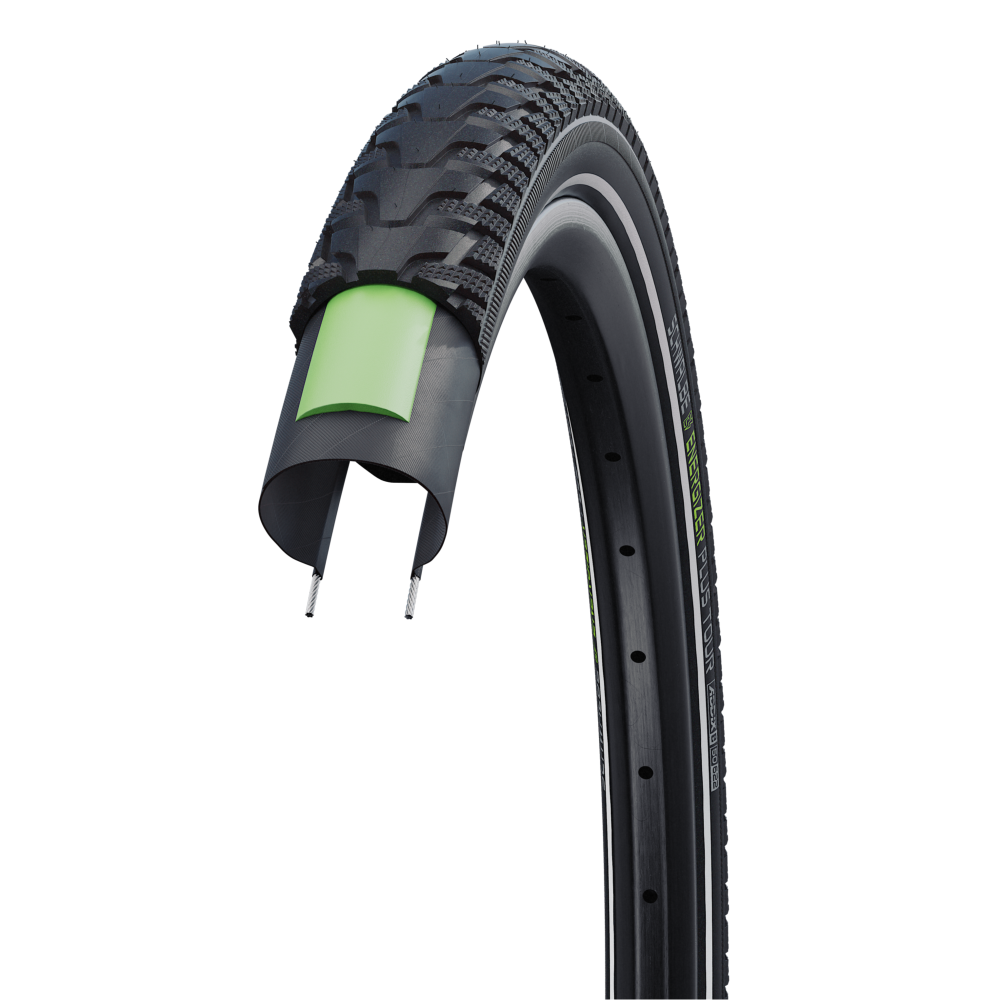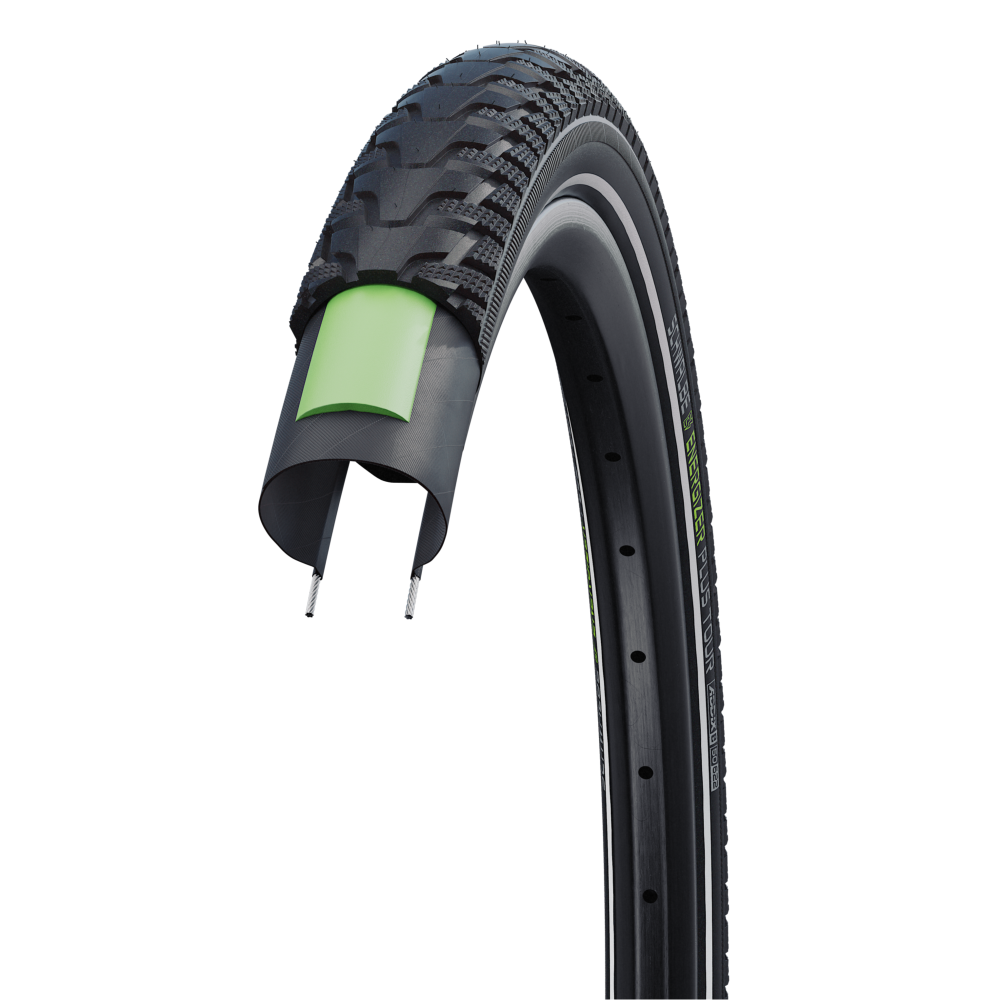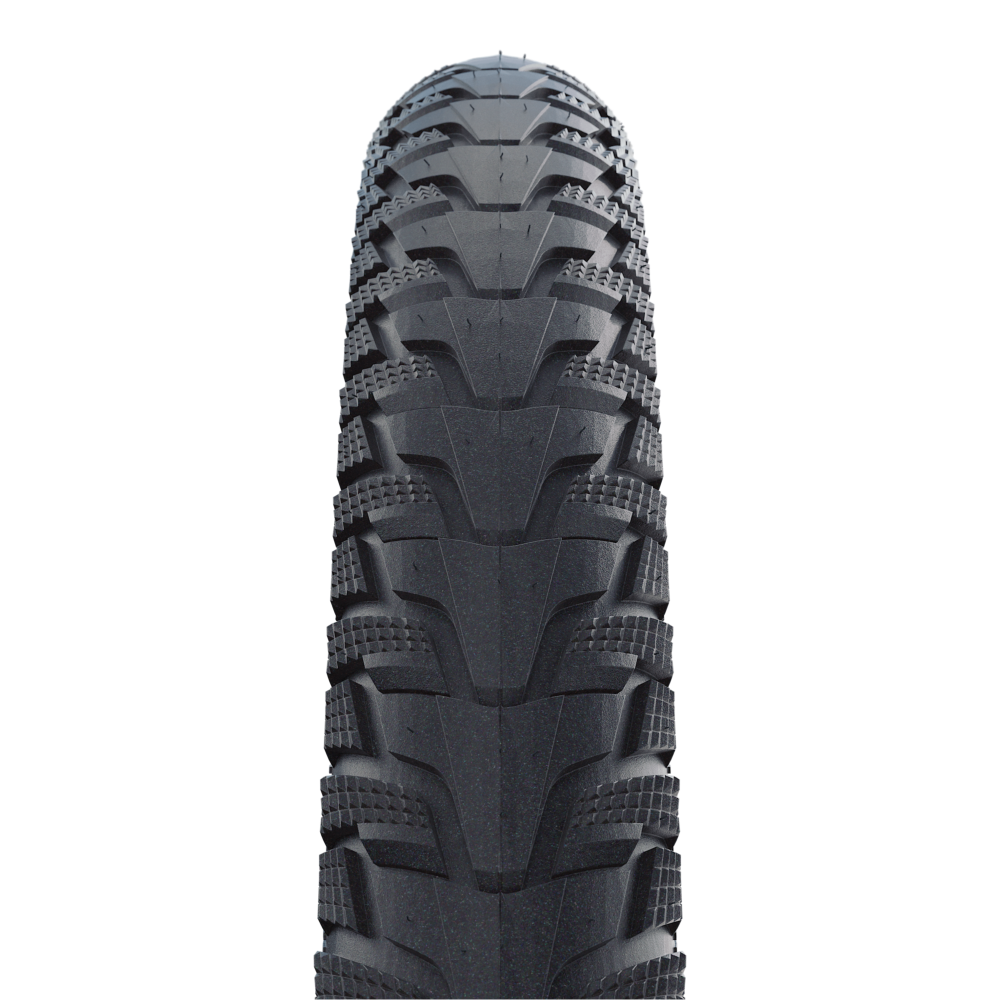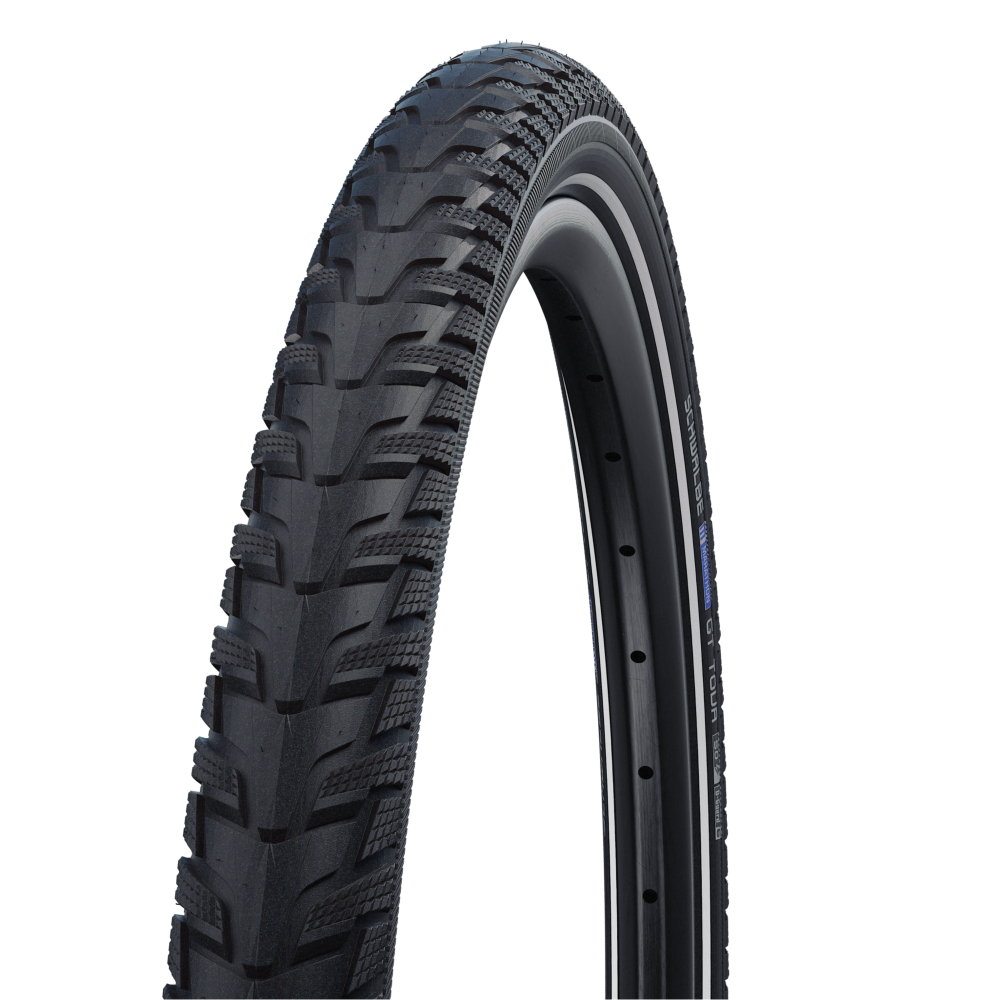 Product Description
AS LONG AS THE BATTERY LASTS. Non-stop riding fun with the E-touring specialist Energizer Plus Tour. The 3mm strong GreenGuard provides the same level of security as Energizer Plus. Equipped with a revised tread design which for years has successfully proven itself on our Marathon GT Tour, the Energizer Plus Tour is the ideal companion for E-tours on the road or unpaved surfaces. Of course, it has a high-quality carcass (67 EPI carcass), specialized ADDIX E-Compound and ECER75 certific ation for all classes of E-Bikes.
Best Use
Technical Data
Size:

ETRTO 37-622 (28x1.40 Inch)

Type:

Wired

Compound:

Addix E

Version:

GreenGuard

Colour:

Black-Reflex

Seal:

Tube

Weight:

755 g

Pressure:

4.0-6.0 Bar (55-85 psi)

Maximum load:

95 kg

EPI:

67

E-Bike:

E-50

Profile:

HS485

Product number:

11159247

EAN:

4026495891141

Price:

US$38.00
Ratings
Features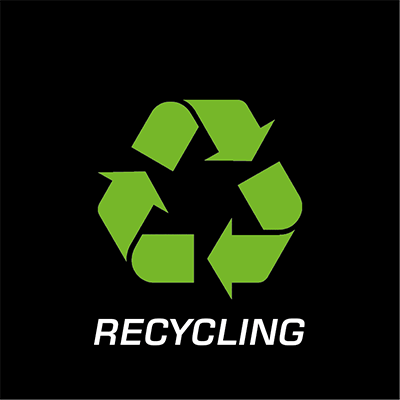 Recycling
Old products made of natural rubber (such as gloves, tubes...) are crumbed and, over several procedural steps, used as base material in the puncture protection system.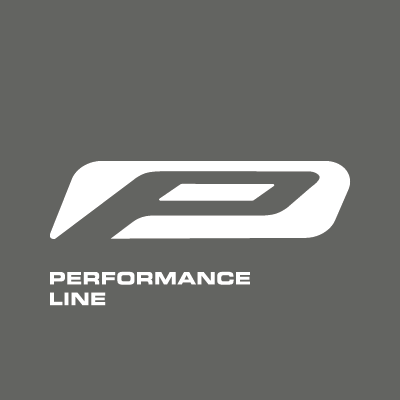 Performance Line
Excellent quality for intensive use.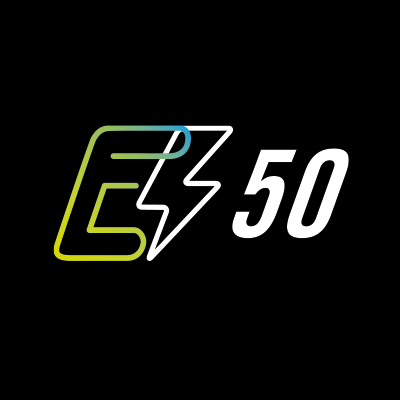 E-50
E-Bike tires with European ECE-R75 approval. Our recommendation for fast E-Bikes - S-Pedelecs with type approval, insurance, and motor assist over 25 km/h – for which a special tire approval is necessary.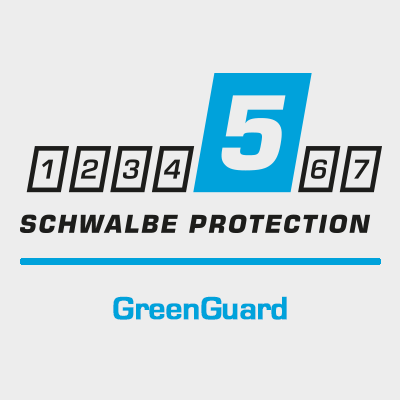 GreenGuard
The puncture protection layer under the tread is made of 3mm flexible, special India rubber. Partly from recycling. Particularly reliable protection.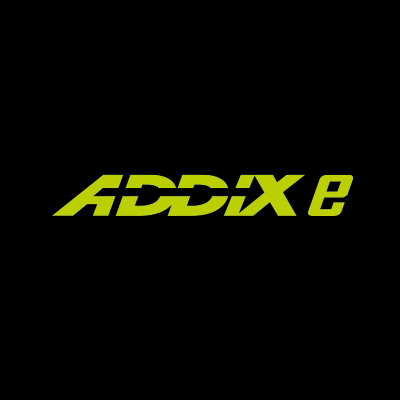 ADDIX E Compound
Specially developed for e-bikes. A rubber compound for maximum durability, low rolling resistance and exceptionally good grip even at high speeds.
Product overview
Find your perfect tire even faster. Use the search to narrow down the articles or
sort the tires with the arrows directly in the table according to your interest.
| | | | | INCH | ETRTO | SIZE | VERSION | SEAL | TYPE | E-BIKE | COMPOUND | COLOUR | BAR | PSI | WEIGHT | EPI | MAXIMUM LOAD | PRODUCT NUMBER | QUALITY | PRICE | |
| --- | --- | --- | --- | --- | --- | --- | --- | --- | --- | --- | --- | --- | --- | --- | --- | --- | --- | --- | --- | --- | --- |
| | | HS485 | 4026495902564 | 28" | 55-622 | 28x2.15 | GreenGuard | Tube | Wired | E-50 | Addix E | Black-Reflex | 2.0-4.0 | 30-55 | 1250 g | 67 | 132 kg | 11159342 | Performance Line | US$42.00 | |
| | | HS485 | 4026495891226 | 28" | 50-622 | 28x2.00 | GreenGuard | Tube | Wired | E-50 | Addix E | Black-Reflex | 2.5-4.5 | 35-65 | 1100 g | 67 | 121 kg | 11159250 | Performance Line | US$42.00 | |
| | | HS485 | 4026495891103 | 28" | 40-622 | 28x1.50,700x38C | GreenGuard | Tube | Wired | E-50 | Addix E | Black-Reflex | 3.5-6.0 | 50-85 | 840 g | 67 | 100 kg | 11159248 | Performance Line | US$38.00 | |
| | | HS485 | 4026495891141 | 28" | 37-622 | 28x1.40,700x35C | GreenGuard | Tube | Wired | E-50 | Addix E | Black-Reflex | 4.0-6.0 | 55-85 | 755 g | 67 | 95 kg | 11159247 | Performance Line | US$38.00 | |
| | | HS485 | 4026495891189 | 28" | 47-622 | 28x1.75 | GreenGuard | Tube | Wired | E-50 | Addix E | Black-Reflex | 3.0-5.0 | 45-70 | 1020 g | 67 | 115 kg | 11159249 | Performance Line | US$40.00 | |