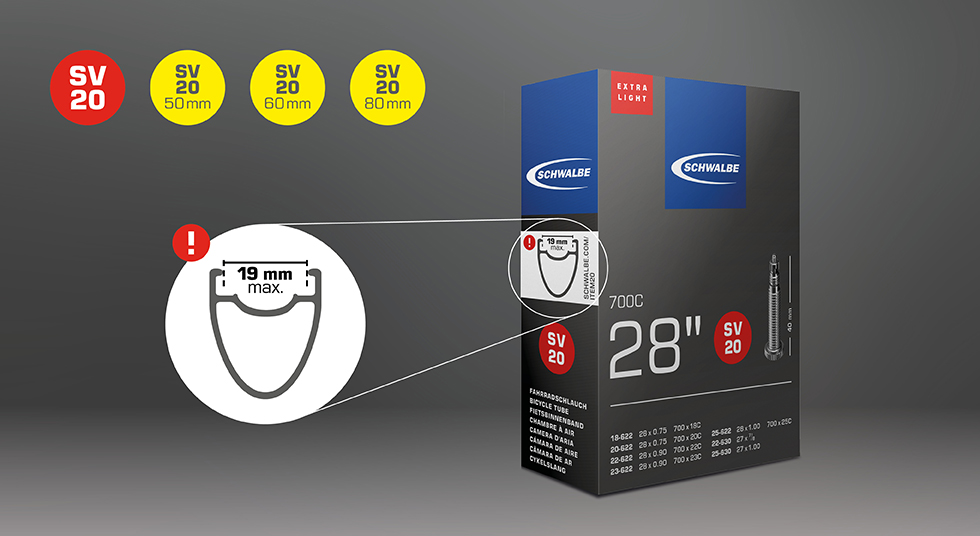 COMPATIBILITY NOTE FOR SCHWALBE TUBE ITEM 20 'EXTRA LIGHT'
Modern tires and rims are getting wider. This has a particularly positive effect on the riding experience and performance. The use of wider rims has the effect of increasing the cross-section of the tire and thus its internal volume. This can result in the tube used being overstretched.
For this reason, Schwalbe tubes of the group Item 20 'Extralight' may only be used with rims with a maximum inner rim width of 19mm (19C). Prerequisite to this ist he adherence to the approved dimensions according to the labelling (18/25-622/630).
! ! If this is not observed, there is a risk that the inner tube in the tire will be overstretched and no longer have sufficient wall thickness. The tube could burst as a consequence and cause the cyclist to fall while riding.
INVOLVED ITEMS:
TUBE GROUP: 18/25-622/630
| | | |
| --- | --- | --- |
| Article number | Description | Valve length |
| 10426343 | SCHWALBE SV20 EXTRA LIGHT | 40mm |
| 10400103 | SCHWALBE SV20 EXTRA LIGHT | 50mm |
| 10426363 | SCHWALBE SV20 EXTRA LIGHT | 60mm |
| 10426383 | SCHWALBE SV20 EXTRA LIGHT | 80mm |
COMBINABLE TIRE SIZES:
WITH RIMS WITH AN INNER RIM WIDTH UP TO 19MM (19C)
18-622, 20-622, 22-622, 23-622, 25-622, 22-630, 25-630
Alternative tube recommendation for rims with inner rim width over 19mm/19C -> Schwalbe Item 15.
FIND YOUR TUBE
The quick and easy way to find the right tube. The tube filter helps you find the correct tube for your tire.
Please note: More than one result is often shown for a tire size. Schwalbe tubes are extremely elastic and fit several tire sizes.