SCHWALBE DONATES AGAIN UP TO 15.000 EURO TO THE WORLD BICYCLE RELIEF
---
FAMILY BUSINESS DOUBLES EVERY DONATION OF 15 EUROS OR MORE ON ONLINE PORTALS OF MTB NEWS
Aid money with an enormous everyday impact: this year Schwalbe will again support the Christmas campaign of the portals MTB News, eMTB News and Road News in favor of the aid organization World Bicycle Relief (WBR). The family-owned company will double every donation of 15 euros or more received there before Christmas - up to a total of 15,000 euros.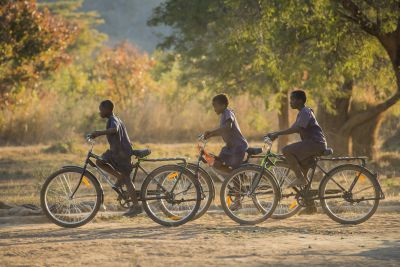 "It is enormously impressive to see the positive impact that the bicycles World Bicycle Relief provides to people have on their everyday lives. That's why it has been very close to our hearts for many years to support these projects," said Frank Bohle, managing partner of Ralf Bohle GmbH, to which the Schwalbe brand belongs. "We hope that with our participation, as in the previous year, we can motivate as many people as possible to make a donation to World Bicycle Relief."
Schwalbe has already been involved with WBR since 2014. As part of its own aid programs, the organization hands over particularly robust and locally assembled bicycles, known as Buffalo Bikes, to people in rural developing regions enabling them greater mobility. In 2021 alone, well over 60,000 bikes were delivered.
"The often very long distances to school are one of the main reasons why many children often arrive at school already completely exhausted and drop out in the long term," explains Juana Gräter from World Bicycle Relief. "With the bicycles, they save valuable time and energy, can concentrate better in class, and thus have the chance to graduate from school with better grades."
About World Bicycle Relief
The international aid organization World Bicycle Relief develops and produces robust, high-quality cargo bicycles that are assembled locally and can withstand the special requirements in rural developing regions. Micro-entrepreneurs use the bicycles to increase their productivity and earn better incomes. Schoolchildren attend classes more regularly, improve their performance and have better future opportunities. Health care workers can reach more people, even in remote areas, and thus intensify care. To ensure the sustainability of its programs, WBR also trains local bicycle mechanics.
World Bicycle Relief was founded in 2005 by F. K. Day (SRAM) after the Indian Ocean tsunami. Since then, more than 610,000 bicycles have been delivered to a total of 21 countries and more than 2,600 mechanics have been trained, including in Kenya, Zambia, Zimbabwe, Malawi, and Colombia.
Further information
SCHWALBE | Ralf Bohle GmbH
Press Office
Otto-Hahn-Straße 1 | 51580 Reichshof-Wehnrath
Phone: +49 22 65 109-0 | press@schwalbe.com
www.schwalbe.com