Of several proven MTB tires Schwalbe brings out new versions for the Eurobike, including several models specially reinforced for E-mountain bikes.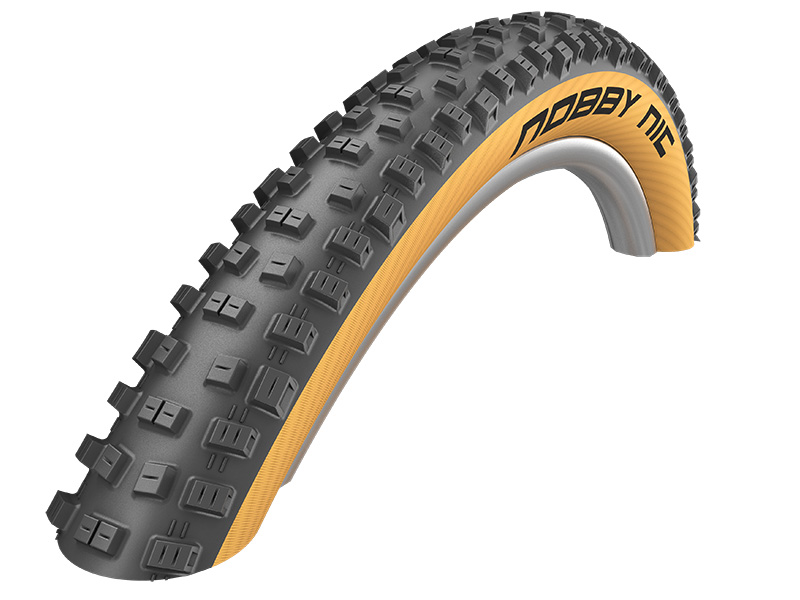 MTB-NEWS
Always wider: Smart Sam and Racing Brothers
Man, he is thick: The indestructible all-rounder Smart Sam now comes out in 65-622 (29 x 2.60). With Double Defense technology - Raceguard and Snakeskin from bead to bead - he is perfectly equipped for E-MTB use. The other new sizes 60-584 (27.5 x 2.35) and 60-622 (29 x 2.35) close the gap between 57 and 65 millimeters.
Racing Ray and Racing Ralph also roll on wider feet: the specialists for modern, technically demanding X-country tracks bring even more driving fun with the enormous volume. New: Racing Ralph in 57-559 (26 x 2.25) and 60-622 (29 x 2.35) and Racing Ray in 60-622 (29 x 2.35).
E-MTB reinforcement for Hans Dampf and Magic Mary
With these wide tires and extremely stable carcasses, riders can take full advantage of their potent e-mountain bikes: The enduro expert Hans Dampf and the downhill specialist Magic Mary now come out in the new size 65-584 (27.5 x 2.6) and with Super Gravity carcass. Unbeatable also as a duo with Magic Mary in front and Hans Dampf on the rear wheel. Both models are available in the most common sizes also alternatively with stylish Classic Skin sidewall.
Classic Skin now Tubeless Easy
Schwalbe upgrades its Classic-Skin sidewall with modern Tubeless Easy technology: Five of the most popular MTB tire models are now also available with the new Classic-Skin sidewall. The new versions are full models completely without weight or rolling resistance disadvantages. Visually, the classic light sidewall with the shimmering snakeskin creates attractive contrasts to the clean bike. Models in Classic Skin: Nobby Nic, Magic Mary, Hans Dampf, Racing Ralph and Racing Ray.
Rocket Ron: New size for the children MTB
For small bikers with big goals: Schwalbe brings out its MTB Rocket in 57-406 (20 x 2.25) and 60-507 (24 x 2.35). At 360 grams in 20 inches, the extremely light tires offer a wide contact patch and can be ridden with little air pressure - both of which provide plenty of grip and traction. The tubeless-compatible Evolution Line folding tire with Addix Speed Compound meets the highest quality standards. Schwalbe's little rocket for the children's mountain bike is available in bike shops.
The Hurricane returns
The Schwalbe evergreen now comes in a new edition with intermediate tread for light terrain. The new Hurricane rolls quickly and whisper-quietly over the asphalt with its smooth central web. But its stable shoulder lugs also give it excellent off-road qualities with firm grip on forest tracks and gravel. Optimal micro-serration in the shoulder area keeps every cornering safe. The all-terrain tire is available in six versions - including RaceGuard and Double Defense - up to a width of 62 millimeters (2.40 inches).
Further information
SCHWALBE | Ralf Bohle GmbH
Press Office
Otto-Hahn-Straße 1 | 51580 Reichshof-Wehnrath
Phone: +49 22 65 109-0 | press@schwalbe.com
www.schwalbe.com