7 GIFT IDEAS
---
FOR BIKE FANS
Whether it's a mini-manometer, multitool or four-season tires - these small and somewhat larger gifts will please real bike fans.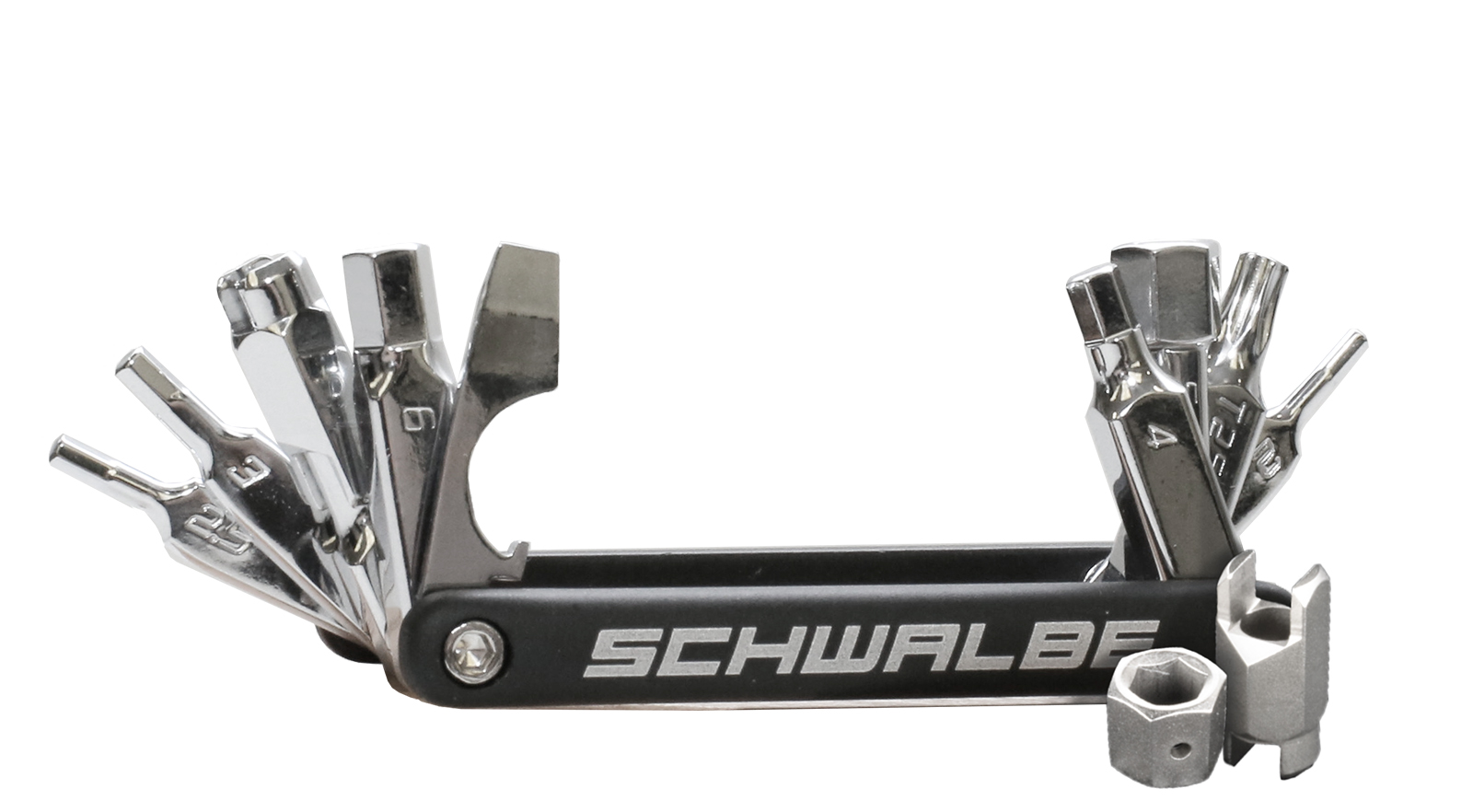 GIFTS FOR REAL BIKE FANS
For a cultivated bicycle culture, not only the bikes are thought out down to the smallest detail, but also the accessories fulfill practical purposes as well as design requirements. If you are looking for Christmas gifts for frequent cyclists, technology fans or passionate cyclists, you will find what you are looking for in the following products.
Mini air pressure gauge: The right air pressure is the be-all and end-all for unadulterated riding fun and the protection of the tire sidewall. Check air pressure, which is only possible with a floor pump - or the handy manometer Airmax Pro. This allows you to quickly determine whether the tire still has the required pressure of around 3.5 bar (example for 70 kg rider weight and 40 mm tire width). The device measures precisely up to the high-pressure range around eleven bars.
All-season tires: These are not only available for cars, but also for bicycles! You can tell from the pithy all-weather tread of the Marathon GT 365 that it was made for adverse conditions. With the Four Seasons bicycle tire roll weatherproof city cyclists, commuters and conviction cyclists safely through the cycling year.
Saddle bag: Road cyclists are happy about the stylish road bike saddle bag with spare tube and two tire levers for mounting. If on the way a tube makes flabby, this small bag contains everything for the tube change.
Multitool with valve functions: For cyclists, a handy tool that also has integrated functions for valve inserts (SV, AV) and valve extensions. Especially in times of tubeless, puncture protection fluids and screw-on air pumps, valve cores need to be screwed out or tightened again more and more often. The multitool contains Allen keys in 3, 4, 5, 6 and 8 mm, T25 Torx, slotted screwdriver - and a bottle opener. Valve functions: SV valve core, SV valve extension, AV valve core.
Spare spikes: With spike tires, for example the Schwalbe Marathon Winter, winter cyclists stay safely on track on icy roads. If a metal spike is ever lost, it can be easily replaced: For this purpose, there is a set of 50 replacement spikes and tools for easy insertion.
E-bike tires: The tires of the Schwalbe E-Bike Tires series have been specially designed for e-bikes. For frequent riders, the manufacturer recommends the Energizer Plus. Its rubber compound offers the maximum durability, low rolling resistance and exceptional grip even at high speeds, which is especially relevant for e-bikes. Safety is ensured by the three-millimeter thick GreenGuard protection belt. For this total package, the tire received the European ECE-R75 test seal for fast e-bikes.
Magnetic dust cap: A tiny part with a big impact for ambitious athletes and design fans. This small dust cap is equipped with a strong magnet - and takes over for the bike computer the task of the spoke magnet when measuring mileage. An extra spoke magnet is then no longer necessary - and the bike looks a bit cleaner.
All products from Schwalbe are available in bike shops.
Further information
SCHWALBE | Ralf Bohle GmbH
Press Office
Otto-Hahn-Straße 1 | 51580 Reichshof-Wehnrath
Phone: +49 22 65 109-0 | press@schwalbe.com
www.schwalbe.com