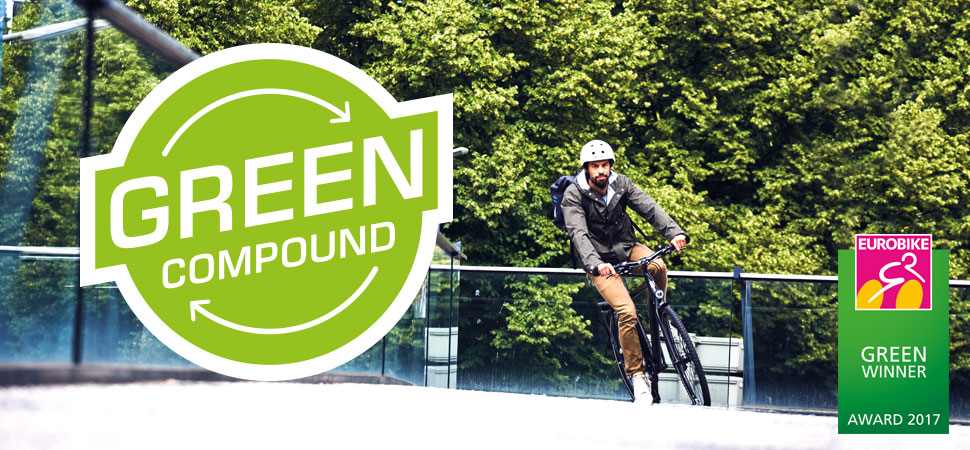 NEW: GREEN COMPOUND FOR ROAD CRUISER TIRES
---
Tread rubber made from renewable and recycled raw materials.
For the first time ever, using the newly developed special technology from Schwalbe, it's possible to produce the compound on the tread (tread rubber) of a bicycle tire from renewable and recycled raw materials. The Green Compound offers good performance in respect of grip and durability.

A bicycle tire is made up of many different materials. The tread, however, is made entirely of rubber and accounts for around 70 to 80 percent of the tire's total rubber content. So, it's here in particular that using renewably produced rubber is most appropriate.

THE ADVANTAGES OF GREEN COMPOUND
The rubber is manufactured from natural rubber obtained from renewable rubber trees and from recycled rubber materials, such as rubber gloves and door seals. In addition to saving raw materials, it also saves energy during production. On top of this, the Green Compound also contains no carbon black. Overall, that's quite a significant step towards sustainability.
SUSTAINABLE TECHNOLOGIES
GREEN GUARD
One third of the Marathon´s puncture protecion belt is composed of recycled products.

TUBE RECYCLING
German specialist retailers can take advantage of a returns system to send used tubes back to Schwalbe free of charge so that they can be recycled and used in the production of new tubes.

GREEN COMPOUND
The compound on the tread of the Road Cruiser is made from renewable and recycled raw materials.