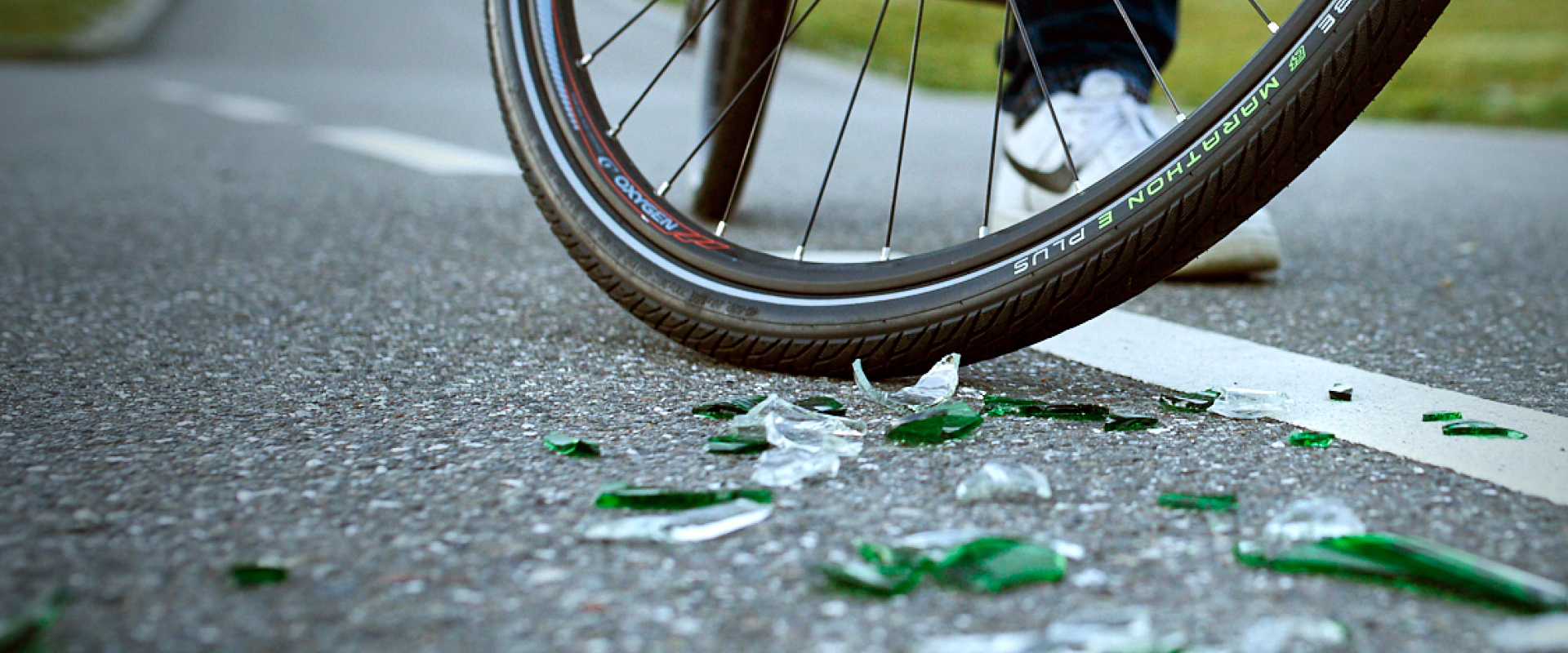 FLAT-LESS

---
THE ORIGINAL FROM SCHWALBE
Do you ride your bike mainly around town? Do you ride your bike cross-country or over off-road terrain? Do you need the highest level of puncture resistance for your bike? Whatever the demands, there is the right Schwalbe flat-less tire for you. And, if you ride an e-bike to get around, we have now developed Marathon E-Plus, the first Schwalbe flat-less tire designed specifically for e-bikes.
MARATHON PLUS
---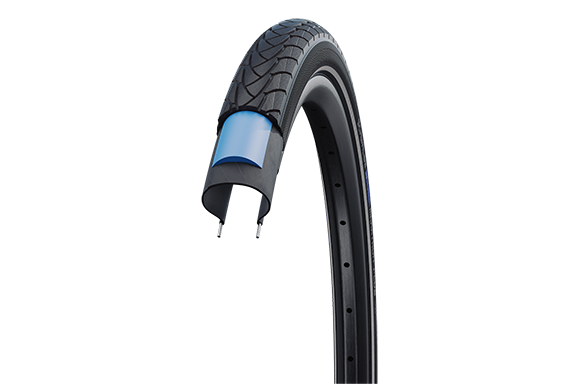 Schwalbe's best-selling tire. Outstanding puncture protection combined with excellent rolling features.
To the product
MARATHON E-PLUS
---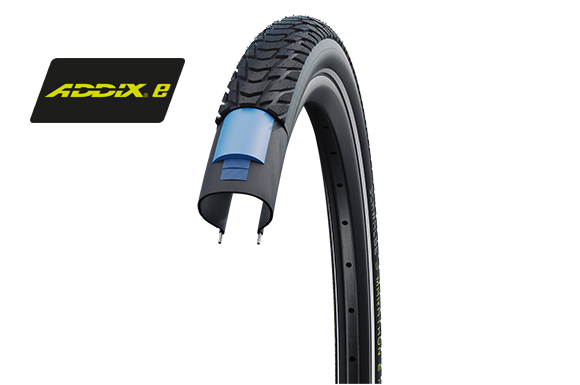 The first flat-less tire designed for e-bikes. Perfectly adapted to high loads caused by heavy weight and elevated average speed.
to the product
MARATHON PLUS TOUR
---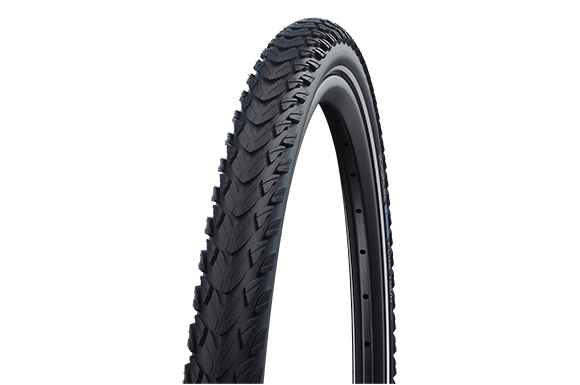 The Schwalbe flat-less tire with deep trekking tread. At home both on asphalt and off-road terrains.
to the product
MARATHON PLUS MTB
---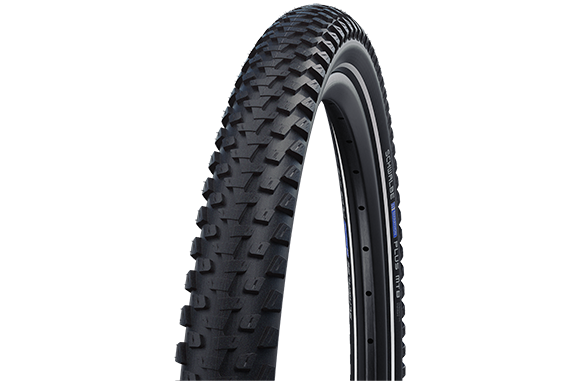 The Schwalbe flat-less tire with MTB tread. The central ribs roll effortlessly over paved road surfaces. The powerful outer lugs provide grip over rough terrain.
to the product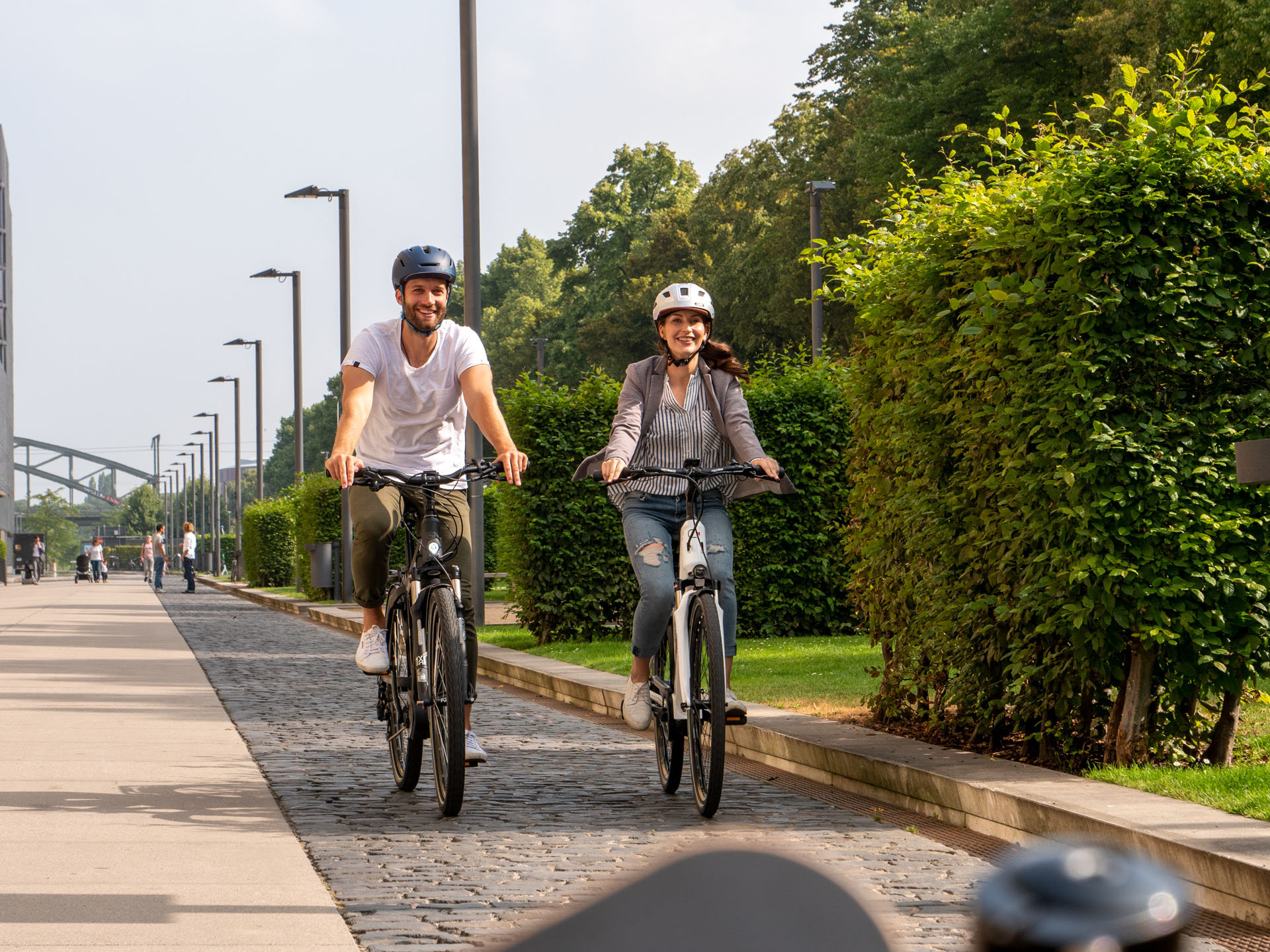 Maximum puncture resistance, outstanding rolling behavior and long lifespan. The Schwalbe Marathon Plus tire is unbeatable thanks to the sum of its superior features.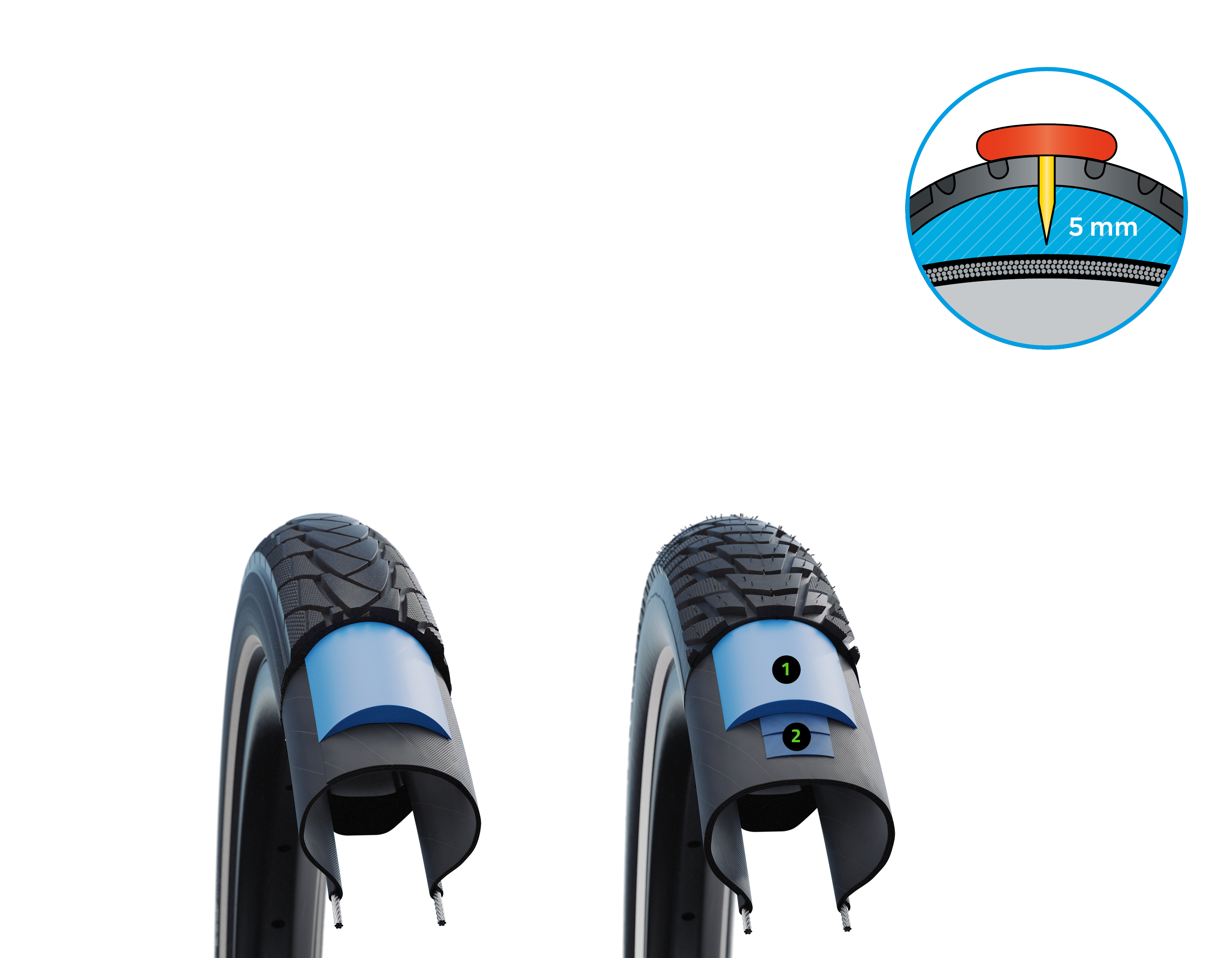 FLAT-LESS PUNCTURE PROTECTION
The Marathon Plus tire patented puncture protection belt is unique worldwide. It is super strong and manufactured from highly elastic special rubber. Even sharp tacks cannot puncture it.
SmartGuard®
The ultra effective protection belt with 5 mm highly elastic, special rubber.
Puncture protection proven a thousand times over for Marathon Plus, Marathon Plus Tour and Marathon Plus MTB.
Smart DualGuard
The safest puncture protection designed for the demands of e-bikes. 4 mm thick SmartGuard special rubber (1), combined with 2 RaceGuard fabric layers (2).
The newly developed puncture protection for Marathon E-Plus e-bike tires.


LONG LIFESPAN
Weather conditions and low air pressure can lead to early aging of bike tires. This is the reason we have developed an anti-aging technology: it prevents ugly cracks in the tire sidewalls.
At the same time, Marathon Plus and Marathon Plus Tour live up to their name thanks to their rubber compound: the endurance compound cruises smoothly for thousands of miles with outstanding handling behavior and low abrasion. And, in the case of the specific high loads supported by e-bikes, Marathon E-Plus, with ADDIX-E compound, is especially suitable, offering maximum durability and grip.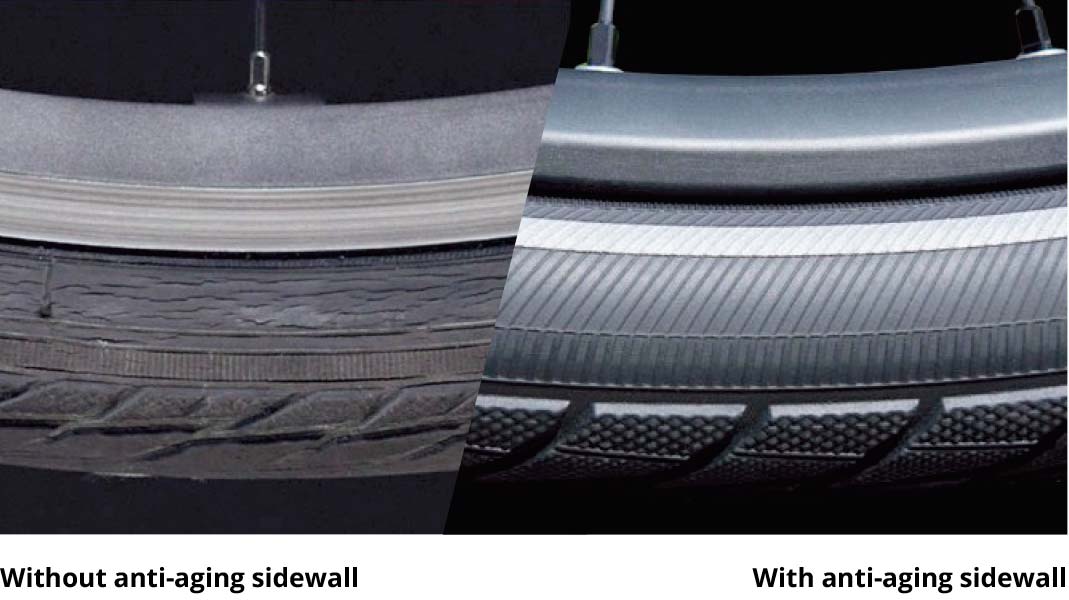 OUTSTANDING ROLLING FEATURES
Thanks to the unique puncture protection, the weight of Marathon Plus tires is slightly higher, but rolling behavior remains excellent. Laboratory tests confirm what riders experience on their bikes: Marathon Plus tires roll significantly more smoothly than other tires with puncture protection belts of a similar thickness.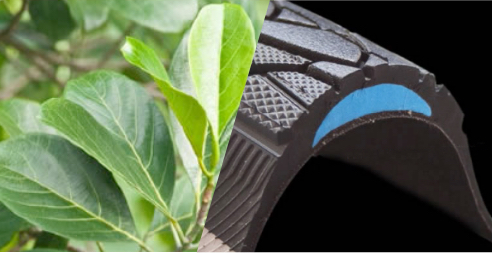 RESOURCE-FRIENDLY
The Marathon Plus tire puncture protection belt is extremely elastic – essential for flat-less protection and dynamic rolling. This high elasticity can only be achieved by using a special rubber, containing a high proportion of natural rubber.
Natural rubber is a valuable raw material. To conserve resources, we incorporate a portion of recycled natural rubber in our flat-less protection belts. This recycling process is very expensive – but we feel it's worth it.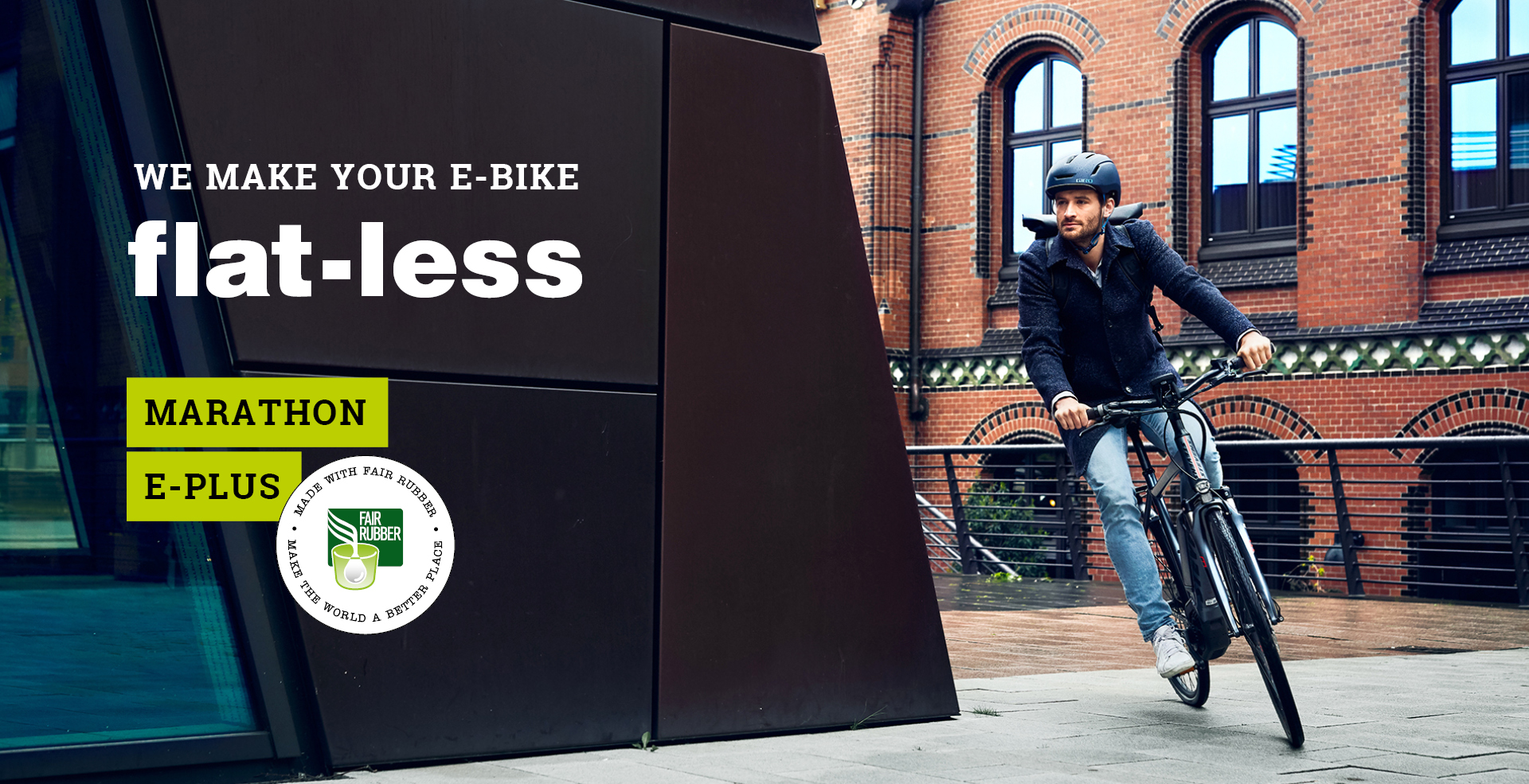 FLAT-LESS FOR E-BIKES
A flat tire on an e-bike is especially annoying because the repair is likely to cost more. At the same time, an e-bike makes special demands on a tire because it is significantly heavier due to the motor and battery pack and reaches higher average speeds.

Schwalbe's answer to this tire challenge has been to develop Marathon Plus with Smart DualGuard: a tire whose flat-less puncture protection technology has been attuned to the specific demands of e-bikes. Marathon E-Plus brings riding safety, durability, smooth rolling, stability and longevity together in one tire.
Good to know: All other Marathon Plus tires meet the high demands required for e-bike tires. And, not only for e-bikes with pedal assist up to 25 km/h. Marathon Plus, like Marathon Plus MTB, is certified in standard sizes with the European test mark ECE R75 for speed e-bikes up to 50 km/h.
E-bikes are exposed to especially heavy loads due to their weight and high average speeds. This is the reason we have developed Marathon E-Plus.
Discover the advantages!
The new Marathon E-Plus is more than simply flat-less. It combines safety, durability, easy rolling, stability, and a long life, all in one.
René Marks
SCHWALBE Product Manager Tour & E-Bike
HIGHLIGHTS
---
DETAILS THAT MAKE THE SCHWALBE MARATHON E-PLUS ONE OF A KIND:
EXCELLENT GRIP
ADDIX E is a special compound for e-bike tires with outstanding grip and great longevity. Even at high speeds, it ensures strong adherence with very low tread wear.
INCREASED LONGEVITY
The anti-aging sidewall endures typical overloads caused by low air pressure for significantly longer.
HIGH STABILITY
A new carcass structure with additional fabric lining in the sidewalls stabilizes the tires for higher load capacity.
GREATER PUNCTURE RESISTANCE
Smart DualGuard is the safest puncture-resistant system for e-bike tires on the market. The SmartGuard puncture-resistant lining (1) is strengthened by two layers of RaceGuard woven fabric (2). Resistance to penetration by sharp objects is also significantly enhanced. Flat-less I Level 7 puncture resistance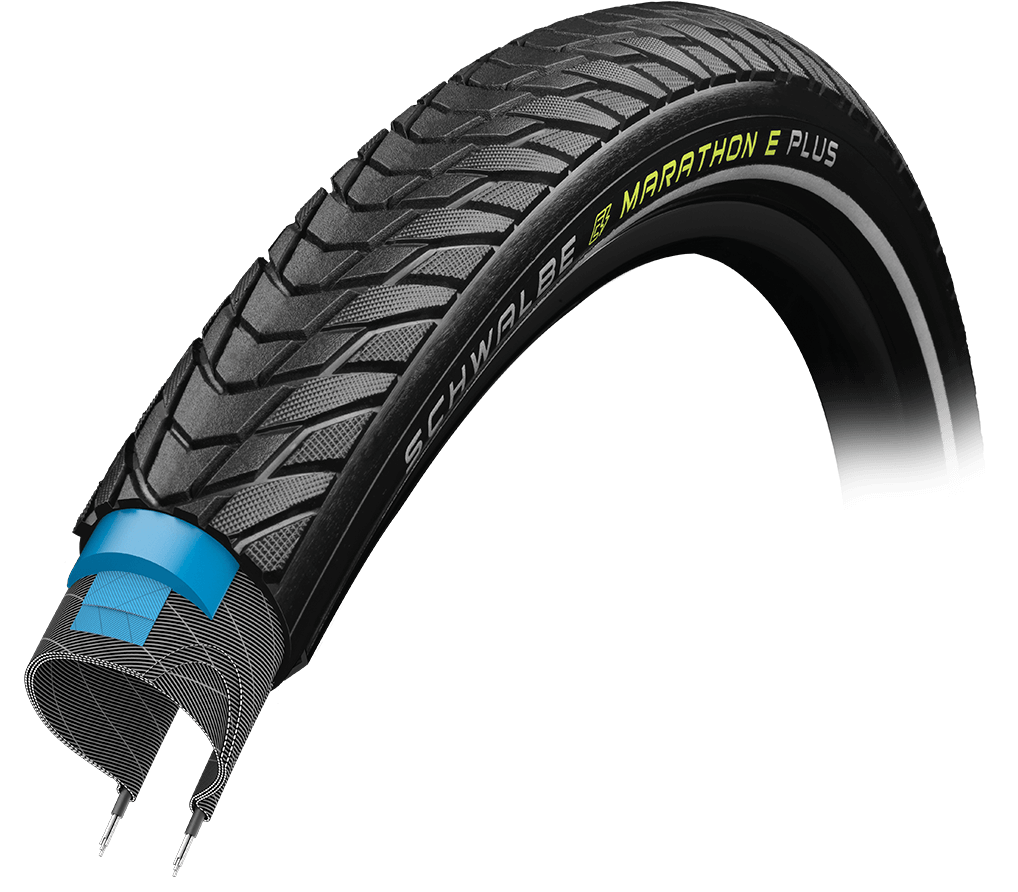 FLAT-LESS IS UNIQUE
Marathon Plus and Marathon E-Plus are the only tires throughout the world that can truly be called flat-less®. This is achieved thanks to the unique puncture-resistant systems "SmartGuard" and "Smart DualGuard". These are available exclusively from Schwalbe.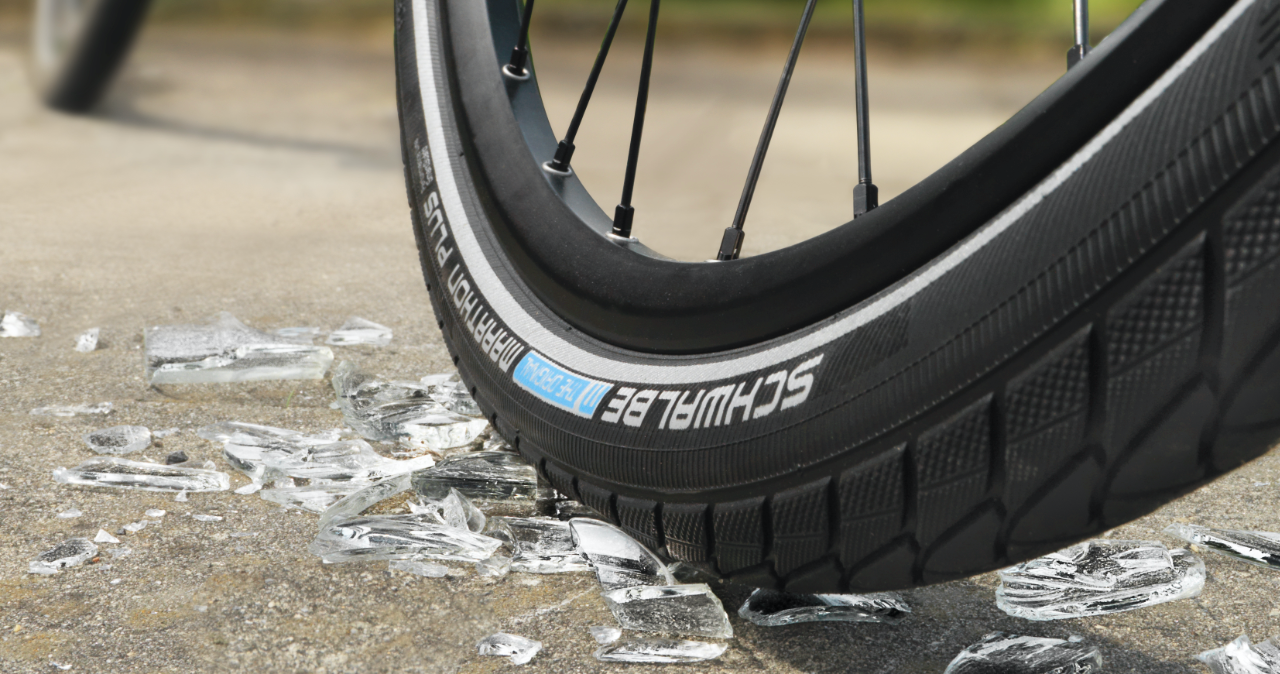 MARATHON E-PLUS AT A GLANCE
Utterly convincing: Marathon E-Plus offers outstanding performance with regard to riding experience, all-round puncture resistance, rider safety and durability.