AEROTHAN TUBE
---
DISTINCTLY DIFFERENT
Aerothan is a material that completely redefines bicycle tubes: extremely light, with maximum puncture protection and designed for minimum rolling resistance.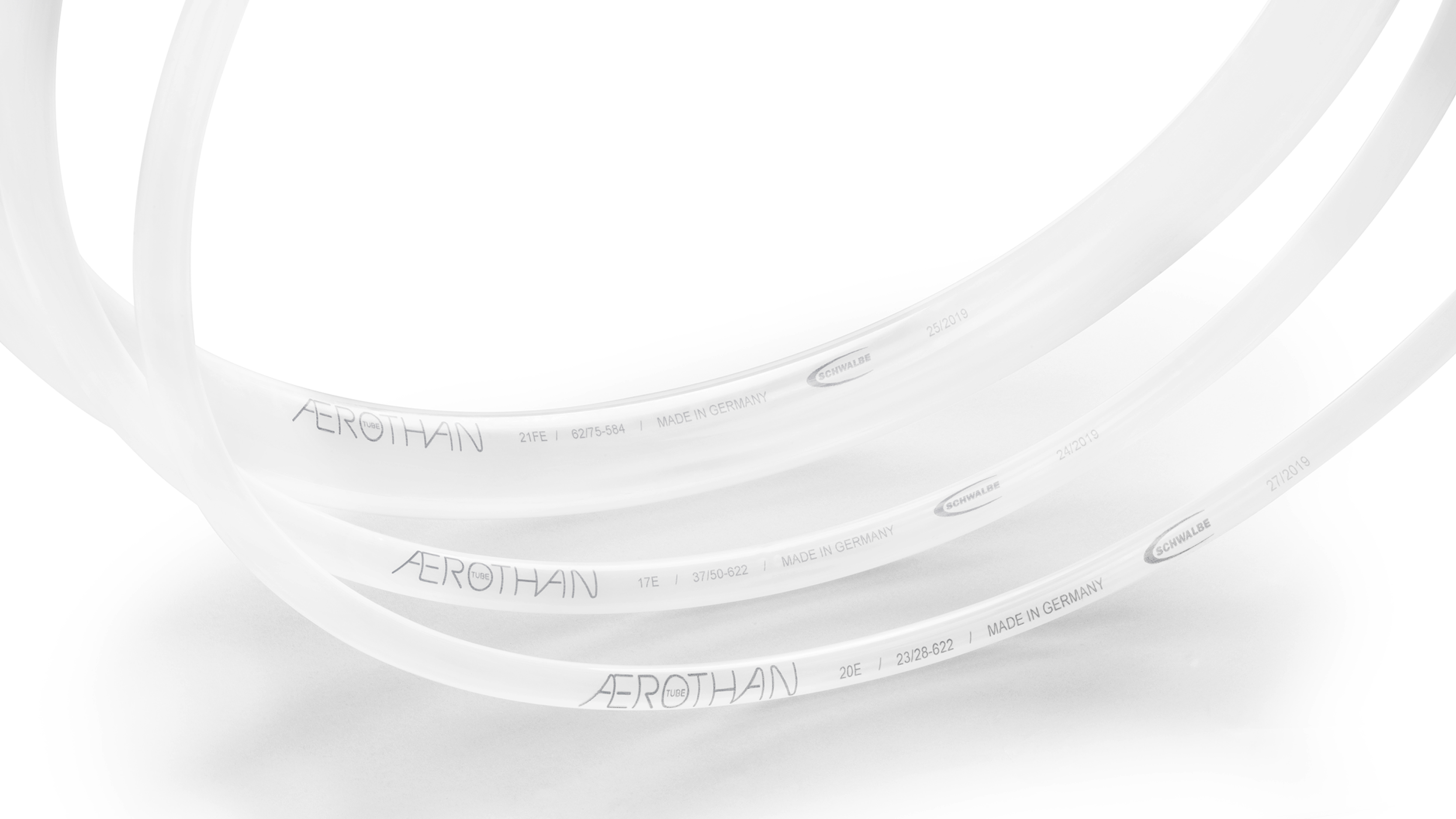 IS THIS STILL A BICYCLE TUBE?
During the development of Aerothan Tubes, we have explored new avenues
right from the beginning. The result was a high-end alternative to
conventional bicycle tubes. The next generation Aerothan tube
sets new standards for weight, puncture protection, riding characteristics, easy installation and
packing dimensions. Specifically made for
road bikes, MTBs and all-round purposes.

ADVANTAGES OF AEROTHAN TUBES
Fully light-weight, right to the valve - about 40% less weight than a comparable Schwalbe extra light tube

Puncture protection newly defined - the material itself prevents sudden air loss
Minimal rolling resistance - maximum riding dynamics

Extremely heat resistant - certified for rim brakes

A stable ride - even with low air pressures

Easy installation - without slipping or pinching

Made in Germany

100% recyclable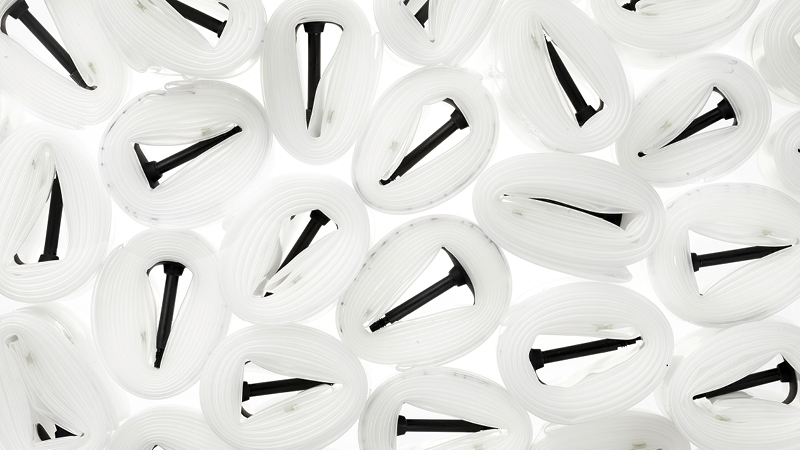 AEROTHAN IS 100% RECYCLABLE
Aerothan tubes consist of 100% thermoplastic polyurethane (TPU),
including the valve, and are therefore fully recyclable.
Like all Schwalbe tubes, Aerothan tubes
may be returned to Schwalbe at no cost
using the tube recycling programme. The material of used
tubes is recycled to make sealing or
insulation material.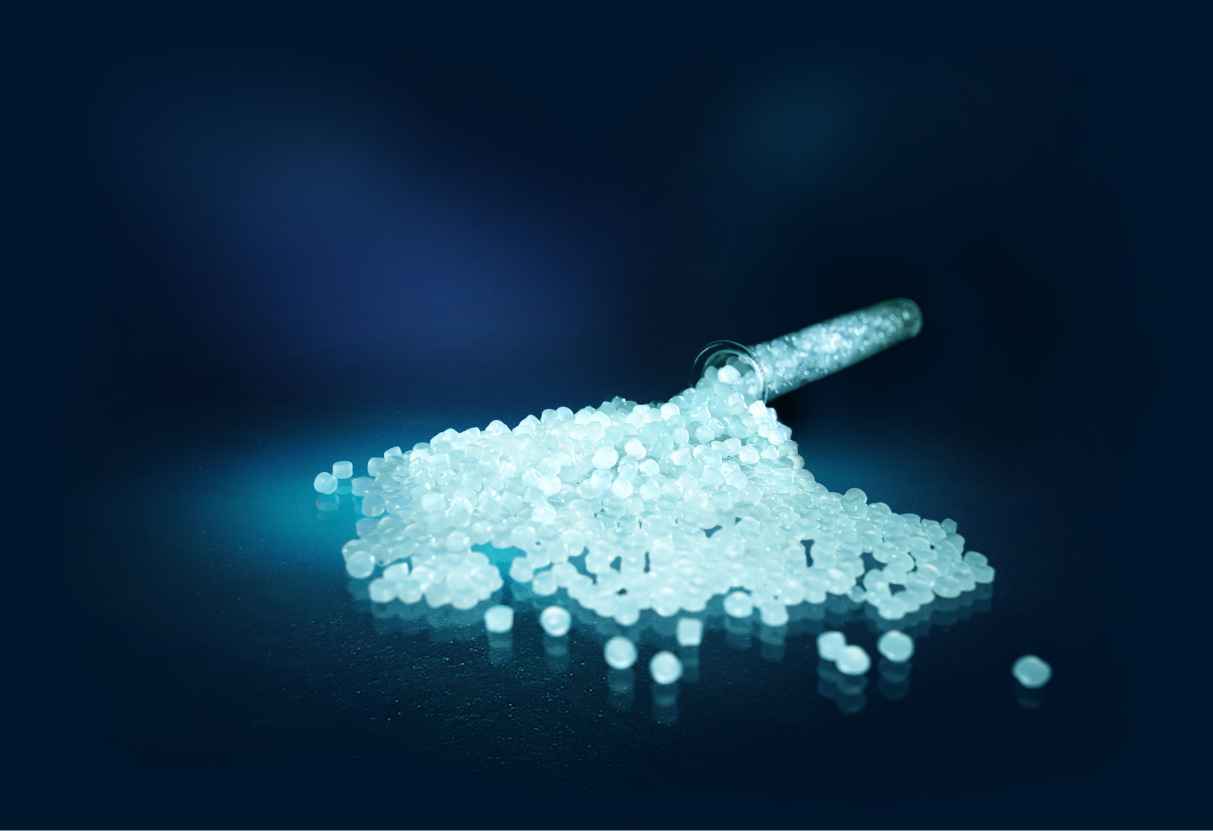 DEVELOPMENT
AEROTHAN. THE WONDER MATERIAL FROM THE SCHWALBE INNOVATION HUB.
Schwalbe aims to offer the ideal product for every cyclist. In terms of high-end bicycle tubes, this is an exciting challenge. The engineers had to combine seemingly opposing features, lowest weight and highest puncture protection. This is a case for the Schwalbe innovation hub, where material compositions and construction principles are redesigned to make entirely new products. Developed in cooperation with BASF and with experts from the German plastic manufacturing industry, the Aerothan tube emerged to not only meet all the requirements of a high-end bicycle tube, but to exceed them.
AEROTHAN SETS NEW STANDARDS WHICH IS FURTHER DEMONSTRATED DURING TESTING
Prior to market release of a Schwalbe innovation, we carry out numerous tests to assess its quality. The Aerothan test results speak for themselves.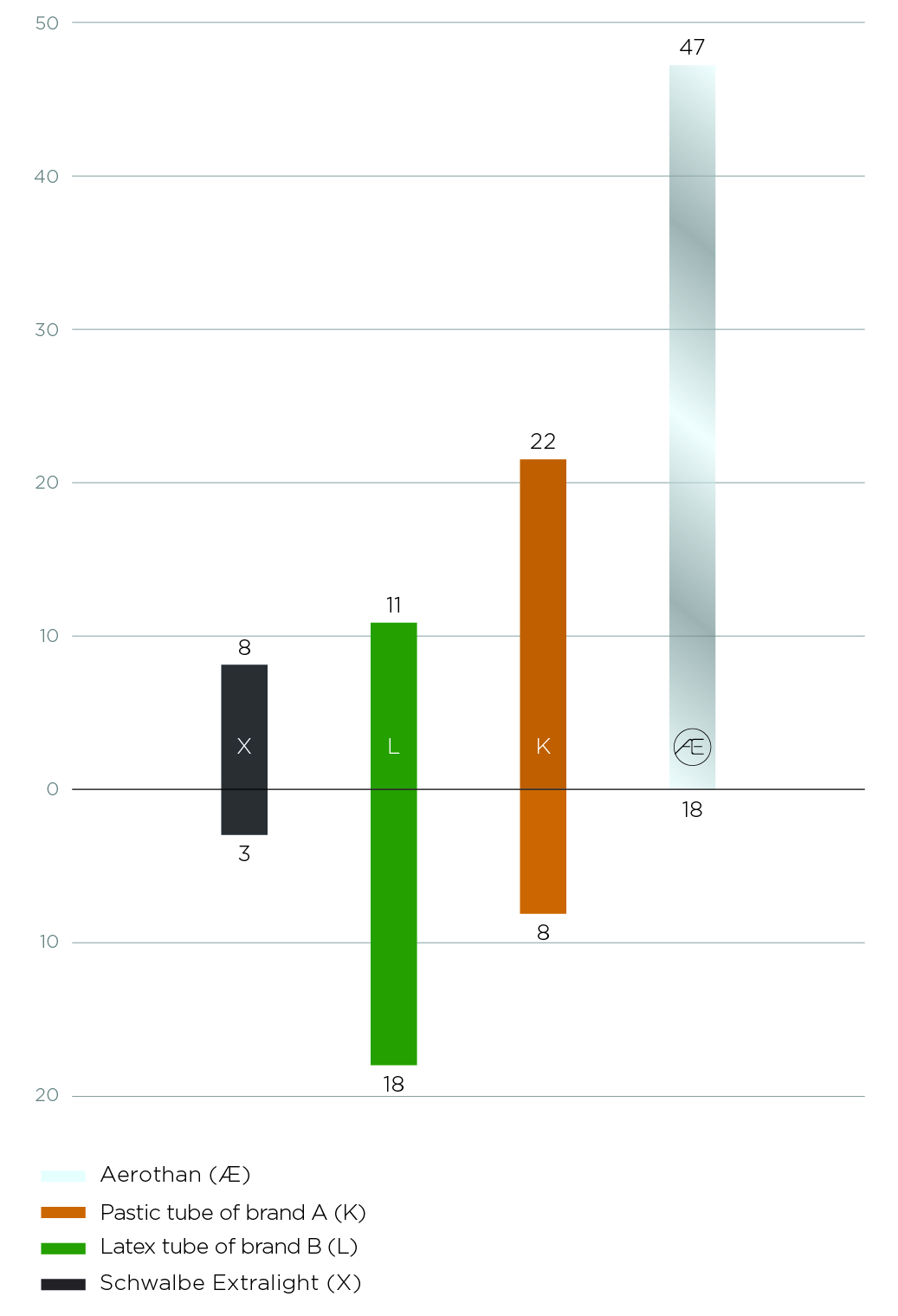 PLUNGER TEST
During the so-called plunger test, a plunger with a round tip (1 mm diameter) is forced into the tube at increasing pressures until it can no longer sustain the pressure.
The Aerothan tube is superior to all other tubes when tested at a force of 47 N, and its stretching capacity of 18 mm was the same as the test result of a latex tube.
SNAKE BITE TEST (ROAD)
During the snake bite test, a guillotine is dropped onto the tire from increasing heights until the tube releases air due to a snake bite.
The Aerothan tube sustains greater drop heights than latex or plastic tubes, and therefore, offers much greater protection from pinch flats.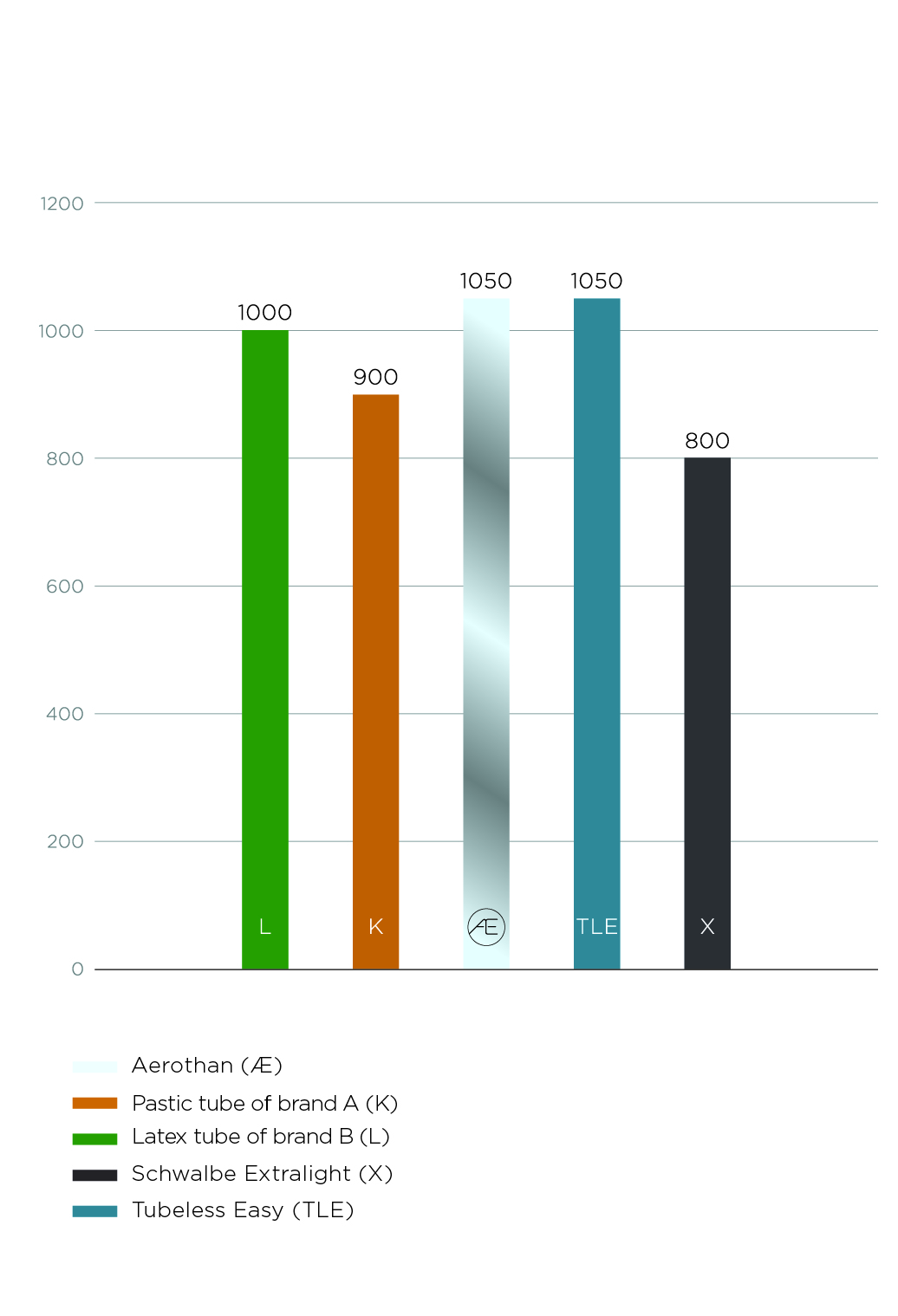 SNAKE BITE TEST (MTB)
During the mountain bike specific snake bite test, a guillotine with a round edge is dropped onto the tire in order to simulate impacts from roots and stones. At the same time, the drop height is increased until the tire releases air due to a snake bite.
The Aerothan tube is comparable to tubeless systems, and during MTB specific testing, it shows significantly greater protection from pinch flats than the X-Light butyl tube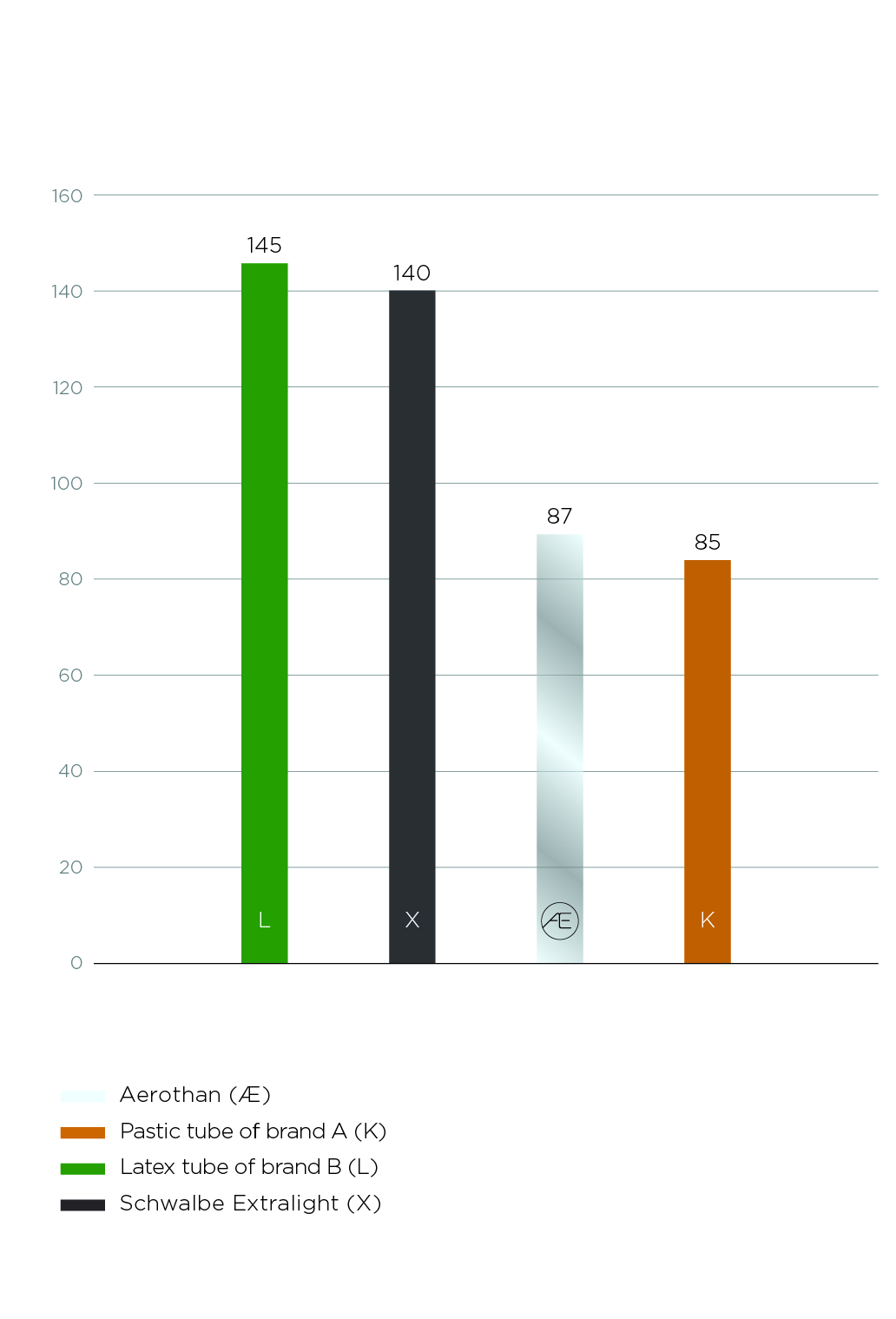 WEIGHT
The given weight is an average value derived from ten tubes each per model which were weighed.
The Aerothan tube saves more than 50 g in weight compared to Schwalbe Extralight, and on top of that, it offers much better puncture protection.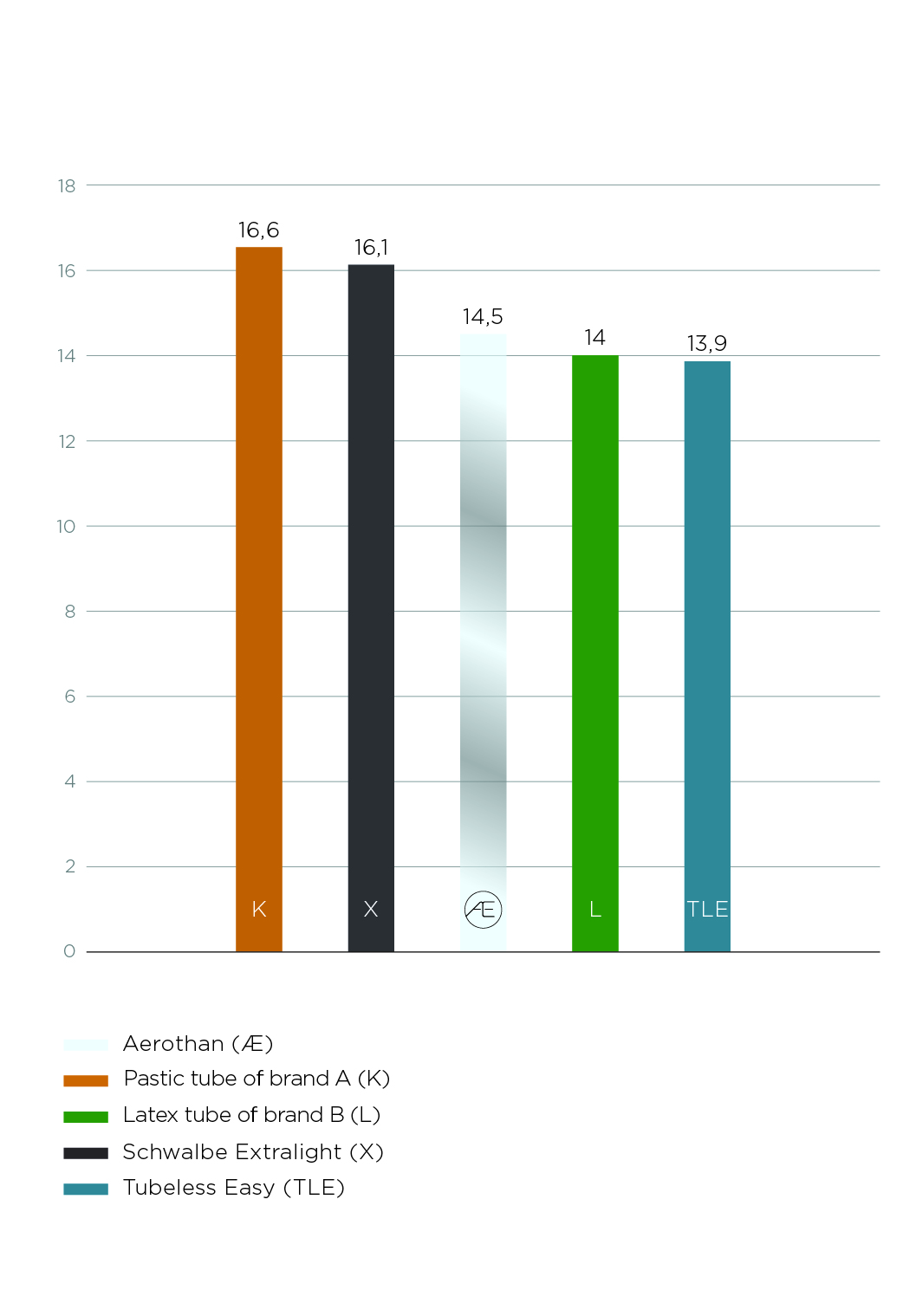 ROLLING RESISTANCE
During the rolling resistance test, the tire rolls at a speed of 40 km/h. The output required to maintain this speed is measured.
Here, the rolling resistance of the Aerothan tube is about the same as the latex tube. However, with much less weight.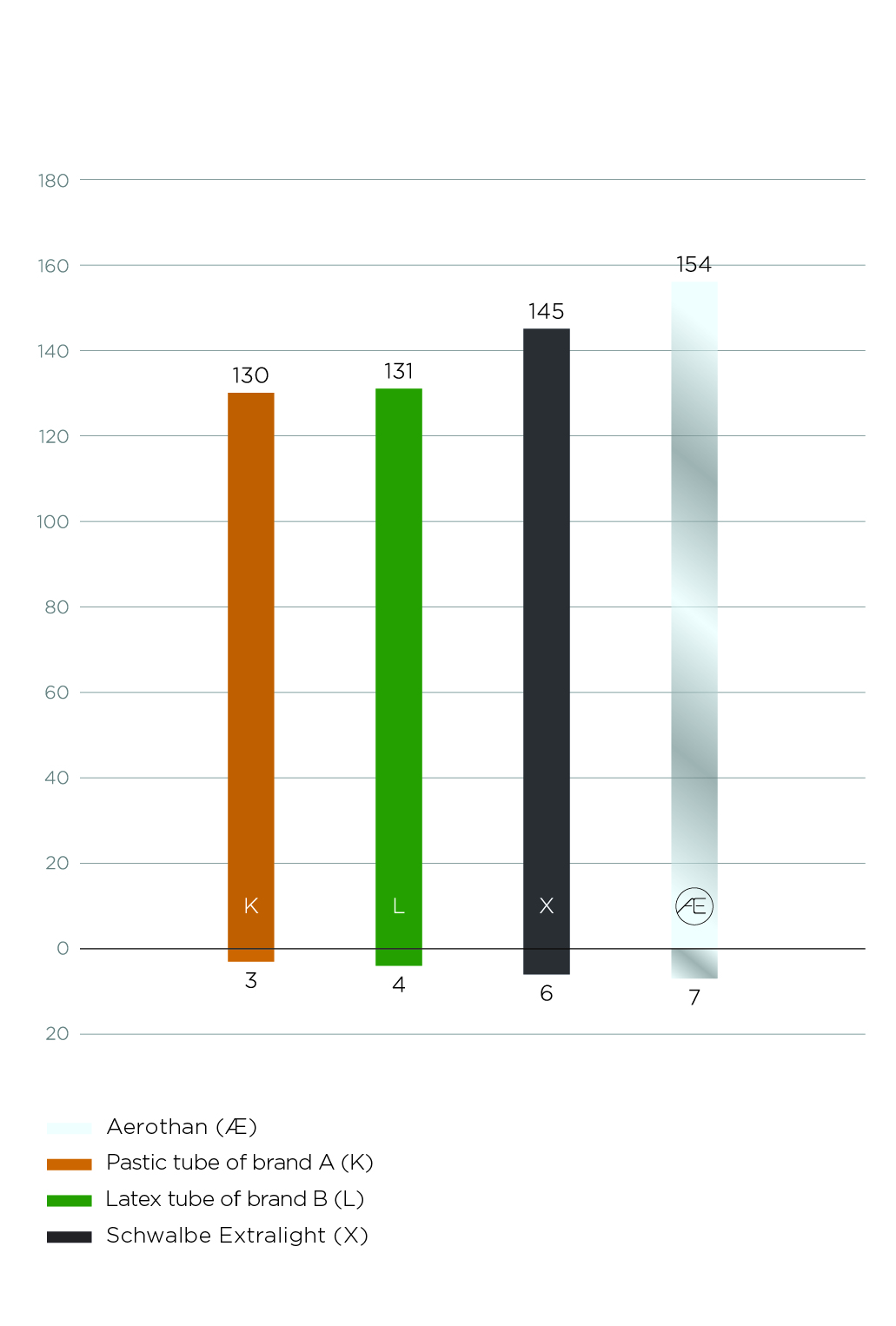 DYNAMIC HEAT RESISTANCE
During the heat resistance test, a starting temperature of 30°C is chosen and the test is carried out at a speed of 78 km/h and a 30% brake force. Additionally, the number of emergency brake applications the tube resists is recorded.
The dynamic test winner is the Aerothan Tube; and this is the only tube that can withstand a sequence of seven emergency brake applications. All Aerothan tubes are approved for use with rim brakes.
Good to know: Aerothan tubes do not suddenly burst. Any air loss oxxurs slowly as a worst case, while the bicycle normally remains easy to control.

QUESTIONS TO THE PRODUCT MANAGER
Interview with Schwalbe product manager Felix Schäfermeier about the development of Aerothan tubes.
How did you come up with the idea of developing a bicycle tube without rubber?
Bicycle tubes are a huge challenge for developers because one needs to combine completely opposing features in one product. A tube must be light-weight, but also extremely stable. With a classic butyl tube, one can achieve great puncture protection and excellent air holding capacities, but realising low weight is the limiting factor. Exactly this is why we wanted to completely rethink tubes and have decided to search for alternative materials. In cooperation with BASF, we have developed a thermoplastic polyurethane (TPU), which suits extreme requirements: Aerothan.
What was the biggest challenge during developments?
TPU-plastics already have many different applications in industry, e.g. as sealing or insulation material. And the approach to use this material for tubes is not new. However, past attempts have had significant limitations. For example, tubes were not approved for use with rim brakes due to a lack of sufficient heat resistance. We wanted to change this and have come up with special testing procedures to be able to test various materials. A thermoplastic polyurethane has allowed us to create an entirely new material base.
Is Aerothan a completely new material?
Yes, absolutely! In cooperation with BASF, we were able to reinvent Aerothan from scratch. Not only did we redevelop the base material, but we also redesigned the entire manufacturing process. During this phase, we got to benefit enormously from the expertise of German companies within the plastics processing industry. Aerothan tubes are produced in Germany using a patented laser welding process. This particular technique allows high precision welding of the valve and tube. In addition, it allows production of extremely flat seams that, not only secure a perfect form fit with the tire carcass resulting in extremely smooth riding, but also play an important role for puncture protection. After all, seams are subject to extreme mechanical stress. The durability of the seam was proven in several tests.
How was this tested?
Aerothan was subject to various lab and field tests where it was compared to existing materials and systems. An important point on the specifications sheet was also thermal resistance when used with rim brakes. Here, we have developed a specific test design which simulates high speed downhill rides on mountain descents. Aerothan has achieved an absolutely unique feature and is more heat resistant than all comparable materials.

What about real applications? Can you already tell us who is riding the new tubes?
erothan tubes have already been tried out by riders from our Schwalbe athletics programme at various events over the past year. These include MTB races such as Cape Epic, the Enduro World Series and long distance triathlons. The former Ironman World Champion Patrick Lange is very excited to use Aerothan tubes. This does not mean that Aerothan tubes are only intended for competitive athletes. We have also received very positive feedback from cyclists riding around the globe and bike packers. These tubes are just perfect for travelling by bike, because they are super light and stable, yet they do not take up very much space in the luggage.
And what is the verdict about the riding feel?
Aerothan tubes have been tested especially by riders with high tubeless affinity. At first, they were very sceptical, but the overall feedback was positive, some of them were actually surprised about how well the tube performed. Therefore, riding characteristics of Aerothan tubes are on par with the reference – tubeless – when it comes to performance. Normal cyclists also detected an obvious difference to conventional systems. Not only measured test results, but also subjective and individual opinions about the feel are convincing.
Are Aerothan tubes also puncture resistant despite the low weight?
Aerothan tubes are actually much more robust and durable than butyl, latex and other synthetic tubes. During developments, we wanted to focus not only on how Aerothan tubes would resist wear and tear when cycling, but also how the material would respond in the worst case scenario. In case of Aerothan tubes, air does not suddenly escape following a puncture, but slowly. If the carcass is cut, the tube will maintain its shape and does not push itself out. For all these reasons, it is much easier to control the bike in case of a puncture and cyclists do not have to worry about sudden air loss.
New materials, especially plastics, raise the question about sustainability. Is Aerothan recyclable?
An Aerothan tube is 100% recyclable – this was very important to us right from the beginning. Just like all other Schwalbe tubes, Aerothan tubes may be returned to us via the tube recycling programme. As opposed to conventional butyl tubes, Aerothan tubes are completely made of TPU – including the valve. This simplifies the recycling process even further. Reusing Aerothan as bicycle tubes is not possible yet; instead, the recycled tubes enter a second life cycle as sealing or insulation material.


AEROTHAN TUBE RACE
For road riding with tubes, the Aerothan tube is the first choice. It offers low rolling resistance with dynamic, smooth riding characteristics.
Compared to butyl tubes, a total weight reduction of 100 g may be achieved for the entire bike. Aerothan Tube Race offers not only reliable puncture protection, but also safety when descending a mountain: Even when several emergency brakes are applied with rim brakes in short sequence, one can count on its heat resistance capacities.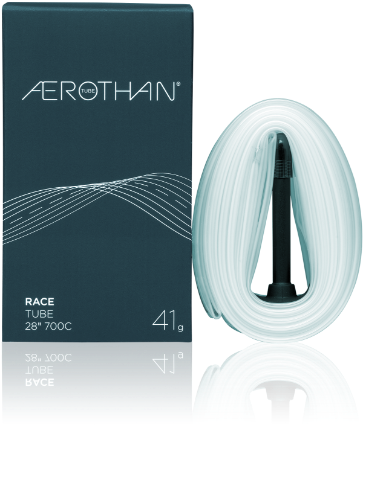 AEROTHAN RACE
SV20E | 23-622 bis 28-622 | 41 g
AEROTHAN ENDURANCE RACE
SV16E | 28-622 bis 35-622 | 50 g
TO THE PRODUCTS
Ride with tubes or tubeless – for us road riders, this is often a question of personal preference. But if one opts for tubes, then Aerothan is the first choice in any case. Compared to conventional tubes, weight savings of more than 100 g per set of tires are possible – this is a lot of weight tuning potential for relatively little money. And also during acceleration, one can really feel the difference; the low rolling resistance is fantastic.
Fabian Cancellara
Road bike legend
AEROTHAN TUBE ALLROUND
The Aerothan Tube Allround is the extremely light and absolutely reliable high-end tube for urban cycling and touring.
Compared to Schwalbe standard tubes, it reduces a bicycle's weight by about 180 g – this, in combination with low rolling resistance, makes cycling even more enjoyable. Cyclists on long nature rides can rely on excellent puncture protection. Even without remembering to use a pump before a ride, the Aerothan Tube Allround can handle it: Also, at low air pressures, it maintains shape and ensures a safe ride on the trail.
Try finding a bottle of tire sealant when you are in places like the Mongolian taiga – this is why I will keep using bicycle tubes when I am travelling. Ideally, I will always keep a few Aerothan tubes in my luggage. They are not only lighter than conventional tubes, but they also do not take up as much space. Additionally, I can simply rely on excellent puncture protection. Aerothan may be a little more expensive to buy, but for long distances, this will quickly pay back.
Jonas Deichmann
Extreme athlete and six-time world record holder
AEROTHAN TUBE MTB
The Aerothan Tube MTB is just as resistant to snake bites as it is to side wall damage – thanks to the extremely robust material.
In cross-country and marathon, a surprisingly low weight and low rolling resistance are great advantages. Even on challenging trails, this tube never gives up on you: Thanks to the exceptional form stability of the Aerothan Tube MTB, even at low air pressures, you always keep control of your bike.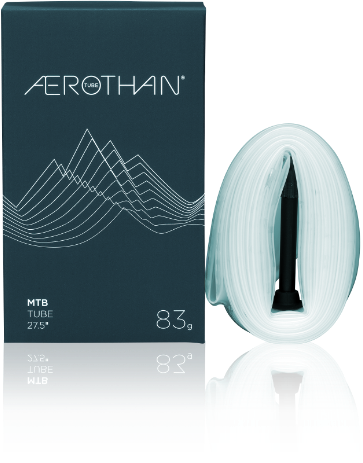 AEROTHAN MTB
SV13E | 54-559 bis 62-559 | 81 g
SV19E | 54-622 bis 62-622 | 87 g
SV21E | 54-584 bis 62-584 | 83 g
AEROTHAN MTB+
SV19FE | 62-622 bis 75-622 | 116 g
SV21FE | 62-584 bis 75-584 | 109 g
TO THE PRODUCTS
The Aerothan tube has impressed me a lot with such incredible pinch flat protection. Even during the most challenging conditions, e.g. during the 3Länder Enduro Race, I had no problems. At this event, I was able to ride at extremely low air pressure which was definitely an advantage for me. I am also really impressed with the low weight and compact pack size. For me, it is really fascinating to see how much performance one can get out of a bicycle tube, which might be considered an old fashioned product.
Jasper Jauch
Former DH World Cup racer and mountainbike ambassador
Normally, I am truly convinced of tubeless, but the new Aerothan tubes have naturally made me curious. The low weight and puncture protection features have convinced me just as much as the fact that an Aerothan tube requires a lot less space in a jersey pocket. What I like the best is that Aerothan tubes allow me to ride the same low air pressures as I am used to with my tubeless set up – this is a real plus for challenging trails!
Daniel Geismayr
Vice World Champion Marathon 2018


RACE
ENDURANCE RACE
ALLROUND
MTB
MTB+
Purpose
Road
Road/CX/Gravel
Trekking/Touring/Gravel
XC/Marathon/Trail/Enduro
XC/Marathon/Trail/Enduro
Designation
SV20E
SV16E
SV17E
Wheel size
28 "
28 "
28 "
ETRTO
23-622 bis 28-622
28-622 bis 35-622
37-622 bis 50-622

| | | |
| --- | --- | --- |
| 54-559 bis 62-559 | 54-584 bis 62-584 | 54-622 bis 62-622 |

| | |
| --- | --- |
| 62-584 bis 75-584 | 62-622 bis 75-622 |

Valve
SV, 40 mm
SV, 40 mm
SV, 40 mm

| | | |
| --- | --- | --- |
| SV, 40 mm | SV, 40 mm | SV, 40 mm |

Packing size
28 mm x 80 mm
32 mm x 80 mm
38 mm x 80 mm

| | | |
| --- | --- | --- |
| 54 mm x 74 mm | 54 mm x 77 mm | 54 mm x 80 mm |

| | |
| --- | --- |
| 68 mm x 77 mm | 68 mm x 82 mm |

Weight
41 g
50 g
61 g
100 % recyclable
Made in Germany
Approved for rim brakes
*The tire volume changes depending on the rim width. In extreme cases, this can become critical for the hose, and there is a risk of the material being overstretched. The values ​​shown here indicate

in which maximum size tires and rims can be safely used with the Aerothan tube. For example, an Aerothan Tube SV20E in maximum form with a tire in size 28-622 (ETRTO)
and a rim with an inner width of 19C. If the specified internal width of the rim is exceeded, the next larger Aerothan tube size should be used.
Example: Combination of tires (28-622) with rims (≥21C) Aerothan Tube SV16E instead of SV20E.

ALL ABOUT
What exactly is Aerothane?
Aerothane is a special thermoplastic polyurethane that Schwalbe developed together with BASF. It serves as the base material for high-end bicycle inner tubes, the Aerothan Tubes, which are manufactured in Germany using a patented welding process.
What advantages does Aerothan offer?
Aerothan Tubes are extremely lightweight yet highly puncture-resistant. The low rolling resistance provides a very dynamic riding experience. The dimensionally stable Aerothane gives the respective bike a high driving stability even at low air pressures. At the same time, the dimensional stability allows for easy installation, because the tube does not slip and can not be pinched. To the Aerothan material is very heat resistant, so that all Aerothan hoses are also compatible with rim brakes.
Has Aerothan advantages over tubeless?
Schwalbe is the expert for tubeless tires. However, there are riders who prefer to ride with tubeless even in the tubeless age. In addition, there are wheels that are not suitable for tubeless. For these cases, we have developed Aerothan Tubes - the high-end alternative to the conventional bicycle tube, whose technical advantages are in many respects on a par with a tubeless system.
For which tire sizes are there Aerothan Tubes?
Aerothan Tubes are available for the most common tire sizes in the areas: Road, Allround and MTB. An overview with all sizes is available in the table above.
For which applications are Aerothane Tubes suitable?
Aerothane Tubes are available in the categories Road, Allround and MTB.Due to the special material properties, Aerothane is extremely versatile. There is an overview of all areas of application in the table above.
Are there tolerances / deviations in weight?
Aerothane is a flexible material and is subject to limited tolerances (unlike solids, such as metal). Despite the most elaborate manufacturing and control processes, weight deviations of +/- 5% may occur.
Are Aerothane Tubes also recyclable?
Like all Schwalbe tubes, Aerothane Tubes are also 100% recyclable. Unlike classic butyl tubes, Aerothan Tubes are made entirely of a thermoplastic polyurethane - including the valve. This simplifies the recycling process even further. Just like all other Schwalbe tubes, Aerothane Tubes can be returned to us through our tube recycling program. Recycling as a bicycle tube is not yet possible with Aerothane, but instead the recycled Tubes are given a second life, for example as a seal or insulation material.
Do extreme temperatures affect the Aerothane Tube?
Aerothane is extremely temperature stable. Both high temperatures of up to +70 ° C, as well as cold up to -50 ° C, the material can easily withstand.
Maintenance & REPAIR
Can I repair Aerothan Tubes?
The Aerothan Tube can be easily repaired with the Schwalbe Glueless Patches. A Anrauen as with the butyl tube is not necessary (!do not use sandpaper!), instead, the self-adhesive patches are applied directly to the area to be patched. For this, the surface should be as clean as possible. The use of rubbing alcohol is recommended to improve the adhesion of the Glueless Patch. Isopropyl alcohol wipes in small outer packaging are effective and can be conveniently carried/packed together with the Glueless Patches. We strongly recommend Schwalbe Glueless Patches as they are thinner and therefore more flexible than comparable products from other manufacturers. With self-adhesive patches from other manufacturers, it can happen that small air channels form between patches and Aerothan Tube and thus air can escape from the tube again. (Addition: Defects in the transition of the sidewall to the tread are more difficult to seal. The reason for this is that a patch does not expand evenly in the radius to the tube and can become partially detached. This creates smaller air channels that can lead to faster air loss. Here it is a good idea to use two patches overlapping. See below.)
Can I also repair larger defects on the tube with Schwalbe Glueless Patches?
For larger holes or cuts (max. 4 mm) it is recommended to use two patches overlapping over the defective place. It is helpful to clean the defective area in advance with rubbing alcohol to improve the adhesion (adhesive strength) of the patch.
Can I use classic hose patches with vulcanizing liquid to repair a defect?
The use of classic hose patches is not recommended. The adhesive (vulcanizing fluid) is specially developed for use on (butyl) rubber and does not hold permanently on Aerothane (TPU).
Can Aerothane Tubes be used with puncture sprays?
Puncture sprays do not achieve a seal on Aerothane Tubes because the thermoplastic polyurethane (TPU) has a very high surface tension. The use of puncture sprays in TPU tubes is not recommended due to the chemical composition. For optimum performance, Aerothane Tubes should be used without puncture sprays. Continuous use with puncture sprays is not recommended.
VALVE
What type and length of valve does the Aerothan Tube have?
The Aerothan Tube has a Sclaverand (SV) valve in 40mm length. Just like the tube, the valve stem is made of thermoplastic polyurethane and is also 100% recyclable.
Can the valve insert be removed or valve extensions used?
The valve insert of the Aerothan Tube is screwed in and can be replaced if necessary. Thus, the valve stem is also suitable for extensions
Tip: Extensions ideally mount with an anti-rotation (Loctite). Schwalbe (tubeless) valve extensions fit ideally to the Aerothan Tube (https://www.schwalbetires.com/tire-accessories/valves/). Only extensions that are screwed into the Aerothan valve stem and have a screw-in limit should be used.
Can I use any valve insert as a replacement?
Valve inserts for Aerothan Tubes have a special sealing ring made of rubber. Schwalbe butyl tubes use valve cores with Teflon seal. The mechanical and thermal properties of rubber harmonize much better in combination with the TPU material. This guarantees an optimal seal to the TPU valve stem.
The valve stem does not fit through the valve hole of the rim. What can I do?
The valve stem diameter of the Aerothan Tube is matched to the standard diameter of a (SV) Sclaverand valve hole in a rim. By screwing in the valve core, the valve stem expands minimally. This can lead to tight spots. In this case, the valve core should be unscrewed. Then guide the valve stem through the valve hole of the rim and screw the valve core back in. The valve stem must never be mechanically machined. This poses the risk of defects.
Can I use the Aerothan Tube with a rim that has an AV valve hole?
An AV valve hole has a diameter of approximately 8.5 mm. The SV valve of the Aerothan Tube has a diameter of approximately 6.1 mm. This difference can lead to noise while driving and places above-average stress on the material. In this case, a reducer sleeve should be used, which is slid over the valve stem of the Aerothane Tube and holds the valve in the valve hole. Reducing sleeves or valve hole adapters are not offered by Schwalbe.
Can I use an AV adapter?
An AV adapter can be used. For a secure fit, this must be screwed about 3-4 threads on the external thread of the valve core.
Why does the valve foot rest on the rim bed during assembly?
The valve foot is conical in shape towards the tube. It serves as a support for the valve stem, thus counteracting strong mechanical effects, such as shear forces. The cone can rest on the rim well during assembly, pulls minimally into the valve hole as air pressure increases. This ensures that the valve stem is held securely in the valve hole. The valve foot is made of the same material as the hose, so that a uniform expansion of the hose and valve foot is given.
.
MOUNTING
How are Aerothane Tubes mounted?
The assembly of the Aerothane Tube is done as with any other bicycle tube. Thanks to the dimensional stability of the material, the tube does not slip easily and can not be pinched, which makes the assembly extremely simple. When inflating outside the jacket, however, the Aerothan Tube may only be filled with max. 0.3 bar.
Why should I only pump the Aerothane Tube very carefully at the beginning?
The expansion of the Aerothane Tube is delayed in time compared to a conventional (butyl) rubber tube. So the expansion takes longer. When pumping the Aerothan Tube outside the tire should wait after each pumping a small moment until the air is completely distributed and the tube has stretched. Excessive and too fast pumping can lead to blistering of the tube. The hose would thus no longer usable.
Why do the tubes discolor after mounting in the tires?
The transparent Aerothan material discolors on contact with the tread compounds. This is due to diffusion of volatile substances released after the vulcanization process. This occurs particularly in new, unused tires. The discoloration has no effect on the performance or durability of the tubes.
Can I inflate Aerothane Tubes outside the casing?
The Aerothane Tube can be inflated carefully outside the casing until it is wrinkle-free and has a round contour (equivalent to max. 0.3 bar).
Can I inflate the Aerothan Tube with CO2 cartridges?
Yes, but the inflation with CO2 cartridge should be done exclusively in the fully installed state. Outside the jacket, the Aerothan Tube should only be inflated carefully until it has a round contour and is wrinkle-free (corresponds to max. 0.3 bar), the CO2 cartridge is not suitable for this.
Can Aerothan Tubes be removed and reinstalled in another tire?
Yes, but the reinstallation can only be done with the same or larger tire width.
Can I use Aerothan Tube with sealing milk?
Sealing milk does not achieve a seal with Aerothan Tubes, because the thermoplastic polyurethane (TPU) has a very high surface tension. The use of latex-based sealing milk on TPU tubing is not recommended due to its chemical composition. For optimum performance, Aerothane Tubes should only be used in jackets without sealing milk. Continuous operation with sealing milk is not recommended.
Should I replace my tires after using sealing milk to run Aerothan Tubes?
After using tires in tubeless operation, the tire must be freed from the residues of sealing milk as best as possible. Even small, dried residues of the sealing milk must be removed, as these can damage the Aerothan Tube by friction. In addition, certain ingredients in a sealing milk can cause damage to the TPU tube during long-term operation. In addition to the tire, the drop center of the rim or the rim tape should absolutely be cleaned with brake cleaner or an alcohol solution.
I am on the road and have no way to remove the sealing milk completely. Can I still use the Aerothan Tube?
In the event that on the road a sealing milk can no longer seal the tire, the use of the Aerothan Tube as a first aid measure is of course possible, even without completely freeing the tire from the sealing milk. The tube should then be cleaned as quickly and as thoroughly as possible with water and a cloth or rubbing alcohol. Under no circumstances should chemicals be used to clean the tube. The tire should be replaced depending on the size of the defect.
Can I use talc when mounting the Aerothane Tube?
Talc is not harmful to the AEROTHAN Tube. However, the use is also not necessary, because the AEROTHAN Tube is provided with a special lubricant due to production. In addition, the friction between TPU material of the tube and the rubber carcass of the tire is extremely low.
Is the Aerothan Tube suitable for rim brakes?
All Aerothan Tubes are approved for rim brakes. Aerothan Tubes are extremely heat-resistant and withstand high thermal loads (for example, in the course of emergency braking). In addition, the air does not escape abruptly in the event of an overload, which maintains driving stability.
Can I use the Aerothan Tube with carbon rims?
All Aerothan Tubes are suitable for use with carbon rims. Again, the heat resistance of the Aerothane material is advantageous over latex and butyl.
Can I use Aerothane Tubes with tire pressure sensors?
Tire pressure sensors can be mounted if they are bolt-on systems. These are then screwed onto the visible external thread of the valve core. Please clarify the compatibility with the respective supplier.
Can I mount Aerothan Tubes with a rim tape?
A rim tape is, properly used, always an additional protection against defects. The Aerothan Tube is basically compatible with all common rim tapes. Optimal is the use with the Schwalbe Tubeless rim tape (https://www.schwalbetires.com/TUBELESS-FELGENBAND-887019). Always be noted, should be the correct width of the rim tape, matching the rim. If the rim tape in the rim bed is not clean from flank to flank, it can come to friction edge, which attack the tube. See also: https://www.schwalbetires.com/technology-faq/rim-tape/
Can mini pumps be used to mount the Aerothane Tube, which have a pump head to screw on?
Mini pumps with pump head to screw on (for example, from Lezyne) can be used. To do this, the valve insert of the Aerothan Tube must be firmly seated in the valve stem. The pump head should be screwed onto the valve insert and unscrewed again with as little tension as possible. Optimally, when screwing on and off, the valve stem is held and only the thread of the pump head is moved.
Tire PRESSURE
What is the correct air pressure for Aerothan Tubes?
Due to their enormous dimensional stability, Aerothan Tubes can be driven with significantly lower air pressures than conventional bicycle inner tubes. For the correct air pressure, you can follow the recommendations for tubeless systems. It should be noted that the engraved minimum pressure on Schwalbe tires applies to the use of butyl tubes. When using Aerothan Tubes, the values can be undercut.
With the Schwalbe MTB Pressure Prof, the optimum air pressure in the tire can be calculated easily and quickly online:
What maximum tire pressure can Aerothane Tubes tolerate?

With the maximum pressure for Aerothan Tubes should be kept within the pressure range specified on the tire sidewall or rim. If the specified tire pressure of the rim is lower than that of the tire, the maximum pressure of the rim must be observed. In case of uncertainty, contact the manufacturer.
How often do Aerothan tubes need to be re-pumped?
Aerothan Tubes are on par with butyl tubes in terms of air retention. Frequent re-pumping, such as with latex tubes, is therefore not necessary. For optimum performance, it is recommended to check the air pressure regularly.
Do I need to pay attention to anything on air travel?
The Aerothan Tube can be left in the tire without hesitation. It is recommended to slightly reduce the tire inflation pressure by one to two bars below the maximum allowable tire pressure. Information on tire inflation pressure can be found on the sidewalls of bicycle tires. Learn more at: https://schwalbetires.com/technology-faq/special/
BUYING AEROTHAN TUBES
---
Aerothan tubes are available at retailers who are experts on innovative bicycle technology.
BUY NOW