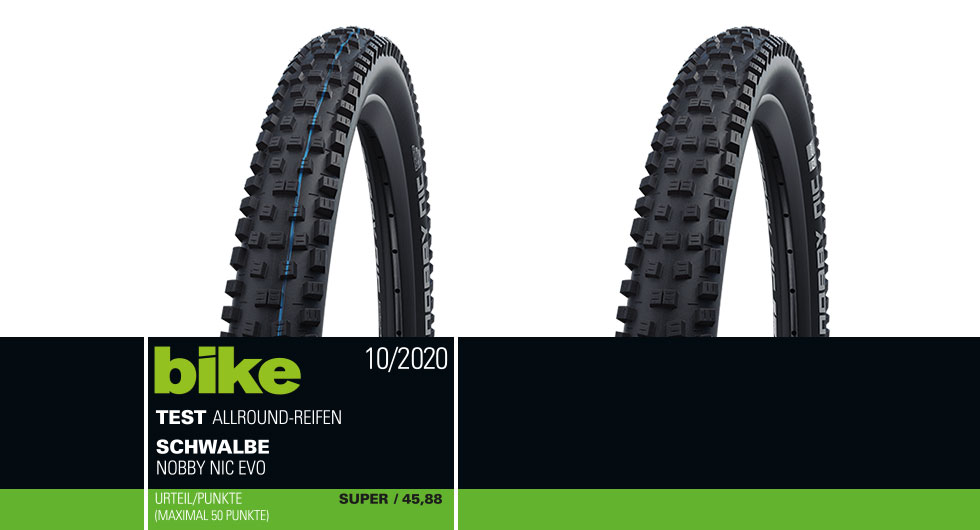 THE BEST ALLROUND TIRES
---
IN THE BIKE MAGAZINE TEST (10/2020)
In the issue (10/2020) of BIKE magazine, the all-rounders among mountain bike tires are put to the test. The special thing about this test: the tires of the different manufacturers not only compete against each other, but also against their cheaper counterpart from their own ranks.
We were represented in the test field with two different versions of the Nobby Nic: the Nobby Nic Evo represents the benchmark in terms of tire technology; the little brother from the Performance Line is the slightly cheaper counterpart.
THE NEW NOBBY NIC
The latest edition of the Nobby Nic has been fundamentally revised. The tire has received a much more aggressive profile, which makes it even better equipped for all-round use. This is also noticeable in the test, as the Nobby Nic remains well controllable even at the limit - when cornering and in steep terrain: "The pronounced profile of the Nobby Nic also generates sufficient grip even on deep, damp ground" (BIKE 10/2020). Ideal basic conditions, therefore, for true all-round use..
THE SCHWALBE NOBBY NIC IN THE TEST
NOBBY NIC EVO
Size: 29 x 2.35
Compound: Addix Speed Grip
Version: Super Ground
E-bike approval: E-50
Plus points:
+ winner puncture test
+ best mileage
+ best wet performance
NOBBY NIC >>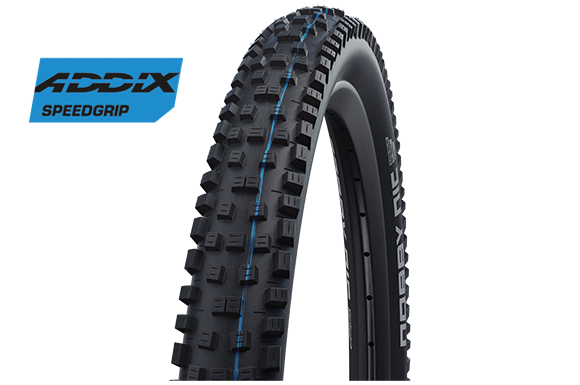 NOBBY NIC PERFORMANCE
Size: 29 x 2.35
Compound: Addix Performance
Version: Performance
E-bike aproval: E-50
Plus points:
+ extremely low wear
+ super traction
+ super cornering grip
NOBBY NIC >>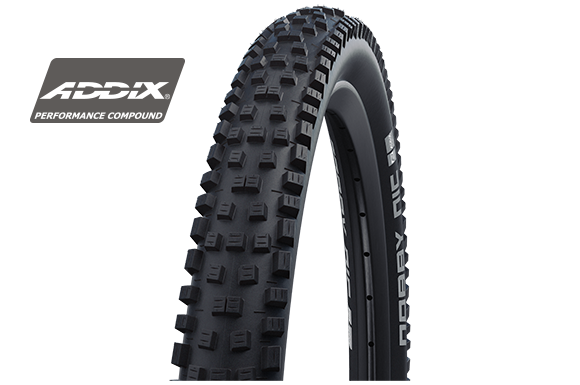 THE DIFFERENCES: EVO VS. PERFORMANCE
But where exactly are the differences between the Performance and Evolution Line? The latter has received an update in terms of carcass construction. The tested Nobby Nic Evo is equipped with the new Super Ground carcass, in which a puncture protection layer and three carcass layers extend over the entire tread. This combines durability and puncture protection with ideal performance. These properties could also prove the tire in the test: the Nobby Nic Evo gets namely by far the best values in the puncture test.
In terms of durability, both tire versions flex their muscles: Nobby Nic Evo and Nobby Nic Performance have the best mileage in the entire test field. Especially the new outer lugs show hardly any signs of wear after the test. The two tires are also on a par in terms of traction, as both versions score particularly well with the best wet performance of the test field.
CONCLUSION
The Nobby Nic Evo takes the test victory with a razor-thin lead over the Nobby Nic Performance. Which tire should you choose now? The Evo variant is slightly lighter and has the nose both in terms of durability and in the puncture test in front. This means that the Evo version is the right choice for all bikers who place high performance demands on their material. However, the Performance line is an attractive alternative, as it is in no way inferior to its big brother in terms of grip and cornering grip.