3 X TREKKINGBIKE TIP | 3 X BIKE TOURING TIP
---
No less than 6 times tires from Schwalbe were awarded the coveted magazine awards. With these results, the cycling season can be enjoyed to the fullest. Rejoice with us about the success and find out here what the testers say about the new Schwalbe tires:
TREKKINGBIKE:
"In terms of price, the new Marathon GT lies between Marathon (28.90 euros) and Marathon Plus (39.90 euros). Thanks to its carcass with DualGuard puncture protection, it weighs only about 32 grams more than the Marathon and still about 168 grams less than the Marathon Plus. Its tread is well suited for urban use - a successful city tire at an affordable price."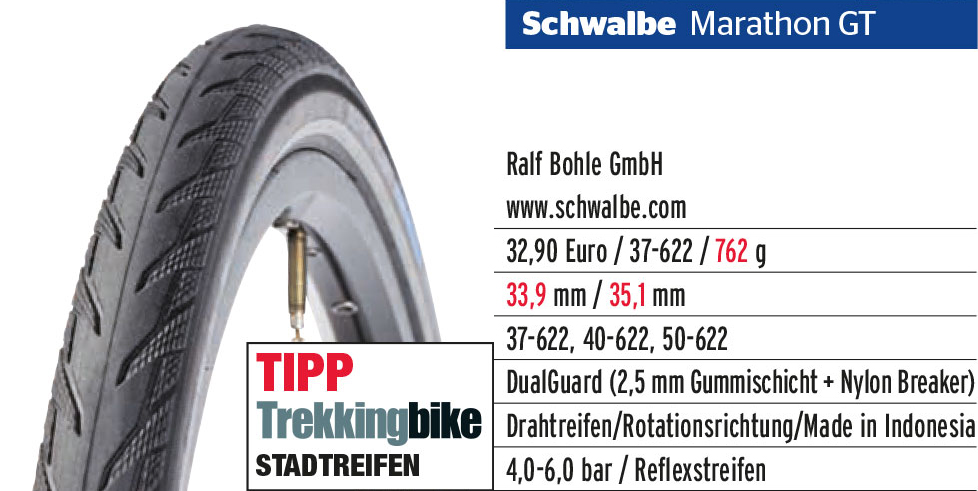 BIKE TOURING:
"The Schwalbe Marathon GT combines top puncture protection with excellent smooth running - here it is better than many a sports tire. The smooth tread clearly speaks for pure road use, where the GT also convinces in terms of cornering feel. Clear tip."
TREKKINGBIKE:
"The new GT 365 combines an all-season rubber compound with a siped tread pattern for plenty of grip. Thanks to the coarse lateral lugs, it also copes well off the asphalt. A good solution for cyclists looking for a tire for (almost) everything. As a touring tire for some possibly a bit heavy - who wants it a bit lighter, reaches for example, the Marathon Mondial."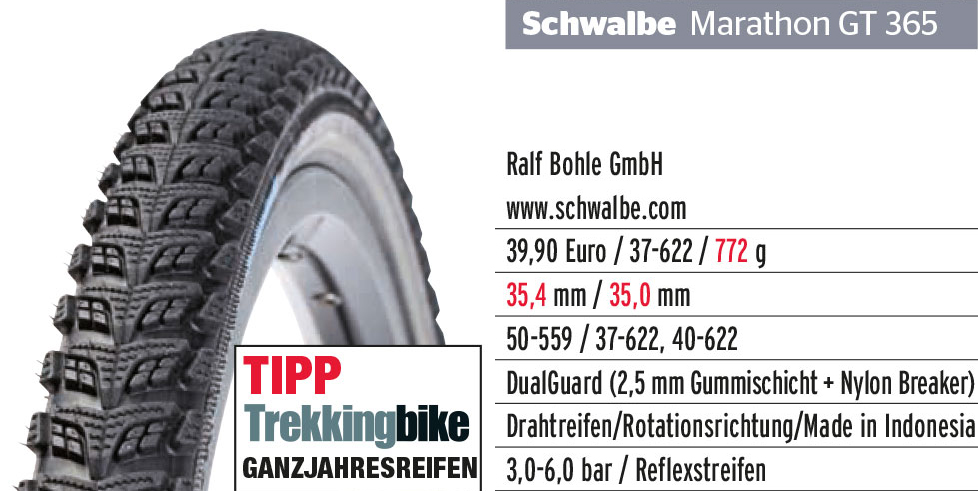 TREKKINGBIKE:
"Schwalbe now offers its G-One Allround Gravel tire in the less expensive Performance Line with RaceGuard puncture protection. Rolls very well and rides with plenty of grip both on trails and on the road. Its only shortcoming is that it is not as durable as the various Marathons. The Tubeless Easy version in 35-622 weighs 31 grams more and costs 59.90 euros."
G-ONE ALLROUND >>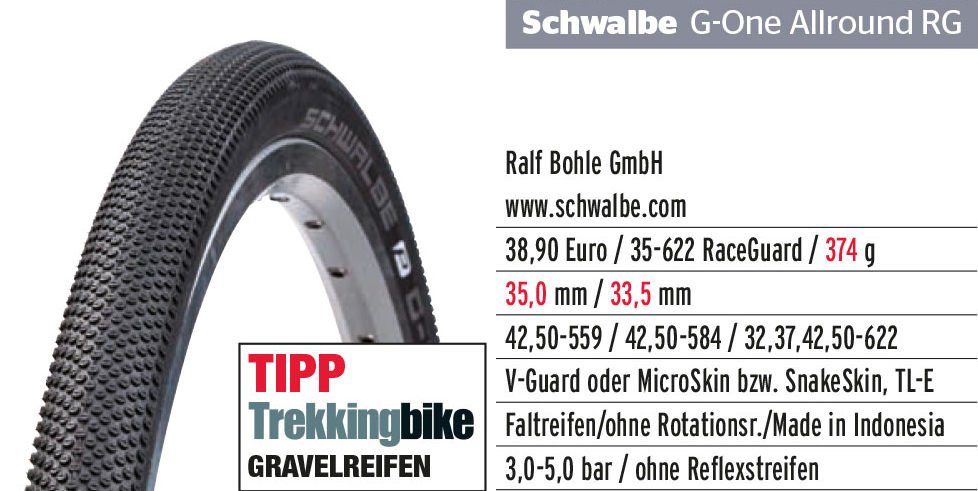 BIKETOURING:
"For those who want to be fast and puncture proof on light terrain, the Schwalbe G-One is the first choice. Especially in tubeless use, it becomes a rocket with only 16.1 watts rolling resistance. The dark tire nestles virtually to the underground, which provides for much driving safety. In addition, there is the best value in puncture protection!"

BIKETOURING:
"For road use on a pedelec, there is no way around the Schwalbe Energizer Plus. No other tire in the test field offers a comparable combination of low rolling resistance, very high puncture protection and a favorable price. The riding experience on asphalt is also safe."
ENERGIZER PLUS >>
The entire tests can be found in Trekkingbike 3/2017 and Radtouren 4/2017.