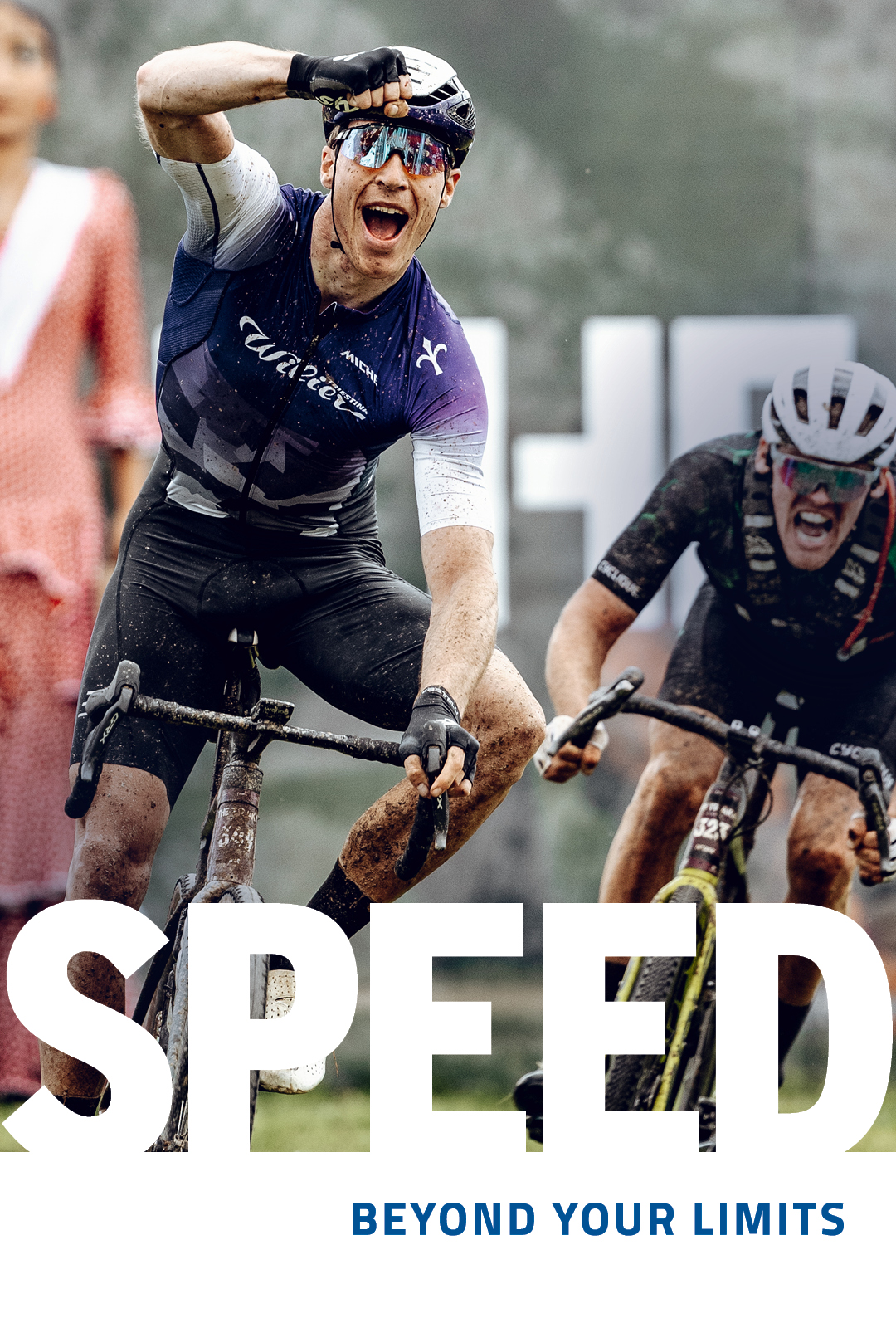 G-ONE RS

THE NEW GRAVEL-SPEED


Road speed with cyclo cross grip: G-ONE RS. Schwalbe´s fastest gravel tire.
THE PERFORMANCE
OF THE G-ONE RS
IS THE SUM OF:


+ Super Race Carcass
+ V-Guard puncture protection
+ Addix Race compound
TO THE G-ONE RS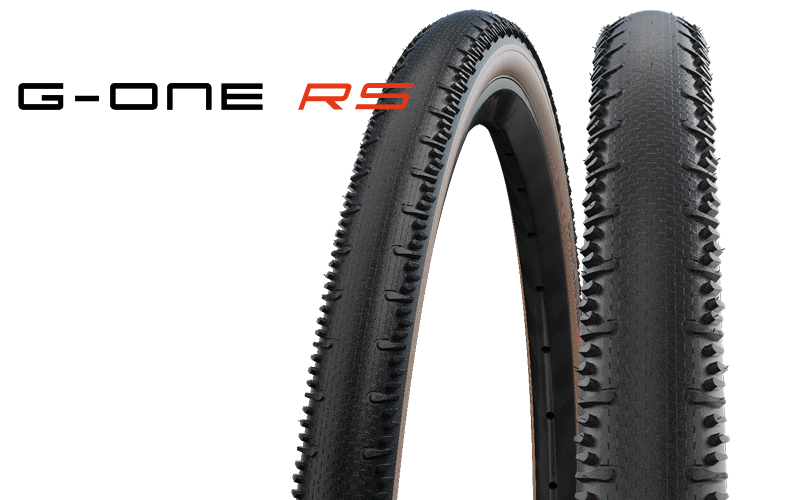 "The RS tire center piece has a special designed scale structure, zig-zagging herringbone, which depending on the rotation direction will give the rider more braking traction or steering grip - and make the tire go super-fast. To maximize the benefit of these characteristics, the G-ONE RS has different rolling directions for front and rear wheel use.
G ONE R has the grip, but additional speed was the goal, now G-ONE RS has 20 % less rolling resistance compared to the R. To ensure the rolling efficiency of the tire a semi-slick version was the clear direction Schwalbe needed to go. The inspiration for matching grip came from Schwalbe's own cyclo cross tire X ONE Speed. "
SCHWALBE TECHNOLOGY OVERVIEW
The Super Race carcass was first introduced in Schwalbe's flagship road tire, the PRO ONE. It gave a speed advantage, suppleness, grip und puncture protection to IRONMAN World Champion Patrick Lange during his win at Kona in 2018. The technology now carries over into the top Schwalbe MTB Racing tires Racing Ralph and Racing Ray, taking the win at the 2022 Cape Epic under the Speed Company Racing Team of Lukas and Georg.

SEMI SLICK WITH SPECIAL GRIP
The unique shaped scale shape center profile of the G-ONE RS has a special design aspect to it, giving it additional steering grip or braking power, depending on the rotation direction and of course way more speed.
THE G-ONE RS IS AVAILABLE IN THE FOLLOWING SIZES:
35 mm for cyclo cross frames and the new category of Endurance Road bikes, for bikes with less tire clearance, 40 mm for all those who want to race beyond their limits, 45 mm Schwalbe for all who look for extra grip, snakebite protection and comfort, more off road use
Options: Of course, you can mix G-ONE R and G-ONE RS "
RACE PROVEN:
Even before Schwalbe G-ONE RS will take on its first edition of Unbound, the tire has already been race-tested and race proven on serious gravel race action at the Girona's, 200 km "The Traka" race. Dutch rider Ivar Slik took the win it in a breath-taking sprint after 6.26 hours racing. Jasper Ockeloen won the Gravel Locos on G-ONE RS ahead of Ivar Slik after 7.16 hours racing.
NEW STEERING FEEL - TRY IT OUT:
Adapting from your current gravel tire to the new Schwalbe G-ONE RS could take you some time. For example, if you've been enjoying the consistent, predictable cornering feel of the G-ONE R thanks to the even all-around profile. The new G-ONE RS will in contrast give you instant feedback when cornering. With two pronounced profile sections, transitioning from the semi-slick center tread to the grippy shoulder blocks will result in immediate feedback to the rider. Once you begin to corner with increased speed, you will become addicted to it - Speed beyond your limits. VIP - you have to find your personal best tire pressure.
GRAVEL YOUR STYLE.
YOU DECIDE WHERE TO GO.


Whether gravel road or winding asphalt.
Whether a detour on single track or the route to work.
Your equipment is ready for every adventure,

only you set the limit.
"If there is anything I´ve learned: You can find inspiration just out your front door. Gravel bikes creates so much access to the outside world. And then all of a sudden you realize that you don´t need to be constricted to paved roads, you don´t need to be constricted to bike paths. You can all of a sudden take what you know you love about exploring the outdoors. It just kind of opens up everything."
Chris Burkard (USA)
Adventurer and photographer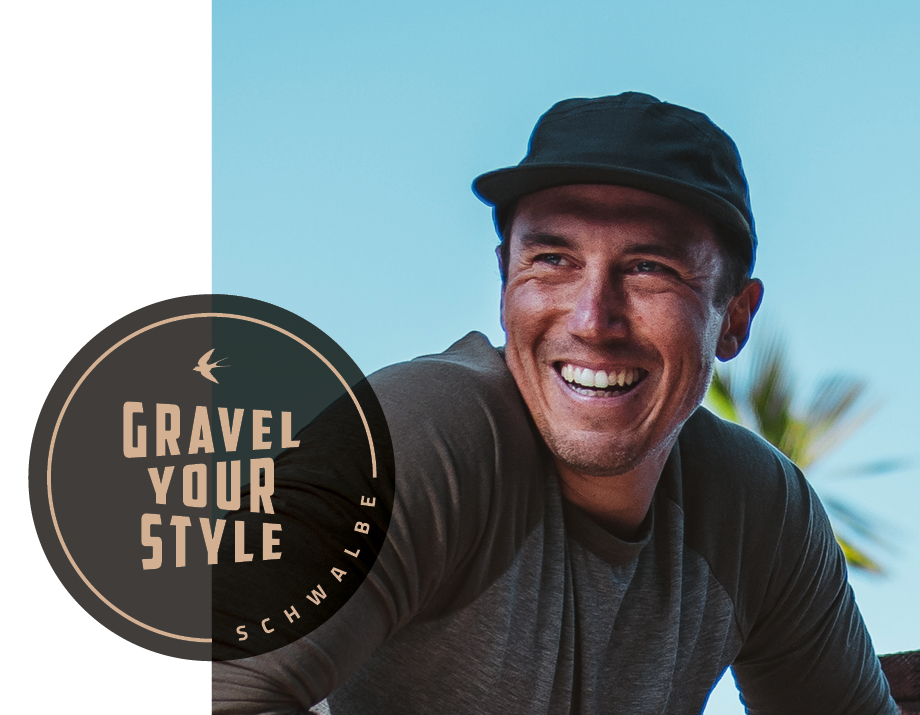 Chris Material
"It is funny to think about how far, how broad and how wide the G-One Overland is taking me. When I bring it back to just my day-to-day experience, at the same time I am able to have spontaneous adventours. Its extreme durability is worth a lot. I´m still like living off that excitement, taking a new path to a familiar place and seeing something new along the way –the G-One Overland is my perfect companion."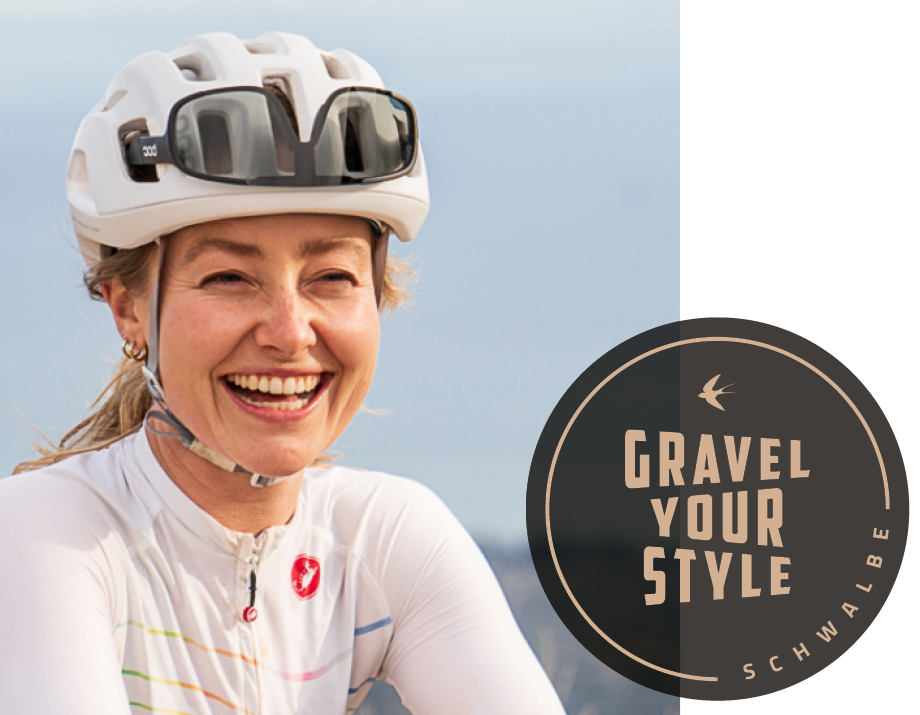 "When I gravel ride, I grow beyond myself. I think it's great to explore my own limits on the bike and see how far I can get."
Amity Rockwell (USA)
Gravel Racer/Winner Unbound 2019
Amity's Material
"When you sit in the saddle for several hours every day, the riding experience plays a major role. For me, the Schwalbe G-One R combines absolute suppleness with the security of a reliable tire."
"At racing events like the Unbound Gravel (aka Dirty Kanza), you never really know what to expect. The routes are far too varied for that. This challenge appeals to me; just ride off without knowing what to expect."
"For me, switching from racing bikes to gravel bikes opens new possibilities. I don't want to be restricted, but do what I feel like doing. There are so many formats and events for gravel riding - and I want to try and push myself to my limits."
Paul Voß (DE)
Tour de France participant - today Gravel Racer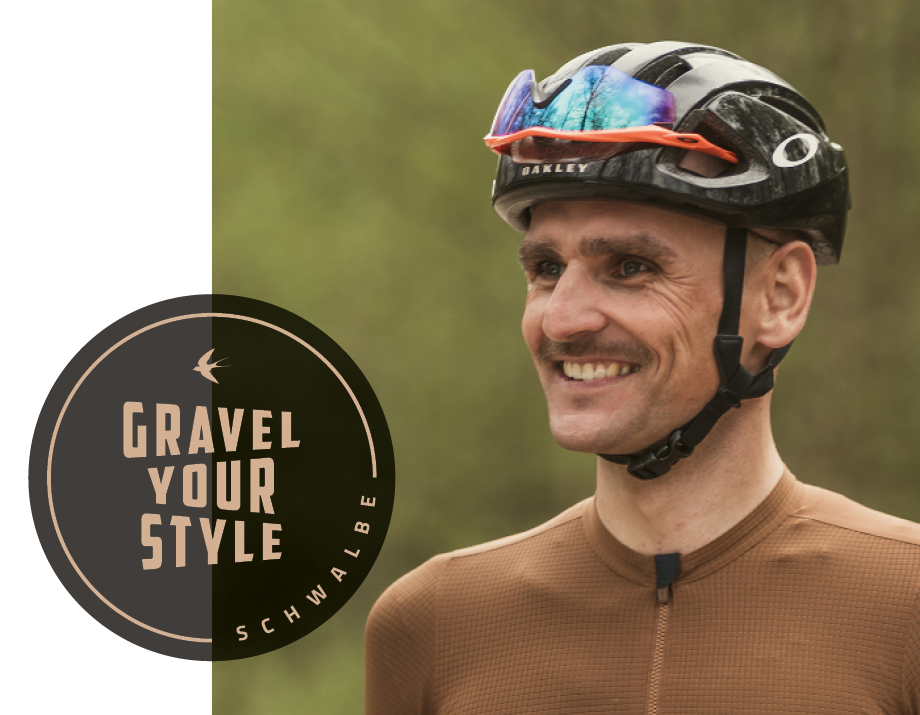 Paul's Material
"At extreme gravel races you spend hundreds of kilometers in the saddle. To ride at the front you have to push yourself to your limits. I have to be able to rely on my equipment. You are on your own, there is no room for mishaps. For me, the G-One R offers the ideal balance of soupless, control and speed."
"When gravel riding I can do my own thing - I'm not tied to any structure. However, gravel riding gives me this race character. I don't just want to ride around, I want to beat the pain barrier and win at the end."
"Bicycles came into my life as a means of transport but have come to be so much more. A gravel bike expands your horizons immensely, because you can get anywhere with it. Paths and places that would be impossible to reach by car, or difficult by foot, are no problem with a gravel bike."
Brittlee Bowman (USA)
Team Manager Velocia // Exploro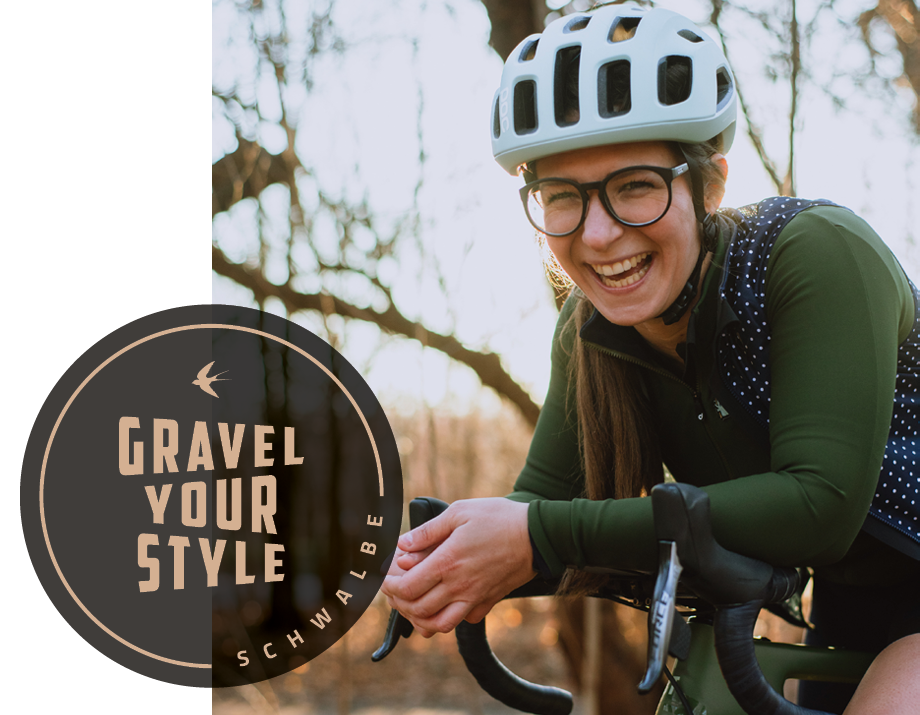 Brittlee's Material
In the team, we push each other to achieve our best performances. The right equipment can play a big role. I prefer the G-One Speed, especially when riding on my local mix of road and trails. The evenly distributed knobs are ultra-fast on asphalt, but also offer added grip on gravel.
"I love to surround myself with positive and ambitious people. For me, gravel riding is about team spirit and having fun. Of course you want to be up front in races, but at the end of the day it's about having a good time while supporting my team mates."
"For me the bike is the epitome of freedom. You can go anywhere, stop at any time and explore the area. That may sound clichéd, but it really makes you one with nature."
Markus Stitz (GB)
Bikepacker & Filmmaker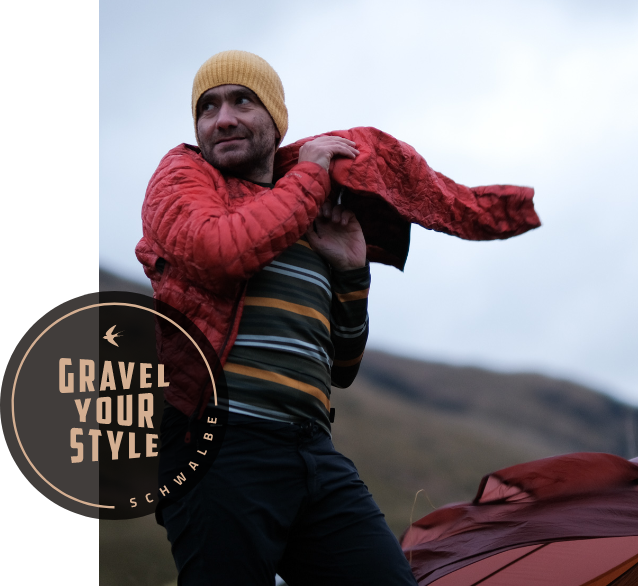 Markus' Material
On longer trips I am often away from any civilization. You have to be able to rely on yourself and your equipment. I play it safe with the Schwalbe G-One Ultrabite; the aggressive profile gives me enough security and grip - no matter what awaits me on the way.
"When gravel riding I can do my own thing - I'm not tied to any structure. However, gravel riding gives me this race character. I don't just want to ride around, I want to beat the pain barrier and win at the end."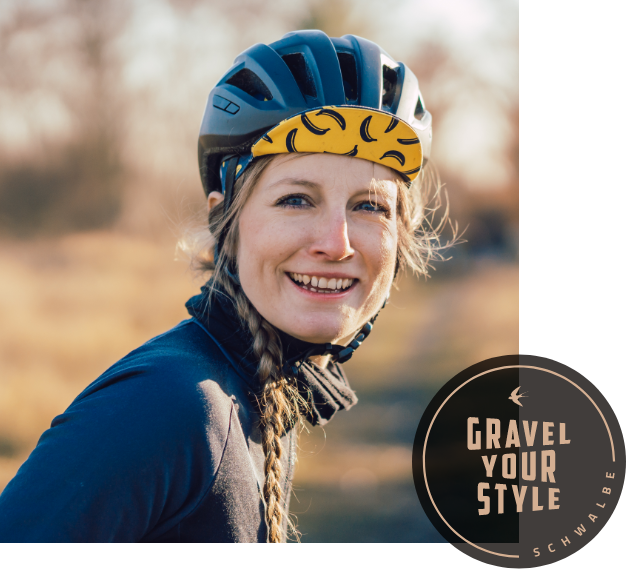 "I prefer to explore my surroundings by bike; Even in everyday life, I only use the bus or train as a supplement. For me, the gravel bike is more than just a means of transport! It helps me to switch off, to feel free - out of the city, into nature; for example at gravel events and bikepacking tours. Just great to get to know new areas and people!"
Juliane Schumacher (D)
Blogger
Juliane's Material
For me, the gravel bike is an everyday bike, racing machine and means of transport at the same time. That's why I need tires that are as versatile as possible. With the Schwalbe G-One Allround, I can switch easily between asphalt and terrain without having to worry about my set-up.
Go out and ride! - you hear that so often and it's true. Even a small 25km lap in the afternoon is enough to make you feel alive, free and happy. if you are like me who doesn't always manage to do it so spontaneously: It's always good to make arrangements and check the equipment the night before!
"Spain, Sweden, Scotland ... my bike has taken me to different countries and areas. But in the end you don't have to go far - I always discover new things even on my own doorstep. The gravel bike is just perfect for any kind of adventure."
Erwin Sikkens (NL)
Bikepacker & Filmmaker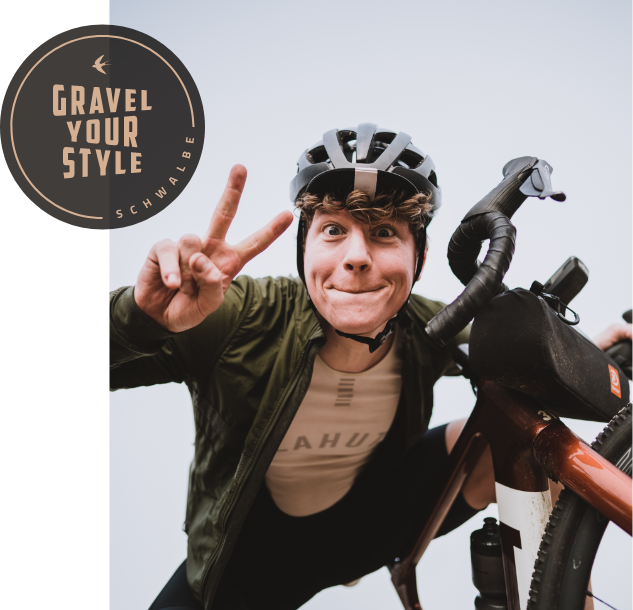 Erwins Material
Bikepacking overnighters are not only a good idea on hot summer days. Just get out and do it! With the G-One Bite, I practically don't care about the weather - the tire bites its way through all surfaces!
"If you want to go on vacation, but only have the weekend free: Simply grab the gravel bike and head off bikepacking. For me the best way is to spend time in good company with great people in the cozy "Party Pace". At the end of the day it's all about having fun cycling!"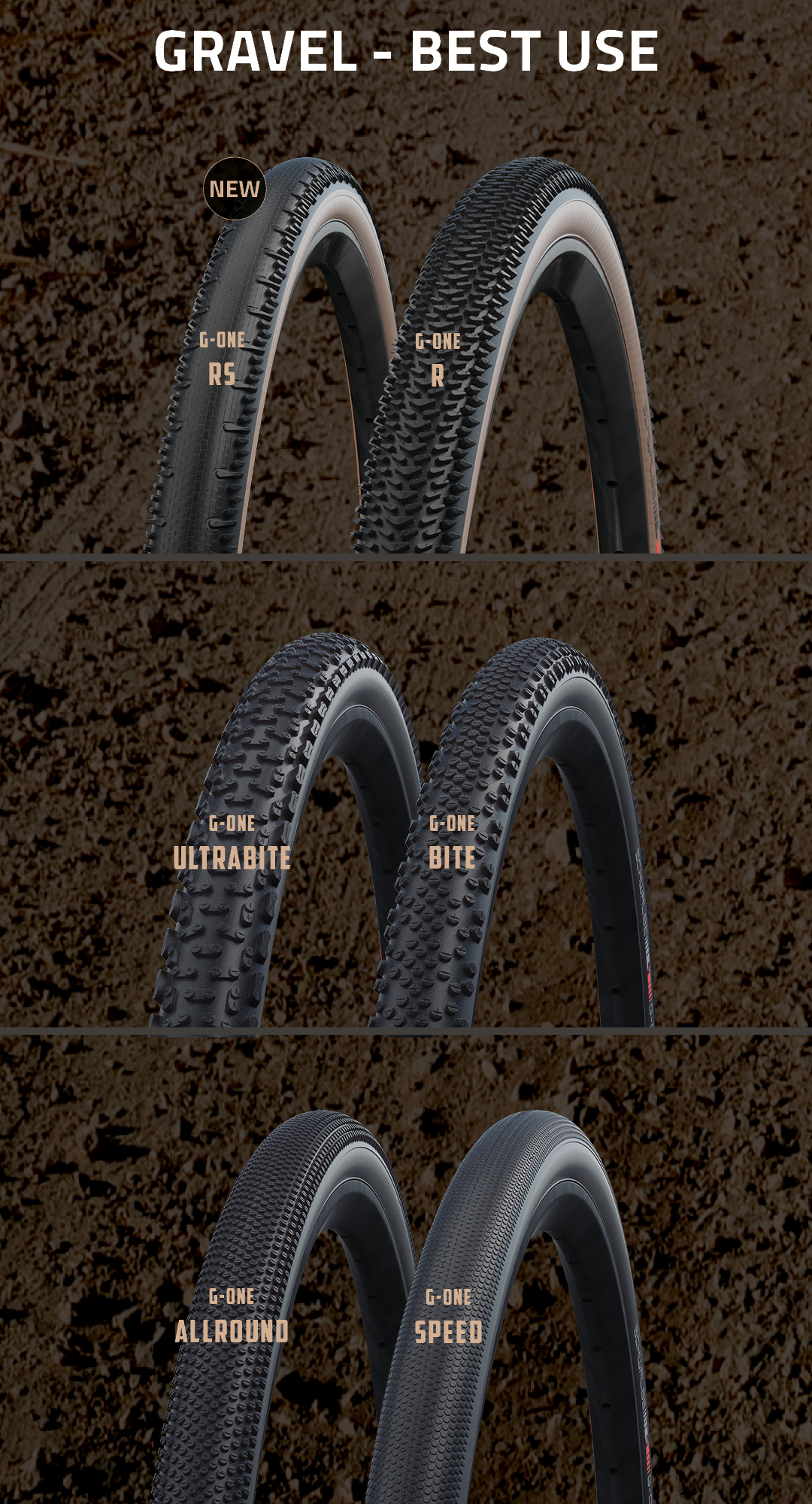 CHOOSE YOUR STYLE
THE BEST TIRE COMBINATIONS:
Gravel riding starts where the perfect asphalt ends. As the only point of contact with the ground the tire plays a central role:

only when puncture safety, comfort and traction are perfectly combined, will nothing stand in the way of your next adventure. Depending on the area of application, the combination of different tires offers the ideal performance:
FAST & DUSTY
---
RECOMMENDED BY BRITTLEE BOWMAN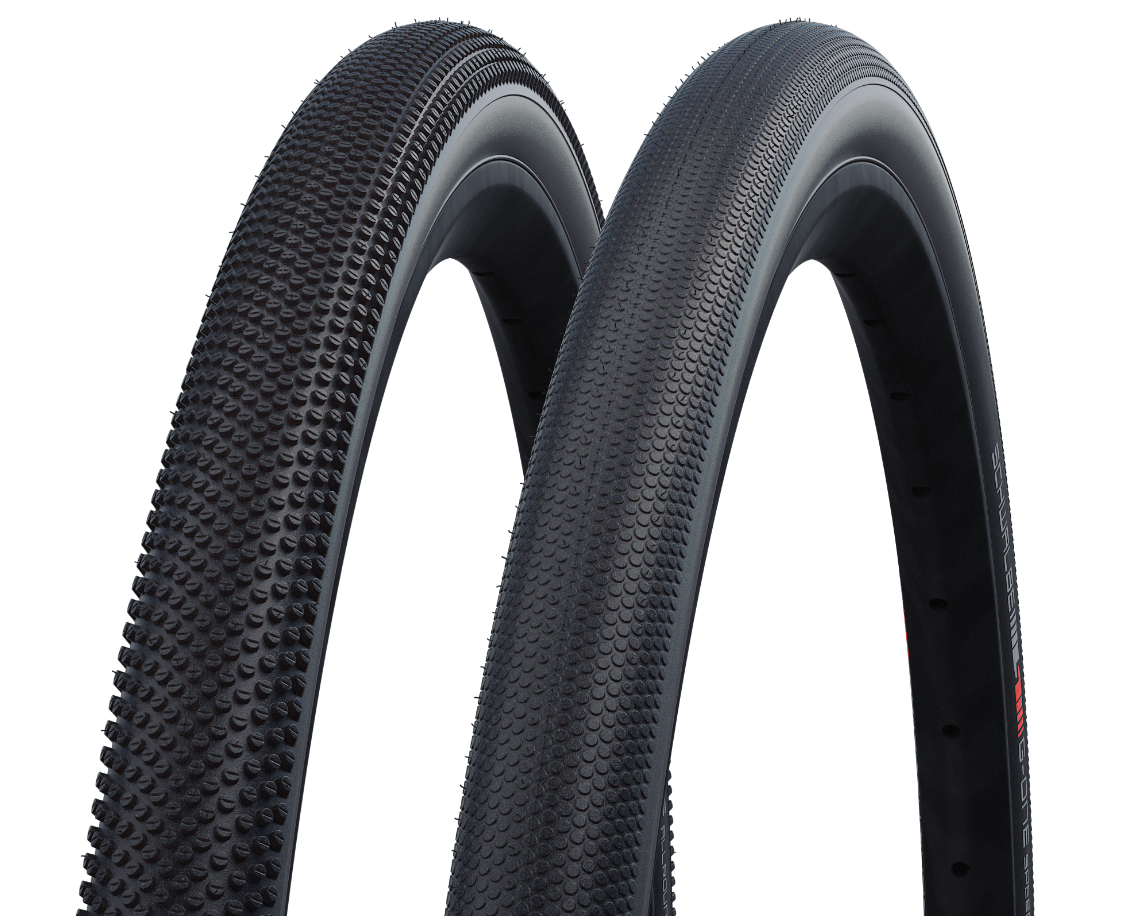 Can you easily switch back and forth between asphalt and gravel roads? Do you want to keep full control off-road without compromising previous gains? Then we recommend the combination Allround / Speed: the G-One Allround on the front wheel guides you over difficult surfaces in a controlled manner, while the G-One Speed follows you with ease.
FRONT WHEEL
REAR WHEEL
CRISS-CROSS
---
RECOMMENDED BY JULIANE SCHUMACHER
Do you leave the asphalt more and more often and are more at home on field and forest paths? Then we recommend the combination Bite / Allround: The G-One Bite literally bites into the ground and offers you control and safety on the front wheel even in changeable conditions. At the same time, the G-One Allround is extremely versatile and rolls just as reliably and easily.
FRONT WHEEL
REAR WHEEL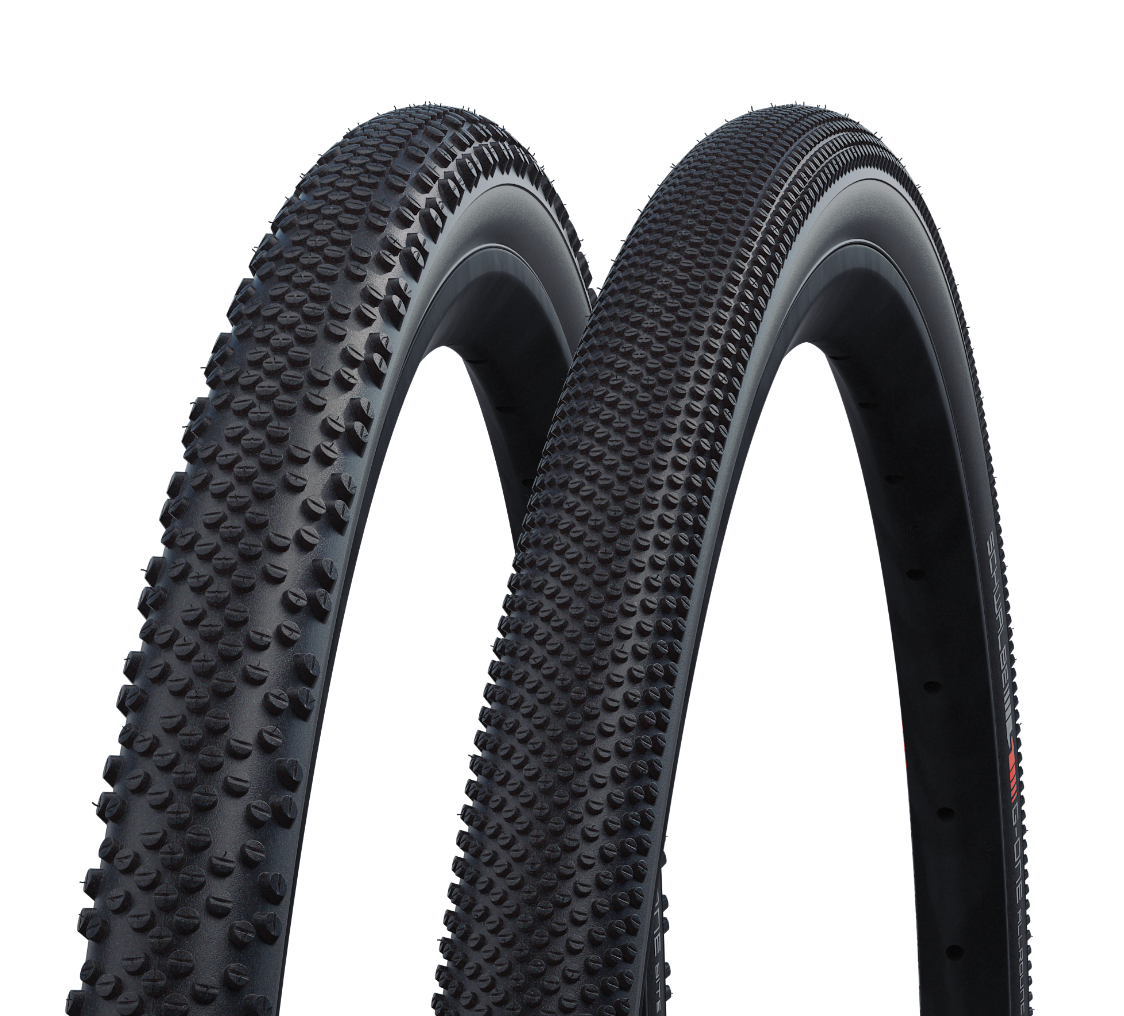 ROUGH & TOUGH
---
RECOMMENDED BY ERWIN SIKKENS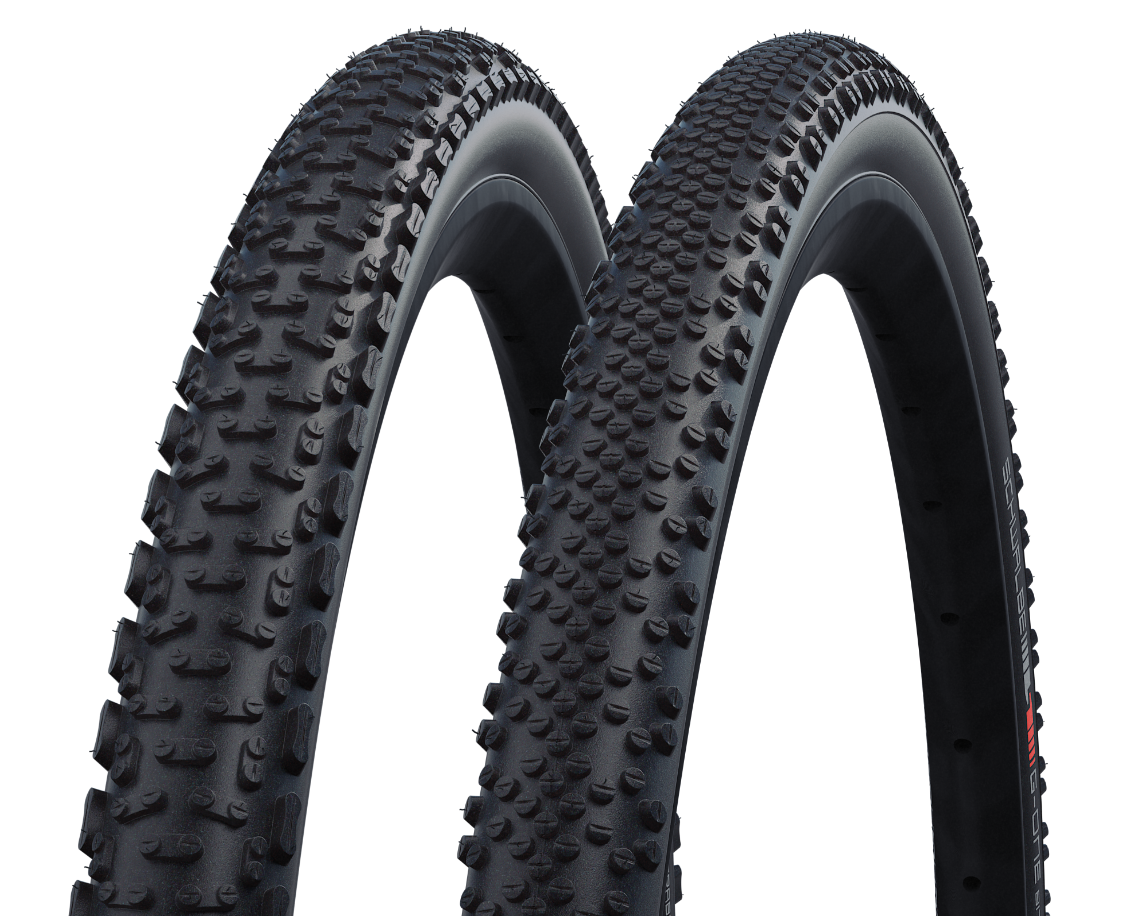 The combination for unknown terrain and adverse conditions. If you want to be prepared for anything on the go, we recommend the Ultrabite / Bite combination. With its aggressive profile, the G-One Ultrabite ensures absolute control on the front wheel. This will take you to the most remote places - regardless of whether you have to ride over gravel, forest or meadow paths.
FRONT WHEEL
REAR WHEEL
SCHWALBE G-ONE OVERLAND
The gravel tire for commuters, adventurers and e-bikers.


Use: 50% road, 50% off-road

High durability and good cornering grip due to large and stable blocks

Especially suitable for e-bikes

Very smooth on asphalt
SCHWALBE G-ONE RS
Race-oriented semi-slick race tire
Lowest rolling resistance in the G-One range
Maximum efficiency on light terrain, hard surfaces and asphalt
Braking and traction edges for front wheel and rear wheel thanks to

scale-like tread pattern

Souplesse construction for smooth ride + high puncture protection

under tough racing conditions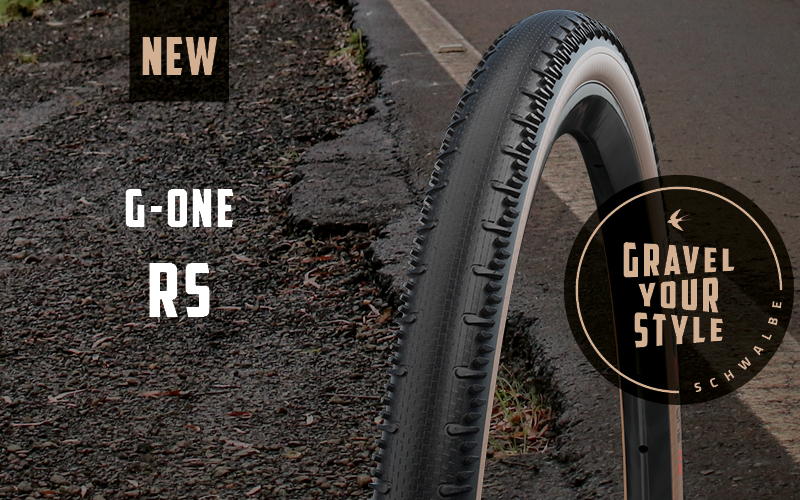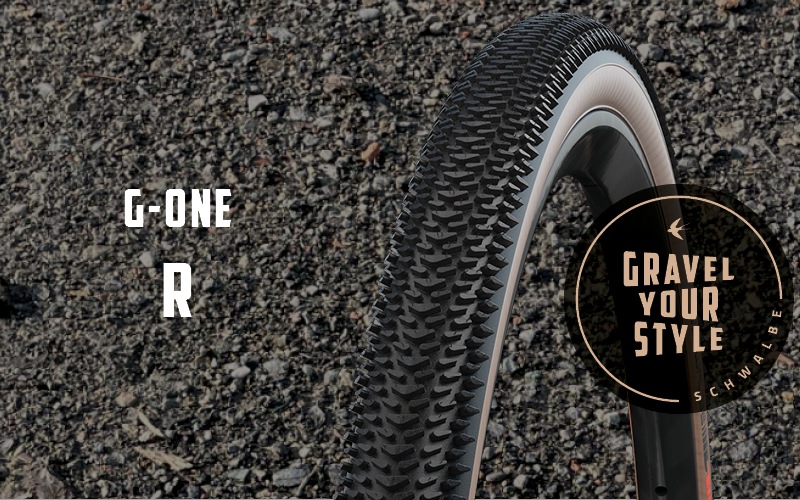 SCHWALBE G-ONE R
The gravel race tire. The Schwalbe G-One R is made for use on light terrain, gravel roads and asphalt. Thanks to the Super Race carcass, it combines souplesse, speed and control at the highest level.
SCHWALBE G-ONE ULTRABITE
The aggressive tread design of the G-One Ultrabite is impressive thanks to the compact cassette studs in the middle of the tread and provides plenty of grip and unparalleled traction. The Ultrabite is thus created for gravel riding without limits, even under adverse conditions.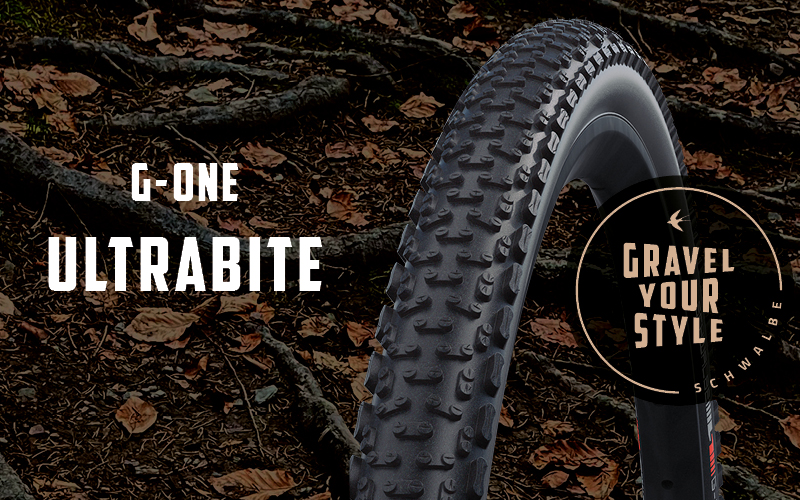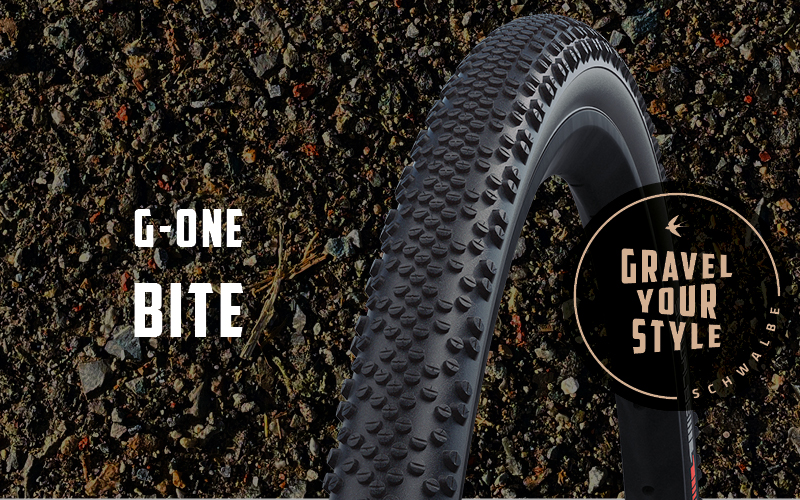 SCHWALBE G-ONE BITE
The Schwalbe G-One Bite is impressive thanks to its open profile and reinforced outer blocks. It is at home in the field and offers a secure hold on gravel roads, forest and meadow paths. The Schwalbe G-One Bite literally bites into the ground - regardless of whether it is dry or wet.div>
SCHWALBE G-ONE ALLROUND
The Schwalbe G-One Allround is equipped with a versatile profile that rolls extremely easily and offers reliable grip on gravel roads and dry meadow and forest paths. Thanks to its balanced riding characteristics, there are hardly any limits to this all-rounder.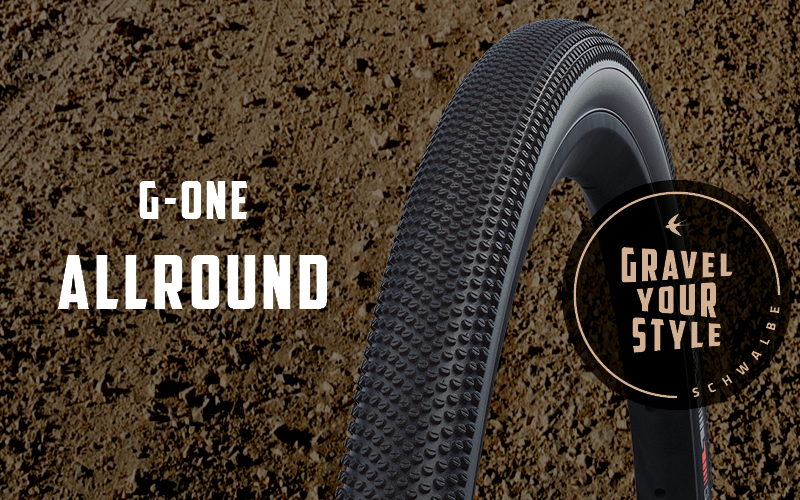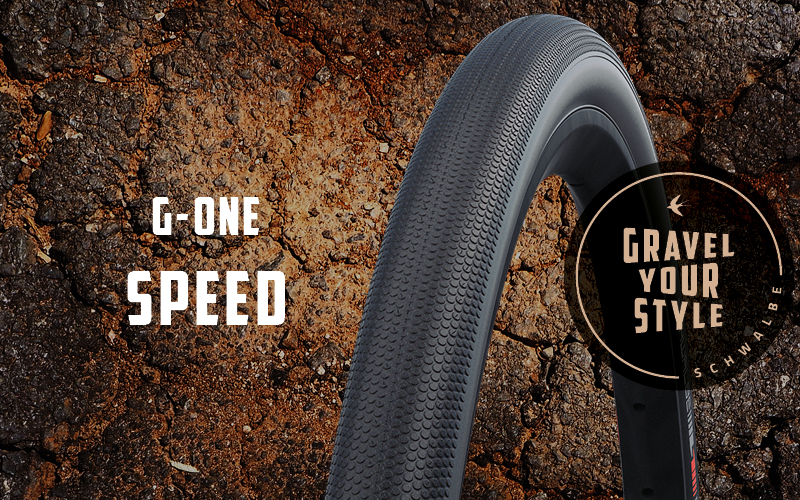 SCHWALBE G-ONE SPEED
The guarantee for maximum speed: The Schwalbe G-One Speed has a fine, homogeneous round knobbed profile, which ensures optimal rolling on asphalt and at the same time offers a secure hold on fine gravel.
SOUPLESSE CARCASS
The turn-up construction integrates Tubeless Easy technology in the most progressive way possible. This is what makes the tire so supple and comfortable. Riding this tire feels just like the velvety motion of a classic tubular tire.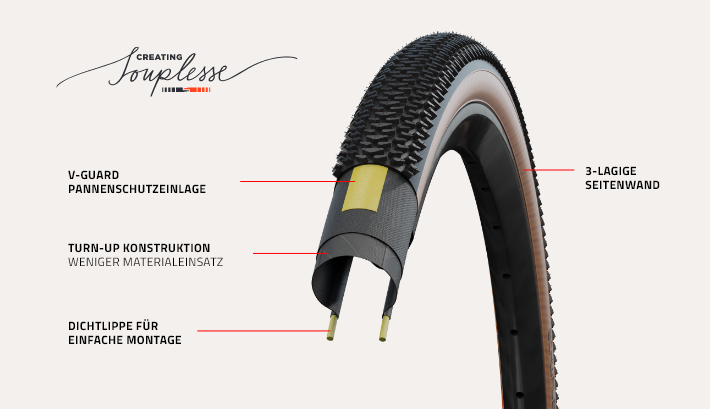 SUPER GROUND CARCASS
To ensure that you are well prepared for every adventure, all Schwalbe G-One tires in the Evolution Line have been equipped with the new Super Ground carcass: thanks to the puncture protection insert and three carcass layers under the tread, the new G-One tires find the ideal balance between safety and weight.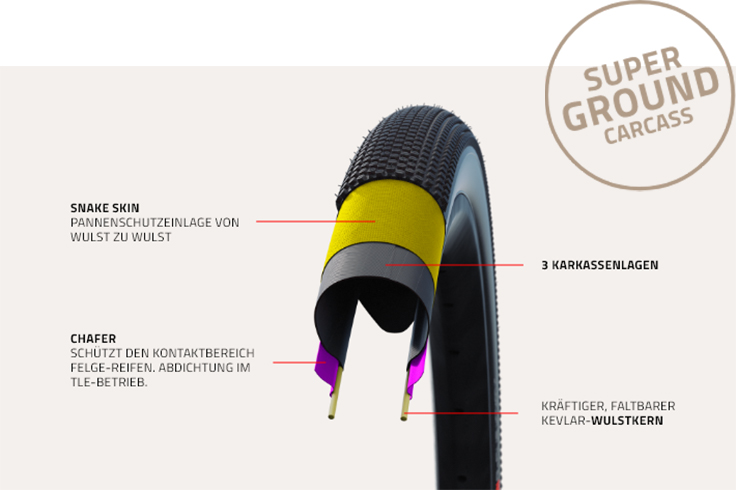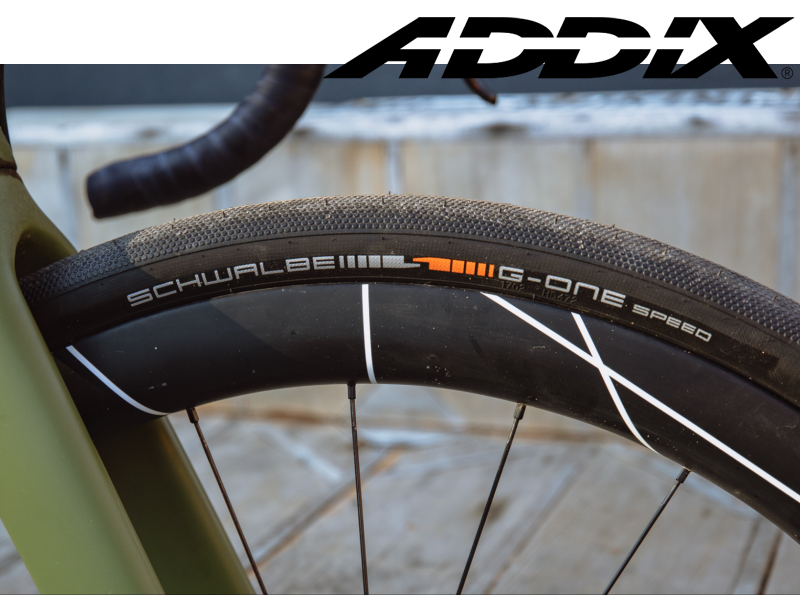 ADDIX SPEEDGRIP COMPOUND
The Addix Speedgrip rubber compound is the universal compound. It is tuned in such a way that it is ideally suited for the widest range of uses - and therefore perfect for your gravel bike. The compound combines grip, enormous durability and low rolling resistance; the tire rolls with little vibration over gravel and forest paths and provides ideal traction in technical terrain.
TUBELESS TECHNOLOGY ON THE GRAVEL BIKE
All versions of the Schwalbe G-One series can be ridden tubeless thanks to TLE technology. A tubeless set-up offers enormous advantages, especially when used on a gravel bike:
Tubeless enables riding with low air pressure
More traction and grip off-road
More comfort thanks to the tire's own suspension
Tubeless offers more puncture protection through sealing milk
Smaller defects are eliminated in seconds with the sealing milk