AARON FOTHERINGHAM
---
AN IDOL FOR YOUNG WHEELCHAIR USERS
He does backflips, frontflips and other tricks. He is known worldwide as a member of the MTV Nitro Circus. He is an idol for many young people. For many young people who sit in wheelchairs. For Aaron Fotheringham himself sits in a wheelchair.
WCMX – EXTREME SPORT IN THE WHEELCHAIR
In 2006, at the age of 15, he came to Germany for the first time at our invitation to appear at Schwalbe's "Rolliday" and in Stefan Raab's TV total. "WCMX" – Wheelchair skating - is what the now 21 year-old calls his very own type of sport with double backflips, frontflips and other tricks, all of which he performs on Schwalbe wheelchair tires.
"Aaron is an idol for young people all over the world with and without handicaps. We need extreme athletes like him to draw attention to wheelchair sport. For people in wheelchairs, the sport always also means a good deal of mobility, independence and quality of life", says Manuela Zahn-Simons, Marketing Wheelchair Tires at Schwalbe.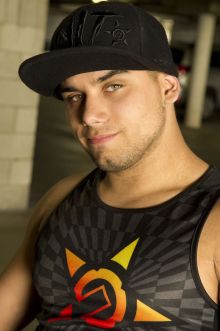 SCHWALBE AIRBORNE
Together with Aaron, we have developed the Airborne. 30 mm wide, with more comfort – not only when landing after the backflip. Low weight and low rolling resistance. Also extremely puncture-proof thanks to the HD Speed Guard.