BALLOON BIKES
---
HEALTHIER AND MORE RELAXED CYCLING
TIRE SUSPENSION PRINCIPLE
---
Balloonbikes are another bicycle variant. Many different bicycle types (Trekking, Urban, E-Bike…) can also be Balloonbikes. As with cars for example: Many of them a can also be built as cabriolets.

But a Balloonbike differs from a normal bike in one important way: It has much wider tires!
Balloonbikes use the principle of pneumatic air suspension. The large volume air cushion of these special tires has a natural damping effect – so complicated suspension technology is made redundant.

A simple idea with a big effect: It is easier, more comfortable and relaxed when riding a Balloonbike.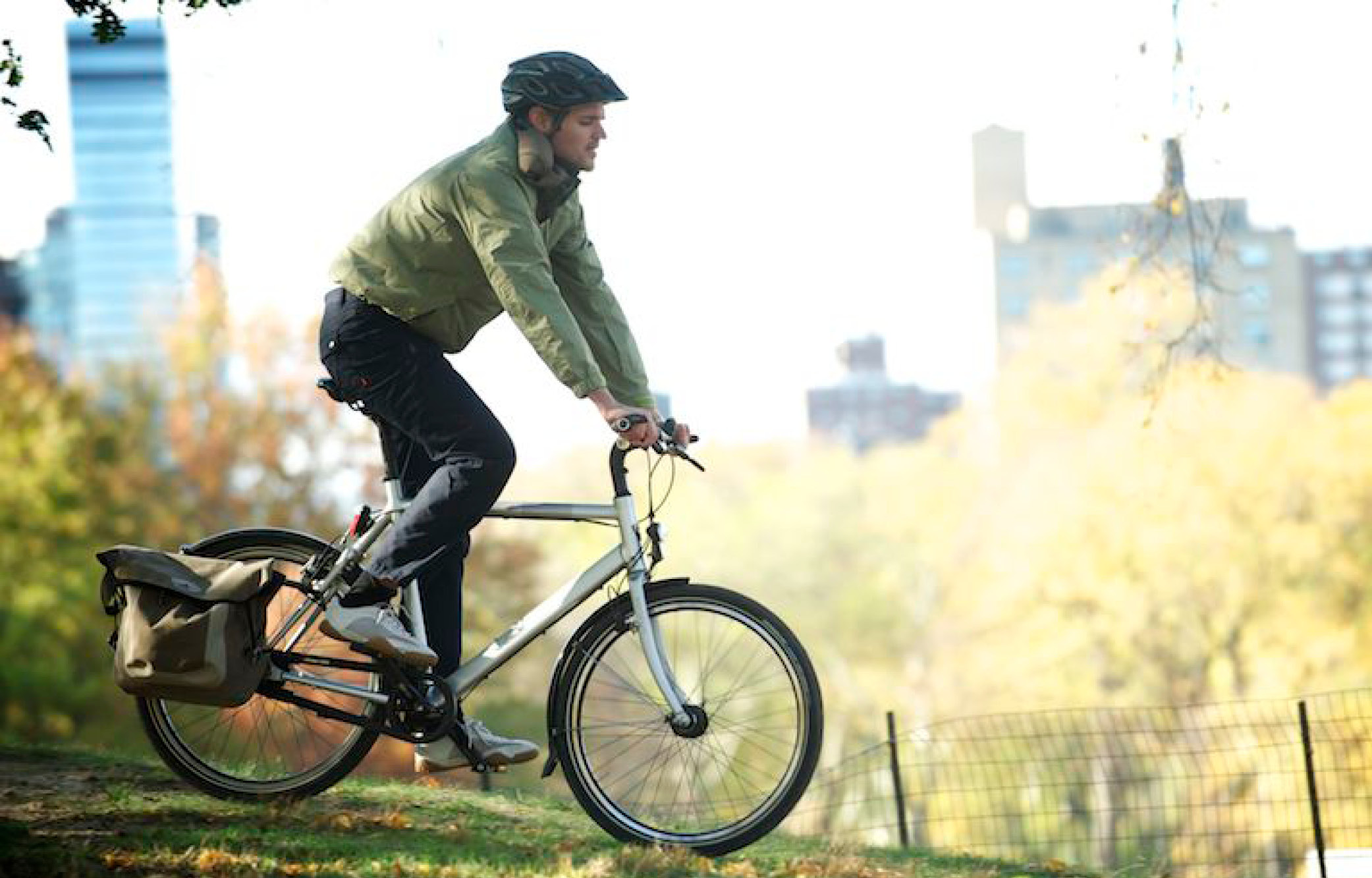 BALLOONBIKES CAN BE RIDDEN AT LOWER AIR PRESSURE
---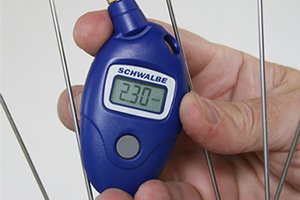 Air pressure used in Balloonbike tires can be adjusted as preferred, but the optimum pressure is between 2.0 and 2.5 bar, which is clearly much lower than normal touring tires. The tire pressure can be adapted specifically to each rider's preference for suspension comfort by using a pressure gauge (Airmax Pro), a track pump with a pressure gauge, or an air line at a gas station for an AV (auto) valve.
BALLOON TIRE OR BALLOONBIKE
---
Balloon tires were the fashion in the first half of the last century. They were conceived to cope with severe road conditions but they were heavy, did not roll well and steered badly.

The basic idea from that period was re-engineered when, in 2001, the BIG APPLE tire introduced the trend anew. The BIG APPLE, along with Schwalbe's other specially wide tires, now does what the old fashioned tires could not: They all roll easily, safely and are consummately steerable.

'Balloonbike' is a registered brand of SCHWALBE.
BALLOONBIKERS SUFFER LESS VIBRATIONS
---
Balloonbikers enjoy much more comfort, because their spine, as opposed to riding a standard bike, suffers 25 per cent less jarring. A full bicycle suspension system only achieves a further eight per cent less jarring, but this makes the bike more susceptible to damage, heavier and much more expensive.
TRULY MORE COMFORTABLE FOR THE BACK
---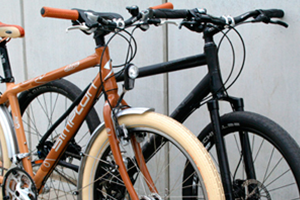 Using BIG APPLE tires (60-622, 2 bar) on a non-suspension bike reduces vibrations to the lumbar area by around 25 per cent, comparable with the same bike using a standard tire. In comparison a full-suspension bicycle can reduce vibrations on the lumbar area by around 33 per cent.
BALLONBIKERS ENJOY LOWER ROLLING RESISTANCE
---
Balloonbike tires have a different shape contact area to a narrow tire, so less energy is lost and is thus completely opposite to what is popularly assumed: Balloonbike tires are wide, but nevertheless roll more easily than narrow, standard tires.


A 60mm wide Balloonbike inflated to 2 bar rolls really easily and with a full suspension effect. Normal city or trekking bikes with 37mm standard tires need to be inflated to a hard 4 bar to achieve this rolling efficiency.


At the same pressure the BIG APPLE rolls around 10 Watts lower, while the comfort of the BIG APPLE at 2 bar produces the same rolling resistance as a standard tire at 4 bar.

In practice the advantages are greater than in theory: The suspension effect of wide tires smoothes out uneven roads, so the rider is protected from vibrations and thus saves energy.
On stone paths the Big Apple tires' showed 11 per cent lower resistance, which means 11 per cent less energy is required to ride. (Laboratory tests confirm exactly identical rolling resistance results on an even surface using the same tire/air pressure combination.)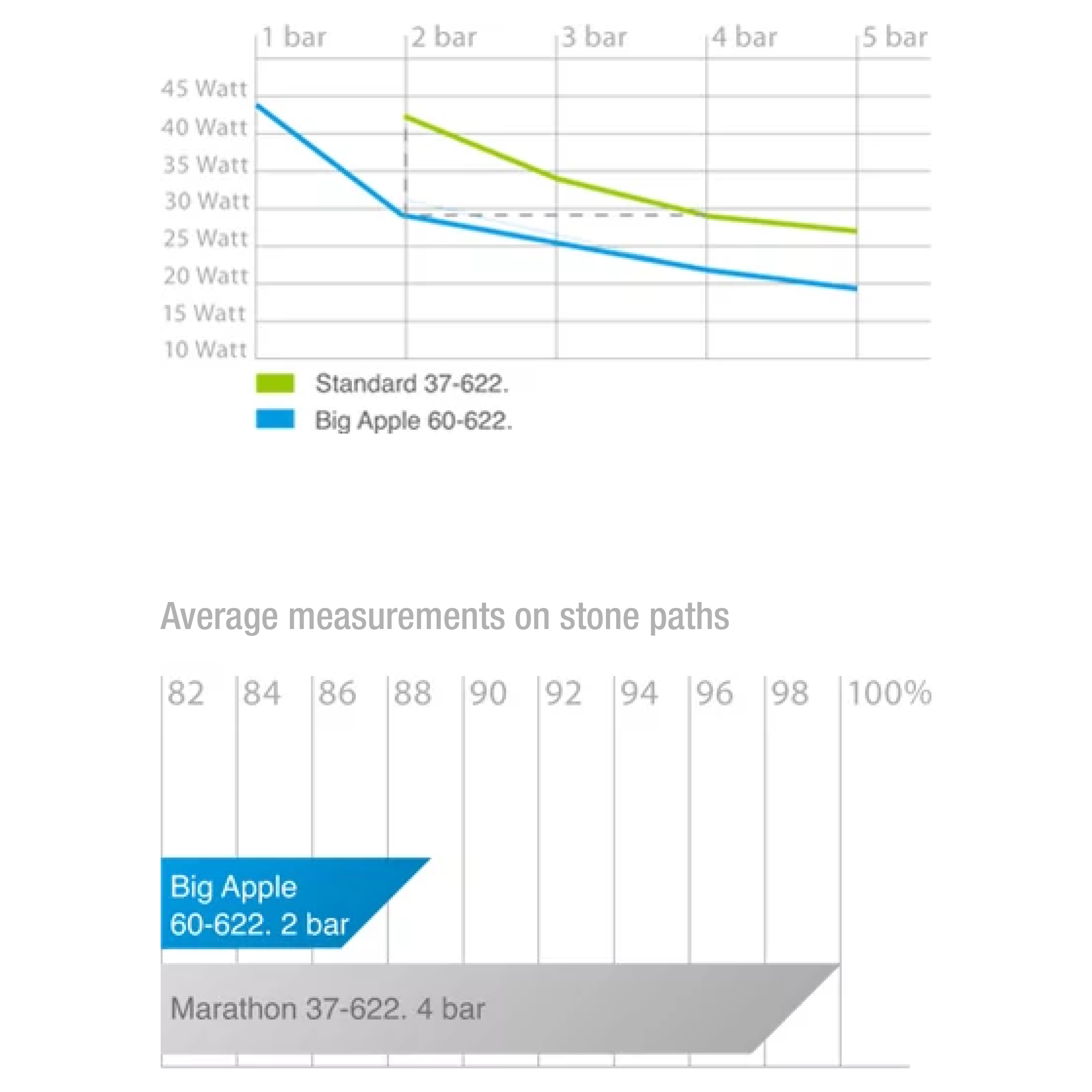 BALLOONBIKERS STAY UNRUFFLED
---
Balloonbikers stay calm while other cyclists are shaken around. Because bicycle tire suspension displays its best attributes on the vibrations and the short frequency bumps caused by uneven roads. Tests showed that these loads were about a third lower than with a standard bike, whereas normal frame and fork suspension was almost ineffective.
A Balloonbike has a contact area around double that of a standard bike. It hardly moves off track under hard braking or sudden direction changes, while the 60mm wide tires also cannot get stuck in tramlines.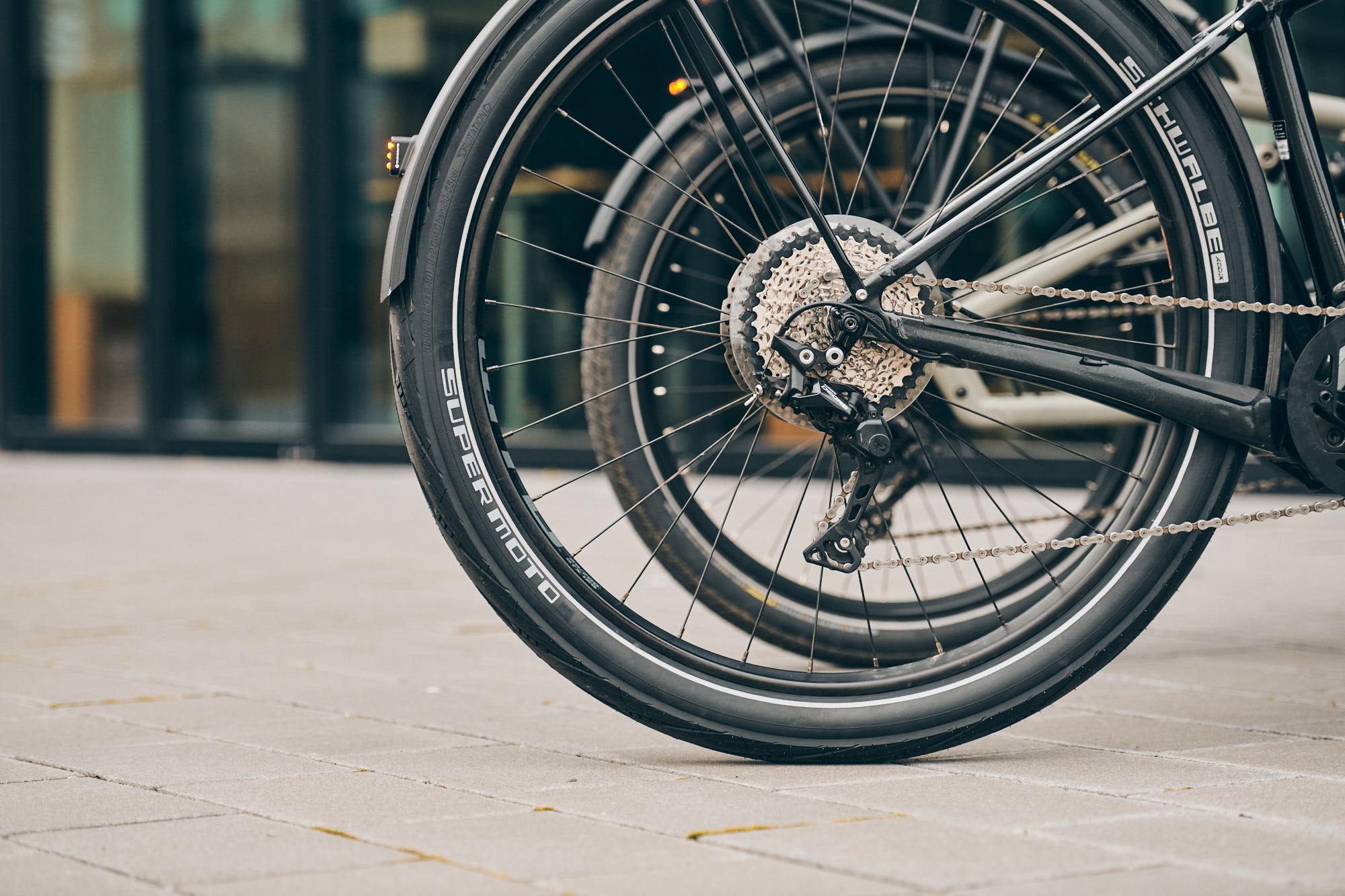 SUSPENSION REACTION
---
In everyday life fast suspension response is more important than suspension travel.
The investigations of the German Sports University, Cologne showed that a voluminous tire absorbs the many small impacts usual in everyday cycling much better than a complex suspension system, which responds well only on rougher terrain.

On a cobbled test track BIG APPLE tires reduce vibrations felt at the handlebar by around 36 per cent, whereas in two parallel tests carried out on trekking bike suspension forks, they did not absorb vibrations nearly so well.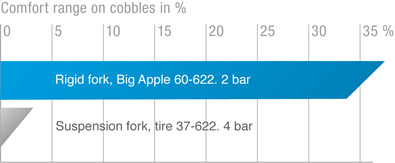 TIRES
---
Go to the
CITY/TOUR
page.
Select BALLOON.
You instantly have an complet overview over our Balloonbike-Tire portfolio.
FAQ
---
HERE YOU WILL FIND ANSWERS TO YOUR QUESTIONS


WHAT KIND OF BALLOONBIKES ARE THERE?
Many bicycle companies have Balloonbikes fitted with BIG APPLE tires and other special tires from our model range. A current overview can be found further down on this page.
WHERE CAN I BUY A BALLOONBIKE?
In theory in any bicycle store. However Balloonbikes are not common everywhere. Contact the Balloonbike maker to find out which retailers stocks your preferred model.
ARE BALLOONBIKES SAFE?
They are particularly safe: Because Balloonbikes have almost twice the footprint on the road as normal bikes. The rapid suspension response means the bicycle tire stays in contact with the road surface much longer. Together these act to provide more road grip and more stability in steering and under braking. A further advantage: Balloonbikes with 60 mm wide tires cannot get stuck in tramlines.
DOES A BALLOONBIKE HAVE FULL-SUSPENSION?
A suspension fork or a suspension seat-post damps only that particular part of the bicycle. Tire suspension in Balloonbikes damps the entire mass – rider, bicycle and luggage.
CAN BALLOONBIKE SUSPENSION BE TURNED OFF?
Yes, easily by inflating the tire hard. Depending upon the weight of the rider and luggage the air pressure can be varied. The most comfortable range at normal loading is between 2.0 and 2.5 bar.
HOW HIGH ARE BALLOONBIKE MAINTENANCE COSTS?
There are no special maintenance costs involved in air suspension – contrary to mechanical parts or full-suspension bikes that are not only expensive to purchase, but also to check and maintain in order to function properly. You only have to check tire pressures, this should be done at least once a month.
ARE BALLOONBIKE AND OTHER SUSPENSION SYSTEMS COMPATIBLE?
Fundamentally a Balloonbike can also be equipped with other suspension systems. Using good quality, conventional suspension can enhance suspension comfort, because certain absorption effects complement each other well.
DO WIDE TIRES HAVE ONLY ADVANTAGES?
Of course not. Racing bikes use quite narrow tires, because they are lighter and accelerate faster. But at normal speeds of up to 20 kph wide tires roll easier and are above all more comfortable.
ARE THERE MANY TYPES OF BALLOONBIKE TIRES?
Balloonbikes can be equipped with BIG APPLE tires or other special tires from SCHWALBE. The Balloonbike trend began in 2001 with the BIG APPLE. BIG APPLE is available in three widths (50, 55 und 60 mm) and in all popular sizes.
WHAT IS THE DIFFERENCE BETWEEN BALLOONBIKES WITH 50 AND 60 MM WIDE TIRES?
60 mm wide tires provide maximum Balloonbike comfort. But also the lighter weight 50 mm wide tires had double the air volume of a standard 37 mm tire. The 50 mm wide tyre is a good choice for anyone who wants a sporty yet comfortable ride. Between these two sizes there is also a popular 55 mm width.
CAN ANY BICYCLE BE CONVERTED INTO A BALLOONBIKE?
Yes, almost. There are though some technical requirements. Rims are rarely a problem, but frames, forks, mudguards and brakes must have sufficient clearance for the wide tires.
BICYCLE TECHNOLOGY
The following tips and tricks along with data is provided for anyone who wants to change their regular bike into a Balloonbike.
CONVERSION
In principle any bicycle can be converted into a Balloonbike. However there are some technical considerations to be taken account of beforehand. Usually rims are never a problem, but frame, forks, mudguards and brakes have to be wide enough to accommodate the wider tires. N.B.: Balloonbike tires are not only wider, but also stand taller on the rim.
RIMS
Wide tires perform best on wide rims, and this also prevents problems. However, in principle, it is possible to fit wide tires onto the commonly used 19C rims.

Tire width

Intended rim size
as per ETRTO norm

Maximum air pressure
for 19C rims

50 mm
21C-25C
4 Bar
60 mm
25C
3 Bar


DIMENSIONS
These exact dimensions can be used to check if the frame has sufficient clearance to permit installation of BIG APPLE tires rim width.
Size
distance
outer edge/width max
Ø - width max.
(tolerance +-3 mm)

outer Ø [mm]
(tolerance +-3 mm)

Rim
width

A
B
C
19C
50-406
47
506
481
19C
55-406
53
521
496
19C
50-507
47
608
583
19C
55-507
53
623
598
19C
50-559
47
660
635
19C
55-559
53
670
645
19C
60-559
59
684
655
21C
50-622
47
724
699
19C
55-622
53
738
713
19C
60-622
59
748
719
21C
Note: Please be aware that especially the width of the tires can be larger depending on the used air pressure.
FRAMES
The following points should be considered when selecting and/or constructing a Balloonbike frame.
Clearance: Frames and forks must have sufficient clearance for wide tires.
Bottom bracket height: Because 60mm tires are larger than 37mm tires, the whole bicycle will be around two centimeters taller. To permit the safe grounding of feet, the bottom bracket height should be lowered. N.B.: For safety reasons bicycles with lowered bottom brackets should not be retro-fitted with narrow tires as pedals can come into contact with the ground while cornering.
Foot clearance: Feet on pedals should not come into contact with the front wheel. Generally it is difficult to observe this rule where 28" wheels are combined with small frames sizes, as the wider tires makes the wheel's outer circumference even larger. It is therefore preferable for short to normal height people to select a 26" wheel Balloonbike.
Steering geometry : It is important that the frame has not been constructed for the use of a suspension fork. In this case the fork is much shorter and conversion will make steering imprecise and potentially dangerous.
MUDGUARDS
There must be sufficient clearance between the mudguards and wide tires. SKS produce their P65 extra-wide mudguard especially for the 60mm BIG APPLE.
BRAKES
There should be enough space between rim brakes to accommodate the mudguard and tire. Not all V-Brakes have arms long enough.
BALLOONBIKES
Balloonbikes are available from many different brands, from many makers, in all kinds of styles and for many uses. The following brands are Balloonbike market leaders.
Tire width 55 mm and more
Very few manufactures mark their mmodels explicitly as Balloonbikes. They often only recognize a Ballonbike according to their tires: Balloonbike-tires have a width of 50 mm and more! Tire name and tire width usually are listed in the model features.