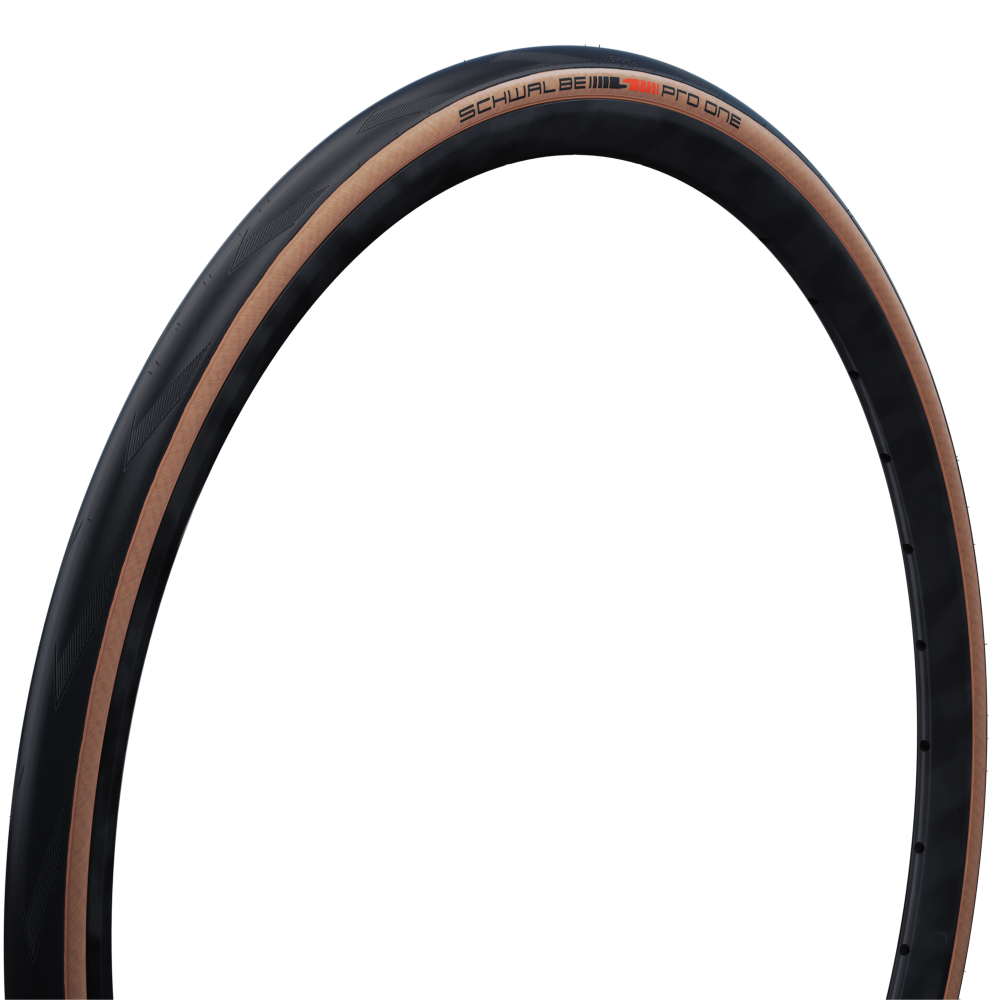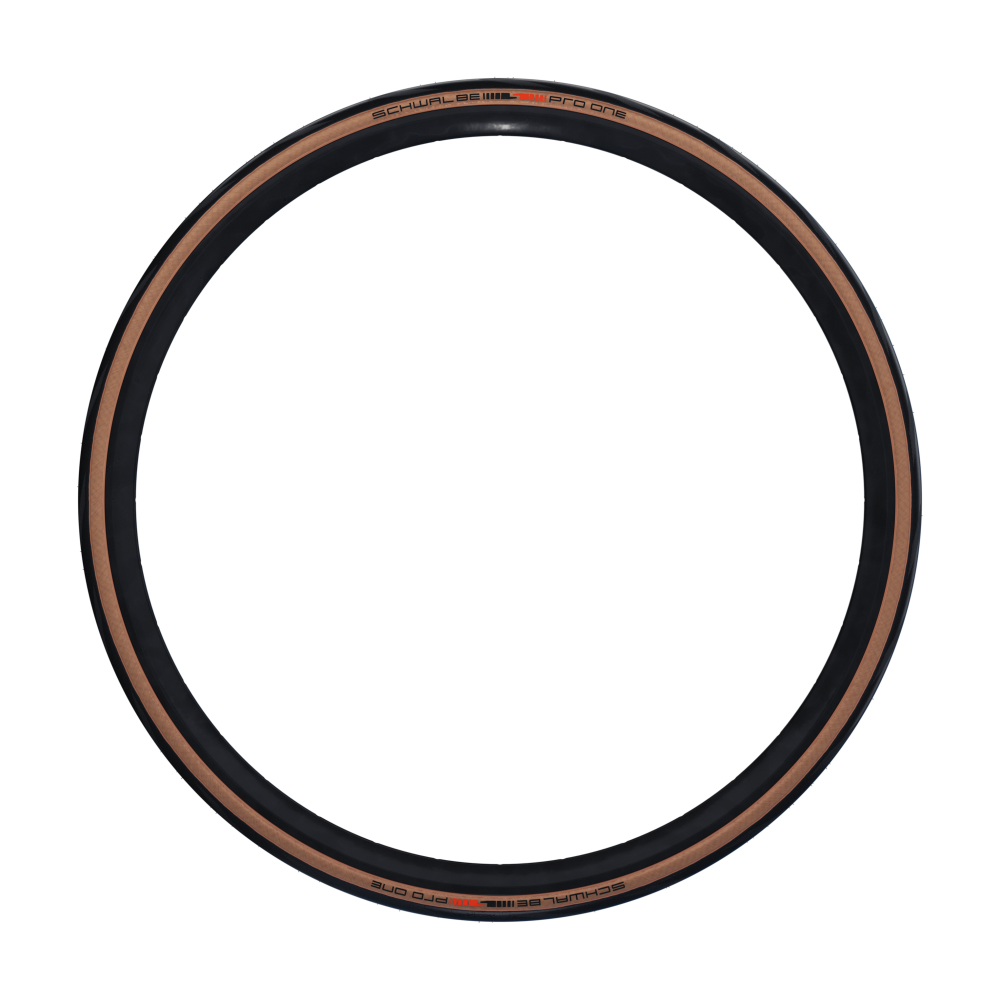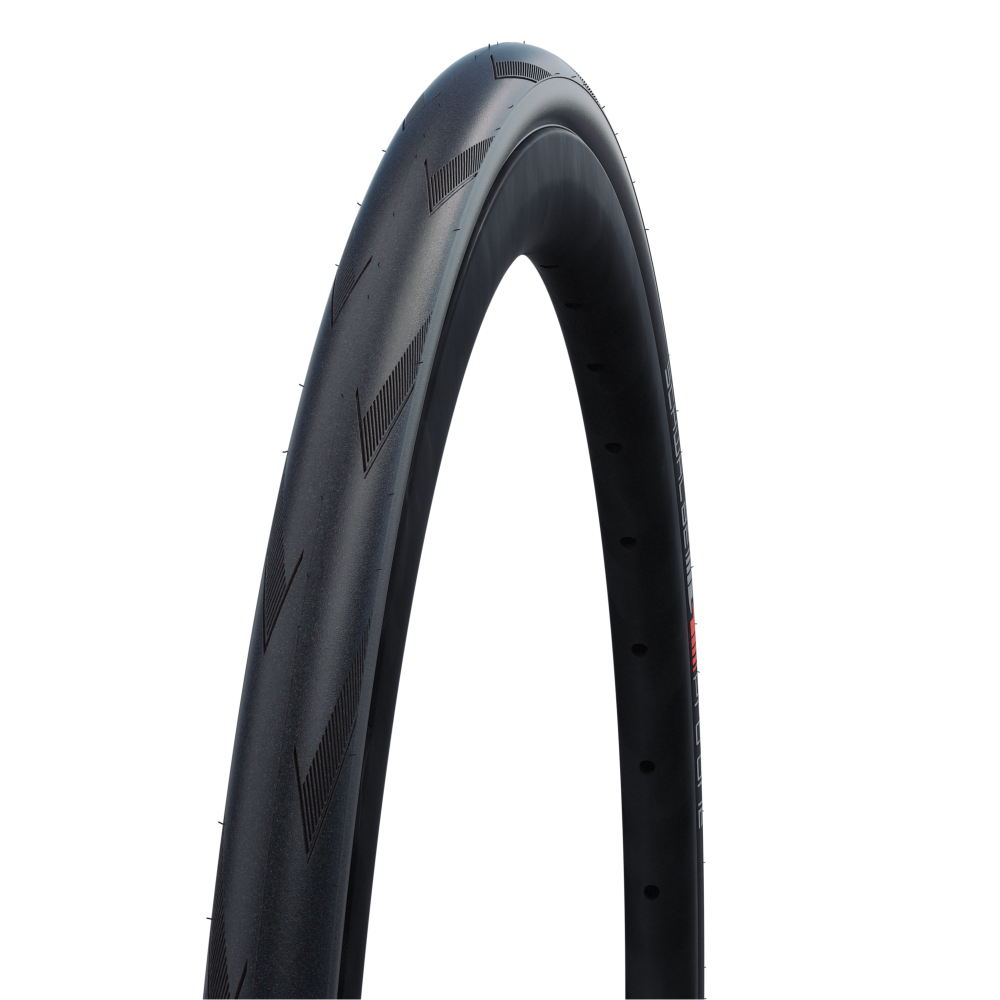 /
Schwalbe Pro One Tubeless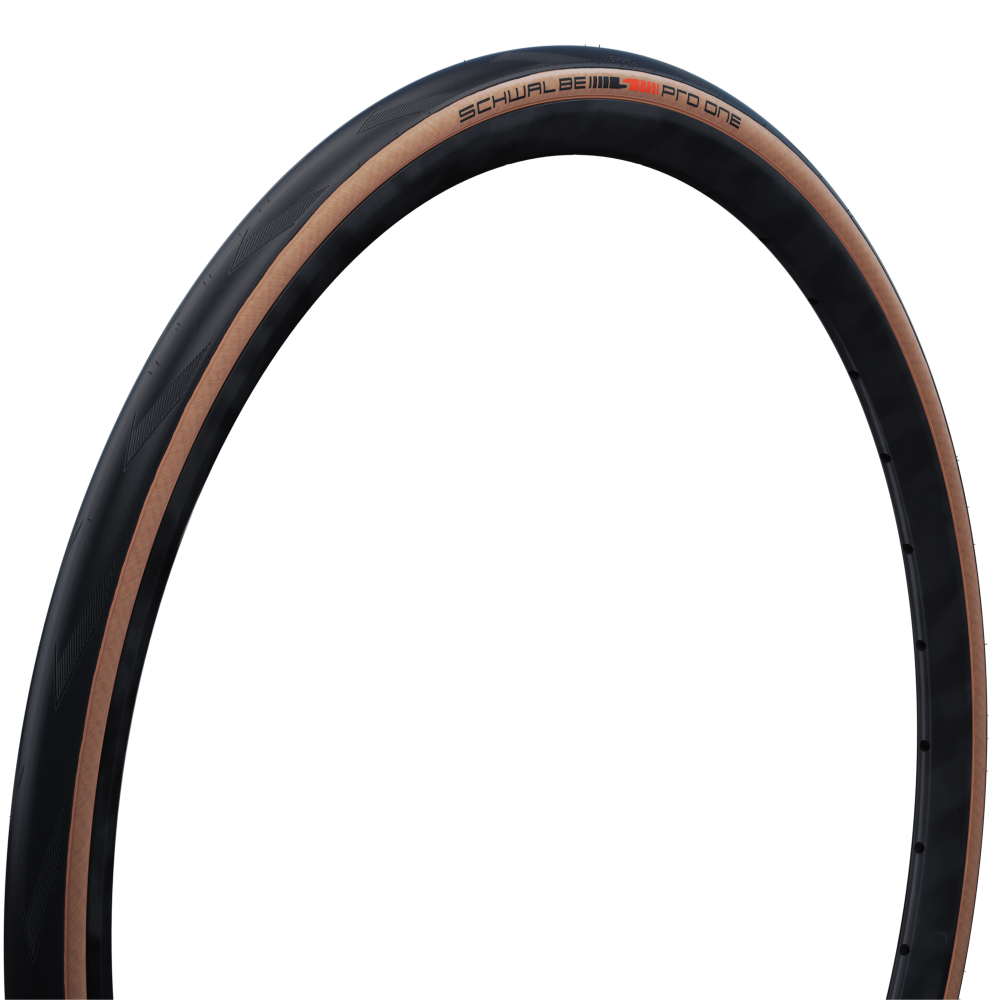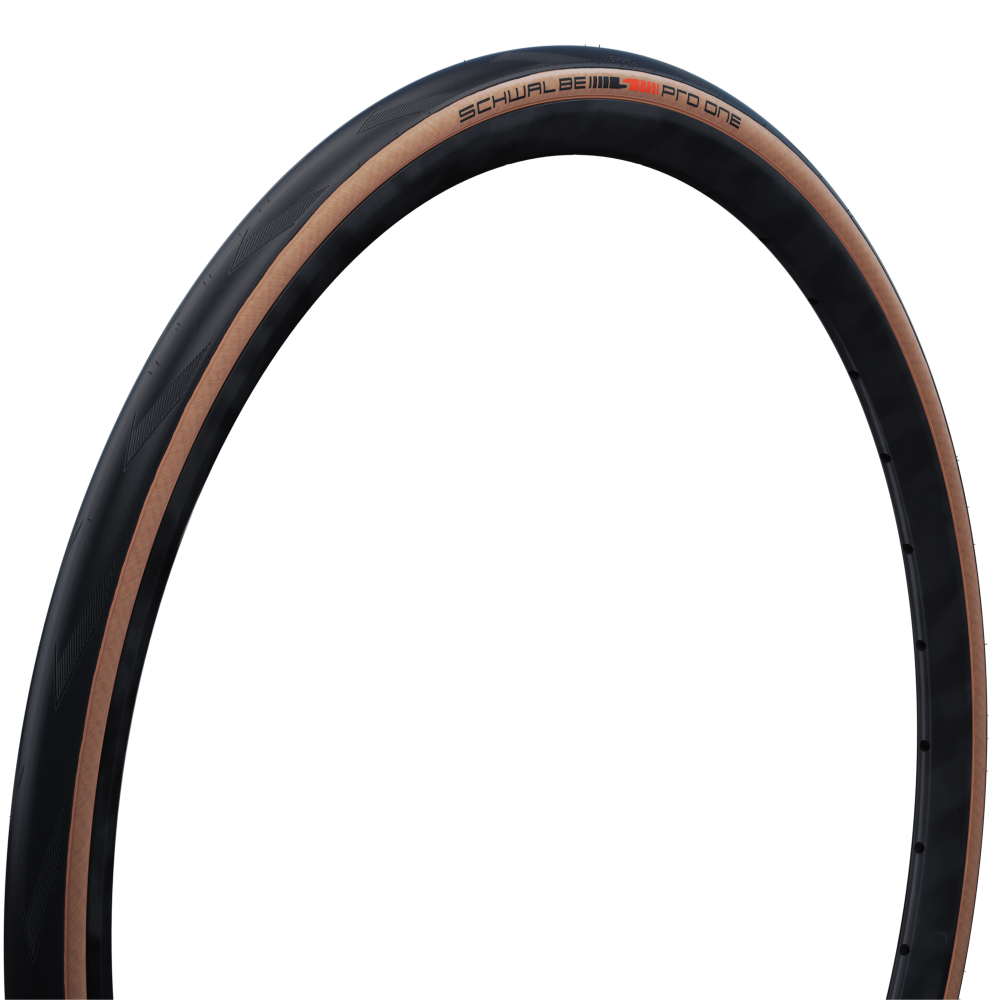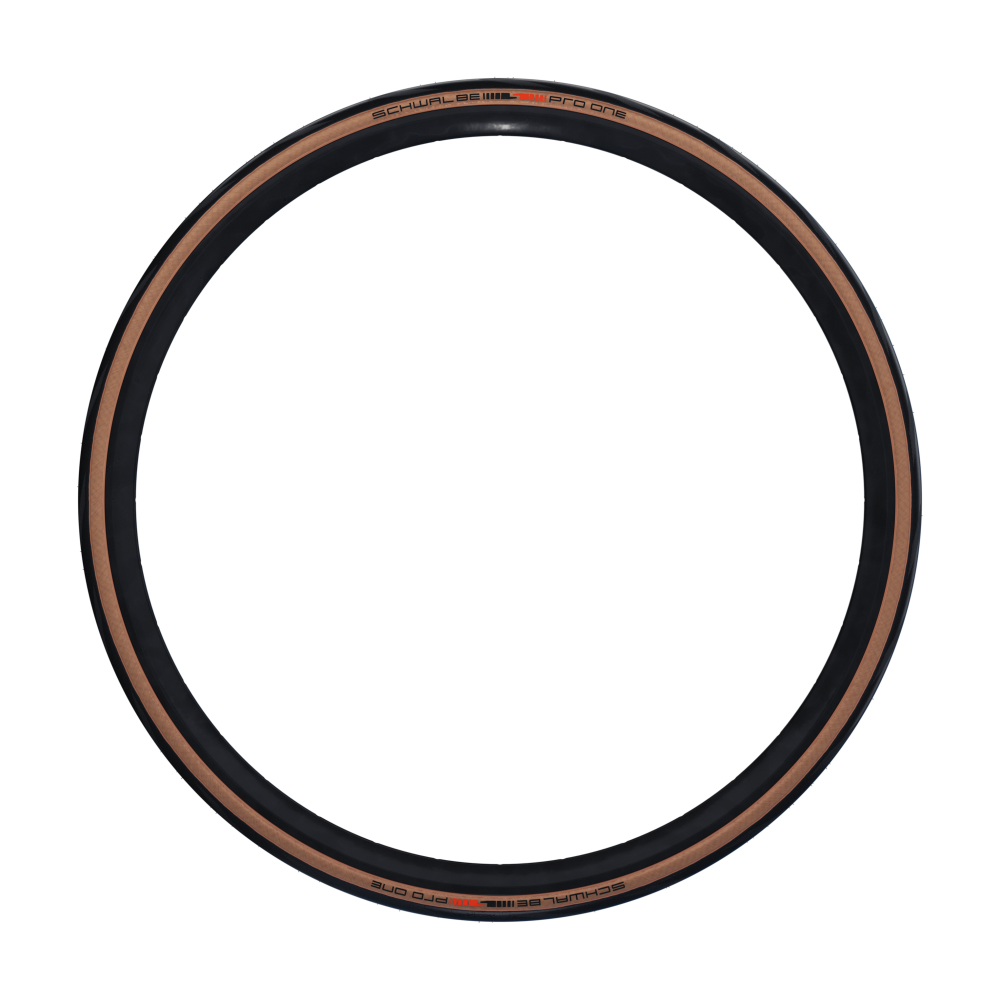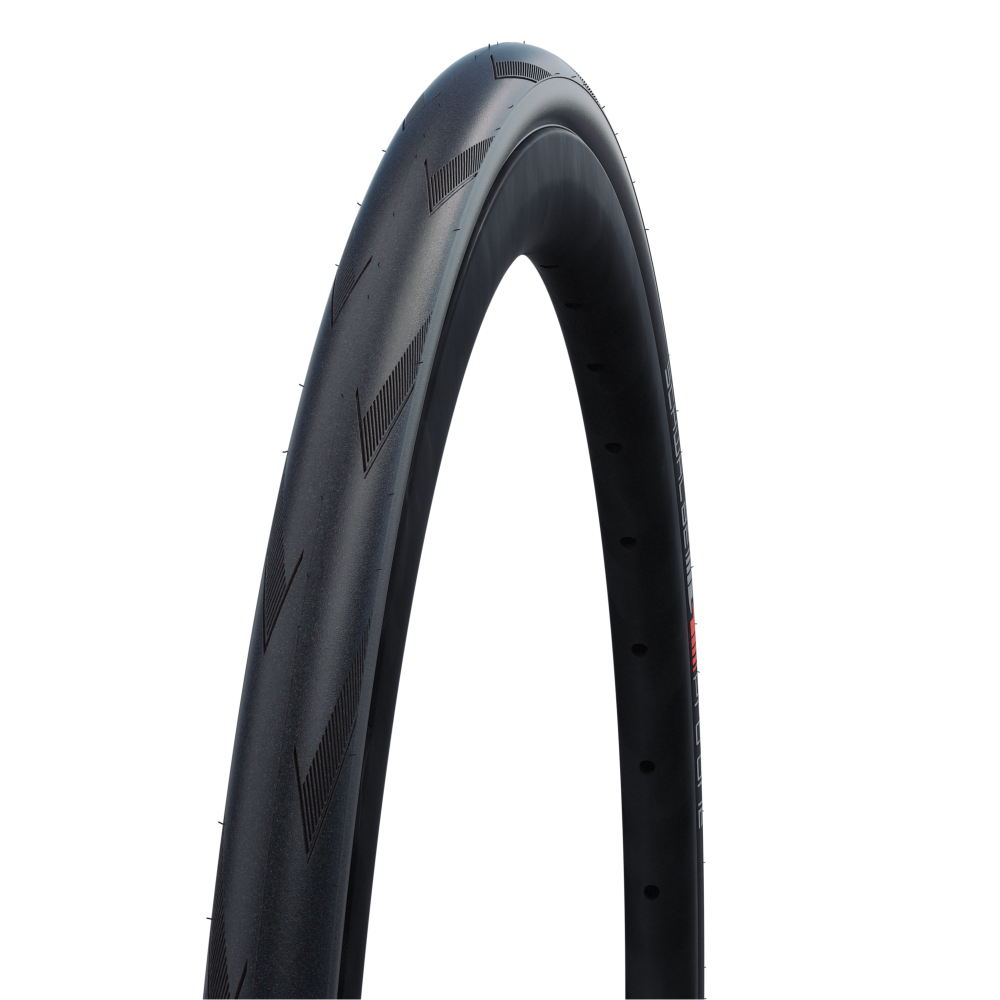 Product Description
CREATING 'SOUPLESSE'. TUBELESS EASY HIGH-END ROAD BIKE TIRE.
Combining 'souplesse', speed and control at the highest level. The best road bike tire Schwalbe has ever developed.
Super Race carcass (Souplesse construction)
Addix Race Compound
V-Guard puncture protection
The TLE tire is specially made for tubeless use and thus offers the very best performance. TLE tires must always be run with sealant.
INCORRECT USE IS EXCLUDED: All Pro One road bike tires are clearly marked with additional labels "TLE" or "TUBE ONLY".
Instructions for the first assembly: Schwalbe Pro One and Schwalbe Pro One TT Tubeless Easy tires must be used with Doc Blue tire sealant. At least 30 ml, preferably 60 ml per tire. The tire must be run for at least 25 km directly after the sealent is added. If the instructions for the first assembly are ignored, the sealing of the tire cannot be guaranteed.
Best Use
Technical Data
Size:

ETRTO 25-584

Type:

Folding

Compound:

Addix Race

Version:

Super Race, V-Guard

Colour:

Black

Seal:

Tubeless

Weight:

245 g

Pressure:

5.0-7.5 Bar (70-110 psi)

Maximum load:

70 kg

EPI:

127

E-Bike:

E-25

Product number:

11654084

EAN:
Price:

US$91.00
Product overview
Find your perfect tire even faster. Use the search to narrow down the articles or
sort the tires with the arrows directly in the table according to your interest.
| | | | | INCH | ETRTO | SIZE | VERSION | SEAL | TYPE | E-BIKE | COMPOUND | COLOUR | BAR | PSI | WEIGHT | EPI | MAXIMUM LOAD | PRODUCT NUMBER | QUALITY | PRICE | |
| --- | --- | --- | --- | --- | --- | --- | --- | --- | --- | --- | --- | --- | --- | --- | --- | --- | --- | --- | --- | --- | --- |
| | | | | 20" | 28-406 | 20x1.10 | Super Race, V-Guard | Tubeless | Folding | E-25 | Addix Race | Black | 6.0-8.0 | 85-115 | 200 g | 127 | 70 kg | 11654473 | Evolution Line | US$91.00 | |
| | | | | 20" | 28-406 | 20x1.10 | Evolution | Tubeless | Folding | | Addix Race | Black | 6.0-8.0 | 85-115 | 205 g | 127 | 70 kg | 11653951 | Evolution Line | US$91.00 | |
| | | | | 26" | 28-559 | 26x1.10 | Evolution | Tubeless | Folding | | Addix Race | Black | 4.0-6.5 | 55-95 | 275 g | 127 | 75 kg | 11653950 | Evolution Line | US$91.00 | |
| | | | | 26" | 28-559 | 26x1.10 | Super Race, V-Guard | Tubeless | Folding | E-25 | Addix Race | Black | 4.0-6.5 | 55-95 | 270 g | 127 | 75 kg | 11654474 | Evolution Line | US$91.00 | |
| | | | | 27.5" | 28-584 | 650x28B | Super Race, V-Guard | Tubeless | Folding | E-25 | Addix Race | Black | 4.0-6.5 | 55-95 | 260 g | 127 | 70 kg | 11654085 | Evolution Line | US$91.00 | |
| | | | | 27.5" | 25-584 | 650Bx25 | Super Race, V-Guard | Tubeless | Folding | E-25 | Addix Race | Black | 5.0-7.5 | 70-110 | 245 g | 127 | 70 kg | 11654084 | Evolution Line | US$91.00 | |
| | | | | 28" | 30-622 | 28x1.20,700x30C | Super Race, V-Guard | Tubeless | Folding | E-25 | Addix Race | Black | 4.0-5.5 | 55-80 | 305 g | 127 | 70 kg | 11653976 | Evolution Line | US$91.00 | |
| | | | | 28" | 30-622 | 28x1.20,700x30C | Super Race, V-Guard | Tubeless | Folding | E-25 | Addix Race | Transparent Sidewall | 4.0-5.5 | 55-80 | 305 g | 127 | 70 kg | 11654218 | Evolution Line | US$91.00 | |
| | | | | 28" | 32-622 | 28x1.25,700x32C | Super Race, V-Guard | Tubeless | Folding | E-25 | Addix Race | Transparent Sidewall | 3.5-5.0 | 50-70 | 325 g | 127 | 70 kg | 11654238 | Evolution Line | US$91.00 | |
| | | | | 28" | 34-622 | 28x1.30,700x34C | Super Race, V-Guard | Tubeless | Folding | E-25 | Addix Race | Black | Max. 4.5 | Max. 65.0 | 340 g | 127 | 70 kg | 11654292 | Evolution Line | US$91.00 | |
| | | | | 28" | 28-622 | 700x28C | Super Race, V-Guard | Tubeless | Folding | E-25 | Addix Race | Transparent Sidewall | 4.0-6.5 | 55-95 | 280 g | 127 | 70 kg | 11654217 | Evolution Line | US$91.00 | |
| | | | | 28" | 34-622 | 28x1.30,700x34C | Super Race, V-Guard | Tubeless | Folding | E-25 | Addix Race | Transparent Sidewall | Max. 4.5 | Max. 65.0 | 340 g | 127 | 70 kg | 11654349 | Evolution Line | US$91.00 | |
| | | | | 28" | 38-622 | 700x38C | Super Race, V-Guard | Tubeless | Folding | E-25 | Addix Race | Black | Max. 4.5 | Max. 65.0 | 410 g | 127 | 80 kg | 11654435 | Evolution Line | US$91.00 | |
| | | | | 28" | 25-622 | 700x25C | Super Race, V-Guard | Tubeless | Folding | E-25 | Addix Race | Black | 5.0-7.5 | 70-110 | 265 g | 127 | 70 kg | 11653974 | Evolution Line | US$91.00 | |
| | | | | 28" | 25-622 | 700x25C | Super Race, V-Guard | Tubeless | Folding | E-25 | Addix Race | Transparent Sidewall | 5.0-7.5 | 70-110 | 265 g | 127 | 70 kg | 11654236 | Evolution Line | US$91.00 | |
| | | | | 28" | 32-622 | 28x1.25,700x32C | Super Race, V-Guard | Tubeless | Folding | E-25 | Addix Race | Black | 3.5-5.0 | 50-70 | 325 g | 127 | 70 kg | 11654225 | Evolution Line | US$91.00 | |
| | | | | 28" | 28-622 | 700x28C | Super Race, V-Guard | Tubeless | Folding | E-25 | Addix Race | Black | 4.0-6.5 | 55-95 | 280 g | 127 | 70 kg | 11653975 | Evolution Line | US$91.00 | |