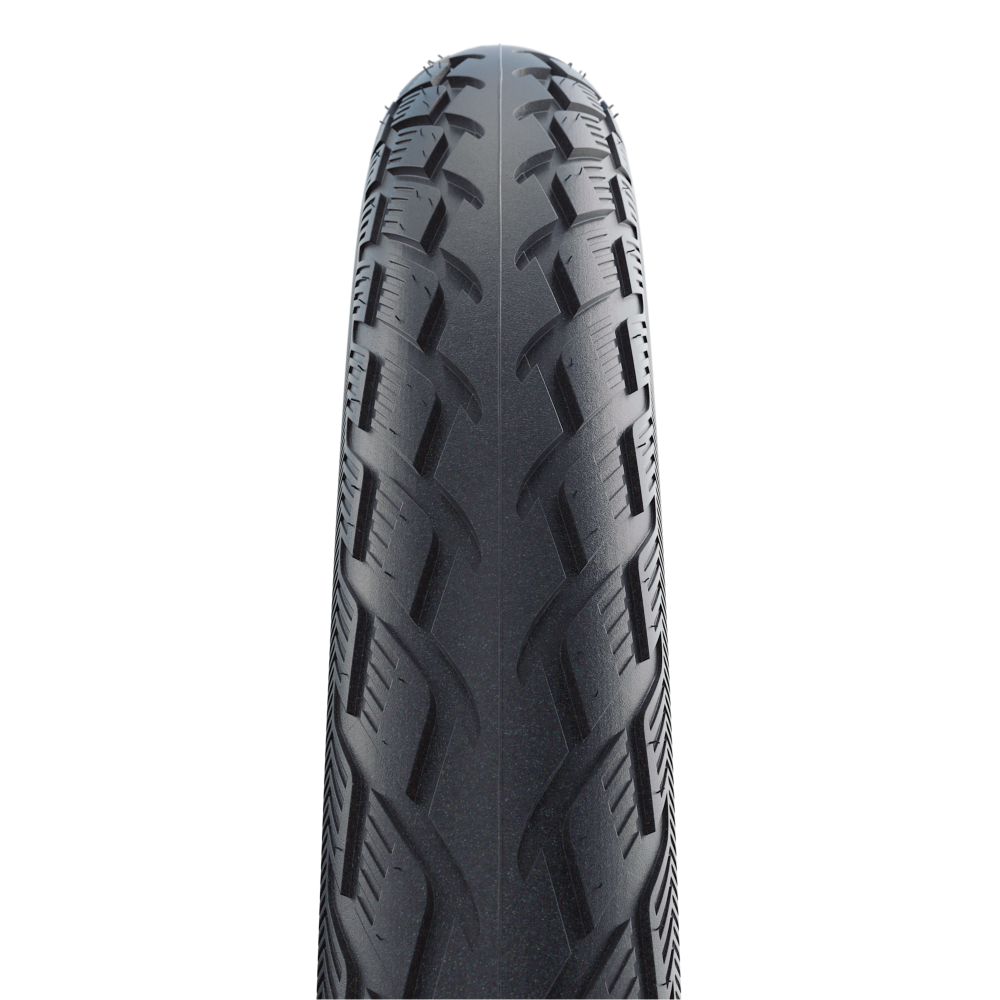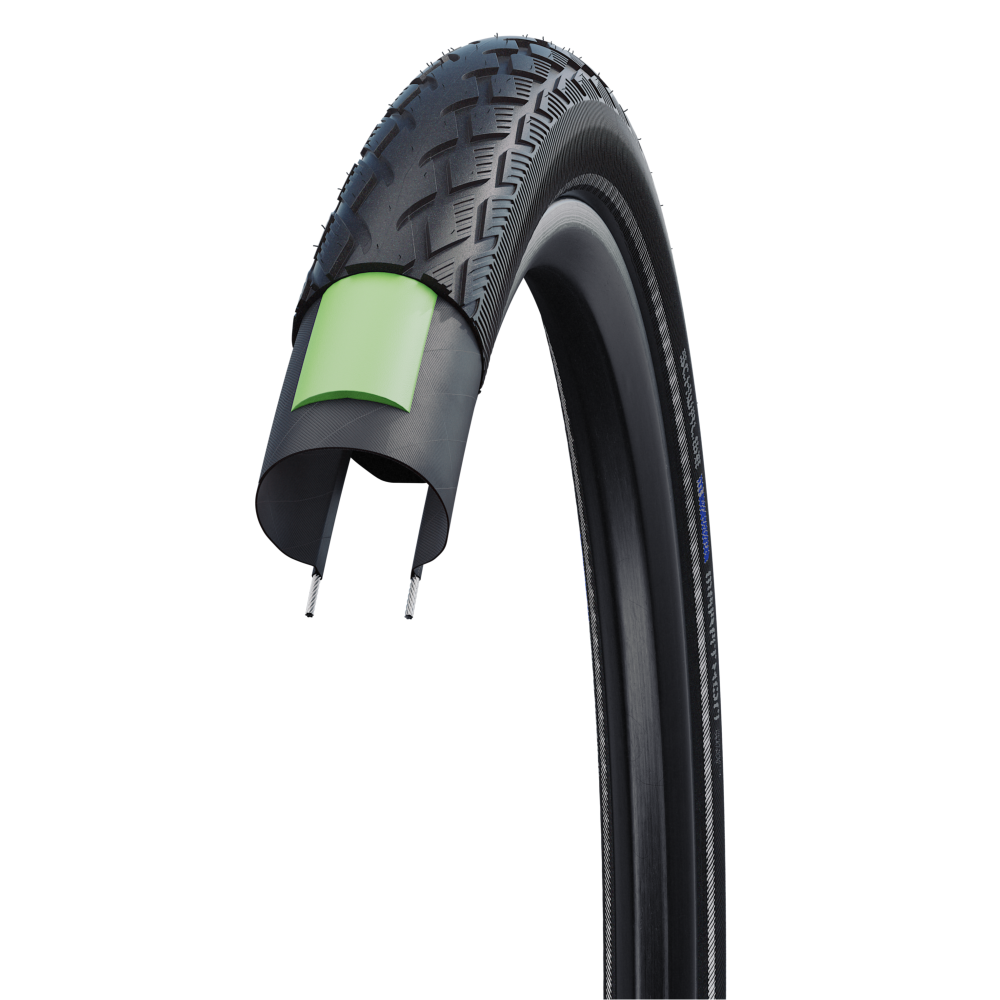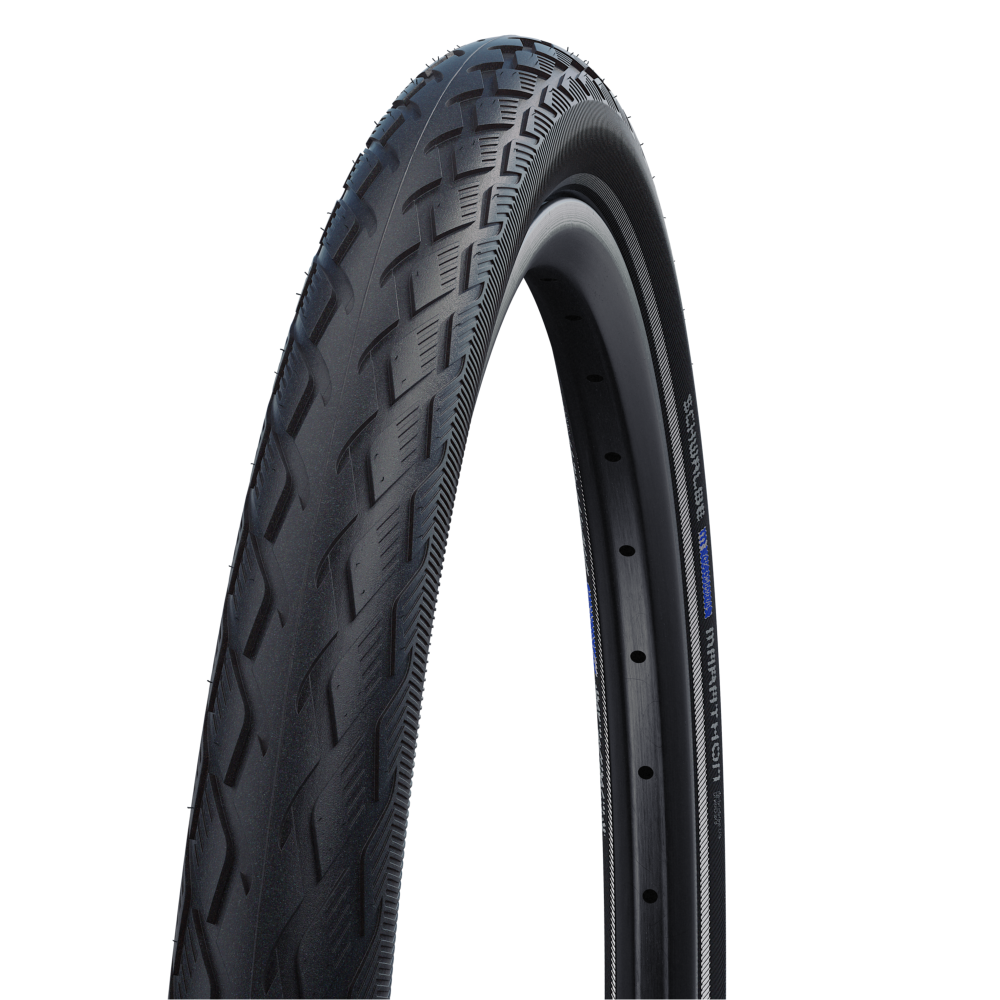 /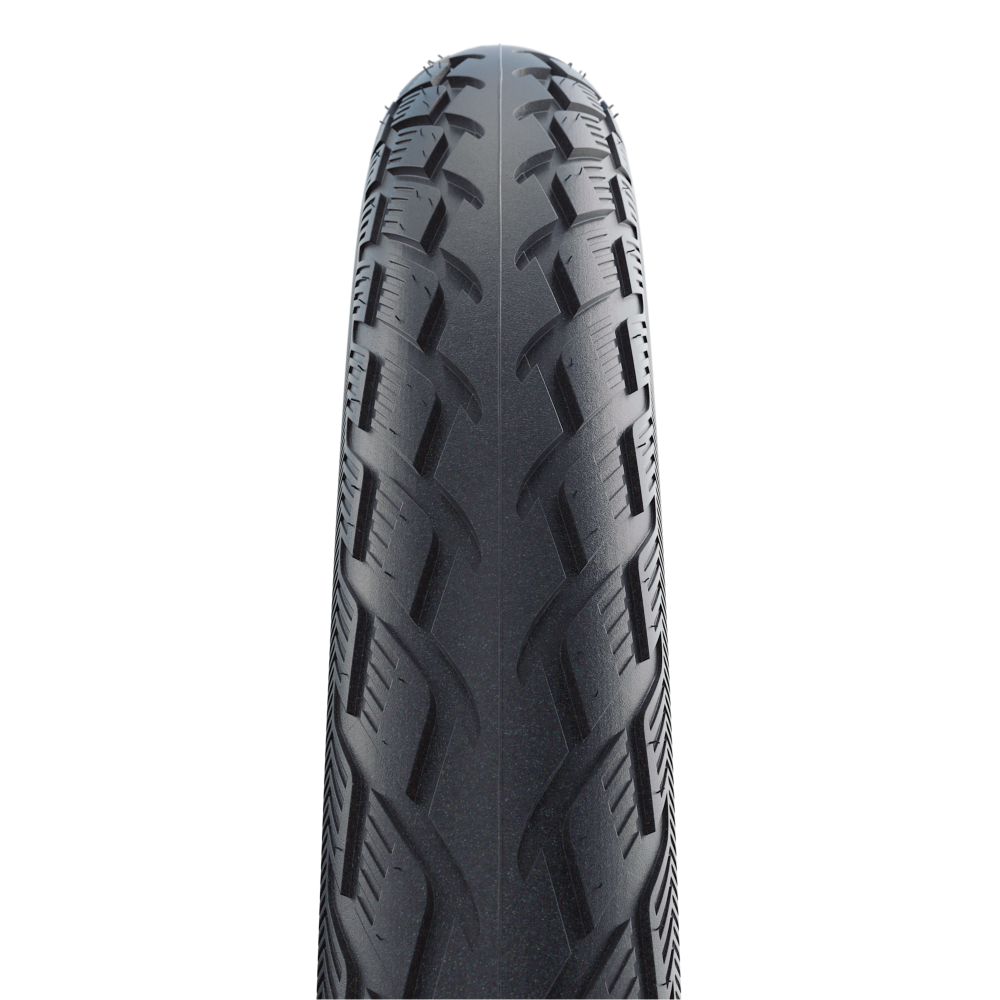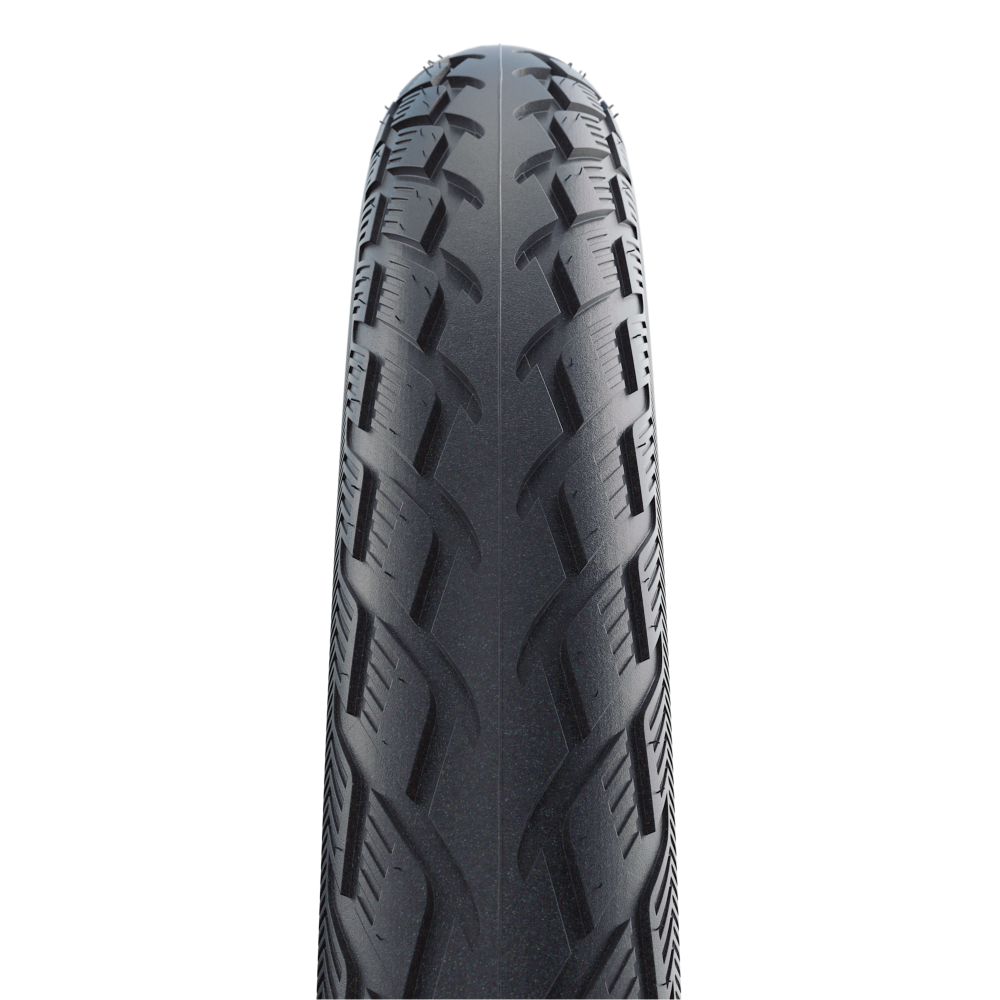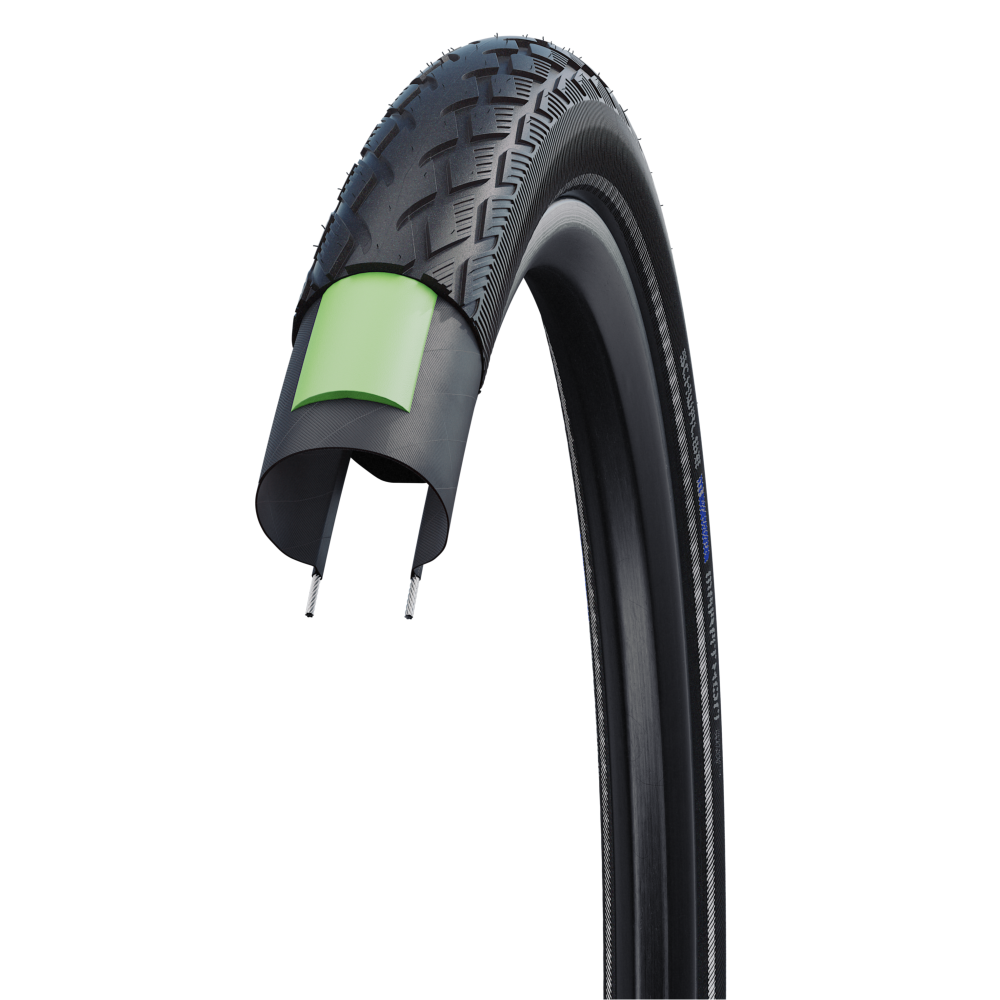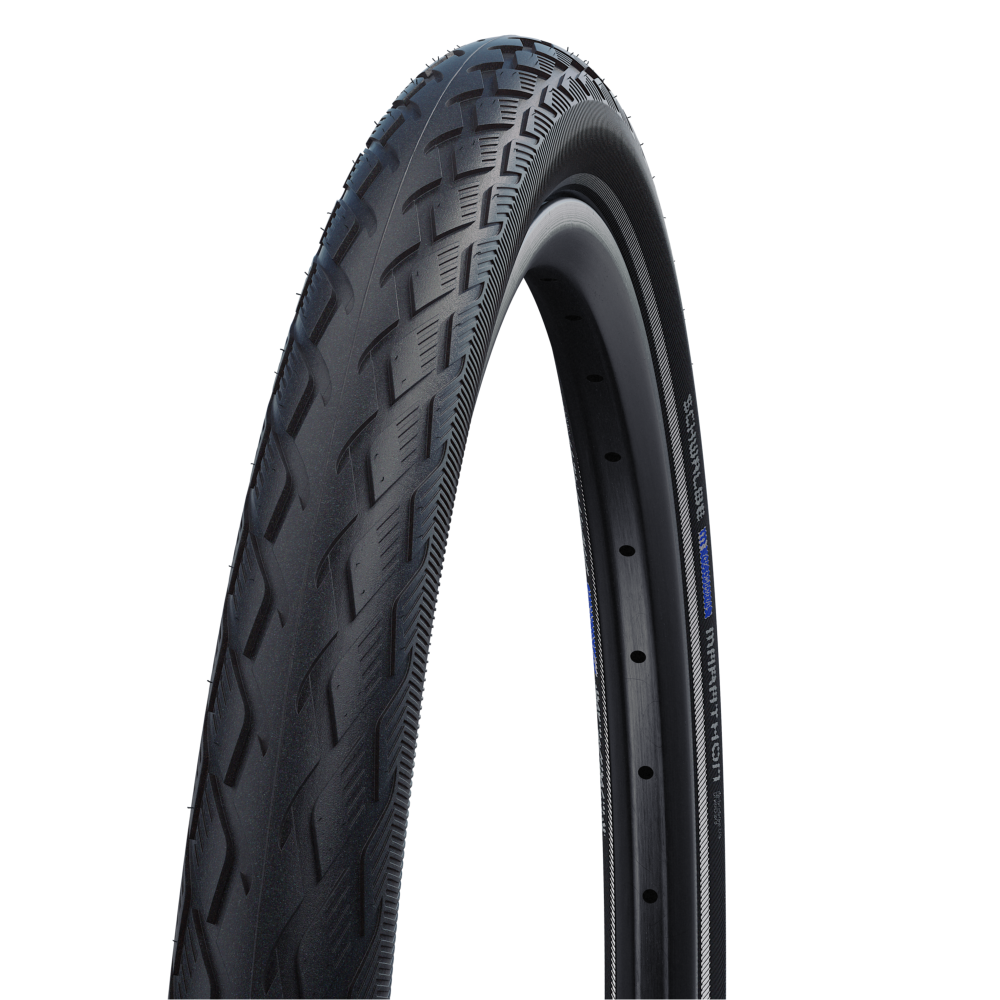 Product Description
THE ORIGINAL: The archetypal high quality touring tire. The highly elastic GreenGuard layer is 3 mm thick. One third of the GreenGuard is made up of recycled latex products. The "Anti-Aging" sidewall can withstand the typical cracking that results from overloading due to insufficient inflation pressure for much longer.
E-BIKE READY. You can choose every Marathon for your E-Bike (E-25). The main sizes are approved and tested for E-bikes up to 50 km/h (E-50).
Technical Data
Size:

ETRTO 32-622 (28x1.25 Inch)

Type:

Wired

Compound:

Addix

Version:

GreenGuard

Colour:

Black-Reflex

Seal:

Tube

Weight:

640 g

Pressure:

4.5-6.5 Bar (65-95 psi)

Maximum load:

90 kg

EPI:

67

E-Bike:

E-25

Profile:

HS420

Product number:

11100141

EAN:

4026495627412

Price:

US$44.00
Ratings
Features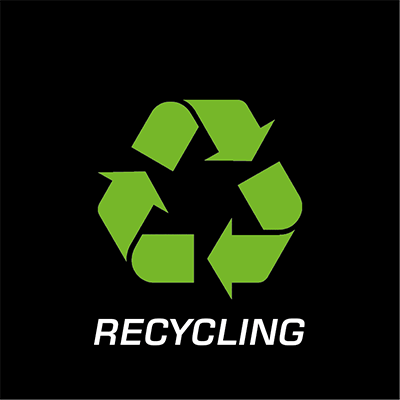 Recycling
Old products made of natural rubber (such as gloves, tubes...) are crumbed and, over several procedural steps, used as base material in the puncture protection system.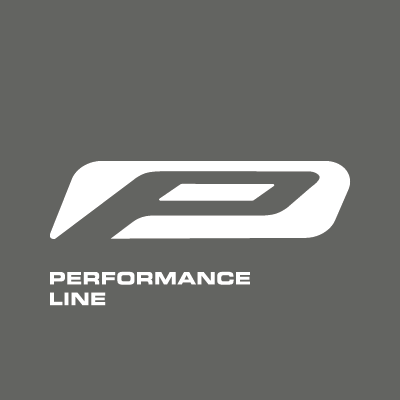 Performance Line
Excellent quality for intensive use.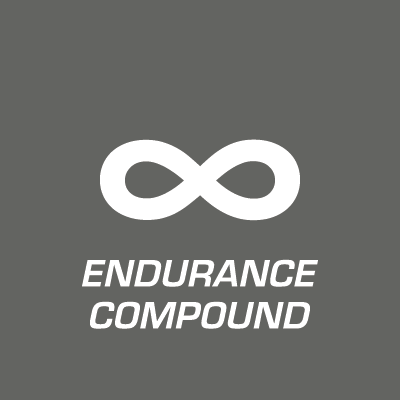 Endurance Compound
The Marathon compound for the highest durability.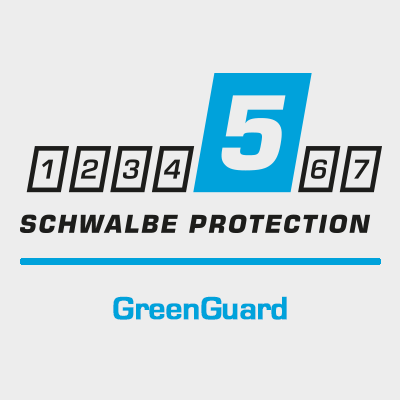 GreenGuard
The puncture protection layer under the tread is made of 3mm flexible, special India rubber. Partly from recycling. Particularly reliable protection.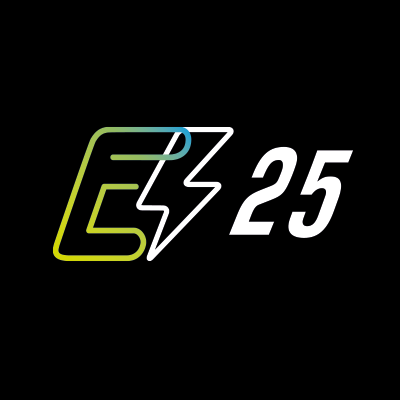 E-25
Tires with the recommendation "E-25" are the perfect choice for all pedelecs with pedal assistance up to 25 km/h. The most important criterion for this recommendation: safety.
Product overview
Find your perfect tire even faster. Use the search to narrow down the articles or
sort the tires with the arrows directly in the table according to your interest.
| | | | | INCH | ETRTO | SIZE | VERSION | SEAL | TYPE | E-BIKE | COMPOUND | COLOUR | BAR | PSI | WEIGHT | EPI | MAXIMUM LOAD | PRODUCT NUMBER | QUALITY | PRICE | |
| --- | --- | --- | --- | --- | --- | --- | --- | --- | --- | --- | --- | --- | --- | --- | --- | --- | --- | --- | --- | --- | --- |
| | | HS420 | 4026495627658 | 16" | 35-349 | 16x1.35 | GreenGuard | Tube | Wired | E-25 | Addix | Black-Reflex | 4.5-7.5 | 65-110 | 420 g | 67 | 65 kg | 11100147 | Performance Line | US$32.00 | |
| | | HS420 | 4026495627610 | 16" | 47-305 | 16x1.75 | GreenGuard | Tube | Wired | E-25 | Addix | Black-Reflex | 3.5-5.0 | 50-70 | 500 g | 67 | 70 kg | 11100146 | Performance Line | US$32.00 | |
| | | HS420 | 4026495716765 | 18" | 44-355 | 18x1.65 | GreenGuard | Tube | Wired | E-25 | Addix | Black-Reflex | 4.0-6.0 | 55-85 | 465 g | 67 | 70 kg | 11100719 | Performance Line | US$32.00 | |
| | | HS420 | 4026495627252 | 20" | 47-406 | 20x1.75 | GreenGuard | Tube | Wired | E-50 | Addix | Black-Reflex | 3.5-5.0 | 50-70 | 640 g | 67 | 80 kg | 11100137 | Performance Line | US$32.00 | |
| | | HS420 | 4026495627696 | 20" | 40-406 | 20x1.50 | GreenGuard | Tube | Wired | E-25 | Addix | Black-Reflex | 4.0-7.0 | 55-100 | 530 g | 67 | 80 kg | 11100148 | Performance Line | US$32.00 | |
| | | HS420 | 4026495627733 | 24" | 47-507 | 24x1.75 | GreenGuard | Tube | Wired | E-25 | Addix | Black-Reflex | 3.0-5.0 | 45-70 | 800 g | 67 | 95 kg | 11100149 | Performance Line | US$41.00 | |
| | | HS420 | 4026495627771 | 26" | 37-590 | 26x1 3/8,650x35A | GreenGuard | Tube | Wired | E-25 | Addix | Black-Reflex | 4.0-6.0 | 55-85 | 700 g | 67 | 90 kg | 11100150 | Performance Line | US$44.00 | |
| | | HS420 | 4026495627573 | 26" | 40-559 | 26x1.50 | GreenGuard | Tube | Wired | E-25 | Addix | Black-Reflex | 4.0-7.0 | 55-100 | 730 g | 67 | 100 kg | 11100145 | Performance Line | US$44.00 | |
| | | HS420 | 4026495627535 | 26" | 32-559 | 26x1.25 | GreenGuard | Tube | Wired | E-25 | Addix | Black-Reflex | 4.5-6.5 | 65-95 | 580 g | 67 | 80 kg | 11100144 | Performance Line | US$44.00 | |
| | | HS420 | 4026495627498 | 26" | 50-559 | 26x2.00 | GreenGuard | Tube | Wired | E-50 | Addix | Black-Reflex | 2.0-5.0 | 30-70 | 970 g | 67 | 118 kg | 11100143 | Performance Line | US$44.00 | |
| | | HS420 | 4026495627290 | 26" | 47-559 | 26x1.75 | GreenGuard | Tube | Wired | E-50 | Addix | Black-Reflex | 3.0-5.0 | 45-70 | 875 g | 67 | 109 kg | 11100138 | Performance Line | US$44.00 | |
| | | HS420 | 4026495627818 | 27" | 32-630 | 27x1 1/4 | GreenGuard | Tube | Wired | E-25 | Addix | Black-Reflex | 4.5-6.5 | 65-95 | 660 g | 67 | 90 kg | 11100151 | Performance Line | US$44.00 | |
| | | HS420 | 4026495709644 | 27.5" | 44-584 | 27.5x1.65,650x42B | GreenGuard | Tube | Wired | E-25 | Addix | Black-Reflex | 3.5-6.0 | 50-85 | 820 g | 67 | 105 kg | 11100680 | Performance Line | US$44.00 | |
| | | HS420 | 4026495627917 | 28" | 37-622 | 28x1.40,700x35C | GreenGuard | Tube | Wired | E-50 | Addix | Black-Reflex | 4.0-6.0 | 55-85 | 730 g | 67 | 95 kg | 11100007 | Performance Line | US$44.00 | |
| | | HS420 | 4026495627412 | 28" | 32-622 | 28x1.25,700x32C | GreenGuard | Tube | Wired | E-25 | Addix | Black-Reflex | 4.5-6.5 | 65-95 | 640 g | 67 | 90 kg | 11100141 | Performance Line | US$44.00 | |
| | | HS420 | 4026495849999 | 28" | 23-622 | 28x0.90,700x23C | GreenGuard | Tube | Wired | E-25 | Addix | Black-Reflex | 6.0-9.0 | 85-130 | 430 g | 67 | 70 kg | 11100495.01 | Performance Line | US$44.00 | |
| | | HS420 | 4026495890267 | 28" | 44-622 | 28x1.65 | GreenGuard | Tube | Wired | E-50 | Addix | Black-Reflex | 3.5-6.0 | 50-85 | 870 g | 67 | 109 kg | 11159242 | Performance Line | US$44.00 | |
| | | HS420 | 4026495627375 | 28" | 47-622 | 28x1.75 | GreenGuard | Tube | Wired | E-50 | Addix | Black-Reflex | 3.0-5.0 | 45-70 | 985 g | 67 | 115 kg | 11100140 | Performance Line | US$44.00 | |
| | | HS420 | 4026495627931 | 28" | 40-622 | 28x1.50,700x38C | GreenGuard | Tube | Wired | E-50 | Addix | Black-Reflex | 3.5-6.0 | 50-85 | 810 g | 67 | 100 kg | 11100005 | Performance Line | US$44.00 | |
| | | HS420 | 4026495698788 | 28" | 50-622 | 28x2.00 | GreenGuard | Tube | Wired | E-50 | Addix | Black-Reflex | 2.5-5.0 | 35-70 | 1080 g | 67 | 121 kg | 11100613 | Performance Line | US$50.00 | |
| | | HS420 | 4026495850032 | 28" | 25-622 | 28x1.00,700x25C | GreenGuard | Tube | Wired | E-25 | Addix | Black-Reflex | 6.0-8.0 | 85-115 | 520 g | 67 | 75 kg | 11100142.01 | Performance Line | US$44.00 | |
| | | HS420 | 4026495850070 | 28" | 28-622 | 28x1.10,700x28C | GreenGuard | Tube | Wired | E-25 | Addix | Black-Reflex | 5.5-7.5 | 80-110 | 560 g | 67 | 85 kg | 11100139.01 | Performance Line | US$44.00 | |
| | | HS420 | 4026495627856 | 28" | 40-635 | 28x1 1/2,700x38B | GreenGuard | Tube | Wired | E-25 | Addix | Black-Reflex | 3.5-6.0 | 50-85 | 830 g | 67 | 110 kg | 11100152 | Performance Line | US$44.00 | |